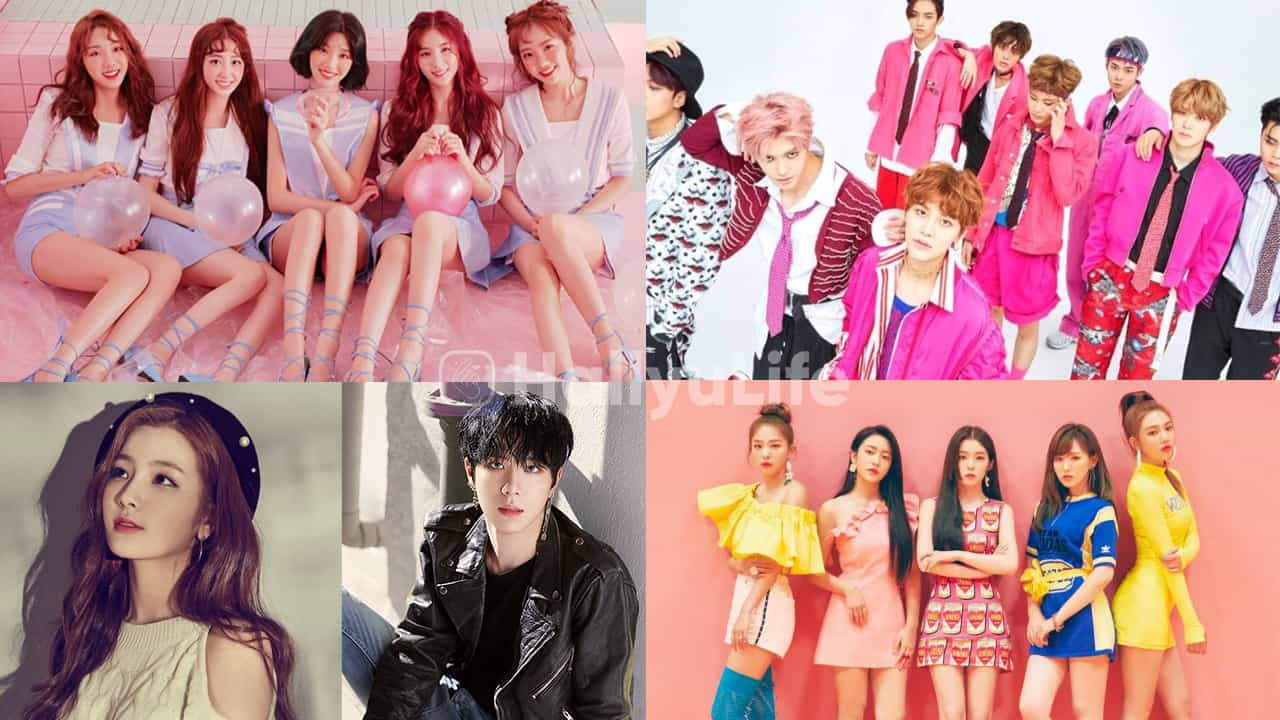 We are only days away from the 2019 K-Pop World Music Festival (KWMF) and ourselves can't hide the excitement by looping our favorite tracks from the artists that will grace the show this Sunday.
So in order to get you hyped, here are ten of the must-hear tracks from the artists on the line-up.
In case you missed the news, take a look at this article:
[jnews_hero_13 hero_style="jeg_hero_style_6″ include_post="4362″]
Without further ado, let's head on to our list:
---
Red Velvet
---
Red Velvet first visited Philippines while they're still rookies in 2015 for the 'Best of Best' K-Pop concert at Philippine Arena, but now, they're smashing records and breaking barriers, even performing in North Korea with their multiple hits, so if you haven't heard anything from them, you're missing out a LOT.
Be a 'Reveluv' (fandom name) as you listen to our recommended tracks from them:
[youtube https://www.youtube.com/watch?v=J_CFBjAyPWE]
Bad Boy
'Bad Boy' is one of Red Velvet's bold concept tracks, showing their fatally attractive side and turning away from their cheesy-cutesy concepts which paved them the way through popularity. Amassing 210 million YouTube video views as of writing, this song proves that Red Velvet has left a mark when it comes to K-Pop.
[youtube https://www.youtube.com/watch?v=6uJf2IT2Zh8]
피카부 (Peek-A-Boo)
Peek-A-Boo is the title track for the Red Velvet's 2nd full length album Perfect Velvet, which had some of the best tracks released by the girl group to date.
Perfecting the girl-crush theme  with some un-natural yet charismatic concepts, it has been said that Red Velvet just want to play while making their so-called Reveluv cult (according to fans' comments).
---
ELRIS
---
Chances are you might haven't heard of ELRIS, and chances are many will disagree to this statement. However, I personally believe this group deserves more recognition too, as they got good songs and visuals. "Under-rated" will be perhaps the perfect word to use in this scenario.
[youtube https://www.youtube.com/watch?v=tpLro7n3PWo]
Summer Dream
'Summer Dream' is one of ELRIS's releases that I can absolutely recommend for every new 'BLRIS' (yes, I couldn't figure out how to pronounce that correctly) out there. If you're into dream-like songs and cutesy-like concepts, this one should be on your playlist, too.
[youtube https://www.youtube.com/watch?v=EZykwRqGzzo]
Pow Pow
'Pow Pow' is an upbeat dance song that incorporates catchy melody and progressive bass chops that makes the song groovy even though it's fast-paced.
I don't think it's a co-incidence but if TWICE is asking 'What is Love', ELRIS answers it by repeatedly saying 'Love is Volcano' on this song.
---
NCT 127
---
Chances are you are one of the NCT-zens (fans of NCT & NCT 127) that are bound to read this article, and yes, we also have someone in store for you.
The Seoul-based sub-unit of NCT has some cool tracks as well, and here are some of our recommendations:
[youtube https://www.youtube.com/watch?v=WkuHLzMMTZM]
Cherry Bomb
This song is a slow poison. Listen to it in 2 to 3 times and you'll notice to yourself that this line and the song is mingling on your head.
"I'm the biggest hit, I'm the biggest hit on the stage" Let that sink in.
[youtube https://www.youtube.com/watch?v=x95oZNxW5Rc]
Superhuman
NCT songs have this electro-pop sounds and 'Superhuman' is one of them. The powerful choreograph, combined with an 'expensive' and futuristic-themed music video makes it one of our recommended tracks to jam on.
---
Kim Dong-han
---
The visually-gifted former JBJ member is also part of this week's show, and while we're on it, here are some of Kim Dong-han's songs to add on this list.
[youtube https://www.youtube.com/watch?v=JAjJ3dT-XiI]
Focus
Perhaps you wouldn't be able to 'Focus' enough when you start on listening to this song. With some crazy dance moves and catchy progression, let Kim Dong-han pull you into his world.
You can't just focus on him, right?
[youtube https://www.youtube.com/watch?v=KAXJCqDV4GE]
Good Night Kiss
Another song from Kim Dong-han that entered our recommendations would be 'Good Night Kiss'. While it has the usual boy group vibe, remember that it was actually performed solo by Donghan and that makes it more in fact, amazing.
---
Sohee (ELRIS)
---
Some of you might wonder why Sohee of ELRIS had special mention despite her group is also part of the festival line-up – wonder no more, because here's the answer to that question.
Since Sohee had debuted solo after finishing second place on K-POP STAR, she was also selected to perform some of her songs on KWMF as a solo artist. And we're already loving it just by the thought of that, and perhaps seeing her perform in person would be another story.
[youtube https://www.youtube.com/watch?v=C1600m4bEYo]
Hurry Up (feat. BOL4)
In collaboration with one of my ultimate favorite duo BOL4 (who also composed and gifted this song to Sohee), this song is a masterpiece already in itself. Sohee and BOL4's talents surely complemented each other and have resulted to this. No spoilers here, add this to your playlist of what-ever and thank me later.
Don't believe my words? JUST LISTEN TO IT YOU PIECE OF HARD-HEADED HUMAN.
[youtube https://www.youtube.com/watch?v=0xKnmTj3v7E]
Spotlight
'Spotlight' is Sohee's debut song, and if you're going to look at it – you'll be mesmerized by her beauty as well as singing and dancing skills, proving her worth to be a K-POP STAR.
As someone says, she could slay and be the next K-POP queen. Be the judge yourself. -HallyuLife.com

THIS SPACE INTENTIONALLY LEFT BLANK.