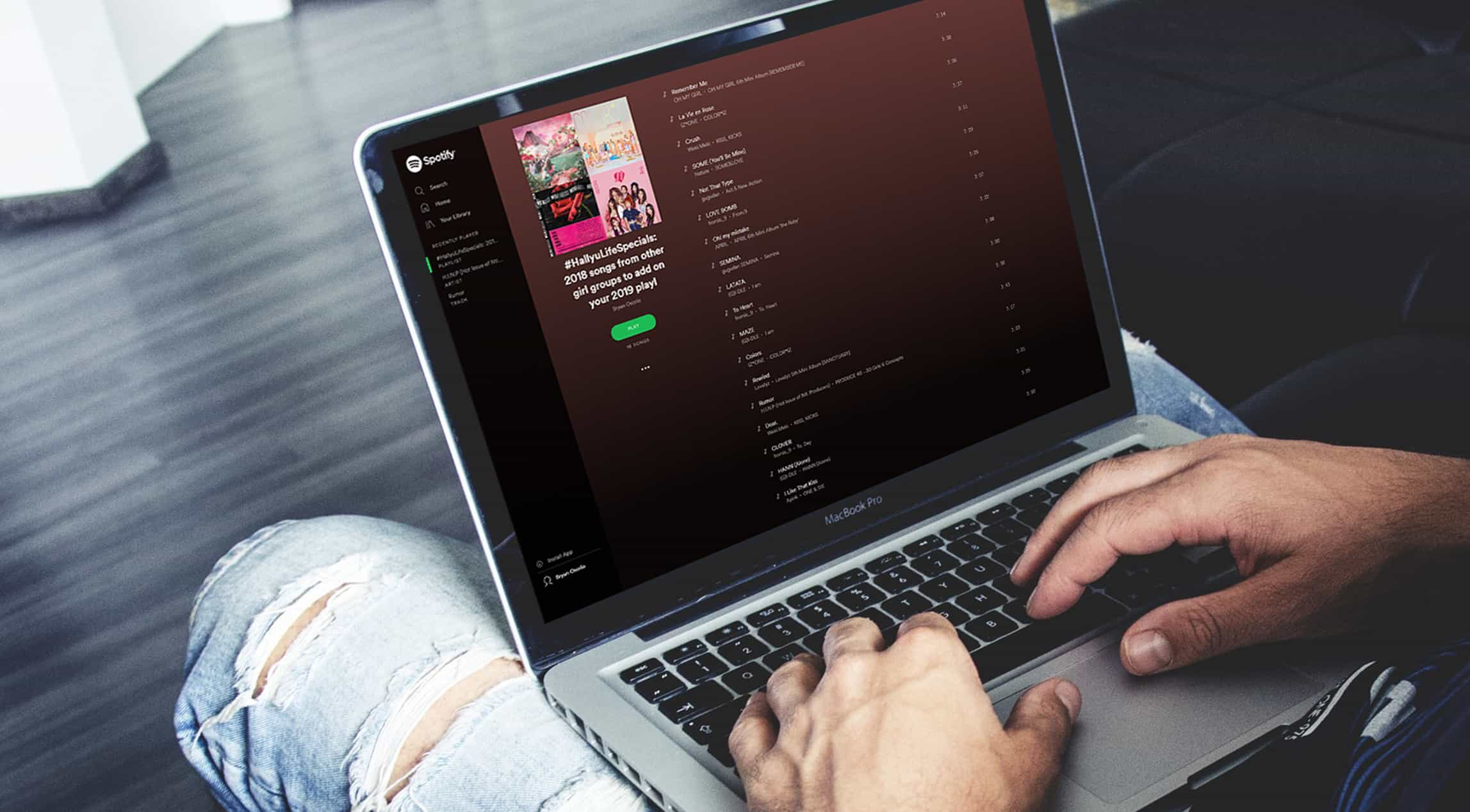 Last year, we got a lot of new K-Pop songs from girl groups. Most of them are good, but some of them are meh, too. This time, we're compiling a list of what we think here are the good hits of 2018 from some that we believe are less popular and/or rookie K-Pop groups (that's why 'others'), so that you can add them into your playlist and who knows, maybe you'll stan them because of these songs.
In fact, most of these songs that we recommend have introduced ourselves to these groups, leading us to become their fan and their stans.
So without further ado, let's end 2018 by listening to our curated playlist (oh, this is going to be available on Spotify, too – check it out!)
---
1. Remember Me – Oh My Girl
We all know that Oh My Girl is already a sunbae to most of the groups we'll mention here, and they do also get notable hits such as Secret Garden and Closer, but don't take our word for it – they really suit the concept for this song. With their powerful voices and uplifting beat that will surely make you dance, no doubt that this will make into your playlist, too.
---
2. La Vie en Rose – IZ*ONE
You might have heard of IZ*ONE (yes, that monster rookies who were the product of PRODUCE48). This is their debut song, and goodness gracious, this has been one of the best debut songs of 2018 (if you'll ask us). It's not the typical bubblegum flavor of K-Pop that we are used to, and it's a fresh tune that reminds us that yes, K-Pop still has that impact that we first fall in love onto. And take our word on this, listen to the recent MAMA remix versions of this song (linked below), then go back here and think about which is better.
[su_tabs][su_tab title="MAMA HK Ver." disabled="no" anchor="" url="" target="blank" class=""]
[/su_tab]
[su_tab title="MAMA Korea Ver." disabled="no" anchor="" url="" target="blank" class=""]
[/su_tab][/su_tabs]
---
3. Crush – Weki Meki
Weki Meki's line of songs and concept are really vague but don't let that description steer you away from them, since their recent comeback has dropped us such blessing in the ears which reminds us of the second-generation K-Pop era that we've always looked up to. And with their girl crush concept, you'll surely get that 'crush' aura upon listening to it.
---
4. SOME (You'll Be Mine) – Nature
To be honest, we didn't knew much about Nature until we heard this song. The bassline, along with the uplifting sort of electronica beat which might be compared to I.O.I's Pick Me but with a twist. Take it on a spin, and let us know what do you think of this song.
---
5. Not That Type – gugudan
Take our word on this, this has been one of gugudan's best release to date. Like Weki Meki's 'Crush', this has the girl crush feel that would hook you up and make you dance. The arrangement, including the melodic drop, would surely put this song on your head and make you move when you hear it.
---
6. LOVE BOMB – fromis_9
Okay, here's a little bit confession – I am a certified stan of this group. From their pre-debut song 'Glass Shoes' until to their latest release, I follow fromis_9 because I believe they can pull over the 'cute' and 'bubblegum' concept without me getting sick of it. And while you might haven't liked this (IDK why), there's a 2018 MAMA remix version that you should listen to, and it is linked below.
---
7. APRIL – Oh! My Mistake
Would this be a mistake or just intended? See and listen it for yourself.
This another bubblegum-themed track from APRIL would deserve a spot on our recommendation because it would be a mistake if it didn't.
---
8. SEMINA – gugudan SEMINA
The aptly titled track from gugudan's sub-unit SEMINA (a combination of the members' names – Sejeong, Mina, Nayoung), was actually groovy that makes us sing and dance to it whenever we hear it. And we guess by that, Jellyfish Entertainment didn't went wrong on debuting this sub-unit. More from SEMINA please.
---
9. LATATA – (G)I-DLE
Who forgets the monster rookies of 2018 who smashed records on their debut? This track from (G)I-DLE is surely one of the K-Pop tracks that we're going to add here because why not? We ran out of words to describe this but we're sure that adding this to your playlist is a must for K-Pop fans.
---
10. To.Heart – fromis_9
The second fromis_9 track on this list, which probably shows how biased I am towards the group. But don't take my biased standpoint on this, the track really sounds magical and uplifting with its melodic violin and fast-paced beat. Perfect for those who love to hear strings and are tired of electronica-flavored K-Pop.
---
11. MAZE – (G)I-DLE
Another (G)I-DLE track from the same album 'I Am' is entering this list, and you're probably asking why. This acoustic pop/dance is one of my ultimate favorites, and because of that, I am also recommending this to you. Take a listen, and you'll probably thought of why.
---
12. Colors – IZ*ONE
The first track on IZ*ONE's debut mini album is another song we would love to recommend. The magical, beautiful aura which might be far to their La Vie en Rose concept, would show the girls' angelic voices, and the relaxing vibe this song gives would be ideal for those who want to think about how beautiful are the colors of life.
---
13. Rewind – Lovelyz
This song from Lovelyz's 5th mini album is something that we really want to recommend to those who wants to deepen their relaxation, as the song gives a much more relaxing vibe that we look when we want to relieve our stress. Lovelyz never fails to amaze us with each release, and while their songs are the likes of Oh My Girl, this song truly proves that the 'sanctuary' of K-Pop do still exist.
---
14. Rumor – (H.I.N.P) PRODUCE 48
One of the releases from the Hot Issue of National Producers (PRODUCE48) is an absolute hit not only to the fans but also to IZ*ONE members themselves, in fact, when all of the members performed this shortly during the 2018 MAMA in Japan, the audience shouted out loud in awe because of the fact that they are completely dancing and singing to the song.
Probably the best song released among all on the show because it showed the versatility of the future idols which are now IZ*ONE.
---
15. Dear. – Weki Meki
Another acoustic pop is on our list! This song from Weki Meki is an addition to our relaxing songs, and can be safely described as an under-rated acoustic pop because of the fact that this isn't a title song, after all. Take a listen, and chill out as you hang out with Weki Meki.
---
16. CLOVER – fromis_9
This is the third fromis_9 song on this list, and probably my favorite among all of them. I don't know, but I just can describe the vibe this song gives me – encouragement and strength to persevere in life. If you need a relaxing and an inspiring song to listen to (much better if you understand the lyrics which is apparently a message to the fans), add this one to your playlist.
---
17. HANN(-) – (G)I-DLE
(G)I-DLE's single is entering this list as well, as the song is strikingly giving that vibe that deserves a spot on our recommendation. This dance pop, while it didn't made the impact that LATATA made, has proven that (G)I-DLE is fit for the concept this song gives. Listen to it, and be the judge yourself.
---
18. I Like That Kiss – Apink
This track could be considered as a bonus addition, as Apink are the real sunbaes of all these K-Pop groups, being considered as part of the second-generation K-Pop that debuted around 2011. And with their release of One & Six, this track got a spot on my ultimate K-Pop playlist, even topping out the title track 'I'm So Sick'. Not saying that Apink is a less popular K-Pop group, but I do feel that they lack recognition so I put this on the list.
---
Note that this playlist is being selected and created by the author and is not of the whole HallyuLife team. This playlist is available on Spotify, so that you can easily integrate it into your library.
What do you think of this list? Do you have something to recommend? Let us know on the 'comments' section. – HallyuLife.com

THIS SPACE INTENTIONALLY LEFT BLANK.