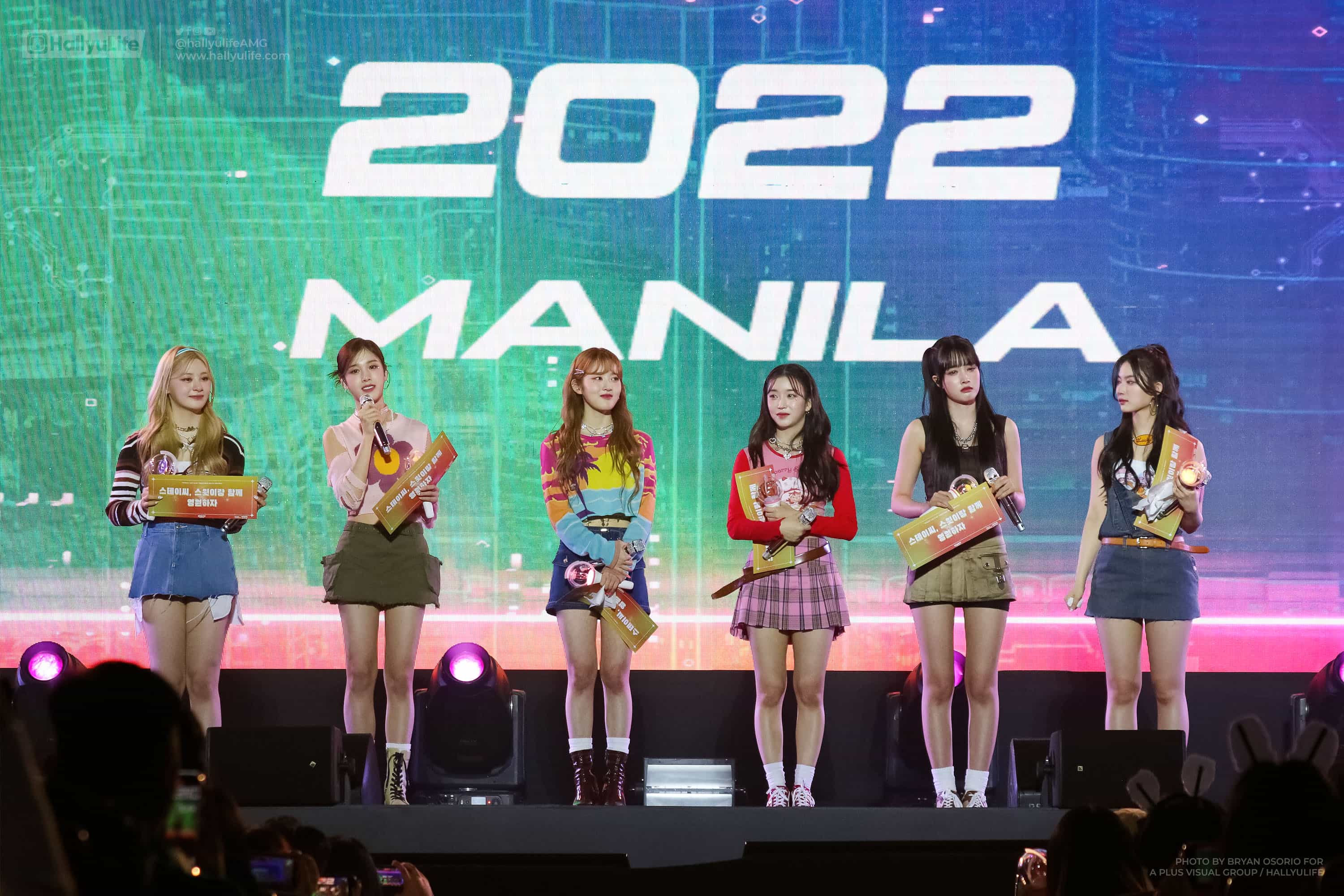 MANILA – Filipino SWITHs (STAYC's fandom name) are in for a treat last December 3rd, as the rising K-pop sextet finally graced the Philippine stage as the first stop for their first-ever fan meeting outside Korea as part of their Asian tour, which now involves cities such as Manila, Taipei, Jakarta, and Kuala Lumpur.
STAYC (or Star To A Young Culture), composed of members Sumin, Sieun, Isa, Seeun, Yoon, and J, met their Filipino fans at the FYM Hall, EVM Convention Center in Quezon City, performing some of their hit tracks and making a remarkable memory with their fans – leaving attendees with more than enough admiration for the group.
Prior to the fan meet, STAYC met first with the members of the media (HallyuLife included), answering some questions.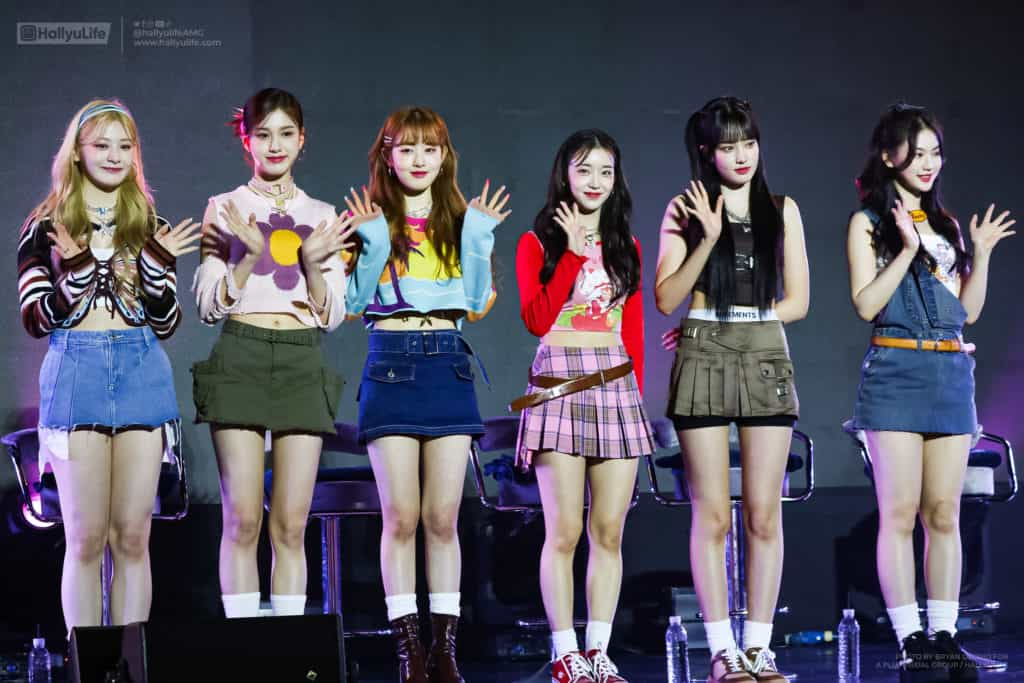 The girls immediately told us that one of their goals on tonight's fan meet is to make happy memories with their Filo SWITHs, who were eagerly waiting for them to come. Sieun highlighted the fact that many fans greeted them at the airport during their arrival in Manila, and that she is surprised and thankful for their warm welcome.
When asked about the feeling of finally going out and meeting their fans in person (after debuting in November 2020 where lockdowns exist), Seeun mentioned that it is challenging and sad that they can only meet their fans via video calls, but they're now really excited and relieved that they now have the opportunity to meet their fans eye to eye. Isa also mentioned that they are very happy to communicate with the fans and perform on stage while receiving the fans' energy wholeheartedly.
Yoon mentioned that they pursue music that delivers positive energy, and that STAYC wants their music listeners to feel better both physically and mentally when asked about what they want STAYC's first-time listeners to think about.
And J, when asked for a piece of advice to give to their young fans, said:
"I believe anything can be done if you put your mind to it and work hard. I hope you don't lose (the goal) until the end and run for it. Don't lose hope, just run and aim for it."
Lastly, leader Sumin thanked the Filipino fans who have been waiting for them for a long time.
---
At the fan meeting proper, STAYC appeared on stage with their debut title track "SO BAD", setting the atmosphere for the excited SWITHs finally seeing STAYC performing right in front of their eyes.
As they said the iconic words "STAYC girls, it's going DOWN!", the whole crowd screams in excitement.
Followed by the track "Beautiful Monster" from their mini-album "WE NEED LOVE", the girls have shown their vocal prowess while dancing to great formations in front of yellow-lit winkbongs (nickname for STAYC's lightstick).
Getting to know STAYC
After performing, STAYC then sat down on stage with the fan meeting's host, introducing themselves in a cute and lovely fashion which earned the cheers of the SWITHs (mostly fanboys) out there, while subtly adding their studied Filipino phrases and words, such as "Kamusta kayo? (How are you?)", and Isa notably saying "Gusto talaga namin pumunta ng Pilipinas! (We really wanted to go to the Philippines!)".
And since most of the members are first-timers in Manila or the Philippines even, they were asked about what are their first impressions of the country. Sumin first answered about how much they wanted to come here and perform for their Filipino fans waiting, hoping to create a lot of great memories at the same time.
Sieun mentioned that this isn't actually her first time here in the Philippines, and she has been already here 3-4 times, mostly in Cebu for vacation and work. Seeun then mentioned the fruits the Philippines has to offer, and how sweet Filipino people are. J points out the beauty and differences in Filipino culture compared to theirs in Korea, and Yoon, just said "Mahal ko kayo! (I love you all!)", which leaves the fans smiling and cheering for them further – Isa in response cutely said that they want to bring the fans' smiles with them back to South Korea.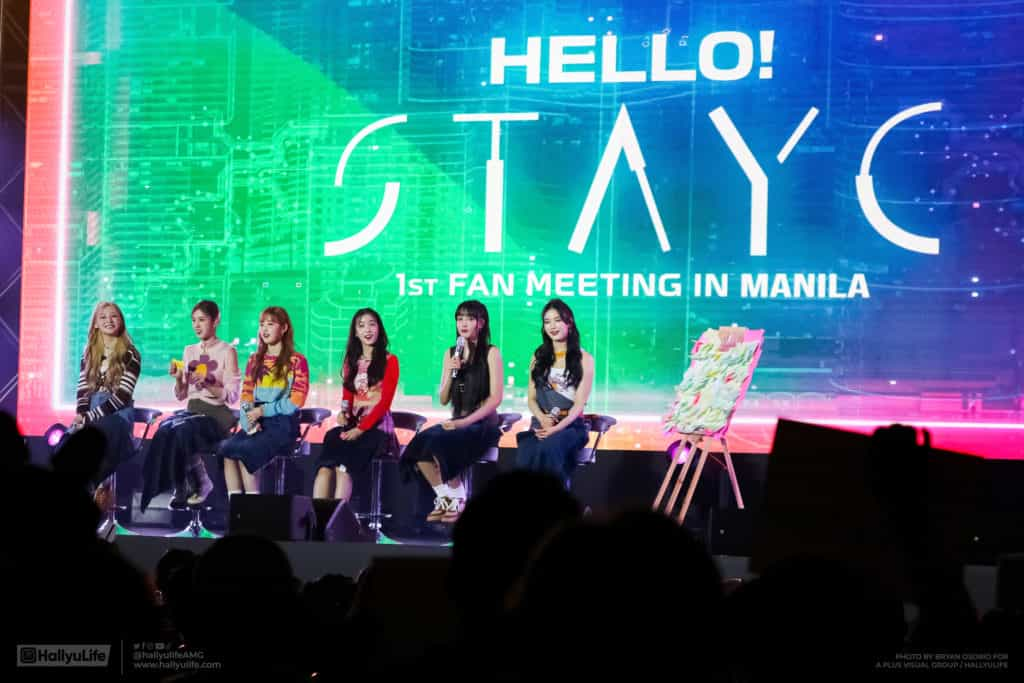 Answering some questions from the fans via post-it notes, J first picked out a question asking her birthday wish (her birthday was last December 9) and answered that she wants to have a birthday party with her fans. Fans' and the other STAYC members then proceeded to sing a birthday song for her. She then also proceeded to answer another question, asking what's her favorite food – she answered green tea.
Seeun picked the question asking about their favorite TikTok dance challenge, and without hesitation, she said that it was going to be their ongoing "POPPY" dance challenge. STAYC then proceeded to demo it in front of the crowd. And when asked what's the best thing about the Philippines, she quickly answered "the Filipino SWITHs!"
Sieun, on the other hand, picked the question asking if she tried already any Filipino snacks and what's her favorite so far, and answered "Maja Blanca", sharing that she got a taste of it the day before the fan meet when they went to a convenience store. She also was asked about the possibility of her returning to acting (she was a child actress), and her answer is "Sure!"
Sumin was then asked what she does before going to sleep, and she mentioned that she just watches YouTube videos (mostly about camping), and shared that she wants to go camping but has never tried it and would love to try it someday. Her second question was about what would she like to do in the Philippines if STAYC is given another chance to visit, and she shared that she wants to try in Cebu the activity where you can swim with whales along with the other STAYC members. Yoon then similarly answered that they all want to go to Cebu, since they'd heard so many good things about the place.
Isa, being the last to answer questions from the post-it, answered one remarkable question about the food that she wants to eat for the rest of her life, and said "salmon", because it's good, delicious, and healthy.
The members were also asked about their first impressions of each other, and how they changed from their debut till today.
STAYC then returned to performance mode to perform two of their tracks, which are "RUN2U" and "SO WHAT".
More games for the fans!
After performing two more tracks, STAYC teamed up into two groups, which they used on playing the games "Secret Box" and "Guess My Pose".
Divided into two teams, Sumin, Seeun and Isa called themselves "Team Maganda (pretty)", while J, Yoon, and Sieun branded themselves as "Team Masarap (yummy/delicious)". Their division was decided by playing a game of "bato-bato-pick", or rock, paper, and scissors.
The games offered chaotic and hilarious reactions from STAYC members, which were really enjoyed by the fans at the venue.
Team Masarap (J, Yoon & Sieun) won in the end by just 2 points, making Team Maganda face the consequence of dancing to "Baby Shark" cutely in front of the fans.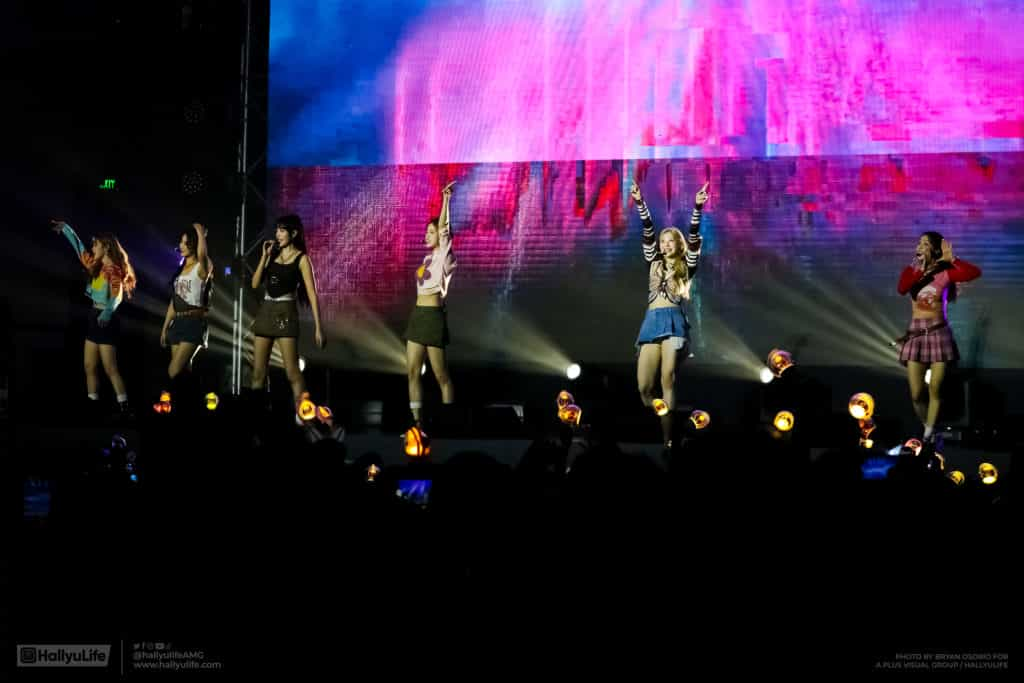 STAYC gave fans another surprise by singing a Filipino song, which turns out to be Nadine Lustre's "Paligoy-ligoy", and they sang it gracefully despite the language of the lyrics being different than what they're used to. They've also promised after performing to return, and practice more Filipino songs for them to sing for their Filipino SWITHs.
However, it's not just STAYC that gave a surprise to everyone that night – as fans also collectively prepared a special surprise for the girls. Just right after the stage photo-op with the audience, a special video was played in front of STAYC, showing how Filipino SWITHs are gathering to celebrate members' milestones, birthdays, and much more. That part immediately sent the girls crying, as the video touched many hearts, including the fans out there.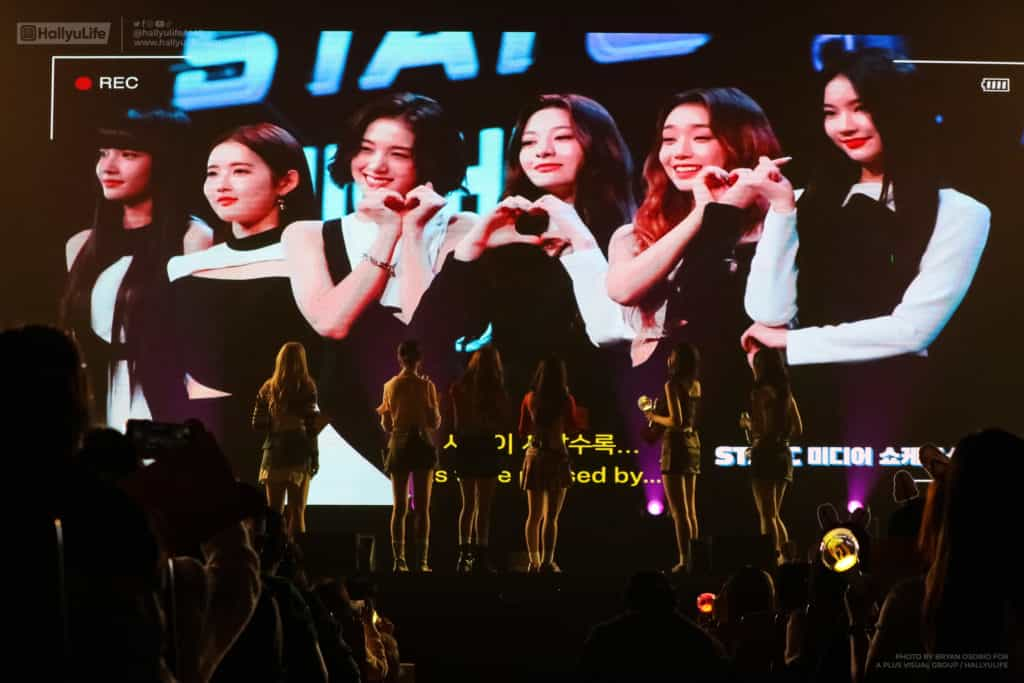 The girls, while seemingly teary-eyed, expressed how happy they are and thankful for the support, responding to the fans' video surprise.
Seeun then emphasized that she loves their fans so much, and J mentioned that they are aware of how Filipino fans are patiently waiting for them, but after watching the video, she can confidently say that the fans truly love STAYC. Sieun on the other hand, never imagined that they will end the fan meeting crying, but was touched. She also advised fans to take care, and that STAYC and Filipino SWITHs will be always together despite not being from the same country.
Sumin, the group's leader, thought at first that there was a slight error on the screen, but was surprised instead. Yoon ended up bursting into tears when thanking the fans for celebrating their birthdays and milestones. Isa then said that they are grateful that Philippines was the first stop of their Asian tour, and that they spent a wonderful night with Filipino SWITHs.
All of them have promised also to return to the Philippines, earning enthusiastic cheers from the fans.
STAYC then proceeded to perform the song "I'LL BE THERE" from the album STEREOTYPE, and then did an encore with their smash hit "ASAP".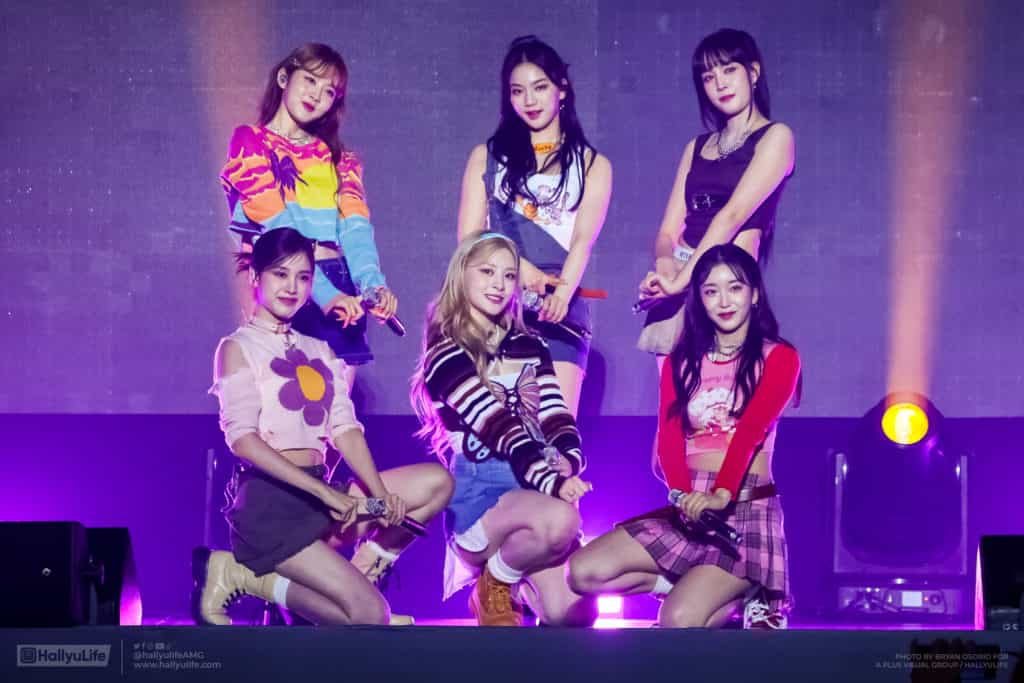 The girls then capped off the night by singing "YOUNG-LUV" while going to all sides of the stage, taking a bow, while repeatedly thanking all the fans and professing their love to all of them.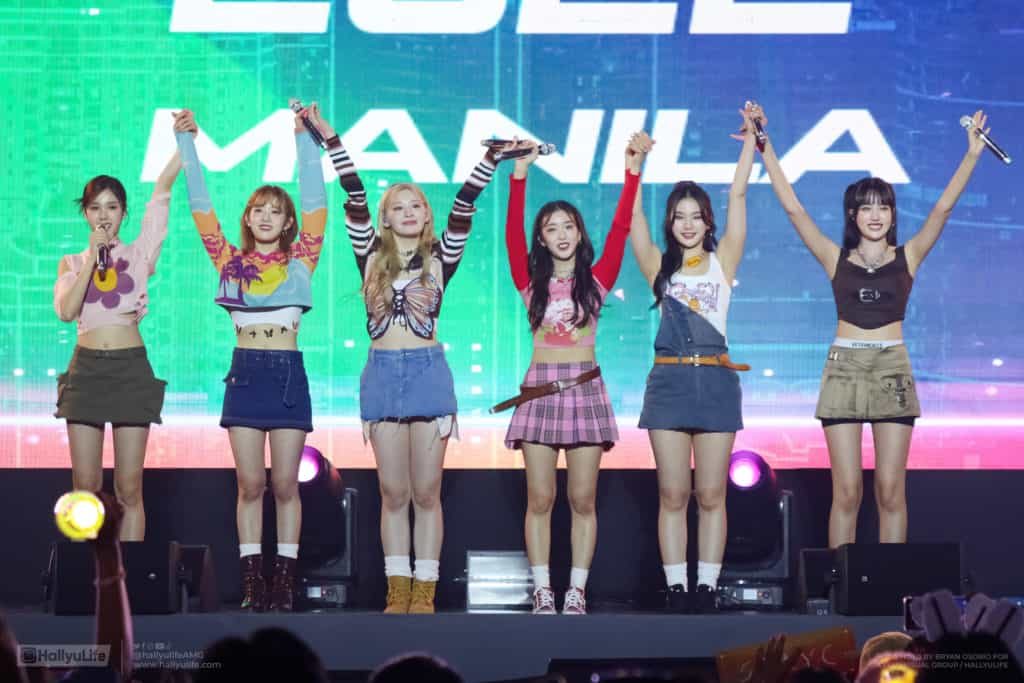 And while it felt short for some (including me), that night with STAYC is truly a wonderful, remarkable one. Seeing these beautiful girls live is an advanced Christmas treat for the fans out there, and I guess STAYC have succeeded in their mission to create remarkable memories with their Filipino SWITHs from that night.
And also, while I'm a bit disappointed to not hear some of their title tracks live, like "POPPY" and "STEREOTYPE", maybe due to the time being short, that disappointment was overshadowed by the fact that I got to see them live, and that I have to remember the wonderful time I got and surely, I'll be looking to what's next for these girls, as they go down to K-pop's history as one remarkable girl group. -HallyuLife.com
---
"Hello! STAYC in Manila" is promoted by Neuwave Events & Productions and is presented by High Up Entertainment.
HallyuLife would like to extend its gratitude to Neuwave Events & Productions for inviting us to be part of this event. #HelloSTAYCinManila
Check out our photos from the event here:
STAYC @ Hello STAYC 1st Fan Meeting in Manila (HQ PHOTOS – SET 1)
STAYC @ Hello STAYC 1st Fan Meeting in Manila (HQ PHOTOS – SET 2)
STAYC @ Hello STAYC 1st Fan Meeting in Manila (HQ PHOTOS – SET 3)

THIS SPACE INTENTIONALLY LEFT BLANK.