A handwritten autograph CD that appears to be a gift from the girl group Oh My Girl to their senior Lovelyz has been placed on the second-hand trading market.
A second-hand trading site has a listing on May 25th, along with the words "Closer Signed Album – Oh My Girl".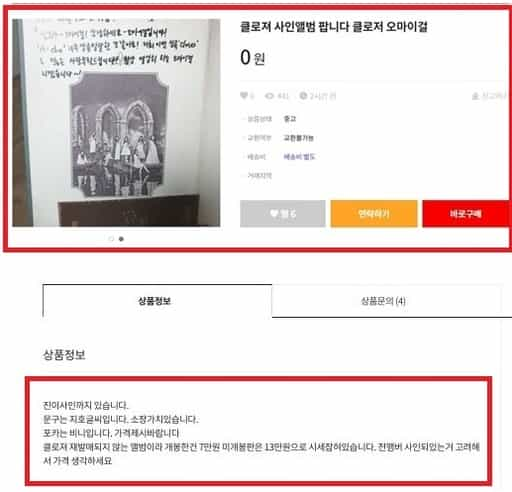 The seller, whose name is unidentified on reports, has said that the former Oh My Girl member JinE had signed it, and its stationery card contains Jiho and has a collection value (of course, being rare). The seller is also giving a price more than its release price of 130,000 won, offering it in a form of auction, considering that a member has signed it as well.
However, what turns out to be a problem is that there's a specific message on the album that is dedicated to the group Lovelyz, handwritten by a member.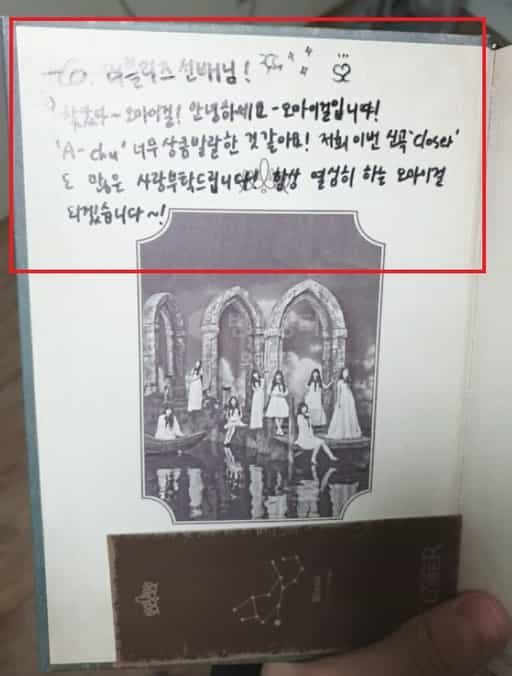 The message says:
"I found you – Oh My Girl! Hello! It is Oh My Girl. "Ah Choo!" seems too fresh and youthful! Thank you very much for loving our new song "CLOSER"! We're going to be a hard-working Oh My Girl all the time."
WM Entertainment, Oh My Girl's agency, did not respond to an immediate request for comment. Woolim Entertainment, Lovelyz, agency, however, issued a statement on May 25th via Lovelyz's official SNS, saying that they are already notified of the said matter and has requested to open up investigation since it appears that the said goods have been stolen.
As their statement said, they have confirmed the external spillage of the said signed CD given to Lovelyz (although they haven't explicitly said it was from Oh My Girl), and that the spillage might be from their business associates and outsourcers. They are also working to retrieve the said goods as soon as possible.
According to Woolim, they are making every effort to ensure that the items, including CDs given to their artists be fellow artists, are kept carefully and that they are never transferred to anyone else.
They also apologized to those who felt inconvenienced by the issue and that they will take extra care to ensure this matter does not happen again. -HallyuLife.com

THIS SPACE INTENTIONALLY LEFT BLANK.