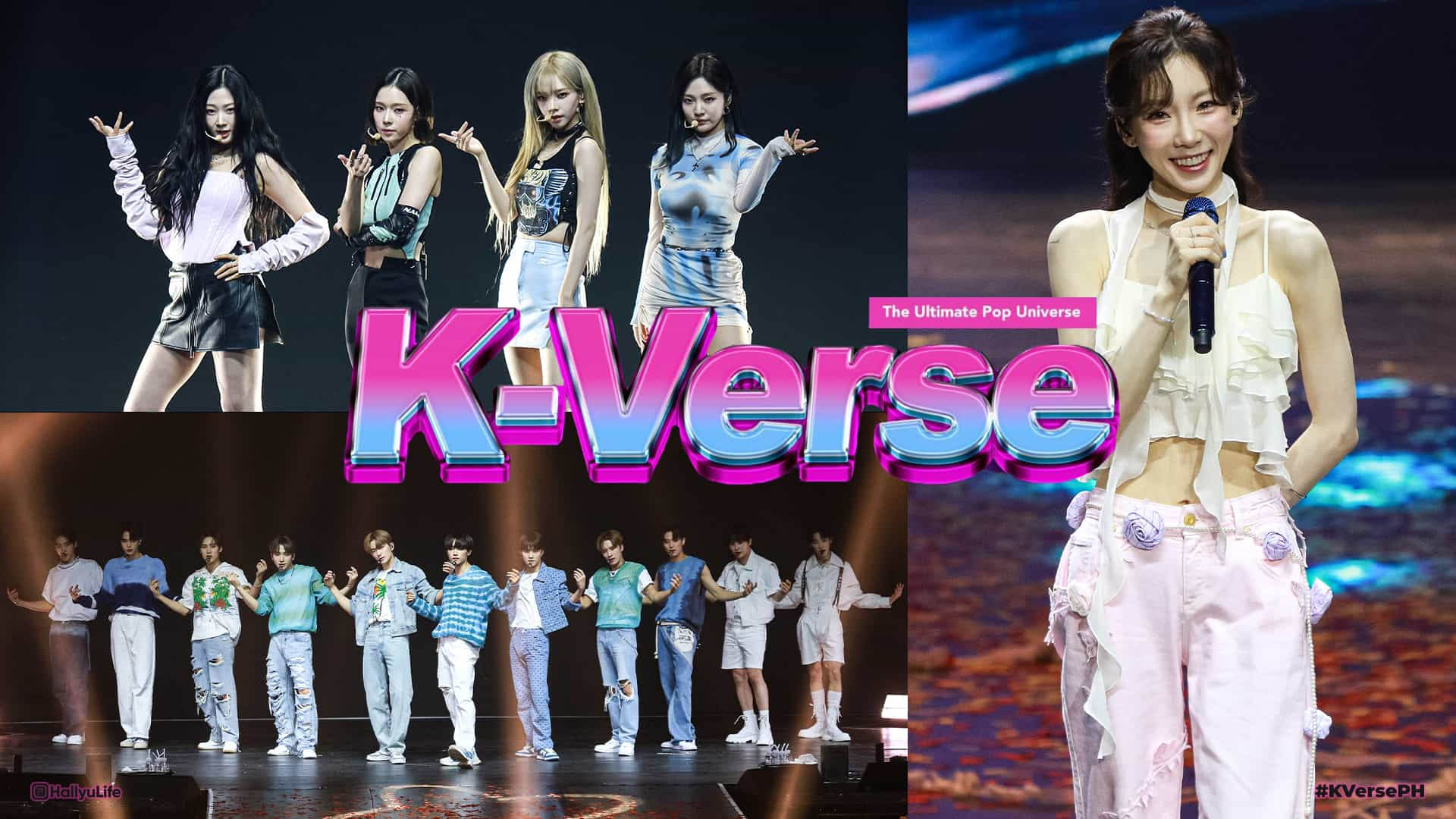 MANILA – It's the time of the year when the weather gets hotter and the lineup of artists performing in Manila is getting bigger in numbers! That's why last April 11, Filipino MYs (aespa's fans), Deobis/TheBs (The Boyz fans), and SONEs (Girls' Generation and Taeyeon's fans) came together to enter the ultimate pop universe, K-Verse!
With the return of K-pop acts The Boyz and Taeyeon, and aespa's debut on the Manila stage, the girls and boys of K-pop gave us the best experience possible at the Araneta Coliseum and we're here to tell you why.
NEXT LEVEL experience with aespa!
Making their Manila stage debut, Karina, Winter, Giselle, and Ningning graced the stage with their debut track "Black Mamba" – and all the Filo MYs cheered and scream out of joy that they finally see aespa LIVE. It might be their first time in the Philippines but their next-level energy hyped everyone at the coliseum already.
BLACK MAMBA! ?#aespa performing on the Manila stage for the first time with "Black Mamba"!#KVersePH #KVersePH_aespa pic.twitter.com/7vNLonO8hI

— HallyuLife (@hallyulifeAMG) April 11, 2023
The members of aespa shared that even for a very short time, they felt Filo MY's warm welcome and cheers during their performances of "Illusion", the English version of "Life's Too Short", "Lingo", and "Savage".
Karina, who is aespa's leader, also celebrated her birthday on their first visit to Manila, as the show day fell on her April 11th birthday. The whole coliseum sang English and Korean versions of the "Happy Birthday" song. According to Karina, "You (Filo MYs) are my gift!" which made the celebration of her birthday more special.
HAPPY BIRTHDAY KARINA! ?

FILO MYs sang a Happy Birthday song to #aespa #Karina as she celebrates her birthday tonight in Manila!#KVersePH #KVersePH_aespa pic.twitter.com/OwDCqbAkcZ

— HallyuLife (@hallyulifeAMG) April 11, 2023
They even gave Filo MY's a hint about their upcoming comeback and expressed their desire to come back to the Philippines for a solo concert real soon. They ended their Manila debut stage with "Next Level" as more MY's look forward to their next return.
ROAR 'cause THE BOYZ are back!
All 11 members of THE BOYZ finally returned after their last visit to Manila in 2019. And a way to celebrate their return is through their powerful stage performance of "ROAR" and roaring cheers from Filo Deobis/TheBs. Just looking at their cool outfits, it matches the summer heat in the Philippines really well.
SHOCKING ROAR! ???#THEBOYZ hit the stage tonight with a fiery performance of "ROAR"!#KVersePH #KVERSEPH_TBZ pic.twitter.com/oaTObXUYmr

— HallyuLife (@hallyulifeAMG) April 11, 2023
The Boyz members Sangyeon, Jacob, Younghoon, Hyunjae, Juyeon, Kevin, New, Q, Juhaknyeon, Sunwoo, and Eric greeted everyone at the coliseum with their happiest smiles and in return, the loudest cheers from the Filo Deobis were received by the handsome boys.
The whole coliseum also sang a "Happy Birthday" song to the group's member Sunwoo who celebrated his birthday one day before his actual birthday (April 12). He thanked everyone who greeted him on his special day with all the FILO Deobis present that night.
Happy Birthday SUNWOO! ?#THEBOYZ member #SUNWOO celebrates his birthday tonight in Manila and FILO Deobis/TheBs sang him a Happy Birthday Song!#KVersePH #KVERSEatTheBigDome pic.twitter.com/nM4AQkElgK

— HallyuLife (@hallyulifeAMG) April 11, 2023
The members of THE BOYZ also showed their adorable charms and shared funny moments with everyone at the coliseum as they performed their hit tracks such as "MAVERICK", "The Stealer", and "Dancing Till We Drop". They thanked each and every one who came to support them and also wanted to return to Manila for a solo concert the next time around. THE BOYZ members shouted "MAHAL NAMIN KAYO!" loud and clear just before they performed their last track on the set "Thrill Ride" which surely will take you to an awesome ride ahead.
More beautiful memories with Beshie Taeyeon!
And last but not the least, the highly-acclaimed solo artist and leader of the legendary girl group Girls' Generation Taeyeon! She has finally returned to Manila after her last visit last December 2018 for her solo concert.
Taeyeon first performed her solo debut track "I" from her solo EP of the same name.
MY LIFE IS A BEAUTY! ?#TAEYEON performs her debut solo track "I" LIVE on stage!#KVersePH #KVersePH_TAEYEON pic.twitter.com/SXKlv1Cvd1

— HallyuLife (@hallyulifeAMG) April 11, 2023
Known for her numerous #1 tracks and hit K-drama OSTs, Taeyeon's powerful and angelic voice was heard on the whole set that she prepared for her Filo SONEs. And as promised four years ago, she returned to Manila and performed her hit tracks on stage from her previous albums such as "Toddler", "Set Myself on Fire", "Four Seasons", and "What Do I Call You" which received nonstop cheers from everyone at the big dome.
She even walked to the extended stage to get closer to all the SONEs who patiently waited for her beautiful return and for everyone to get a closer look at Taeyeon up close. She captivated everyone with her charismatic beauty as well as her performances on stage.
And why did I mention the word "Beshie" or "Best friend"? Taeyeon became everyone's beshie as she shows her love towards everyone at the coliseum by saying "Mahal ko kayo" and "I love you guys". She was so thankful for everyone waiting for her and waiting for her next return a little more as she gave a hint of her upcoming solo concert tour being planned.
MAHAL KA RIN NAMIN TAEYEON! ?#TAEYEON tells everyone at the coliseum how much she loves all the FILIPINO fans tonight!#KVersePH #KVersePH_TAEYEON pic.twitter.com/DClaLgKsWd

— HallyuLife (@hallyulifeAMG) April 11, 2023
Just as how much Filo SONEs love Taeyeon, she granted everyone's wish to sing her favorite track "INVU" from her 3rd album of the same name. Everyone got to sing along with her making a great moment for both Taeyeon and FILO SONEs.
Truly, K-Verse gave a 'next-level' experience for both the artists and the fans to come together to create a wonderful experience as they entered the ultimate pop universe. We all celebrated birthdays, a first-time visit to Manila, and the much-awaited returns of some artists, and heard live the music we enjoyed and loved listening to. Making fun moments and good memories with aespa, THE BOYZ, and TAEYEON, was truly another unforgettable night to remember. -HallyuLife.com

THIS SPACE INTENTIONALLY LEFT BLANK.