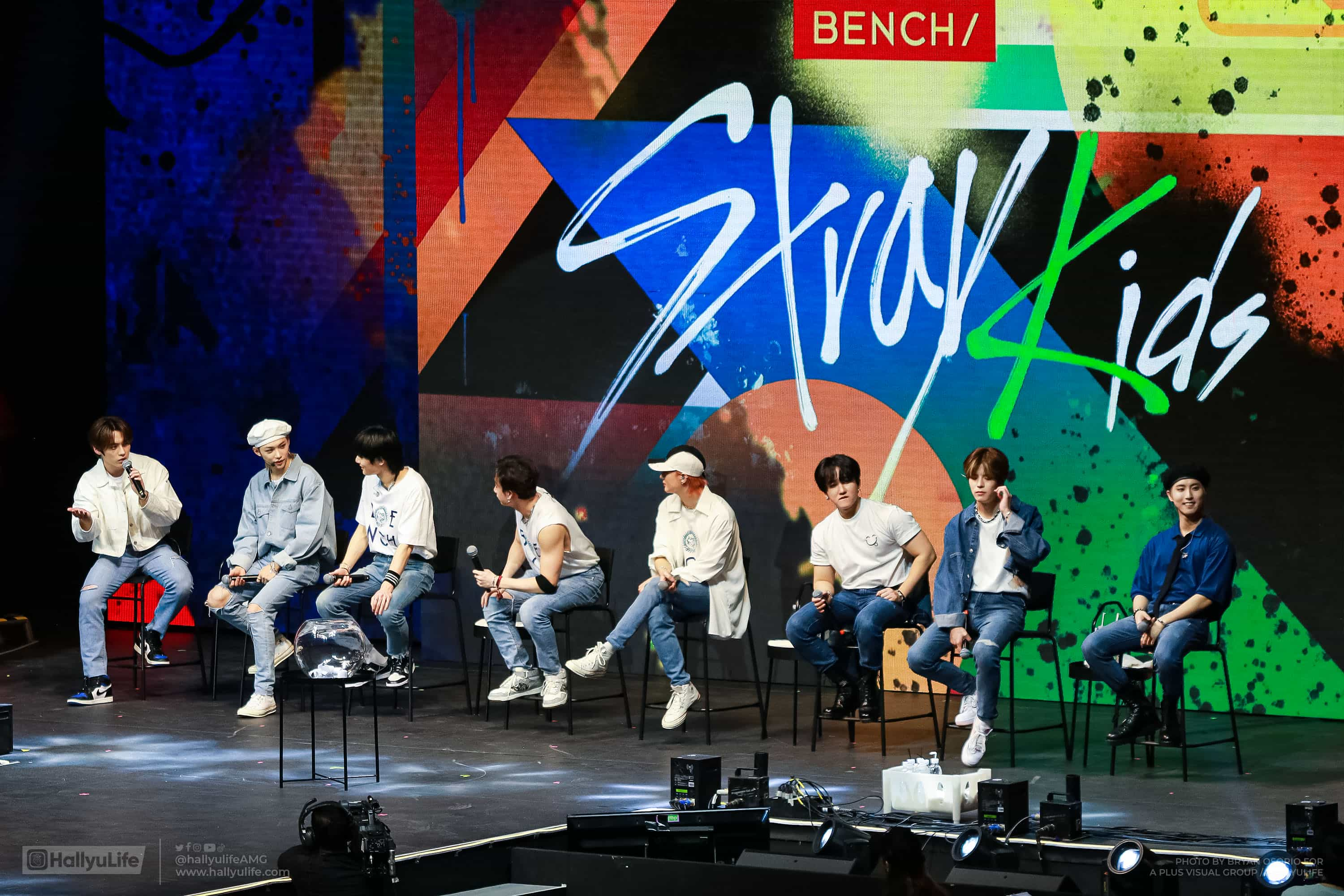 MANILA – Philippine fashion brand BENCH/ has tapped Korean male group Stray Kids as one of their newest global ambassadors, and to celebrate that feat, they have invited the group here to hold a short but special fan meeting called "Stay With Bench: The Stray Kids Fan Meet" last January 20 at the Mall of Asia Arena, which was attended by many STAYs (fandom name).
Few hours after arriving in Manila on January 20, the eight-member group composed of Bang Chan, Lee Know, Changbin, Hyunjin, Han, Felix, Seungmin, and I.N first appeared in front of the media at Sofitel Philippine Plaza for a short press conference, there, they appeared dressed up with BENCH clothing, while recalling their first visit and experience in the Philippines – and a remarkable one was the fact that the Philippines has distinctively great people and loud screams, and that the STAYs energy here was crazy.
The group members were asked what they think of Bench and that they were added to the growing list of 'global Benchsetters', and they said they were glad to be part of it and that Bench's clothes are great for everyday use, making them shine.
Quite excited for the fan meet later that evening, they were also asked about what they were looking forward to from it – and they said that the overflowing love that they receive from their fans, which allows them to live their everyday lives happily, which also reminds us of the responsibility as artists to reach fans' expectations.
At the fan meeting, Stray Kids graced the stage first with an explosive performance of their hit track 'God's Menu'.
Then they proceeded to the fan meeting's program, which mainly was Stray Kids playing games to entertain STAYs right there beyond their usual performance stages – and the segments prepared were indeed entertaining, such as impersonating other members, giant Jenga blocks and domino challenge, whisper or scream in silence challenge, love line – which somehow failed as no one managed to call Stray Kids' members on the arena successfully, and much more.
In the middle of every segment are missions or penalties for the group who lost, which involved the members' giving the ultimate fan service to the fans.
There's also a segment where the Stray Kids members painted their own designs on BENCH shirts, and the best is that they have gifted those away to eight lucky audience members, along with signed photocards, which would be the ultimate souvenir.
A fan-made video to surprise Stray Kids was also played on stage, showing their love and support for the eight-piece K-pop male group.
Lastly, after all the games and fun, Stray Kids capped off the 90-minute fan meeting with the performance of their newest title track 'Case 143', which made the fans sing their hearts out loud the last time.
The group will return to Manila once again on March 11 and 12 at the same venue, Mall of Asia Arena, for a 2-night concert as part of their second world tour 'Maniac'. –HallyuLife.com

THIS SPACE INTENTIONALLY LEFT BLANK.