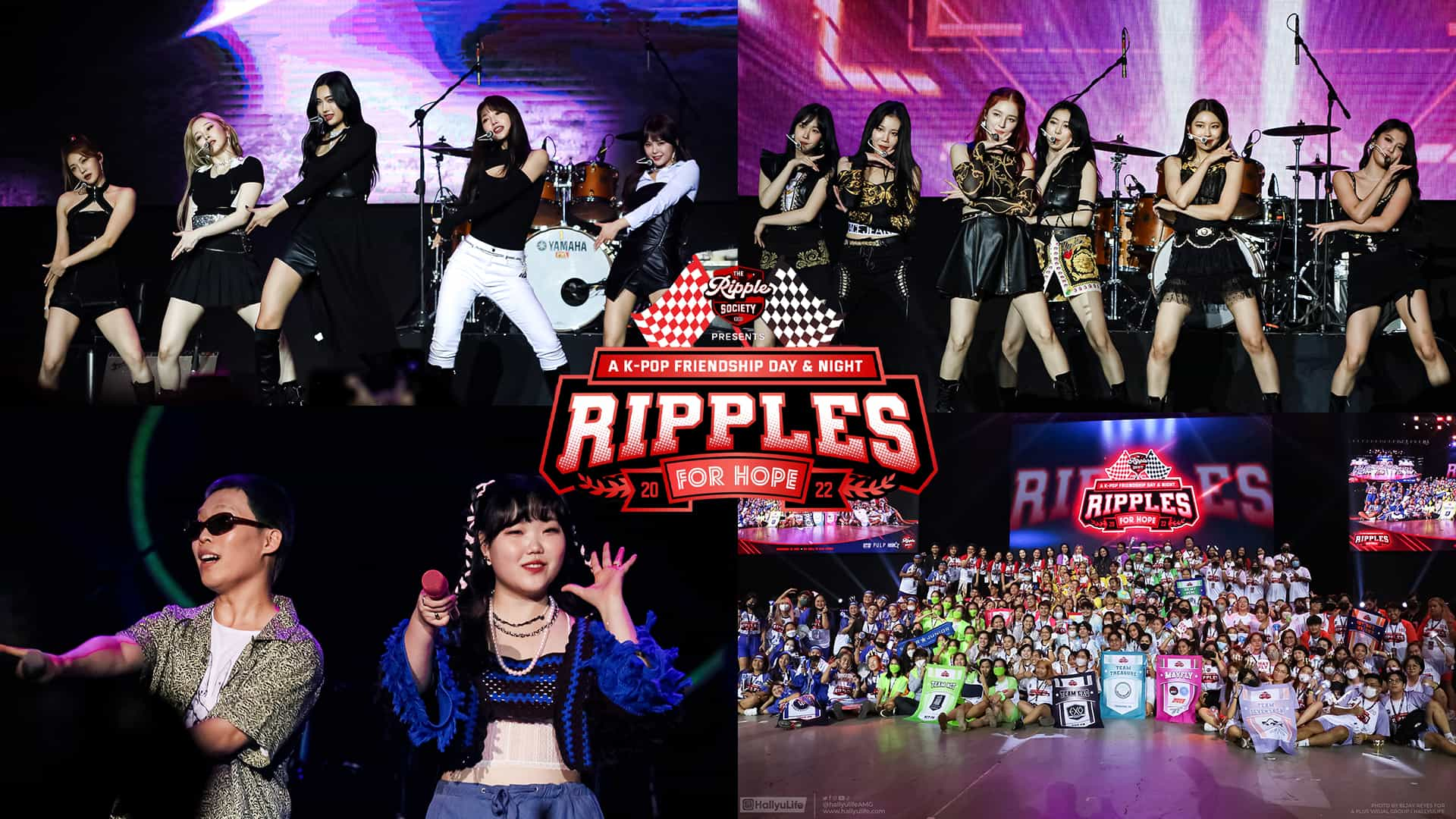 MANILA – It's been a long time since we've celebrated something for the love of K-pop and friendship as one K-pop community, and gathering multiple fandoms under one roof to play together is a sight to behold. That's why here at Ripples for Hope, representatives of multiple fan clubs had fun playing games, and of course, watched three amazing K-pop stars that night with their breath-taking performances – and all of that for a good cause.
The Ripples for Hope is a fundraising initiative under The Ripple Society catering to Filipino K-Pop and K-Drama fans from all walks of life. The goal of the event is to promote camaraderie among fans into one big K-pop Friendship Day following themes similar to school fairs and sports fest. It also hopes to gain resources that could help The Ripple Society fulfill its charity works in the future to support fellow fans and those who are in need.
We're also there to tell you all the fun things that happened that day.
---
Ripples for the Championship
On November 26, K-pop fans from different fandoms come together to have the best time all throughout the day by competing in different games such as "Red Light, Green Light," "Trip to Jerusalem," "Team Jump Rope," "Obstacle Course," "Tug of War," and "Ugly Duckling" battling out for the first-ever Ripple Champion. The competition was hosted by Kring Kim.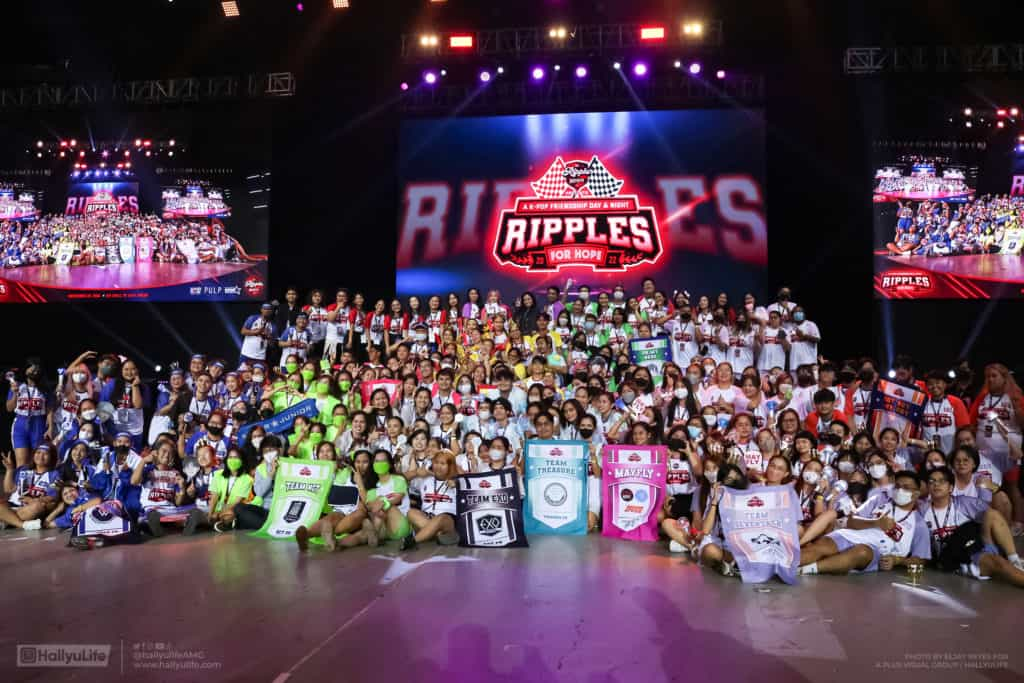 The 19 Philippine fandoms entered the arena as 12 teams: Not Shy Shy (TWICE Philippines and ITZY Philippines), PinkDay (APink Philippines and Girls' Day Philippines), Oh My Bebe (MONSTA X Philippines and Oh My Girl Philippines), MayFly (BTOB Philippines, ATEEZ Philippines, and Stray Kids Philippines), BangKon (BIGBANG Philippines and iKON Philippines), SONE ACE (Girls' Generation Philippines), Team Treasure (Treasure Philippines), Team NCT (NCT Philippines), Team EXO (EXO Philippines), ElfBuddy (GFriend Philippines and SJ United Philippines), Team Seventeen (SEVENTEEN Philippines), and WinnerCity (WINNER Philippines). After the games have been played, BangKon team became the first Ripple Champion!
---
Mabuhay EVERGLOW!
Evening comes and it's time to welcome EVERGLOW as they had their first performance on the Philippine stage with "LA DI DA". EVERGLOW greeted the fans with a warm smile saying, "Mabuhay, we are EVERGLOW!" (Hello! We are EVERGLOW!). The members delighted the fans with Filipino words/phrases prepared by them, like Mia saying, "Ang ganda ninyo!" (You guys are beautiful!), Leader Sihyeon said, "Masaya kami na maktia kayo!" (We are happy to see you all!), and Onda said, "Mahal namin kayo!" (We love you all!).
EVERGLOW continued to wow the whole arena with their performances of "Adios" and "DUN DUN" and then awarded the 2nd- runner-up winners "TEAM SEVENTEEN" and have the chance to take a photo with the girls. Before they end their Philippine stage debut, EVERGLOW members promised Filipino FOREVERs (EVERGLOW's fans) that they will be back as soon as possible and thanked everyone who cheered for them. They ended their stage with their latest released track "Pirate".
---
Welcome back MOMOLAND!
MOMOLAND appeared on stage that night with loud cheers as they performed "Yummy Yummy Love" and "Ready or Not" back-to-back. After the performance, MOMOLAND members expressed how much they miss the Philippines and their Filipino Merries (MOMOLAND fans). JooE said that she misses foods from Jollibee and all of them tried mango juice which is a refreshing drink.
MOMOLAND also performed their latest track "Wrap me in Plastic" and awarded the 1st runner-up winner "TEAM PINKDAY", where everyone shouted, "Sana all" (How we wish) as the winners took a photo with MOMOLAND. They performed crowd-favorite tracks such as "Bboom Bboom" and "BAAM", making their fans sure that they will be coming back soon.
---
200% happiness with AKMU!
Everyone in the arena screamed and shouted about the final performer of the night AKMU, as the band did a soundcheck before Lee Chan-hyuk and Lee Su-Hyun entered the stage.  The sibling duo performed their smash hits back-to-back with "Hey Kid, Close Your Eyes", "NAKKA", "Dinosaur", "How People Move" and "Don't Cross Your Legs". They both greeted the fans with delight, "Mabuhay Manila, we are AKMU!". Suhyun said, "Kumusta kayo? Ako po si Lee Su Hyun" (How are you? I am Lee Su Hyun), while Chan Hyuk said, "Kumusta kayo? Ako po si Lee Chan Hyuk". The duo wasn't expecting this kind of welcome from their Filipino fans since it's their first time visiting Manila.
AKMU continued their back-to-back stage performance of "Love Loss", crowd favorite ballad tracks "How can I love the heartbreak, you're the one I love", "Last Goodbye", and fun tracks such as "Give Love", "200%", and "Let's Take Time as their encore track. AKMU also awarded this year's Ripple Champion "BangKon" and a photo moment with the sibling duo. Both Chan Hyuk and Su Hyun thanked everyone for having them on this special day of friendship and love for K-pop and hoping to see their Filipino fans reals soon.
It was indeed a full day and night of fun games, a celebration of friendship, and love for K-pop by the fans, for the fans. Witnessing how competitive the fandoms are and being friendly with each other at the same time. Showing nothing but good vibes and fun moments made throughout the day and cheering for EVERGLOW, MOMOLAND, and AKMU as they performed LIVE that night. A one-of-a-kind experience for each and every one who loves K-pop. -HallyuLife.com
---
#RIPPLESFORHOPE2022 is made possible by PULP Live World, The Ripple Society, and Happee Hour. HallyuLife would like to thank them for the media invite and for making it possible.
Check out our photos from the event at photos.hallyulife.com.

THIS SPACE INTENTIONALLY LEFT BLANK.