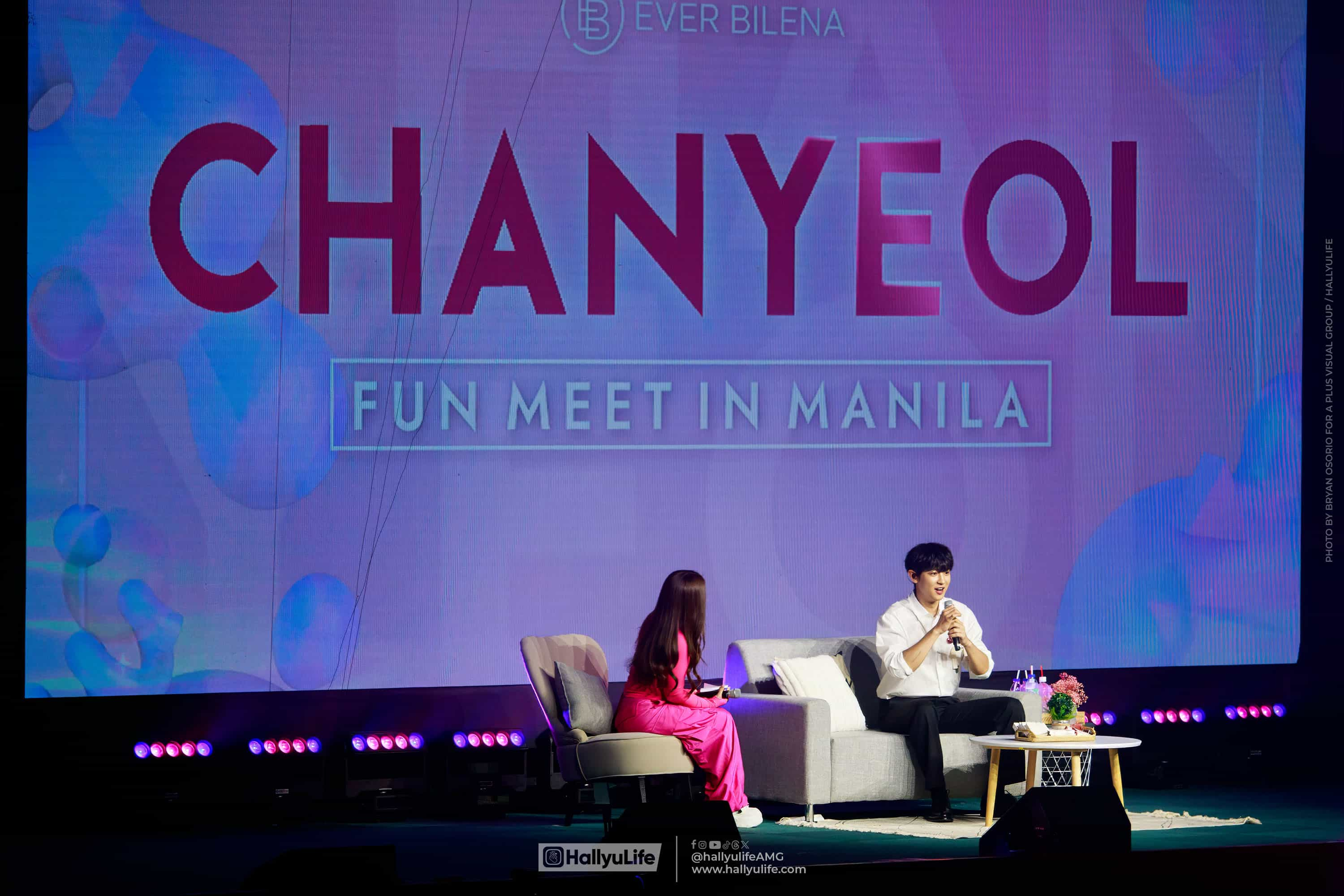 "Beauty is for everyone."
That is what the EXO member and singer Chanyeol said when asked what #ForEveryBeauty means to him. His promise came true as he returned to the Philippines for his Fun Meet in Manila with cosmetics brand Ever Bilena at the PICC Plenary Hall last October 1.
Prior to his fan meeting, Chanyeol was introduced to the media and luckiest fans as the first male brand ambassador for the cosmetics brand Ever Bilena. This is also his first appearance as a cosmetics line ambassador, as he introduces the audience to Ever Bilena's newest campaign, #ForEveryBeauty. Chanyeol expressed his gratitude to Ever Bilena for making it all happen and for inviting him back to the Philippines.
According to Chanyeol, we are all capable of creating beauty within ourselves, and there is a beauty product for each of us with the help of Ever Bilena products. He was worried at first about how his face fits perfectly with the cosmetics products from Ever Bilena but he enjoyed this collaboration, especially during the shoot.  Because he took an English course in middle school, the Philippines was the first foreign country he visited. Chanyeol feels comfortable in front of his PH EXO-Ls/Cherries knowing that he has a large fanbase in the Philippines. Chanyeol was really happy to see his own billboard (there is also one in Cebu) along C5 Road.
📍C5 Kalayaan North Bound pic.twitter.com/wbkAUT0zlb

— Ever Bilena (@EverBilenaPH) August 18, 2023
Chanyeol received an enthusiastic welcome with cheers from PH EXO-Ls as he entered the stage and sang "Nothin" by EXO-SC. He was astonished when he discovered the venue packed with EXO-Ls/Cherries. Chanyeol stated that through his solo fan meeting in Manila, he will be able to show us a fresh look and a new color of himself using Ever Bilena's products.
CHANYEOL performed "Nothin'" by EXO -SC with cheers from PH EXO-Ls! 😍#CHANYEOL #EverBilena#ForEveryBeauty#ChanyeolForEverBilena pic.twitter.com/im1NBU7DhM

— HallyuLife (@hallyulifeAMG) October 1, 2023

To make the night more special and memorable, Chanyeol accepted the challenges in the segment "YEOL CAN DO IT". He played "Sipa" (Jegichagi in Korean) and did it successfully. He even read Filipino tongue twisters effortlessly such as "Pitumput-pitong Puting Pating" and "Pugong Bukid, Pugong Gubat". Chanyeol was able to recognize and connect the image to random Filipino words below such as "also" (dog), "pulbo" (powder), "bahay" (house/home), and last but not least, "pogi (handsome)", just like Chanyeol saying "I'm pogi!" (I'm handsome!).
Chanyeol and Ever Bilena prepared a surprise present for the three luckiest fans that night as they received cosmetic products he wanted to put inside the box. In return, PH EXO-Ls/Cherries also prepared surprises for him such as a fan project video, and turned on their "ERibongs" (EXO lightsticks) forming a message saying, "LOVE CY".
Get Ready EXO-L & Yeolmae!

In collaboration of #Chanyeol's and EXO Filipino fanbases, we proudly present you:

The LOVE CY Fanlight Exhibition – An official fan support project for the upcoming #CHANYEOL for EVER BILENA – FUN MEET in Manila#LOVE_CY#ChanyeolForEverBilena pic.twitter.com/gtP46qRQBS

— CHANYEOL PHILIPPINES 🍒 (@ChanyeolPH1127) September 28, 2023

Chanyeol expresses his gratitude to Ever Bilena and most importantly to his Filipino fans who made his night, the best night he ever had:
While watching this video you've made me realize my existence itself that gives you a lot of strength. To all Exo-L that are here tonight and all Exo-L over the world, I will really do my best and really work harder to be your pride because you guys, are my pride. I could really say that it was the best night I've ever had. Thank you so much!
Before his fan meeting concludes, Chanyeol surprises his PH EXO-Ls/Cherries to sing Yeng Constantino's "Hawak Kamay" while playing the guitar, bringing back memories of EXO singing the song for the first time in 2013.
View this post on Instagram
It's true that "Beauty is for Everyone," as his PH EXO-Ls and Cherries shared wonderful memories with Chanyeol that night, and how he gave everyone who longed for his return to the Philippines the best fan meeting experience.
---
The Chanyeol for Ever Bilena – Fun Meet in Manila is made possible by Ever Bilena. HallyuLife would like to thank them for inviting us to this wonderful event. #ChanyeolForEverBilena
Check out our photos from the event here: EXO Chanyeol @ Ever Bilena Fun Meet in Manila Press Conference & Fan Meeting (HQ PHOTOS) [20231001]

THIS SPACE INTENTIONALLY LEFT BLANK.