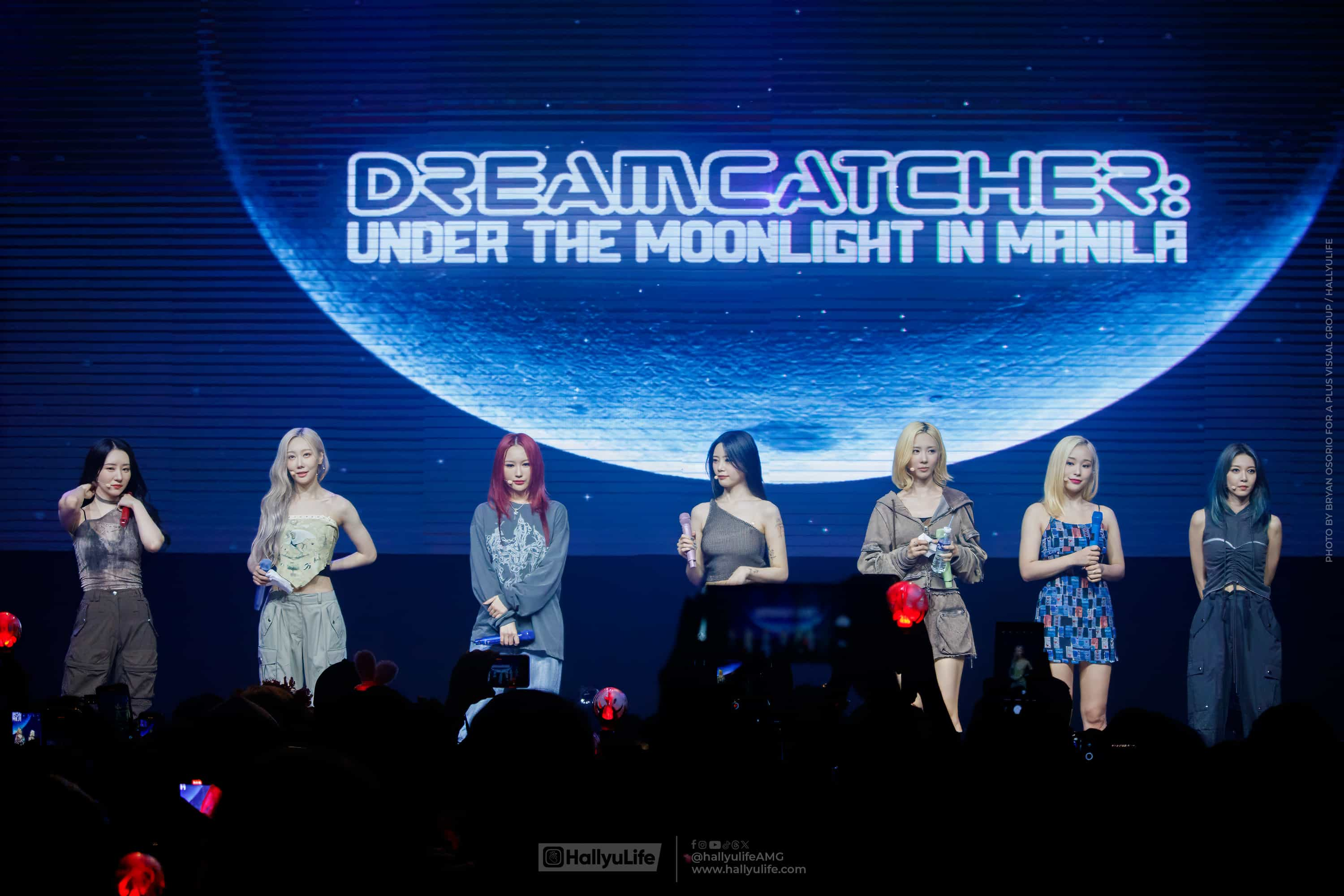 MANILA – K-pop girl group DREAMCATCHER returns here four years after their last visit, reuniting with PH InSomnias who were eagerly waiting for them for a long time at the New Frontier Theater last August 28, 2023.
Prior to their August 28th show, however, DREAMCATCHER first met with the members of the media as well as a few select lucky fans for a short media conference, where they talked about their feelings on revisiting the Philippines once again, their music style, thoughts about their worldwide popularity, and acknowledging the fact that their fans have been waiting for them for a long time. They've also learned a few Tagalog words and expressions for their fans, like "Mahal ko kayo (I love you all)", "Salamat po (Thank you)", and "Akin ka (You're mine)".
Known for its distinctive music flavor in K-pop (mostly composed of rock, EDM, and pop elements), the septet composed of JiU, SuA, Siyeon, Handong, Yoohyeon, Dami, and Gahyeon, treated their fans to a night of electrifying and rock-solid performances during their show's two-hour run, singing a total of 18 songs.
Opening the show with back-to-back performances of their tracks "VISION" and "MAISON", DREAMCATCHER then introduced themselves on stage, expressing their excitement about returning to Manila four years after their Invitation from Nightmare City tour held on March 24, 2019, at the SM Skydome, as well as their gratitude to their fans who attended the event.
DREAMCATCHER also performed their songs "Airplane", "Fairytale", "Break the Wall", "Propose", "SCREAM", and "BOCA", and then proceeded to change outfits to deliver breath-taking performances of the tracks "BEcause" and "Deja Vu".
While performing, the crowd gave their best reactions and cheers, to which member SuA responded by praising the fans' unwavering energy by saying "Your reactions are the best!".
A birthday cake was also brought up on stage to belatedly celebrate SuA's birthday, which was actually on August 10. Both DREAMCATCHER members and fans sang a birthday song for SuA.
SuA then responded with gratitude, saying "The cake is really cute and detailed", to which fans cheered after with "Iiyak na yan! (She's about to cry!)". SuA then jokingly showed that she was crying, which earned laughter instead from the audience. Her wish was just like any other person who's hard-working in life – to be rich. She also said it's her wish as well for InSomnias out there.
DREAMCATCHER also delivered performances for their songs "To. You", "Jazz Bar", "BONVOYAGE", and "DEMIAN", which was performed for the very first time on stage since its release, as well as the songs "Mayday" and "Wake Up".
At the encore performance with the song "New Days", staff members brought up on stage the 'baby' photos of DREAMCATCHER members turned into cute standees, which sent member Siyeon crying. According to her, she was touched on seeing her baby photo, and realized that she 'grew up well'. The members, as well as the fans, comforted her on stage while giving their closing remarks.
At one point, it seems like Yoohyeon has lost her voice, so SuA said, "Even if we lose our voices [tonight], we believe InSomnias will sing for us. You guys are the best, even with small events like this."
JiU, the group leader, then said, "It's been a while since we came back to the Philippines. I know you guys have been waiting for us for such a long time and it's really great to see you [all] again."
She also thanked fans for coming despite having a typhoon that resulted in bad weather.
Siyeon then said, "It's not the last time, right? We'll make sure to see you guys more often," asking fans to see them again when they return.
DREAMCATCHER then wrapped off the night with the performance of their song "REASON", which is also one of their new tracks released this year, while roaming across the stage left and right to thank everyone who came out to see them and say their goodbyes.
After their Philippine show, DREAMCATCHER is set to embark on their 2023 World Tour [Apocalypse :  From Us], starting in Canada and North America in September.
---
DREAMCATCHER "Under The Moonlight" in Manila is made possible by RandomMinds. HallyuLife would like to extend its gratitude for having us be part of the event.
Check out more photos from the event here:
DREAMCATCHER @ Under The Moonlight Concert in Manila (HQ PHOTOS) [20230828]
DREAMCATCHER SuA, Handong & Yoohyeon @ Under The Moonlight Concert in Manila (HQ PHOTOS) [20230828]
DREAMCATCHER Siyeon, Gahyeon, Dami & JiU @ Under The Moonlight Concert in Manila (HQ PHOTOS) [20230828]


THIS SPACE INTENTIONALLY LEFT BLANK.