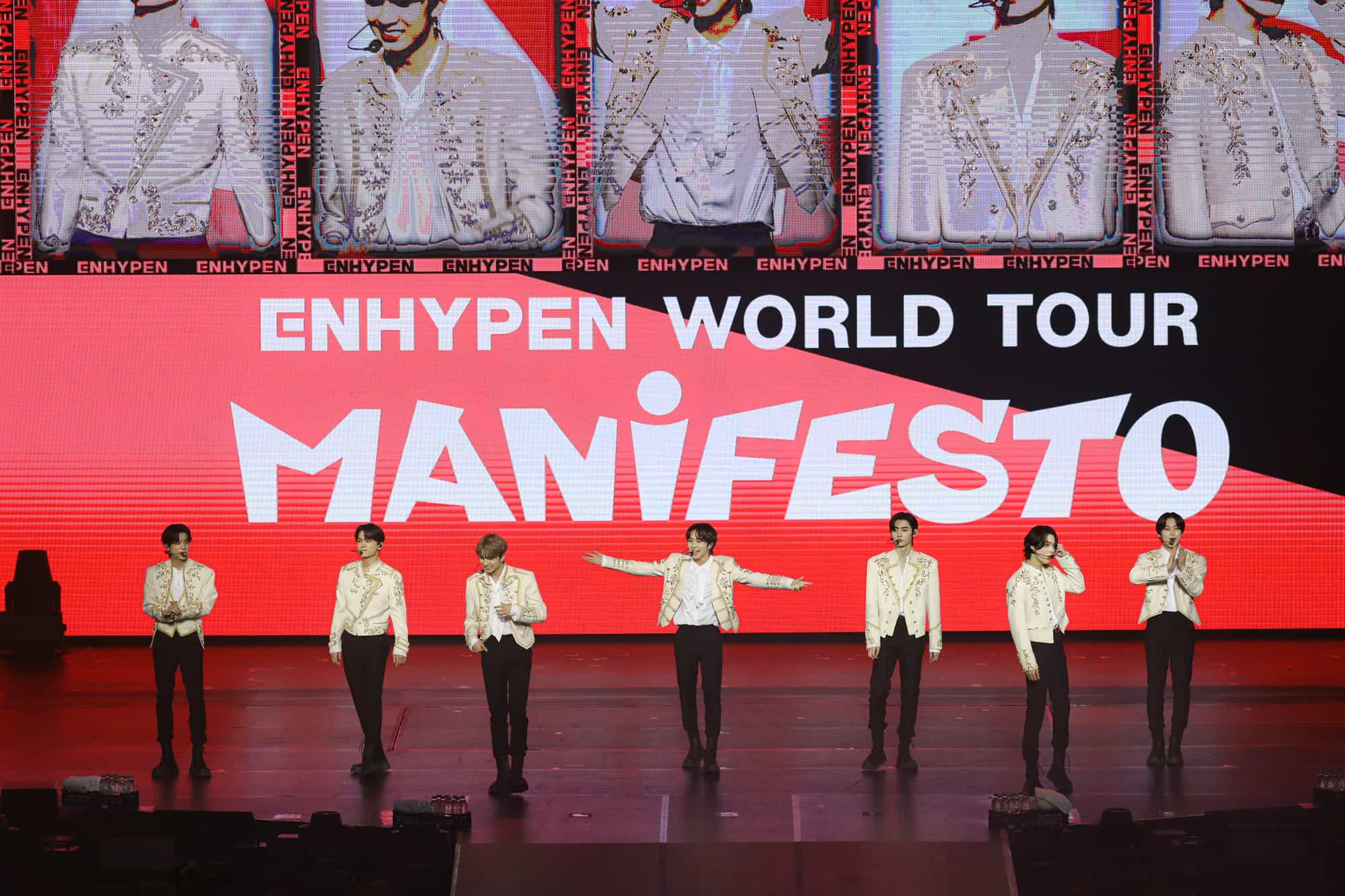 MANILA – Enhypen returned to this city this February for their historic 3-day sold-out concert at the SM Mall of Asia Arena, the second and last stop of their Asian tour for "MANIFESTO", and HallyuLife is present on the first day to witness the first K-pop group who managed to sell out 3 consecutive days of their concert here.
It's no easy feat to do that, and just more than two years after their debut, Enhypen has managed to achieve a lot of milestones, such as becoming the fastest K-pop group in history to become double million sellers, ranking high on multiple global charts, and selling out the iconic Kyocera Dome in Osaka, Japan for two days last January as part of their "MANIFESTO" tour, which is considered a "dream stage" for many musicians. Now, Enhypen can add selling out the Mall of Asia Arena for three consecutive days on those milestones.
It's true that a lot of fans here love Enhypen, in fact, tickets ran out quickly for the initial two-day shows and many fans insisted on a Day 3, which was granted due to immense demand. Fans are even demanding to open obstructed views or have a live viewing just like in Japan, just to be there to see or watch Enhypen's concert unfold live.
Fans have gathered in some areas or "fan zones" around the venue, with many fans giving away freebies such as banners and slogans to show support for Enhypen during the concert, highlighting the maximum effort to make it one of the best concerts on Enhypen's memory.
One of the most energetic crowds ever
Known for being the loudest and most cheerful crowds at concerts, Filipino ENGENEs never failed to cheer and shout out their hearts for Enhypen, and when the septet finally appeared on stage, the screams just went louder that we almost can't hear anything. At one point, member Jake said that "this isn't the biggest venue they've performed in, but this is one of the loudest we've been to."
Enhypen performed many of their hits during the almost 3-hour concert, including Given-Taken, Let Me In (20 CUBE), Drunk-Dazed, FEVER, Polaroid Love, Tamed-Dashed, Blessed-Cursed, Future Perfect (Pass the MIC), ParadoXXX Invasion, and more.
In every song, Manila ENGENEs never failed to sing loud and recite fan chants along with Enhypen, as is always the case with every concert here. There's even one time that the audience sang loud in acapella to songs like Polaroid Love and SHOUT OUT, where they raised the banners to Enhypen with the message "Our MANIFESTO that ENGENE and ENHYPEN will draw together", which surely was an emotional moment for all out there.
The strong energy was sustained all throughout the concert, and honestly, it felt like time was too short for these boys. It seems that with every performance, the energy never fades, and both Enhypen and ENGENEs are getting strength from each other.
At one point, Enhypen also showed their fun and 'sexy' side to the fans, while doing ending fairy poses of their song "One in a Billion", and some members also said a few Tagalog words, such as Mahal kita (I love you), and Salamat po (thank you), earning loud cheers from the audience.
Enhypen even went down on stage several times to get a closer look at their Manila ENGENEs who were eagerly waiting for that moment to happen. The boys gave high-fives to some of them and I'm sure that was a moment to remember for the rest of their lives.
Went beyond expectations
Member Sunoo said at one point during the ments that "this is the last country for our [Manifesto] world tour, so we had high expectations. And it went beyond my expectations, due to you guys having good reactions and cheers. We were only supposed to do a two-day concert. I'm expecting a lot for the three-day concert."
The other members then echoed the same sentiment, saying that they are looking forward to the two other days, saying that the ENGENEs out there are amazing, and that they saw how much the fans have enjoyed the time with Enhypen.
Ni-ki requested fans at one point to raise their phones and turn the flashlights on, leading to a sea of white lights across the arena. It was a sight to behold as each and every light stands for one ENGENE who believes in Enhypen. It was a very meaningful moment. He then thanked all the fans for coming there as well as for their cheers, promising to make more cool music and return with a new album.
(photos courtesy of BELIFT LAB)
Sunghoon reminisced about the time he came to the Philippines 10 years ago, joining a tournament as a figure skater at the Mall of Asia. He said he was very happy to come back here again [as a member of Enhypen], and that he was happier than he was 10 years ago since he has his members and ENGENE [on his side] – all while being teased by the other members.
Jungwon said that they will not forget this day, and that "we went to a lot of countries for our concert, but Filipino ENGENEs are the most passionate! Because of you, we'll be doing more of our best. Mahal Kita!"
Jay even said, "I swear to God, to be honest, this is one of the most energetic crowds ever."
Sunoo, on the other hand, said that "ENGENE and ENHYPEN will be always together as one. Our journey has just begun so please continue to be with us."
The first night was truly enjoyable not only for ENGENEs but also for Enhypen as well. Until the very end, they were all smiles as they go on around the stage, seeing each side of the audience like it was the last time, and bowing out at the center stage to say goodbye and thank you to everyone out there.
And before Enhypen exits the stage for the last time, members Heeseung, Jay, and Sunghoon repeatedly said "Sumigaw! (Shout!)", which was a hilarious yet unforgettable moment for the fans.
With this big love and fanfare, we realized at that moment that Enhypen isn't really a rookie anymore, they're on their way to becoming one of the powerhouses as we know it today. -HallyuLife.com
"I swear to God, to be honest, this is one of the most energetic crowds ever", says #ENHYPEN member Jay on the DAY 1 of their #MANIFESTO_IN_MANILA tour – here's the video highlights for DAY 1

Story: https://t.co/B0HtoA04if

(Video from BELIFT LAB)#ENHYPEN_IN_MANILA @ENHYPEN pic.twitter.com/iqDZoVEcyM

— HallyuLife (@hallyulifeAMG) February 4, 2023

THIS SPACE INTENTIONALLY LEFT BLANK.