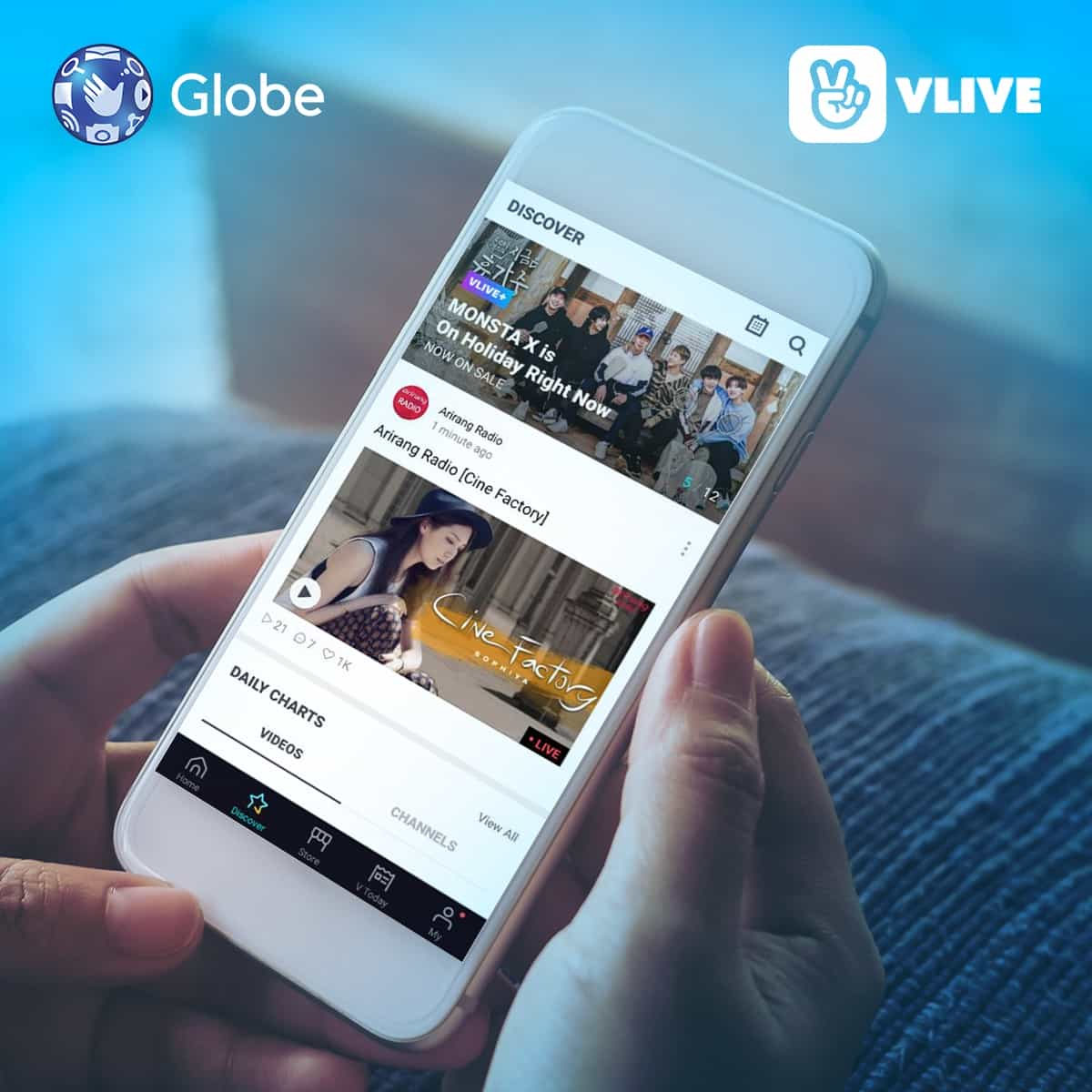 Philippines's Globe Telecom has teamed up with South Korea's top streaming service V LIVE, which is mainly used by many Korean celebrities and artists including popular groups BTS, BLACKPINK, TWICE, TXT, and NCT to name a few, as well as entertainment companies to interact with their fans and audiences worldwide, aside from streaming live concerts and music videos.
In a press release, Globe has said that its partnership aims to provide exclusive K-pop idol content to millions of its subscribers in the Philippines.
"Seeing the growing demand for Korean content in the country, Globe ensures that users who are K-pop fans can continue to #KmmunityHwaiting and stay connected to their favorite K-Pop idols."

"As we are relying on the internet for our main source of entertainment, we want to offer all types of content for our diverse set of users, and that includes streaming services for our subscribers who are avid fans of Korean pop music," said Ernest Cu, Globe President and CEO. "We will continue to introduce packages and data bundles to make Korean pop culture related content more accessible to millions of our users across the country."
To stream K-Pop content on V LIVE, Globe subscribers can register through its prepaid data packages and promos, such as GoWATCH, GoSURF and GoSAKTO, and HomeWATCH for Globe at Home Prepaid WiFi users.
Through GoWATCH, subscribers can continue to watch hour after hour of video and streaming content without worrying about using up their data allowance. GoSURF and GoSAKTO subscribers, meanwhile, can enjoy an additional 1GB of free data each day for streaming and watching. As for HomeWATCH subscribers, up to 4GB of free data can be used each day.
V LIVE is the latest addition to Globe's roster of video streaming site partners. For more information on Globe data packages, visit www.globe.com.ph and follow Globe Telecom on Facebook.
Globe also encouraged fans to join Kmmunity PH Facebook group, to get first dibs on K-culture related updates, as well as exclusive invites to viewing and listening parties, quiz nights and other activities. -HallyuLife.com

THIS SPACE INTENTIONALLY LEFT BLANK.