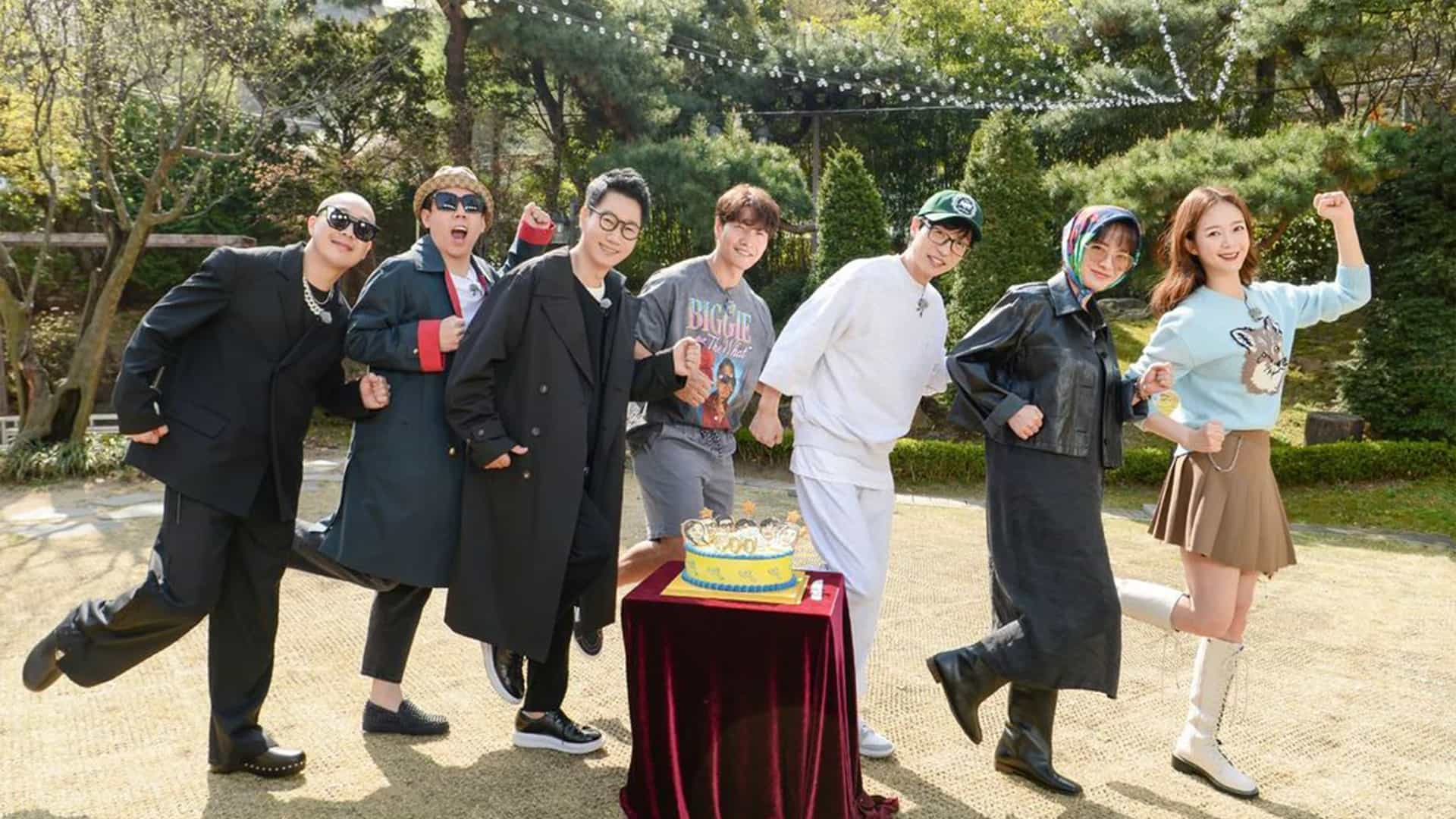 After postponing it for 3 years due to unforeseen circumstances, the cast of the longest-running variety show in South Korea will finally take place FOR ONE NIGHT ONLY this April 1 at the Mall of Asia Arena! And it's not a joke, #RUNNINGMANinManila it's finally happening!
So if you want to be hyped up before the fan meeting event, we got you covered with the best, the funniest, and the most memorable episodes ever of Running Man* (*according to my definition).
As I write this list, it made me realize that it's been years since I am watching this show, and due to the pandemic, made me watch the show from the very first episode. With over 640 episodes (as of writing), I handpicked the ones (in no particular order) that will surely take you on a rollercoaster ride of emotions. Some will make you laugh, some will make you cry, and some will make you watch more of Running Man before seeing them LIVE.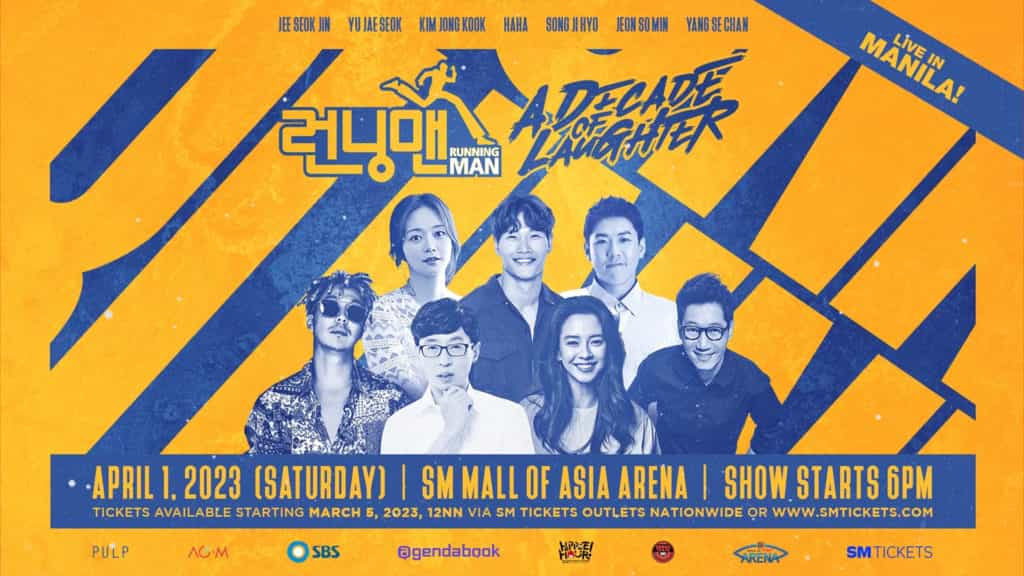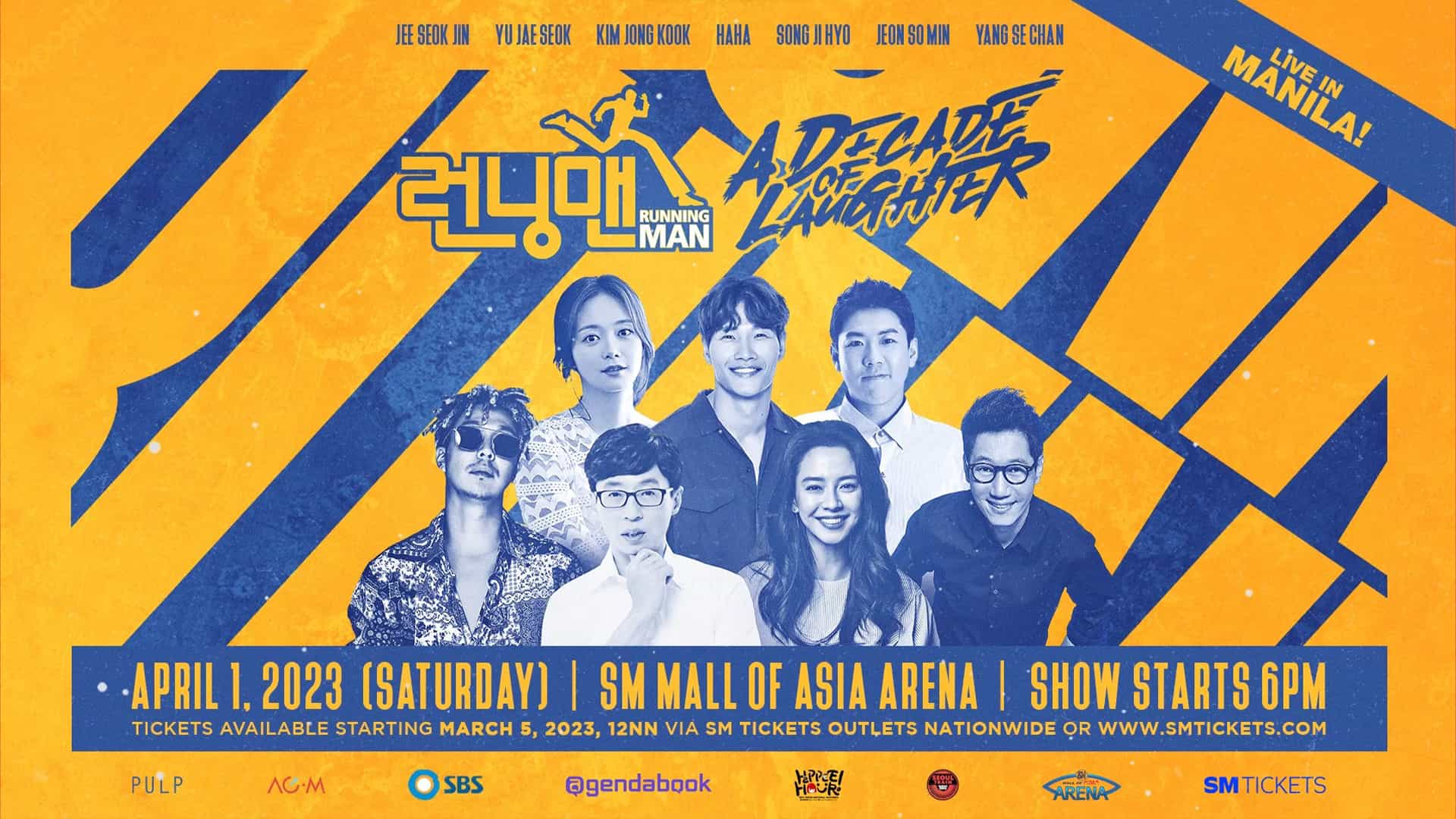 With that said, let's proceed to our list.
---
Don't Walk, Run! [Episode 1] (aired July 11, 2010)
The episode where it all started. Yoo Jae Suk, Ji Seok Jin, Kim Jong Kook, and Haha alongside former members Gary, Song Joong Ki, and Lee Kwang Soo graced the very first episode of Running Man at the roof garden of the SBS building. With Hwang Jung Eum and Lee Hyo-ri as their very first guests, the show tells us their famous tagline "Don't walk, run!". The original format has the runners getting locked in a landmark during closed hours and they have to do the challenges well and get out before the landmark opens and the loser? gets the punishment!
---
Running Man Unanimous Race [Episode 267] (aired October 4, 2015)
Running Man wins via unanimous decision. This is one of the most challenging episodes ever watched on Running Man. The cast members' telepathy and teamwork were tested through a series of decision-making challenges that should be decided and done unanimously. Just watch until you witness a heartwarming moment everyone did not expect to see.
---
Yoomes Bond Series [Episodes 38, 91, 140, 231, 318-319, 449]
BOND, YOOMES BOND! The Running Man marathon will not be complete without the Yoomes Bond (James Bond Parody) series of episodes with Yoo Jae Suk. These are the "mission impossible" episodes with Yoo Jae Suk, doing his best to fire water guns on every name tag in order to win!
---
Welcome to the Game World [Episode 254] (aired July 5, 2015)
The girls meet the Runners. There are lots of episodes featuring K-pop idols and out of all the episodes, there's one from Girls' Generation. This episode will make you laugh all episode long! Getting sucked into the game world, the Running Man cast and Girls' Generation will be divided into teams to compete in different games and whoever wins escapes the game world.
---
IU's morning call on food bingo [Episode 77] (aired January 15, 2012)
Good morning from IU! What if you wake up in the morning, and IU is the person singing "You & I" and "Good Day" right outside your house? Yes, it did happen on this episode of Running Man where the members and guests wake up on a cold morning, and IU (Lee Ji Eun) gives them a "Good Day" vibe. Carrying challenges for them to eat and at the final challenge, its the remarkable name tag race.
---
The Ghost Hunter Race [Episode 482] (aired December 22, 2019)
Hollywood meets Running Man. When it comes to Running Man, the show and the cast members are known worldwide for its amazing challenges and funny episodes. But since it is globally known, there are also Hollywood stars joining them to have fun and enjoy the Running Man experience. From Jackie Chan (episode 135) to Tom Cruise, Simon Pegg, Henry Cavill (episode 410), and the episode with Melanie Laurent, Adria Arjona, and Ryan Reynolds on this episode. This features their guesting as part of their promotions for the Netflix film "6 Underground" and Ryan Reynolds was so fun playing Korean traditional games with the members from jegi to ddakjji.
---
300th episode: 7 vs 300! [Episode1] (aired July 11, 2010)
CHALLENGE ACCEPTED! That's the spirit of Running Man when it comes to taking challenges in every episode. From the well-known "name tag race" to the hardest challenges on the show, this is for us, one of the hardest and most fun episodes to watch. From 300-meter essay writing to 300 bowls to eat to 300 kg to weigh in, these challenges test the members' ability and teamwork. But one the main highlights of this episode is "7 vs 300 boxes" where these boxes of noodles are needed to be moved on the truck, and whoever wins gets to donate it. And this challenge will not begin without the global superstars BTS! Showing their fiery dance moves and their funny and strong personalities from their "Fire" era. It's definitely a fun episode to watch!
---
Goodbye Our Inseparable Bro [Episode 559] (aired June 13, 2021)
11 years, 3991 Days. This is definitely an episode to remember as Lee Kwang Soo made his final appearance as the cast member of Running Man. It brings back the nostalgia of Kwang Soo's long journey of 11 years on the show. Making the members do the hidden tasks for Kwang Soo to receive gifts from the production team, but little did the cast members know that those gifts were prepared by Kwang Soo himself for his members. The members also wrote letters of their thoughts and their memories with Lee Kwang Soo in Running Man.
---
Show Me The Fight Money [Episode 626] (aired October 23, 2022)
PACMAN meets the TIGER. Who would not forget Running Man's episode with the Philippines' "Pambansang Kamao" or "Pacman", Manny Pacquiao? Months before his exhibition match with DK Yoo, the eight-world division title boxer and former senator visited the Running Man cast for a fun episode through a series of games that both Koreans and Filipinos enjoyed.
---
9 Years of Running Man: Spy Game & Grand Final [Episode 468 & 469] (aired September 15 & 22, 2019)
Of course, who would leave this out of this list?
Memories through a song! These back-to-back episodes of Running Man where the members celebrated their 9th year through a fan meeting event and perform a series of songs from their very first EP "Running Man Fan Meeting: Project Running 9″ containing six tracks collaborating with different artists such as SORAN, CODE KUNST, Nucksal, Yoon Mirae, APINK, and Gummy. And the best way to do it is by making the crowd scream louder and identify the SPY! We are sure that you are looking forward to seeing these performances from the Running Man cast LIVE!
---
Honorable Mentions:
Seokjin vs Seokjin [Episode 627] (aired November 6, 2022) – Ji Seok Jin and BTS Jin compete in order to get fewer penalty balls.
Goodbye Gary [Episode 323] (aired November 13, 2016) – Running Man members bid goodbye to Gary on his last episode with the members.
10-Year Anniversary Special Live Broadcasting: The Blame Running Man's [Episode 511] (aired July 12, 2020) – Celebrating their 10th anniversary to identify the two thieves of CEO Big Nose (Ji Seok Jin) and also featured a live part of the episode to get every viewer involved.
Christmas Special [Episode 74] (aired November 13, 2016) – Using their superpowers to win the race by eliminating others in a special way to win a trip to Europe.
2013 Year-End Special Running Man vs. Production Team [Episode 178] (aired November 13, 2016) – It's the Running Man team vs the show's production team going head-to-head in a series of challenges to win Running Man balls.
Joker's House [Episode 473] (aired October 20, 2019) – It's a Laugh Out Loud episode with the members as they prevent themselves from being infected by a virus but the highlight moments came from the game where they prevent themselves to laugh as they go along the way to buy at a convenience store.
So Min and Se Chan's First Day [Episode 346] (aired April 16, 2017) – It's Yang Se Chan and Jeon So Min's first day as regular cast members of Running Man.
Aegyo Battle with TWICE [Episode 398] (aired April 29, 2018) – One of the cutest episodes of Running Man with TWICE as they go on an aegyo battle and a funny dance battle with the members.
Blackpink in Running Man: Deliver Us From Probabilities [Episode 525] (aired October 18, 2020) – Highlights the funniest lie detection game as the members of Running Man and BLACKPINK go head-to-head in asking questions and see how they lie through its bunny ears attached to them.
---
Are you excited to see the Running Man cast live this April 1 at the Mall of Asia Arena? Yeah, we are, too!
Check out more details about the show here.
Running Man's "A Decade of Laughter" LIVE in Manila is promoted by PULP Live World and Happee Hour. Tickets are available thru SM Tickets outlets nationwide and online thru their website.

THIS SPACE INTENTIONALLY LEFT BLANK.