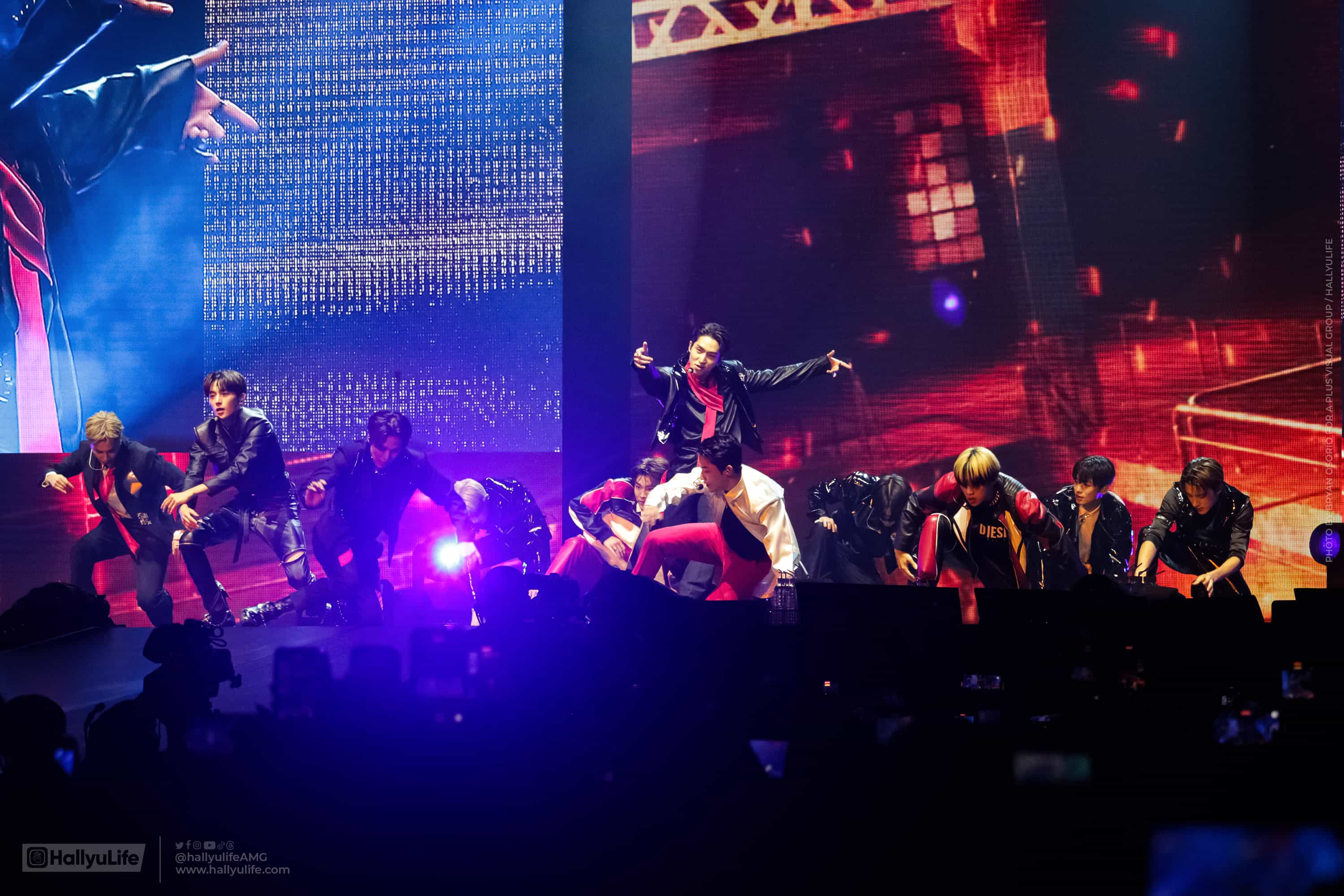 MANILA — K-pop group THE BOYZ successfully finished their show for their ZENERATION concert tour last July 15, 2023 at the Smart Araneta Coliseum. The eleven-member group, consisting of Sangyeon, Jacob, Younghoon, Hyunjae, Juyeon, Kevin, New, Q, Haknyeon, Sunwoo, and Eric, delivered strong energy and passion for their Filipino 'The Bs' (fandom name) during their Manila show.
The boy group was outstanding during the night and they pulled off well all of their performances! THE BOYZ performed various tracks such as Ego, Reveal, Awake, Roar, I'm Your Boy, Text Me Back, KeePer, Only ONE, WHISPER, Water, Thrill Ride, and D.D.D!
VCRs were also shown on stage and THE BOYZ's unique concepts and visuals definitely wowed their Filipino The Bs!
Aside from the mentioned songs, they also performed Lucid Dream, Daydream, Butterfly, Wings, Nightmares, Russian Roulette, Insanity, and Maverick!
The fun doesn't stop because THE BOYZ's last three songs — Spring Snow, Horizon, and Timeless, definitely filled the hearts of their The Bs!
Let's look back to some of the remarkable moments during THE BOYZ's Manila show.
---
1. They confirmed that THE BOYZ are gearing up for an August comeback
The Boyz confirmed on their last ment during their Manila show that they'll have an August comeback and they asked their Filipino 'The Bs' to support them.
Let's give them lots of support for their upcoming comeback next month.
---
2. Jacob danced to SB19's 'Gento' during Thrill Ride dance break
FINALLY 드디어 !!!! JACOB BAE'S FULL GENTO DANCE ON HIS FREESTYLE DANCE BREAK DURING THRILL RIDE !!! 🔥🔥🔥 pic.twitter.com/vg1Rk39j5u https://t.co/KIDyWZJOCB

— annette.🌻 (@haebaraqi) July 15, 2023
Many keen-eyed fans noticed that Jacob of The Boyz had sneaked in some moves from the Filipino boy group SB19's song 'Gento' during the dance break for their song 'Thrill Ride'. The B's hyped Jacob so much which makes it so fun to watch.
---
3. Tagalog words are no escape from The Boyz
During their introduction, some of the members of The Boyz uttered some Filipino words just like how Eric said that he's The Bs' boyfriend!
Eric: Ako si Eric, ang inyong boyfriend! Let's have fun tonight yeah?!#THEBOYZ #더보이즈 #ZENERATION #ZENERATION_MNL@dnmentph

— HallyuLife (@hallyulifeAMG) July 15, 2023
Kevin asked how are his "beshy" (or beshies?)
Kevin: Kumusta na ang beshy ko?#THEBOYZ #더보이즈 #ZENERATION #ZENERATION_MNL@dnmentph

— HallyuLife (@hallyulifeAMG) July 15, 2023
Sangyeon mentioned that The Bs are so pretty (maganda)!
Sangyeon: Kumusta ka? Ako si Sangyeon! Philippine The B, maganda! Let's have fun today!!#THEBOYZ #더보이즈 #ZENERATION #ZENERATION_MNL@dnmentph

— HallyuLife (@hallyulifeAMG) July 15, 2023
Younghoon said Mahal Kita!
Younghoon: This is Younghoon from The Boyz! Mahal kita!!#THEBOYZ #더보이즈 #ZENERATION #ZENERATION_MNL@dnmentph

— HallyuLife (@hallyulifeAMG) July 15, 2023
---
4. Kevin shared how badly he wanted to try 'Iced Capp'
During one of the ments, Kevin shared with the fans that he wanted to try the drink 'Iced Capp' earlier that day but unfortunately, when he went to the store before their show, there were no Iced Capps available!
"there's no iced capps" 😭 i'm sorry kevin this is hilarious

— 🌷*:・゚✧ #KEVIN_rwt (@mooneybees) July 15, 2023
---
5. They gave us snippets of the tracks Savior, The Stealer, and Bloom Bloom
It wasn't on their setlist but they granted The B's request and perform a bit of their songs Savior, The Stealer, and Bloom Bloom. It may be not on their setlist but The Bs really showed their support as they scream and cheer for The Boyz during these moments.
---
6. The B's unmatched energy wowed The Boyz
The Boyz mentioned that their Filipino The B's have unmatched energy whenever they're coming to Manila for a show. Manila crowd is really well-known for its powerful and hyped energy for concerts and The Boyz once again got to experience it!
---
7. The Boyz visited the lamp post banners for them
[ERIC] thank you Manila 🙏
love you Philippines ❤️‍🔥
Mahal Kita-!! 🫶🏻 pic.twitter.com/Vc4t6YtPaH

— THE BOYZ (더보이즈) (@WE_THE_BOYZ) July 15, 2023
During their ment, Eric mentioned that he visited the lamp post banners for them. He also uploaded the photo he took on their social media account!
Not just Eric but also Kevin and Juyeon posted a picture of the banners!
View this post on Instagram
View this post on Instagram
---
8. The Boyz's message for their Filipino The Bs who attended their concert
New thanked the fans who became their horizon and for always being on their side and he really had a great time [at their Manila show].
"I think each and everyone of you will be remembered on my mind like a photo. Thank you so much." — New
Jacob said that he knows it's been raining and it's not easy to come to the venue for their concert but he's really happy that their fans supported them. He even said that it's been a long time since his ears hurt from screaming! He said that they will be back and asked the fans to wait for them.
Haknyeon said he was too excited that he wasn't able to control his condition. He promised that he will come back really really soon and even said "Mahal kita!"
Q said The Bs' energy gives power to The Boyz and he promised to come back really soon.
Hyunjae shared how their Manila concert is so influential to them as it actually covered the 4 years that they couldn't come to the Philippines. He thanked their Filipino fans and promised to come back to the Philippines more frequently.
Younghoon said he had a happy moment during their Manila show and The Bs are his biggest happiness.
Juyeon thanked the fans for giving them energy and said to continue on cheering for each other and he promised to come back.
Sunwoo bids his sorry that it took them a while to come back and he really missed the fans so much. He also thank the fans for enjoying the show with them and he said they'll come back with more energy.
Sunwoo even granted the fans' request which is to pose on the fans' phones and do 3 sets of 'aegyo' poses.
Sangyeon said that his Philippines babies are so amazing. He even said "natutuwa akong makilala kayo! (I'm so happy to meet you all!)" He also expressed that he's so happy and the Philippines always gives him good memories that he wants to come often to the Philippines to see Filipino The Bs!
Kevin said that he miss the Filipino The Bs! He also shared that he knows the stressful feeling of ticketing and getting to the venue early just to get in the front row, and having someone do that for him and for The Boyz is amazing and he feels very blessed about it. He also said that every time they come back to the Philippines there's always an 'unmatched' energy.
Eric shared how the hardest time for him was last year when he took a break but now he said he's so happy! He also said that the fans would definitely love their August comeback! He even complimented the fans and said, "You guys look so beautiful tonight!"
The fans also screamed "walang uuwi (nobody's going home)" during the last ment of The Boyz and Kevin said, "Y'all need to go home." Eric even told the fans that if they don't want to go home, make sure first to ask for their parent's permission.
The Boyz definitely brings a lot of energy to their Filo The Bs during their Manila show which the fans will surely treasure forever. —HallyuLife.com
---
THE BOYZ "ZENERATION" World Tour in Manila is presented by DNM Entertainment. HallyuLife would like to thank them for letting us be part of this show.
Check out our photos from the event here: THE BOYZ @ "ZENERATION" in Manila (HQ PHOTOS) [20230715]

THIS SPACE INTENTIONALLY LEFT BLANK.