As the fifth member of GOT7 who visited Manila this year for a K-pop show, GOT7's leader and solo artist Jay B (Lim Jae-beom) opened the month of October for his fans (mainly Ahgases) with a night to remember along with captivating performances and exciting moments, marking his first solo concert in the Philippines.
Presented by PULP Live World, Jay B's "Tape: Press Pause in Manila" was held at the New Frontier Theater on October 1st – and we're there to tell you what went on that night.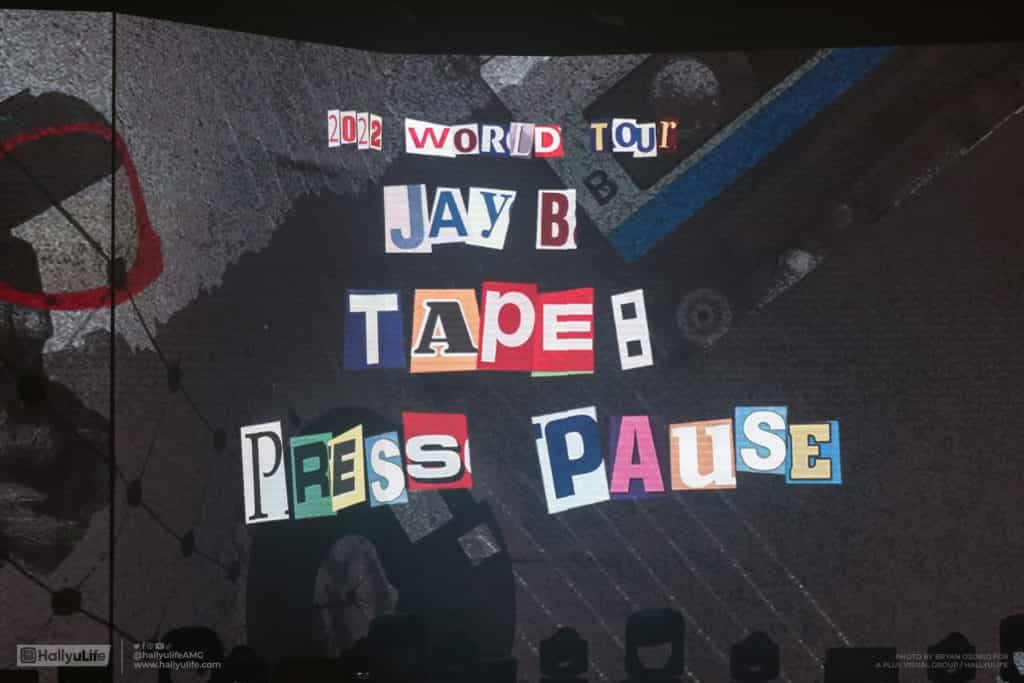 ---
Fresh from Paris and a long flight to Manila, JAY B started his setlist by appearing on stage performing his songs "Switch It Up", "Ride", and "AM PM", which was well-received by the fans, who in return, waved their GOT7 lightsticks up and cheered for the group's leader who is now going also as a solo artist.
He then shared during the talk after his first set of performances that the Philippines is the first stop of his world tour, and that it is his first visit to the country ever since GOT7's Keep Spinning tour in 2019. Jay B also said that he is thankful for the people in the front row, second floor, and those who are in the back.
Jay B also promised that he'd try his best to return to Manila next year with all of the GOT7 group members.
Non-stop serenades and interaction with fans
As Jay B continued his setlist for the night, he then performed next the tracks "In To You", "Dive Into You", "Count On Me" and "Sunrise", getting each and every Ahgase present at the theater to listen to his serenading voice resonating all over the walls of New Frontier Theater that night.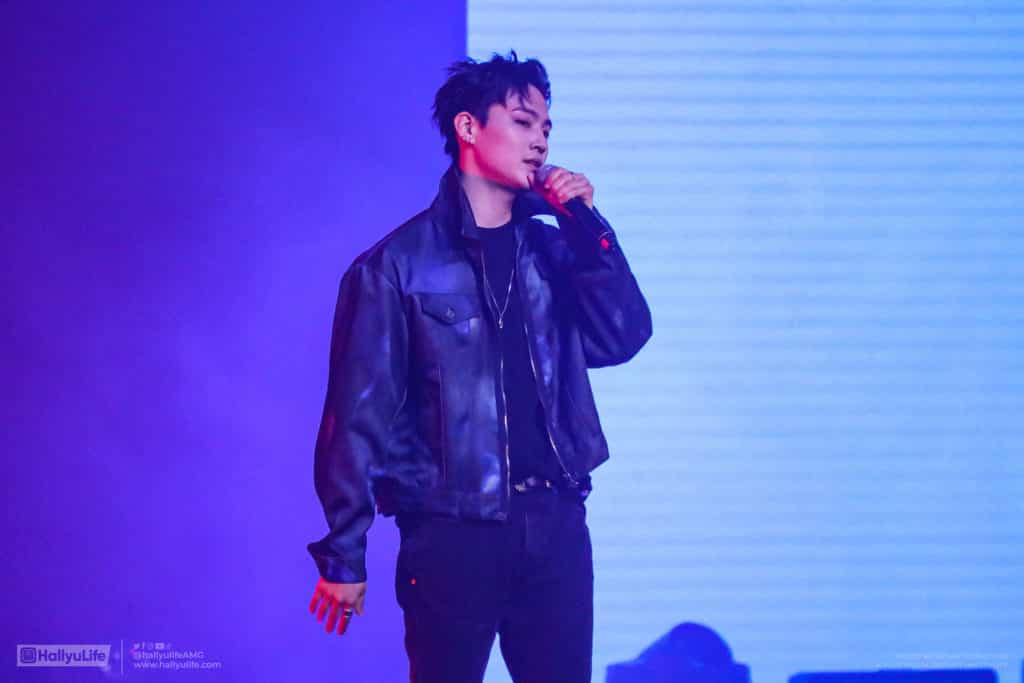 He then moved down the stage to get closer to his fans, and said that the passion of the fans are so great that he did it (going down the stage) so early. The interactions were also one of the highlights of the night, with Jay B reminding everyone to eat after the show, and asking what should he try on eating. Food suggestions such as "Jollibee",  the soup dish "Sinigang" and "Bangus (milkfish)" are among the ones which surfaced from the crowd. He then said that he'll try "sinigang" cause he loves soup so much.
Jay B also tried learning some Filipino words and phrases to complement his fans, and some of them are "Ang Galing Nyo (You guys are awesome)",  Ang pogi ko (I'm handsome)", "Pasensya (sorry)",  "Ang ganda nyo (You're all beautiful)", "Salamat (thank you)", "Mahal ko kayo (I love you all)" and "Shot puno (a full shot of beer/alcohol)".
Jay B is learning Filipino words tonight. Some of them includes:
– Ang galing ninyo
– Ang pogi ko
– Pasensiya
– Ang ganda ninyo#JAYBinMANILA2022 pic.twitter.com/klncmULsJV

— HallyuLife (@hallyulifeAMG) October 1, 2022
Jay B then proceeded to continue his setlist with the songs "B.T.W", "FAME", "Hush" and "Fade Away".
First meet-up in real life with the special guest
Much to the surprise of the fans, Filipino-Australian singer James Reid came out on stage to perform their collaboration track "Hello 2.0 (Legends Only)" on stage for the first time.
HELLO!!! James Reid's in the house!

They're now on stage performing their collaboration track "Hello 2.0"#JAYBINMANILA2022 pic.twitter.com/iY20h4sLRM

— HallyuLife (@hallyulifeAMG) October 1, 2022
Both then showered compliments on each other, saying both of them are the best and that they are friendly to each other. James Reid said that he is truly grateful to Jay B for joining him on the track, and Jay B then said that he could do well in that song and he tried his best when he first heard it, and that it is the first Filipino song he sang and it's so good. Jay B also added that he is looking forward to working with James again in the future.
James then performed his new song "U & I", as Jay B changed outfits for the succeeding performances.
JayB then returned on stage to perform the tracks "go UP", "The Way We Are", "Livin", "Fountain of Youth", "Break it Down", and "Holyday". Just as he performed some of his comforting tracks, Jay B shared to the audience that his journey to where he currently is not indeed an easy one, and that since he also experienced the challenges in life that most of his fans may also experience, he wants to make music that gives comfort.
The best leader was in for a surprise
Ahgases won't let the night end without letting Jay B know what they truly feel about him and GOT7, so they prepared a surprise VCR to show for Jay B. The fans then cheered "best leader" towards Jay B, who responded that "I am actually pressured by the title of (being a) leader, but because of you guys, I try my best to be the best leader (for GOT7), and I'll continue to do my best".
He then said that he was energized by the cheers from the Philippine crowd, saying that he thinks he can finish the world tour really well. Jay B then took the moment for a photo time with the audience.
[?]

Thank you ??!#JAYB #제이비 #카덴차 #CDNZA#2022JAYBWorldTour #Tape_Press_Pause#JAYBINMANILA2022 pic.twitter.com/mmVFW44Xud

— cdnzarecords (@cdnzarecords) October 2, 2022
Jay B then proceeded to perform his song "Rocking Chair", making us reflect for a while and 'press pause' on what we were doing to enjoy Jay B's melancholic vocals.
Encore with the GOT7 medley
JayB returned to stage for an encore performance of his song "go UP", and then after saying that it doesn't feel right not performing more GOT7 songs, Jay B then performed a medley of GOT7 hits, such as "Page", "Teenager", "Breath", "Thursday", and "Nanana". He also performed the song "Sunset With You", among others.
LET'S PARTY TONIGHT! ✨✨✨

On a high note, Jay B performs the last song of the night, GOT7's "Go Higher"! ???????#JAYBINMANILA2022 pic.twitter.com/v7K5olPuX8

— HallyuLife (@hallyulifeAMG) October 1, 2022
And finally, Jay B capped the more than two-hour show with the track "Go Higher", which absolutely sent Ahgases' energy to the top, ending the night with a bang, along with a memorable experience for the fans out there. –HallyuLife.com
---
Check out our photos from the event: JAY B @ TAPE: PRESS PAUSE in MANILA (HQ PHOTOS) [20221001]
HallyuLife would like to extend its gratitude to PULP Live World for inviting us to be part of this event. #JAYBinManila2022

THIS SPACE INTENTIONALLY LEFT BLANK.