How Jessi made her dreams come true with Filipino Jebbies at her #ZoomInManila concert | #ShowRewind
Her first-ever solo concert in 18 years since debut happened in Manila!
MANILA –  When it comes to the word "firsts", I guess Jessi (Jessica Ho) had the most number of firsts in one unforgettable evening here as she held her first-ever solo concert in the Philippines, bringing the month of September to a close with a special evening filled with heartwarming moments and powerful performances from Jessi, and also incredible energy from the Filipino Jebbies (Jessi's fans).
Presented by Neuwave Events & Productions, Jessi's "#ZoomInManila" was held at the Mall of Asia Arena on September 30th – and we're there to tell you the highlights.
---
LIGHTS, CAMERA, ACTION!
Due to some concertgoers being caught in traffic and some others have just arrived from work or school, the show started at 8 p.m. instead of the scheduled 7 p.m. Jessi started her setlist by appearing on stage performing her hit song "What Type of X" alongside a song medley of her songs "Don't Touch Me", "Put It On Ya", "9ucci", and "GANJI" where Jessi made a shoutout to PNation and her oppa, PSY.
She then shared after her first set of performances that "This is my first ever concert, ever". She also said:
You guys are gonna have a great show tonight, alright. You guys leave all your stress behind tonight and just f***ing have an amazing time.
Jessi even added that Filipino Jebbies are freaking singers as they sang her songs from start to end.
The genuine Jessi has arrived
Jessi performed the song "Numb," which shows her strength and informs everyone in the arena that they're going to experience a personal concert, as she displayed her genuine self that night. She had a vibe check with Filipino Jebbies as she continued to perform the songs "Arrived," "Boing," and "Gucci" back-to-back, and as the show time goes on, Jessi is already grateful for what she was witnessing at the arena.
Jessi had a heart-to-heart talk with her Filipino Jebbies and expressed optimism to everyone about how proud and confident she felt about her body while wearing the clothes at her concert:
In Korea, I cannot wear outfits like this. It's not that it's bad, people are just conservative, but I don't give a f**k. It's my body, I'm 33 guys, I'm not going to be 33 forever.
She even shared and said something about going down and getting back up again:
You have to go through ups and downs, you gotta f**k it. Fall, you gotta f**k it, even my haters. Like (what) I've said, it took me 18 years as a solo artist. They told me that this is the first time that these many tickets were sold out. I'm so blessed and thankful that today's a celebration not a day to cry.
She did cry a little after saying that, but she held herself so she could prepare to sing "Who Dat B", "Down", "Wet", and "Drip", which were another set of back-to-back smash hits that had the entire arena chanting. "Tell me what you're not good at, Philippines, because you're all good at it", that's what Jessi said after performing "Drip" with the Filipino dance crew ATEAM.
A dream come true experience
After the pumped-up party music featuring some of Jessi's songs, a series of amateur videos and pictures of Jessi as a young child flashed on the LED screens. That's the time when Jessi goes back on stage and started singing "STAR". Phones were raised to lighten the arena while she sings on stage. As she performed the rap portion of the song, Jessi sobbed in appreciation of everyone in the arena which made Filipino Jebbies like her more. Even I, myself was amazed to see how Filipino Jebbies show love and support to Jessi as I took a turn to witness the whole arena singing with her.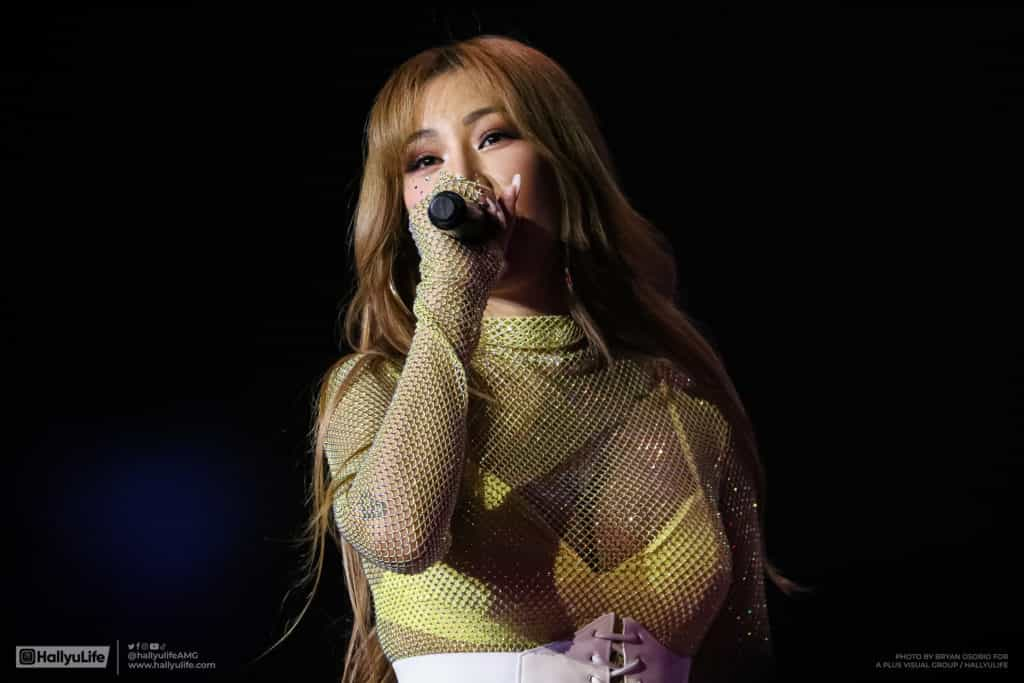 Jessi inspired everyone in the arena with the message that you can do it because she did it after 18 years.  But Jessi did say something that I will always remember and use as a motivation:
If you fall, it's okay. Because you guys know how to get the f*** back up.
Jessi tells us that "If you fall, it's okay. Because you guys know how to get the f*** back up". ❤️❤️❤️#JessiInManila #JessiZoomInManila #Jessi #ZoomInManila pic.twitter.com/hsmTtmOyYG

— HallyuLife (@hallyulifeAMG) September 30, 2022
Jessi used the opportunity to have a photo session with her Filipino Jebbies. In return, they made Jessi a surprise VCR with messages from her loved ones including her mother, because they wouldn't let the night end without expressing their love for her. That really made her cry and it made us realize all the hard work she's put in throughout the course of her solo career. Jessi sang her powerful track "Cold Blooded" to get back to her powerful self as she said, "I love you Philippines so much."
And then, Jessi performs the highlight of the entire concert and probably the most awaited song of the night – no other than "ZOOM"!
The entire arena sang along with Jessi from the start of the song to the end. She was smiling from ear to ear as Filipino Jebbies loudly sang the lines "ZOOM IN, ZOOM OUT." Right after performing the hit and catchy track, Jessi shared something about the song "ZOOM". She revealed that she wrote the song in just two to three days. Jessi thanked the Filipinos for making the song "Zoom" popular and making the #ZoomInManila concert possible.
Jessi then proceeded to perform one more hit song "NUNU NANA" and an encore performance of "SSENNUNI" which will make you remember her every time you hear this song. Jessi wraps up the night with her final message to her Filipino Jebbies:
Thank you for you energy tonight nad making my dreams come true. I'll be back soon. My name is Jessi and Thank you Manila. I love you guys!
Last but not the least, Jessi interacted with her fans as much as she can to personally thank them and take pictures with them. Jessi also shared on her Instagram account her gratitude after the concert:
Despite my health problems and all the extreme challenges I've faced.. my fans are the driving force to keep me pushing forward… I may have cried and fallen several times, but it was MY FANS that helped me get back up… Thank you for your love and energy Jebbies. ??? I will NEVER forget this moment. Thank you for this experience MANILA ❤️
View this post on Instagram
Jessi's first-ever solo concert happened in the Philippines only shows how genuine Jessi is and how heartwarming Filipino Jebbies are as they connect with each other that night along with remarkable memories, making her dreams come true. –HallyuLife.com
---
Check out our photos from the event: Jessi @ ZOOM in Manila Concert (HQ PHOTOS) [20220930] SET 1, SET2, and SET3.

Jessi's #ZoomInManila was directed by Filipino celebrity and director John Prats and started at 8 PM (Philippine Time) and lasted for 2 hours.
HallyuLife would like to extend its gratitude to Neuwave Events & Production for inviting us to be part of this event. #ZoomInManila #JessiInManila #JessiZoomInManila