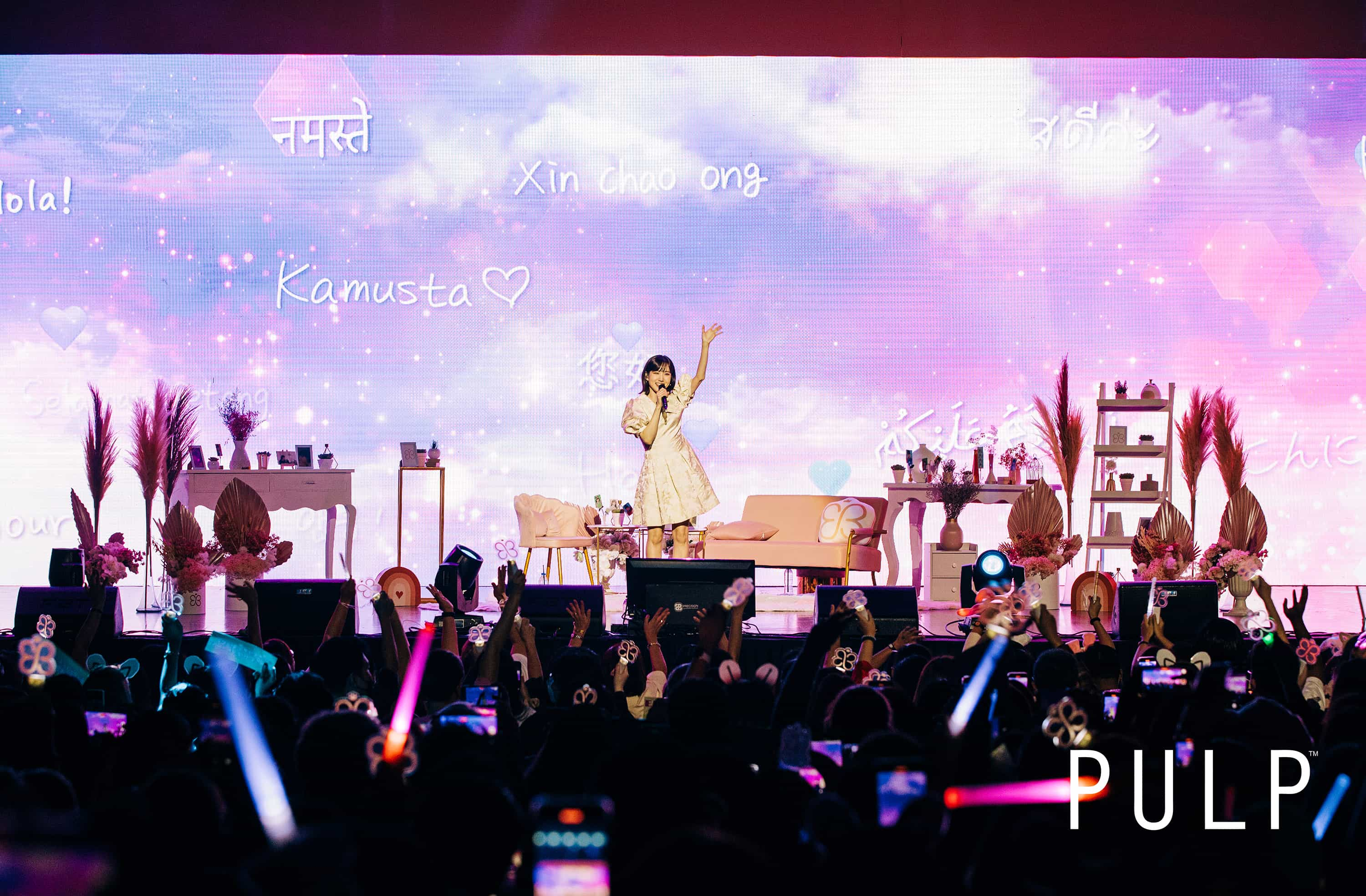 How Park Eun-bin showed her extraordinary side during her first fan meeting in Manila | #ShowRewind
How can anyone not love Park Eun Bin?
MANILA – Last October 23rd, in this city in the Philippines, is where Park Eun-bin's extraordinary journey begins with her series of fan meeting tours outside of South Korea.
That day, we get to see and meet the actress behind successful Korean dramas such as "Hello, My Twenties (2016)", "Hot Stove League (2019)", "Do You Like Brahms (2020)", "The King's Affection (2021)", and her latest successful Korean drama "Extraordinary Attorney Woo (2022)".
And Attorney Woo herself, Park Eun-bin spent a wonderful evening with her Filipino BINGOs (Park Eun-bin's fans), filling the whole theater with heartfelt expressions of love and support – and we're there to tell you the story.
Isang Magandang Araw! (One Good Day!)
As she entered the room for the press conference before her fan meeting that evening, Park Eun Bin surprised us immediately as she greeted everyone in Filipino "Magandang umaga, ako po si Park Eun-bin" (Good morning, I am Park Eun-bin). When asked about her feelings about meeting her Filipino fans after the pandemic, she said that "I'm so happy that I'm here in the Philippines right now".
She shows her excitement as the first stop of her fan meeting tour is in the Philippines. And as we get to know her, Eunbin shared that it is not her first time visiting the Philippines as she recently went to Cebu for a short vacation after filming "Extraordinary Attorney Woo" and shared that she wants to return there.
Eunbin is an adventurous person, and she wanted to try things that she can only do in the Philippines if given an extended stay.
Park Eun-bin made her acting debut at a young age as inspired by narration stories and speeches.
"The nicest part of acting was getting to play out the different lives which are different from mine. I love that I get to portray those lives," she said, when asked about the thing she enjoyed most about acting.
Park Eun-bin thoroughly studies the plot of the series or film before taking on the role that has been entrusted to her. When asked what specific role she hopes to get, Park Eun-bin said that she is open to trying out new ones and would be willing to take on more Rom-Com projects if given the chance.
If Park Eun-bin is not an actress today, she said she is somehow "greedy", so when it comes to professions, she said she would be an adviser and fashion designer.
In addition to Kimbap, which is simpler to eat while filming, Ramyeon is Park Eun-bin's go-to comfort meal. Park Eun-bin mentioned that she loves rabbits, thus if she had to choose a nickname, she would want to be called "Tokki" (the Korean term for rabbit). She would love being referred to as the "head leader of the rabbits" by her fans.
The press conference ended with a bright smile from Park Eun-bin and a message saying, "Magandang umaga po. Mahal ko kayo. Thank you so much!".
One extraordinary night with her fans
Park Eun-bin greeted her fans with a cheerful "HELLO" on her very first international fan meeting tour in Manila. She said this effortlessly, "Kumusta kayo? Ako po si Park Eun-bin. Ikinagagalak kong makita kayo. Nakikita ninyo ba ako sa taas? Salamat po!" (How are you all? I am Park Eun-bin. I am glad to see you. Do you see me up there? Thank you!)
As soon as Park Eun-bin saw her Filipino fans welcome her with warmth and joy, her initial nervousness vanished. In order to communicate well with her fans in the Philippines, she learned the Filipino language well.
That evening, I kept watching Park Eun-bin glancing at her fans from the upper and lower sides of their seats, and she's smiling every time she did so.
When asked about the meaning of her fan meeting title, "EUNBIN NOTE: BINKAN", she said that "BINKAN" is a Korean word that means shining space and empty space. She came up with that word as a way to express gratitude and fill the empty spaces with Filipino's love. When asked about her beauty secret, Park Eun-bin responded in Filipino by asking, "Maganda ba ako? Cute ba ako?" (Am I beautiful? Am I cute?)
She then said, "No beauty tip because it's your love that makes me beautiful, salamat po (Thank you)."
Park Eun-bin expressed her happiness upon hearing cheers from her Filipino fans saying, "Ang saya saya ko! (I'm very happy!)"
Shiniest memorable moments
Through this fan meeting, Park Eun-bin and her Filipino BINGOs get to know each other better. She's curious as to why and where her fans started to like her. Park Eun-bin got to read select fans' messages telling her how they knew her and why they liked her.
Some of the notable messages that I will not forget include: "Park Eun-bin comforts them and gives them strength through her characters." Filipino BINGOs also love and appreciate her smile and the way she acts in series and movies. Giving life to the characters that we love today, including her incredible talents.
I mean, seeing her in person, how can anyone not love Park Eun-bin?
She shared that she genuinely enjoyed her work as an actress for 27 years. Her great portrayal of her characters shows how much time and effort she would dedicate to studying them. She reads the script and synopsis depending on the mood of the story when asked if she had any standards when choosing her next series or movie.
She does not consider herself as an acting genius, but she's glad to hear her fans say it to her. That answer made Park Eun-bin, a genuine and humble actress that shows unending gratitude to her Filipino BINGOs saying "Salamat po" and "Mahal ko kayo". (Thank you and I love you all)
Park Eun-bin hopes that her upcoming projects will be loved by her Filipino fans and that she will be able to return to Manila.
Park Eun-bin received a surprise as the fan event came to an end from Filipino BINGOs who had created a unique video message only for her. They expressed their gratitude for Park Eun-bin through the characters she portrayed and for serving as an inspiration and a source of strength for them. One memorable line from the fans says:
Filipino fans met you at different times and different characters but we have one character to love, Park Eun-bin.
At that moment, Park Eun-bin cried out of joy, and just in time for the Filipino BINGOs to give her a cake and showed her the banner saying:
The moment I met you was the shiniest moment for me.
View this post on Instagram
Park Eun-bin was indeed grateful for all the love and support for the roles she portrayed. She is also thankful that she met her Filipino fans and it really made her day bright saying "Mahal ko kayo" one more time. Park Eun-bin took the opportunity to have a photo moment with her Filipino BINGOs that she will never forget. Her fan meeting tour ended with her own rendition of MYMP's version of "Especially for you", which she can only perform in her Manila stop of the tour and is dedicated to her Filipino fans. It even got special when the confetti showered throughout the theater which made it more special and extraordinary. Her genuine smile was spreading to each and everyone as she showed a big heart and said:
Paalam po. Ingat po. Thank you so much guys (Bye. Take care. Thank you so much guys.)
Indeed, it was a night to remember for all the right reasons. One is because it is Park Eun-bin's first time visiting Manila, and another is because of the wonderful memories she had with her Filipino BINGOs. It was all worth it when we finally got to meet the genuinely humble and talented actress who, through the roles, she plays in every drama series from "Hello, My Twenties" in 2016 to "King's Affection" in 2021 and "Extraordinary Attorney Woo" this year, inspires and strengthens us. This proves that Park Eun-bin is one extraordinary actress that shines brightly on her first-ever fan meeting tour in Manila.
The EUNBIN NOTE: BINKAN in Manila started at around 6 PM (Philippine Time) and lasted for 2 hours. This fan meeting event is part of PULP Live World's set of K-Pop concerts and K-drama fan meetings this 2022 with the biggest stars and the best shows in Manila. -HallyuLife.com
---
PARK EUN-BIN's EUNBIN NOTE: BINKAN in Manila is promoted by PULP Live World.
HallyuLife would like to extend its gratitude to PULP Live World for inviting us to be part of this event. #ParkEunBin #ParkEunBininMNL