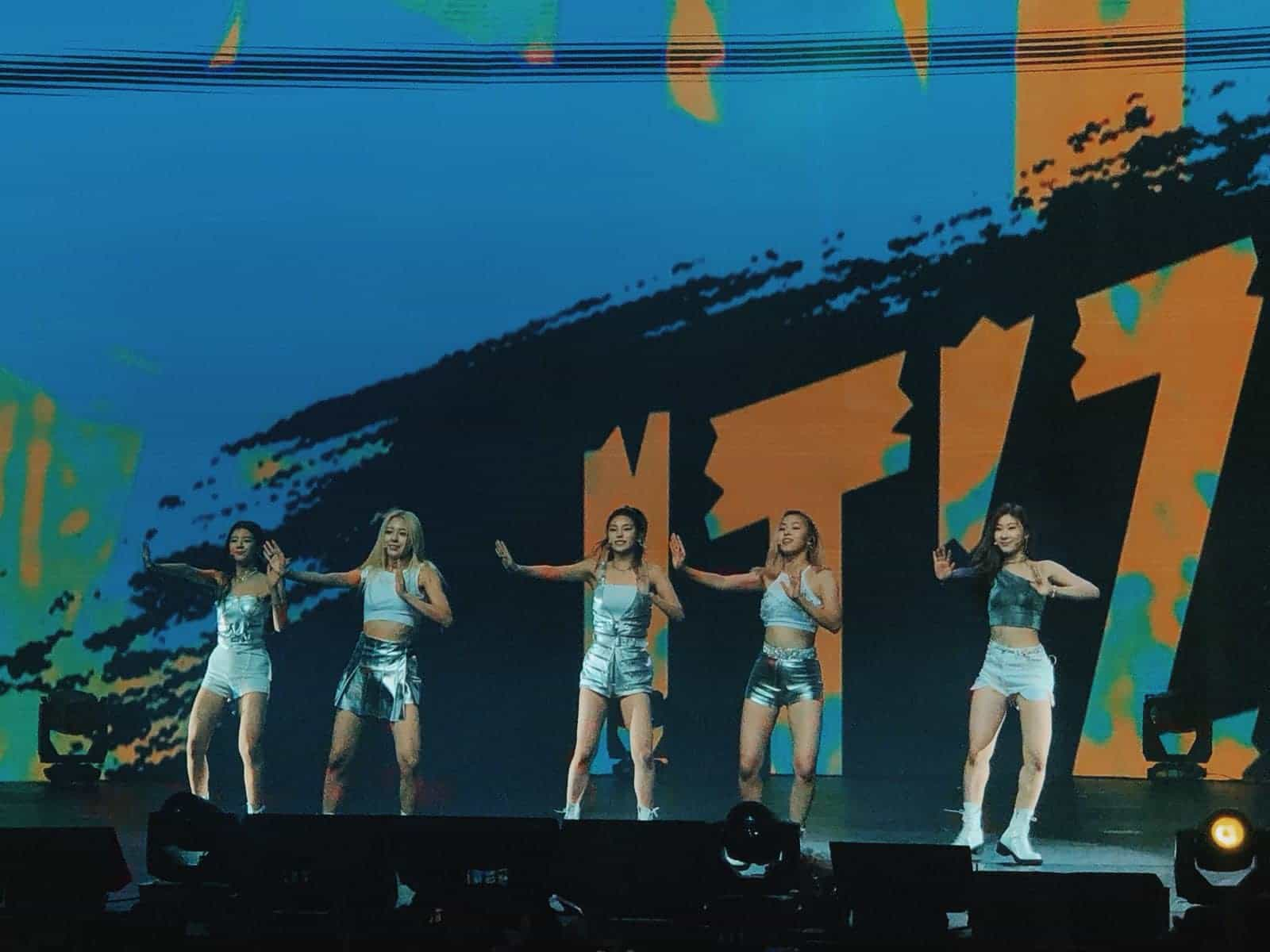 Filipino MIDZYs had a wonderful night last December 8 (Sunday) when JYP Entertainment's rookie girl group ITZY first appeared on their faces at the New Frontier Theater for their ITZY? ITZY! Premiere Showcase Tour in Manila, the fourth stop in their 11-city Asia/US tour.
ITZY, composed of Yeji, Lia, Ryujin, Chaeryeong and Yuna, made their Filipino fans excited by staging some of their notable performances, including dance covers and short dances to some of K-Pop's most popular tracks.
Opening their Manila show with their own hits "ICY" and "IT'z SUMMER", the fans were already hyped up from the beginning. The night continued to go on as the girls perform their B-side track "Cherry" and their debut title song "DALLA DALLA". They also covered songs from their co-labelmates TWICE's 'TT', as well as GOT7's 'Hard Carry' and Park Jin Young's (JYP) own new track 'Fever'.
Kring Kim, who is known for hosting several concerts and fan meetings here, hosted the premiere showcase.
Big welcome
Yeji, Chaeryeong, Ryujin and Lia told the New Frontier Theater crowd "Kamusta kayo?!" (How are you?!), while wearing heavy smiles on their faces due to the overwhelming response of their PH MIDZYs. Yuna, on the other hand, told the crowd "Mahal kita" (I love you).
"Although it's our first time here in Manila, it's so touching to see a big welcome for us. Your screams were so loud that while we were performing, we had so much fun," said Chaeryeong.
Ryujin said, "It's an honor to meet you guys. Are you ready to have fun?"
Aiming to get the fans to know ITZY more, the "Question? ITZY!" segment enabled fans to ask ITZY some questions. One question was asked that if ITZY weren't K-Pop idols, what would they be, and their response was:
"I would like to try some part-time jobs because I've never actually got the chance to try any of them. Probably in a cinema because I heard the perks were great there."

– Lia
Ryujin said that she would be a student in a university, citing her age, taking either accounting or business. Chaeryeong, said that she really wanted to do acting and she would be an actress instead. Yuna said that she might be an announcer instead.
"If not an idol, I would still be doing a job related to music like a dancer? Because being an idol was really my dream."

– Yeji
The girls also shared their new year goals, with Chaeryeong sharing her goal is to get her own driver's license soon since she's turning 20. Yuna said she wants to read more books and communicate more with fans on V LIVE.
Overwhelmed by fans
MIDZYs prepared a special video for ITZY to touch their hearts, and the next is history.
With the overwhelming response received from fans, the ITZY members continued to say their thanks, noting that the fans have done greatly to touch their hearts.
"I just want to say that we're really thankful to have you guys and of course, everyone, every MIDZY, everywhere like anywhere you guys, wherever you guys are, each of you guys is important to us," said Lia.
Manila MIDZYs, you guys really made a strong impression to us. Thank you so much for giving us this great energy."

– Lia
"We know that there are lots of you guys not only in Korea but everywhere cheering for us. Because when we turn our V app on, we see all the comments saying 'Say hi to Manila,' 'We're here in Manila' and from every other country and other places, I just want to let you know that we know that," said Lia.
Happy birthday, Yuna
ITZY's maknae (youngest) member Yuna, who celebrates her 16th birthday today (December 9), was greeted by the fans after the video finished playing. She said while crying "I love you guys and thank you so much for this video. I think today is the first time that I was greeted Happy Birthday so many times."
Ryujin said that the video was really touching, and thanked fans for preparing it.
"First of all, I really want to say thank you for all the fans here. You are so passionate. I hope that today could be a special day for you guys, too."

– Ryujin
Chaeryeong then expressed her gratitude with a promise that MIDZYs are probably waiting to hear.
"It's a wonderful day today. Thank you so much. We'll be back guys. I promise you."

–  Chaeryeong
Yeji then said, "Thank you guys for giving us this really good memory for Yuna and ITZY. I hope you guys really know that MIDZY is very important to us. When we return, we'll be back with better performances."
Hours later, ITZY took to social media to further express how they feel after their successful Manila showcase.
---
Debuting only in February of this year, the girl group already received more than six rookie awards, proving their strong impact in the industry. Some include New Artist of the Year from Melon Music Awards 2019, multiple awards from Mnet Asian Music Awards in Japan and Asia Artist Awards in Vietnam.
Lia says that she was thankful that they were able to start their showcase tour by already winning six rookie awards, with Chaeryeong saying that they didn't expect those awards but they're so thankful for it, noting that their fans all over the world that support them had made it possible for them to win.
Yuna also added that they were already happy with the fact that they were able to work with ITZY and promote with MIDZYs together, promising that they'll do their best next year as well. -HallyuLife.com

THIS SPACE INTENTIONALLY LEFT BLANK.