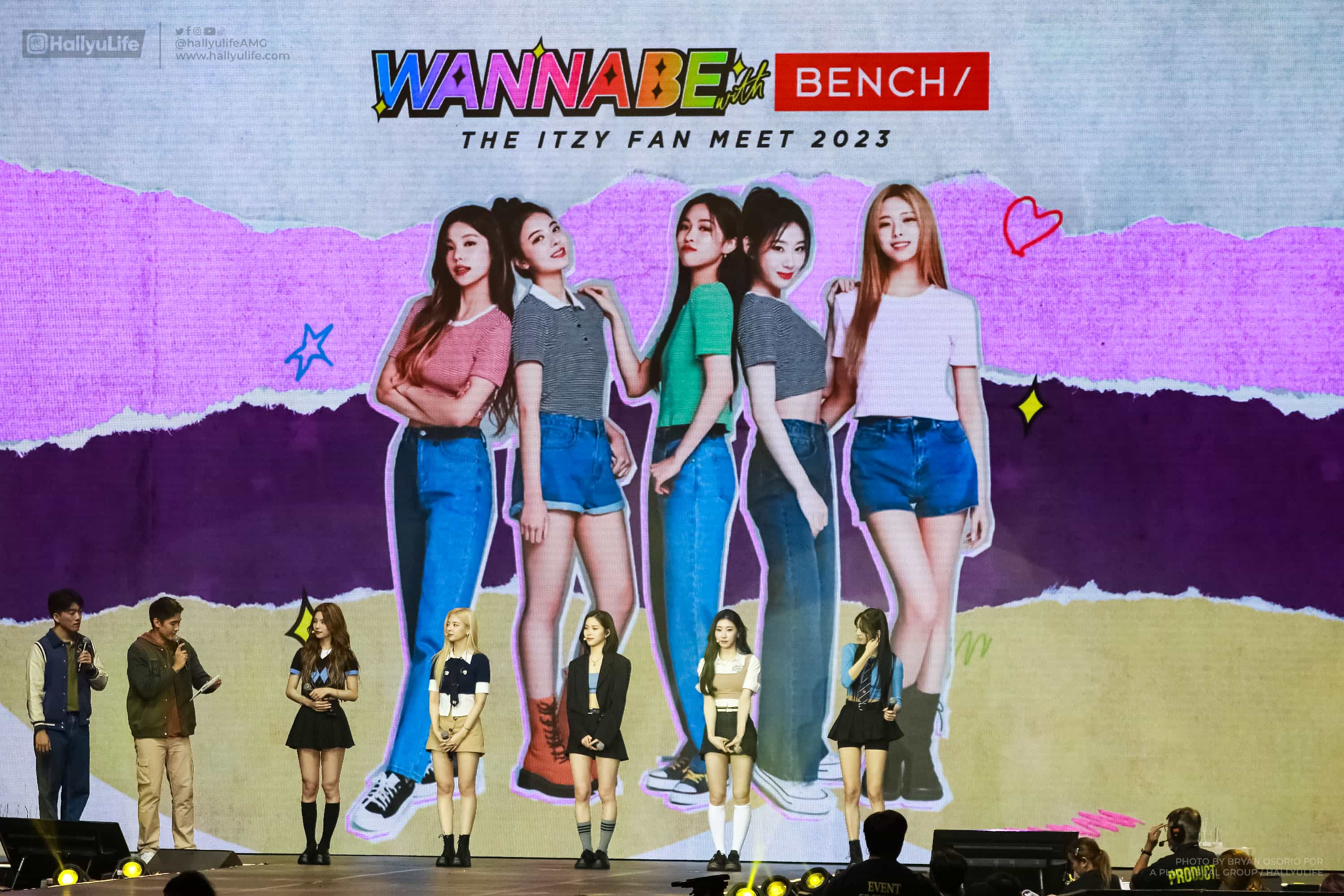 MANILA – Only a few months after their successful 2-night concert, K-pop girl group ITZY is once again back here for a fan meeting organized by local fashion brand BENCH/ last April 16, as the girl group was added to the brand's growing list of global ambassadors last year.
Prior to the day of the fan meeting, the members of ITZY first faced the media at a press conference, where they answered some questions while decked out in BENCH-styled outfits. And just like the last time, ITZY introduced themselves to us in Tagalog, with them saying phrases like "Masaya ako makita kayo" and "Kamusta kayo?", which made us cheer for them more.
Asked about their thoughts on being BENCH's global ambassadors, ITZY first expressed their gratitude to BENCH, for them to be able to represent the Filipino brand, and that they appreciated the clothing's design, being comfortable and well-fitting, to the point that they said that the clothes can be worn on a daily basis. They also shared that they had great experience working with the BENCH team, and that they are excited for more upcoming projects with the brand in the future.
BENCH is known for bringing the hottest artists, especially from Korea, here in the Philippines by choosing them as their global ambassadors, such as K-pop group Stray Kids, actors Ji Chang Wook, Kim Soo Hyun, Kim Seon Ho, Ahn Hyo Seop, Park Hyung Sik, Park Seo Joon, and many more.
The girls shared during the press conference that they really enjoyed the last time that they were here in January, and that it was an unforgettable experience for all of them, being amazed at the overflowing love and energy they have received from the Filipino MIDZYs ever since their arrival, and that they are excited and happy to meet them again on the fan meeting the following day.
They also talked about the experience during their recently-concluded 'Checkmate' world tour, which ran for seven months and had its last stop in Bangkok on April 8. Yuna shared that they're in awe that they are popular outside South Korea, and that ITZY gains a lot of strength from the fans' appreciation and love.
I asked them about what do they want to try here in the Philippines or any places they want to visit, and Lia answered that she wants to try the local snack "banana cue" (a sweet fried banana coated with sugar), which she heard many times from fans. They also told us that they have favorable memories here with food, such as remembering having peppered crabs here right after their concert last January because it's so delicious.
Ryujin shared on the fan meeting day that she already tried the Filipino snack "Kwek-Kwek", and that she would try the 'balut' when asked by the fan meeting's host Robi Domingo. Lia then revealed that everyone has already tried 'Halo-Halo', and that it's notably similar to Korea's 'patbingsu', which is a shaved ice dessert.
At the fan meet proper, ITZY first performed their song "WANNABE", which just fits with the event name "WANNABE with BENCH".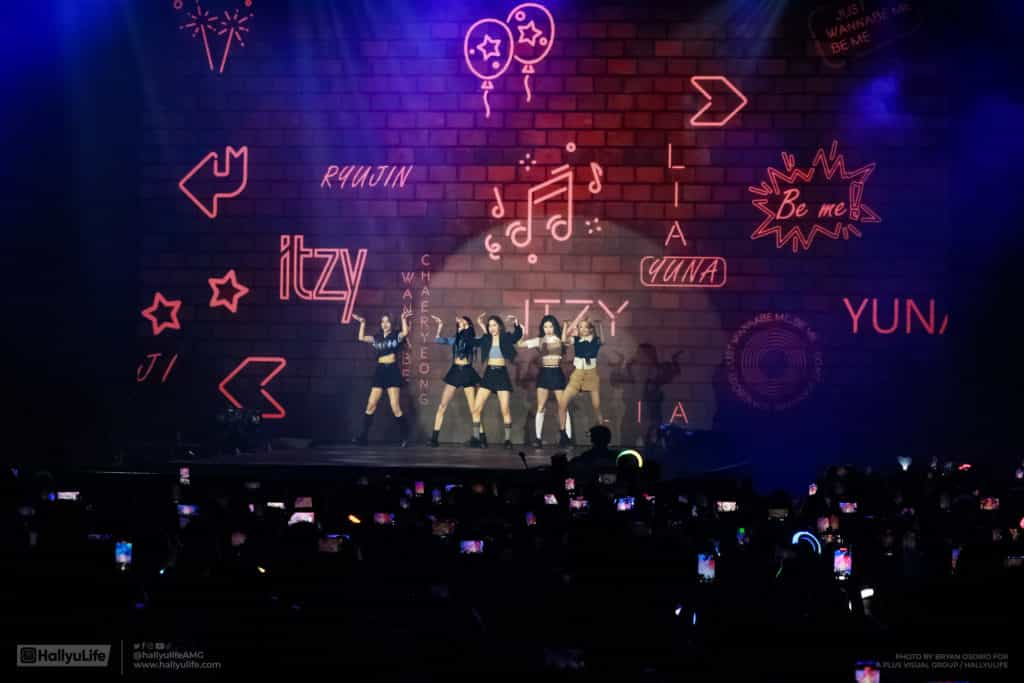 The girls then played many games in the multiple segments that were prepared for the MIDZYs out there, like Design My T-Shirt, where five lucky audience members get to take home BENCH/ shirts with designs by ITZY themselves drawn during the segment, and the hilarious Karaoke Challenge, where ITZY and MIDZYs sang along to both the Korean versions and Korean-Tagalog versions of ITZY's songs Sneakers, Not Shy, and (Mafia) In the Morning, where some parts of the lyrics were translated to Tagalog, and also where we got the phrases "Suot na ang sneakers ko", "DI NAHIHIYA, ITZY!!!", and "GALAWANG MAFIA" (embedded below).
GALAWANG MAFIA ??

In the last song, ITZY sang "In the morning" but the lyrics change are ?#WannaBeWithBENCH #BENCHxITZY #ITZYinManila #ITZY pic.twitter.com/QyhVTRY4fg

— HallyuLife (@hallyulifeAMG) April 16, 2023
In addition are the segments "Guess the Tagalog Word", where ITZY tests their Tagalog knowledge and got the chance to learn new words as well, and "Spot Choreography with Fans", where they guess the song based on MIDZYs dancing it for them – and having MIDZYs going on a showdown with the ITZY members as the crowd went wild chanting 'sana all', wishing that they were in place of those lucky fans instead. Some also got a chance to walk up on stage and talk to ITZY up close, sharing their thoughts in front of the ITZY members who are all ears listening to them.
And since Ryujin's birthday was the day after the fan meet (April 17), PH MIDZYs and BENCH too, have prepared special birthday cakes, as well as banners to celebrate her special day. A fan-prepared video was also shown on stage to ITZY to let them know about how well they're loved here.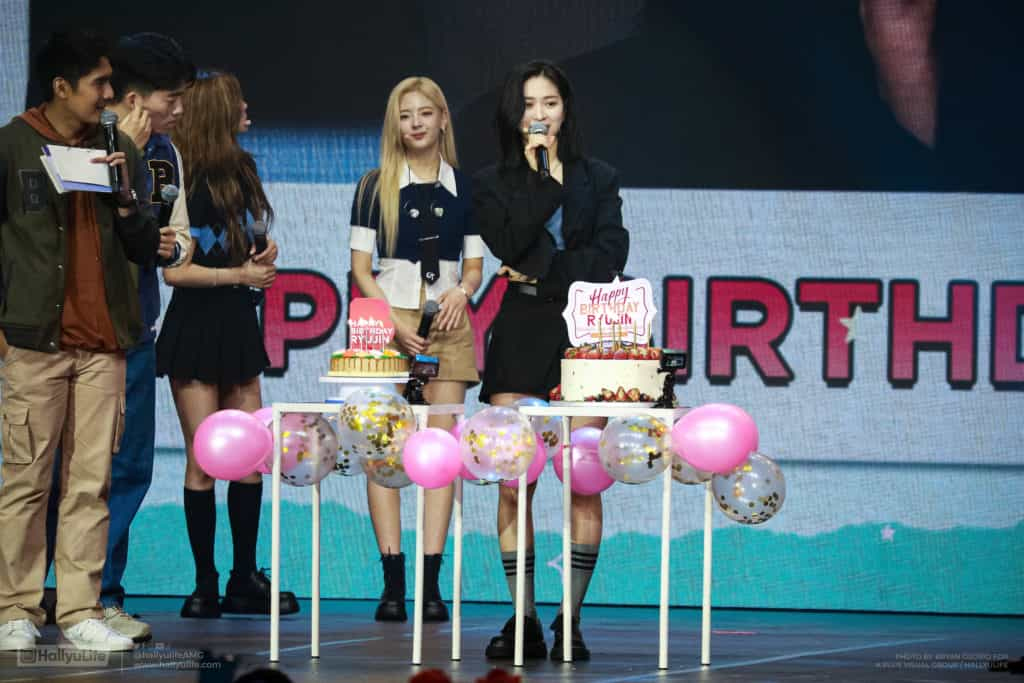 In response, the girls expressed their gratitude for all the love and support that they're receiving from the Filipino MIDZYs here, and they promised to return here, too.
After taking a group photo with the audience, ITZY then wrapped up the event by performing their song "Sneakers".
The event might have been short running only around two hours, but surely, the memories made during the event with ITZY will be remembered for so long. Sometimes, it's really nice to have fan meetings with these artists aside from a concert, since the interactions are more special, and the chance to meet and talk to them is really really immense, which could be the dream fan experience for many out there. -HallyuLife.com

THIS SPACE INTENTIONALLY LEFT BLANK.