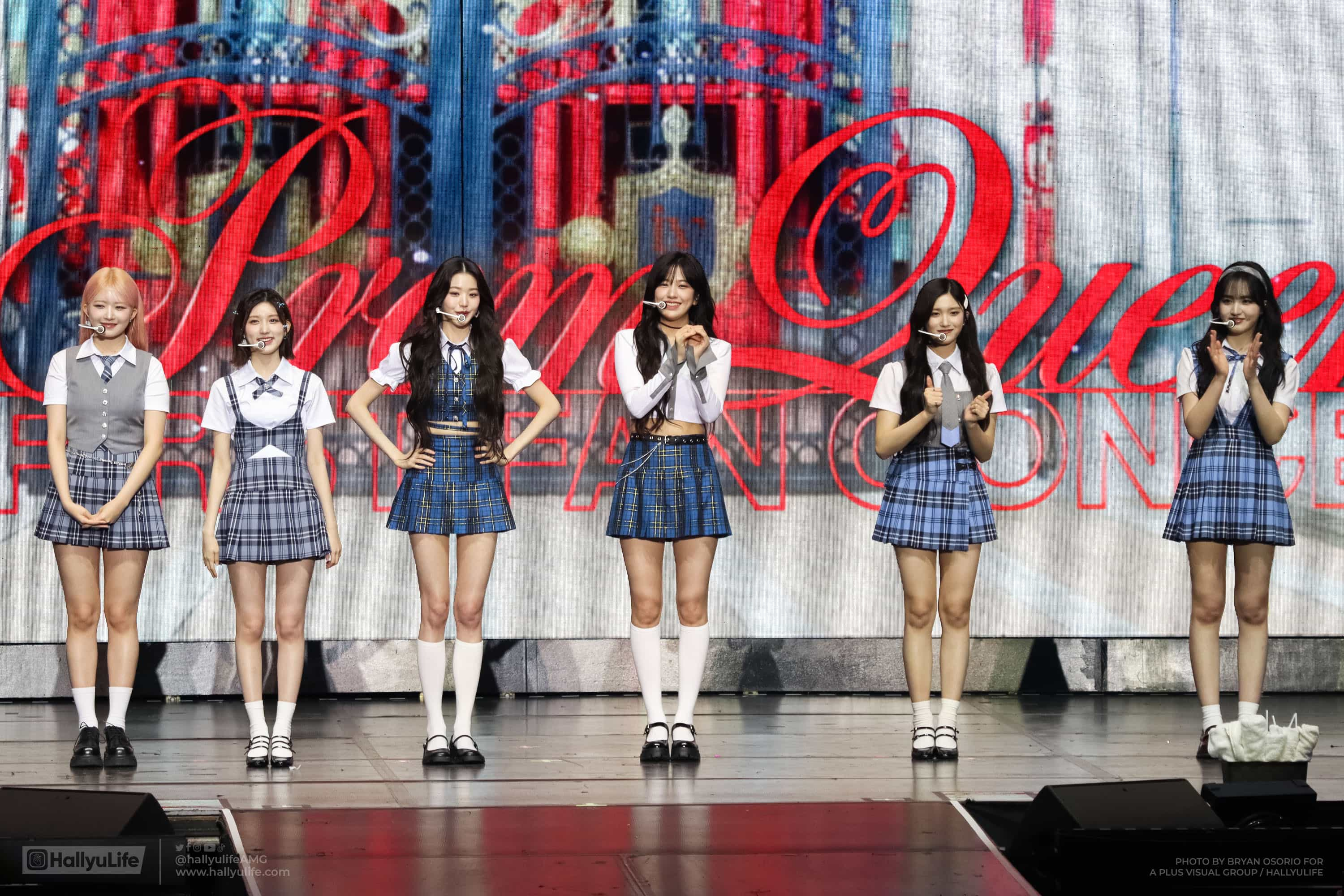 MANILA – PH DIVEs (IVE's fandom name) had their 'dreams come true' last Saturday, June 17 as one of K-pop's rising girl groups, IVE, graced the Manila stage for the first time during their "The Prom Queens" fan concert tour at the Smart Araneta Coliseum.
It is the first stop of their Asian tour after South Korea and Japan and the first concert since IVE released their first studio album in April, called I've IVE. And it also served as the concert stage where member Rei returned from her month-long hiatus due to health concerns.
During their press conference the day before their fan concert, the members told us that they had prepared a lot for this tour, and that they were incredibly motivated to give it their all to make their Filipino fans happy and excited. Yujin also shared that they'll also be performing songs from their new album that they've never shown before.
Member Wonyoung shared that they have appreciated the warm welcome from their Filipino DIVEs, that they are excited about their first visit here, and that it will be a memorable one not just for them but also for the fans. She also said that they will continue to work on their activities so that fans can continue to cheer and root for them.
They've also discussed what songs they liked and had fun working on for the album, and the majority of them answered "Kitsch", because it is the first time that they're trying this kind of music, and that the song is very fun to dance into.
A 'prom night' like no other
At the fan concert, IVE kicks off the 'prom night' with their lovely "school-inspired" outfits in the tune of their smash hit song "After LIKE" with a performance matched by screams and cheers from the Araneta crowd, followed by the tracks "Take It", "My Satisfaction", and "Royal".
On their opening ment, IVE introduced themselves to the crowd along with some Tagalog phrases, with member Leeseo saying "Mahal kita (I love you)", Yujin saying "Kumusta? (How are you?)", Wonyoung saying "And I feel Masaya ako (I'm happy)", and Gaeul saying "Mabuhay", among others, which earned loud cheers from Filipino fans.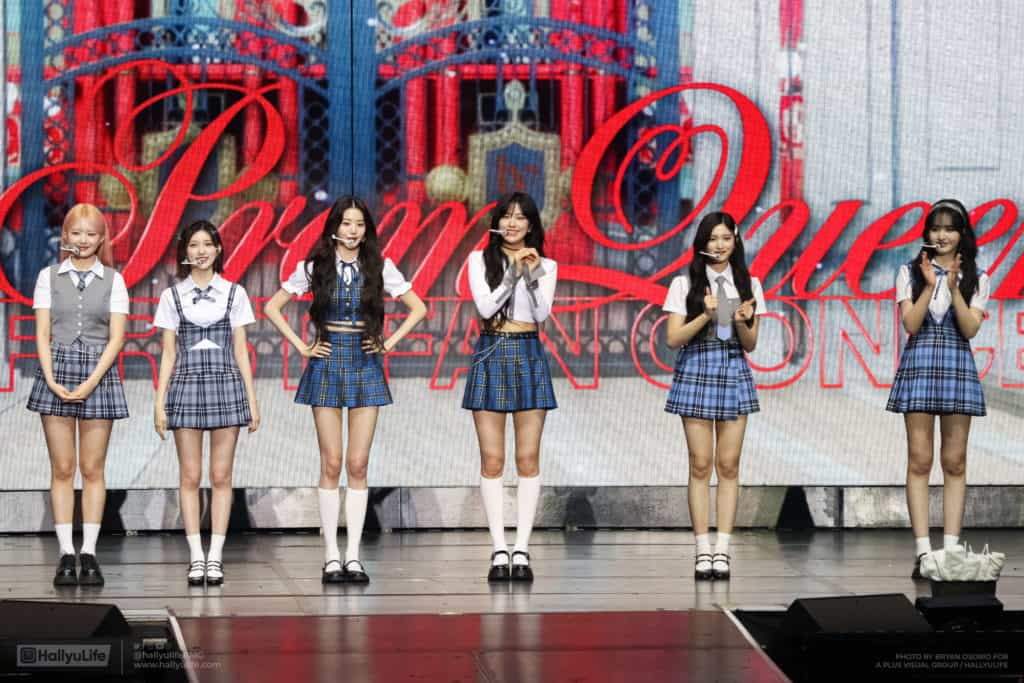 Getting to know IVE better
Since it was a fan concert, segments like you'll usually find on fan meetings are also present. Filipino DIVEs witnessed IVE play games in order to win the "Prom Queen" title for the night. Dividing themselves into three teams, the members were divided into cutely named teams, with some being Manila-inspired, such as Gaeul and Yujin being Team Manila, Wonyoung and Rei being Team Halo-halo, and Liz and Rei being the Team Couples.
Some of the games include "I-Ting Golden Bell", where they answered questions from the so-called "IVE Quiz", testing the group's memory and perhaps the knowledge about their teammates, as well as "Silhouette Random Dance", where they guess the songs based on a 'silhouette' of a dance move – on that, they've got to do some snippets of dances from other popular K-pop acts, such as Jisoo's "Flower", aespa's "Spicy", Girls' Generation's "Into the New World", Kai's "Rover", Lee Chaeyeon's "Knock", and more.
With Team Halo-halo winning both segments with 60 points in total, Wonyoung and Leeseo were both crowned as 'The Prom Queens' and got to have a mini-crowning ceremony on stage. "I'm so happy I get to enjoy playing these games with Leeseo, too", Wonyoung said.
After the first game, IVE said "It's Our Time", as they finally performed the track "Kitsch" for the first time on their tour, while Filipino DIVEs sing along to the song's catchy lyrics.
?
IVE THE FIRST FAN CONCERT
<The Prom Queens> in MANILA

It's IVE time with ? MANILA ?#IVE #아이브#ThePromQueens#IVE_AsiaTour pic.twitter.com/YEvAUHZmUv

— IVE OFFICIAL (@IVEstarship) June 17, 2023
Unveiling their different charms to the crowd, IVE's unit stages were also divided into three units. Wonyoung and Rei performed a cover of "Me Too" by Meghan Trainor, while Yujin and Liz charmed the entire Araneta with their voices with Jessie J's "Flashlight", which Yujin shared during one of their ments that it was one of the songs that she prepared during her auditions. Gaeul and Leeseo then performed a dance cover of BLACKPINK's "Kill This Love".
Matching those unit performances were Filipino DIVEs switching the colors of their lightsticks and phone lights to create different colors of "crowd ocean", with the first unit being pink, then white and blue.
IVE then continued their performance spree with the song "Blue Blood", then followed by hit after hit with their tracks "I AM", then "LOVE DIVE", which won multiple "Song of the Year" awards last year, and then their debut track "ELEVEN". All of the performances were met with loud cheers and screams from Filipino DIVEs who then clamored for an encore as it felt like the time was short with them.
The group then reappeared on stage, dressed up in casual shirts and jeans, performing band remix versions of their songs LOVE DIVE and After LIKE.
And as they took a photo with the fans, a fan-made video surprise was played on the screen, sending IVE members to tears as they were touched by the promise that Filipino DIVEs will continue to stay by their side from the beginning until forever, and are thankful for IVE being IVE. It was wrapped up with the fans chanting "Mahal namin kayo (We love you)" at the end, ultimately touching the members' hearts and everyone else at the venue.
A banner was also raised during the photo-op that says, "IVE is our dreams come true", referencing a line from their track "I AM" which says "You are someone's dreams come true."
For us, that dream was IVE.
As the fan concert approaches its ending, IVE members gave their closing remarks, with each member expressing their heartfelt thanks in response to the touching video surprise, with some members fighting back their tears – but ultimately failed.
"I'm very thankful that you all gave us this surprise gift. It's been so long since I've felt this much excitement on stage", said Leeseo. "From the intro, I heard your cheers and you are all great at reacting to our performances. I'm thankful to every one of you that came to see us."
"I can't imagine how long our Filipino DIVEs have waited for us to arrive here, and I'm really thankful", Liz said. "I know everyone waited for this day and for every DIVE that has been cheering for us, we're really thankful. When you screamed our names, we enjoyed performing more."
Yujin then complimented the crowd by saying that their performance was "hot", and jokingly said that it might be due to the weather, but mainly due to DIVE's energy, which was seconded by member Gaeul. Wonyoung then also thanked DIVEs for the "precious memories" that all of them got to make during the fan concert.
Rei, who was already teary-eyed even before she spoke, cried as she tells her closing message, "It's been so long since I've performed in front of DIVEs so I was very nervous. Seeing how many DIVEs came tonight to see us gave me such happiness. And every time I see DIVEs' faces, I really get positive energy. And I'm very happy that we get to start this Asia tour here with six members together."
The Manila concert did mark Rei's return to concert stage after taking a break during the early promotions of their album "I've IVE", and seeing the six of them together on stage was surely a special moment not just for Filipino DIVEs but also for IVE.
After their remarks, IVE promised to return to the Philippines more often, and hoped to meet Filipino DIVEs again on a much "big big stage".
IVE officially wrapped up the night with their song "Not Your Girl", bowing both on the extended stage and the main stage to express their thanks and love for their Filipino DIVEs. -HallyuLife.com
---
IVE FIRST FAN CONCERT <THE PROM QUEENS> in Manila is presented by DNM Entertainment and IN2UNE Entertainment. HallyuLife would like to thank them for having us be part of this dream come true show.
#IVEMNL2023 #IVEinManila
Check out our photos from the event here:
IVE @ THE PROM QUEENS in Manila Fan Concert (HQ PHOTOS – SET 1) [20230617]
IVE @ THE PROM QUEENS in Manila Fan Concert (HQ PHOTOS – SET 2) [20230617]
IVE @ THE PROM QUEENS in Manila Fan Concert (HQ PHOTOS – SET 3) [20230617]
IVE @ THE PROM QUEENS in Manila Press Conference (HQ PHOTOS) [20230616]

THIS SPACE INTENTIONALLY LEFT BLANK.