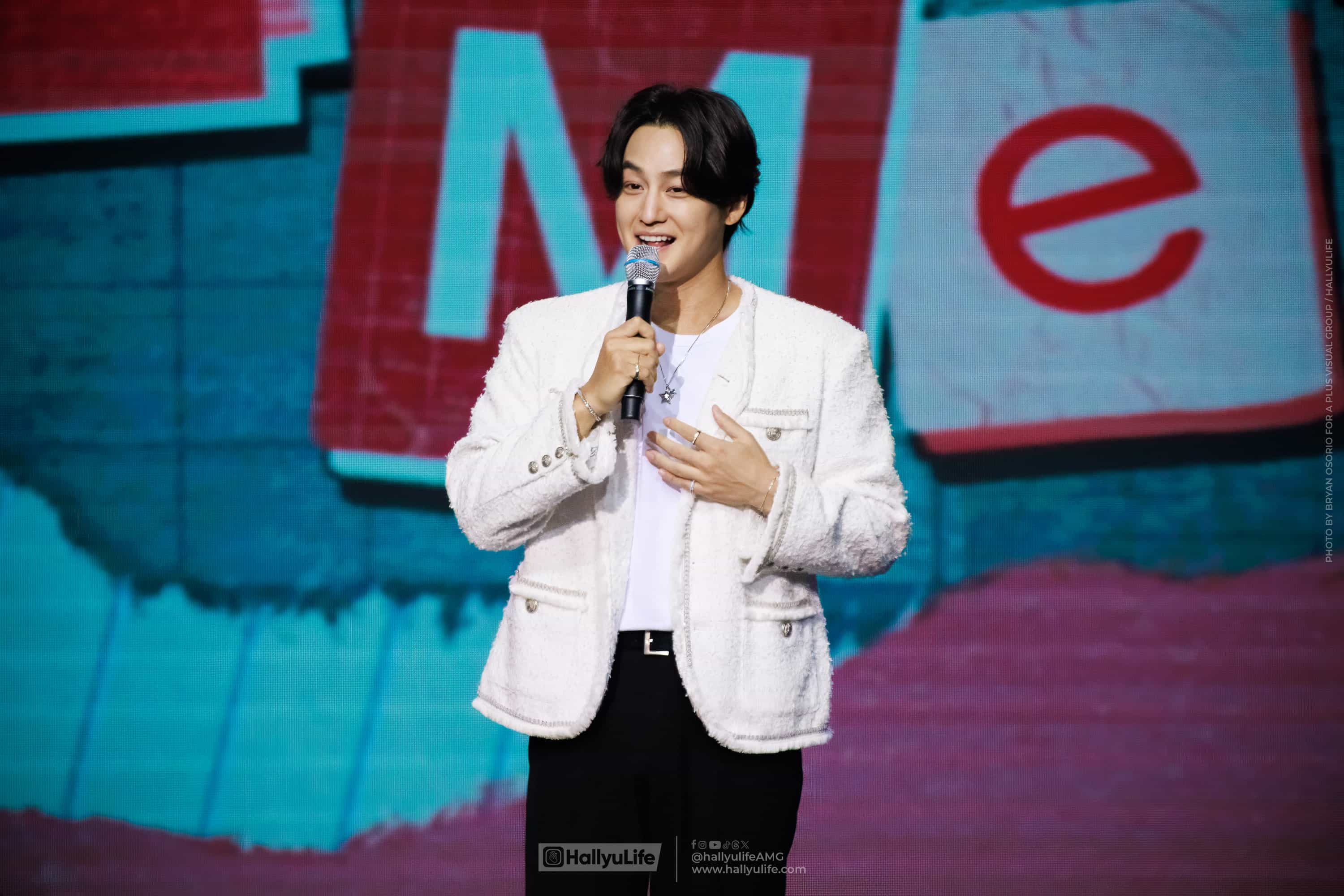 MANILA – More than a decade after his last visit here, Korean actor Kim Bum, best known for his role in the drama Boys Over Flowers, finally returned last September 22 in Manila at the New Frontier Theater for his "Between U and Me" fan meeting.
A night full of nostalgia and excitement, Kim Bum unveils a new side of himself that many haven't seen yet through the event, where he reveals that he was deeply involved in every aspect of the fan meeting's preparation, ensuring the personal and intimate experience he wishes to deliver to everyone who'll go.
The fan meeting was opened by Kim Bum singing the tracks "Wind Song" and "Kiss the Rain", which were the official soundtracks for the drama "Tale of the Nine Tailed 1938", a drama he recently starred on. He then goes on to introduce himself, in Filipino, by saying "Ako po si Kim Bum. Kumusta po kayo? (Hello, I'm Kim Bum, how are you all?)", then he followed it with "Samahan nyo akong gumawa ng di-malilimutang alaala today! Between U and Me, simulan na natin. (Join me in making unforgettable memories today! Between U and Me [fan meeting], let's start it.)"
The fun segments of the fan meeting then followed, first with the Bum's Update, where Kim Bum talked about updates on his life and career, sharing that his MBTI was INFJ. Kim Bum Awards then followed, where fans voted on which word describes Kim Bum best, with "cute" besting out all other choices such as "beautiful", "sexy", and "cool". Kim Bum also danced to some K-pop songs as part of the segment called "Dancing Bum", such as "ETA" by NewJeans, "Flower" by Blackpink's Jisoo, and "Eve, Psyche & the Bluebeard's Wife." He said that he didn't even dance in front of his mother.
Other segments include Bum's TMI, where he played games with fans who tried to guess his preference through a balance game, Challenge with Bum where Kim Bum played relay games with fans on stage, and Bum Therapy, where he made a custom tumbler and gave it to a lucky fan. All the fans who participated and won the games got cool prizes from Kim Bum, such as having a photo with him on stage, a hug from Kim Bum, as well as photo cards.
He even went down on stage to go to the audience to have a closer look at their faces, which shows how intimate the fan meeting could be.
Kim Bum also sang "Because I'm Stupid", the iconic track from Boys Over Flowers, which triggered nostalgia as if we're in the year 2009 again, as well as the songs "When I Get Old" by Christopher and Chungha, as well as Coldplay's "My Universe".
A fan project video was also shown to Kim Bum, containing messages of love and support for the actor. He responded to it by saying "I am very touched and will remember this video for a long time."
He also thanked the fans for attending the fan meeting, saying that he really had fun and a good time and that he enjoyed seeing [the fans] and he hoped that it was a good memory for them as it is for him. -HallyuLife.com
---
Kim Bum's "2023 Asia Fan Meeting: Between U and Me" in Manila & Cebu was made possible by Viu Philippines through its Viu Scream Dates. HallyuLife would like to thank them for having us on this show.
Check out our HQ photos from the event here: Kim Bum @ Between U and Me Fan Meeting in Manila (HQ PHOTOS) [20230922] (hallyulife.com)

THIS SPACE INTENTIONALLY LEFT BLANK.