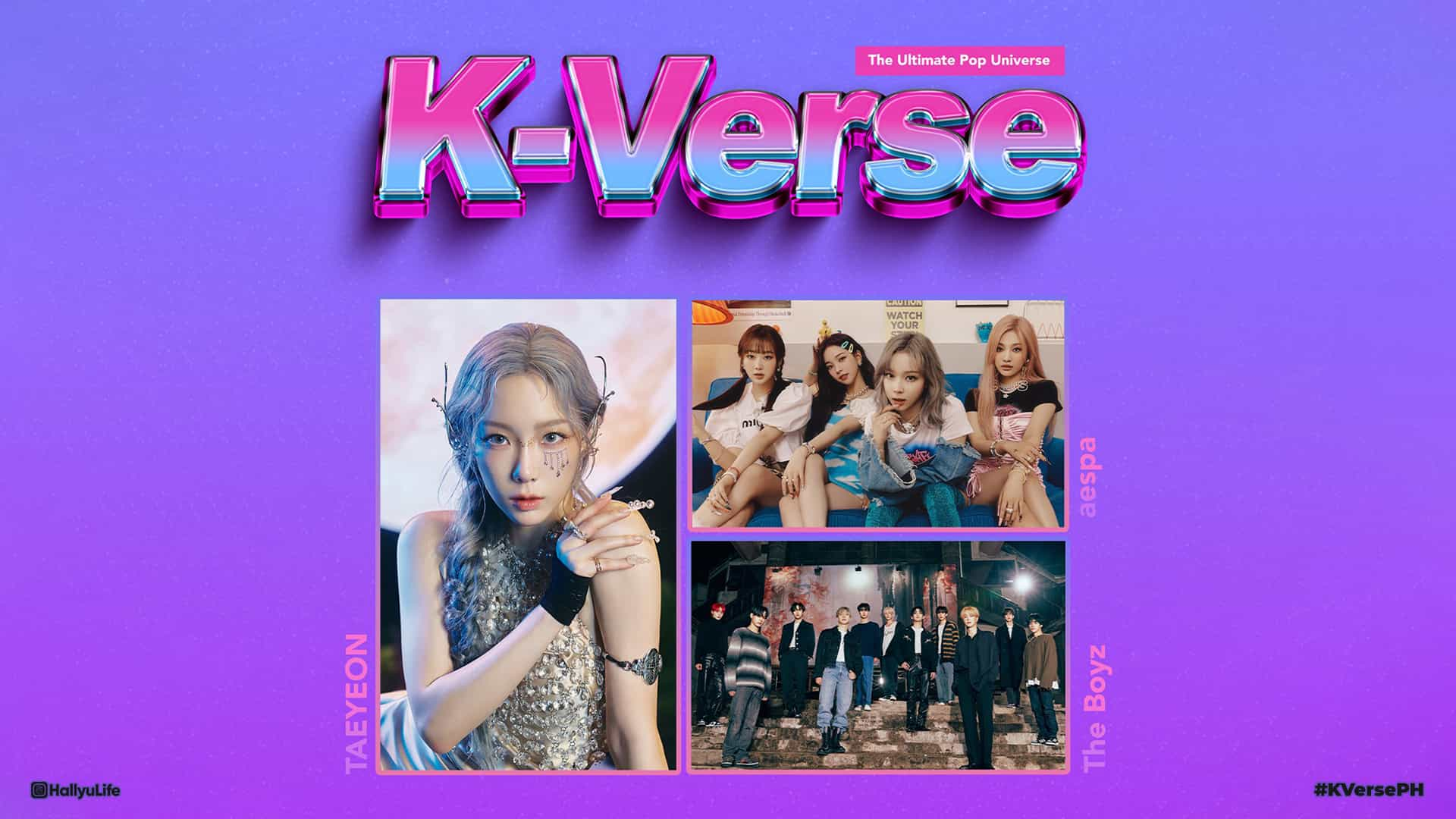 Get ready to enter the ultimate pop universe with The Boyz, aespa, and Taeyeon and enjoy their stunning performances on #KVERSE in Manila on April 11, 2023, at the Araneta Coliseum!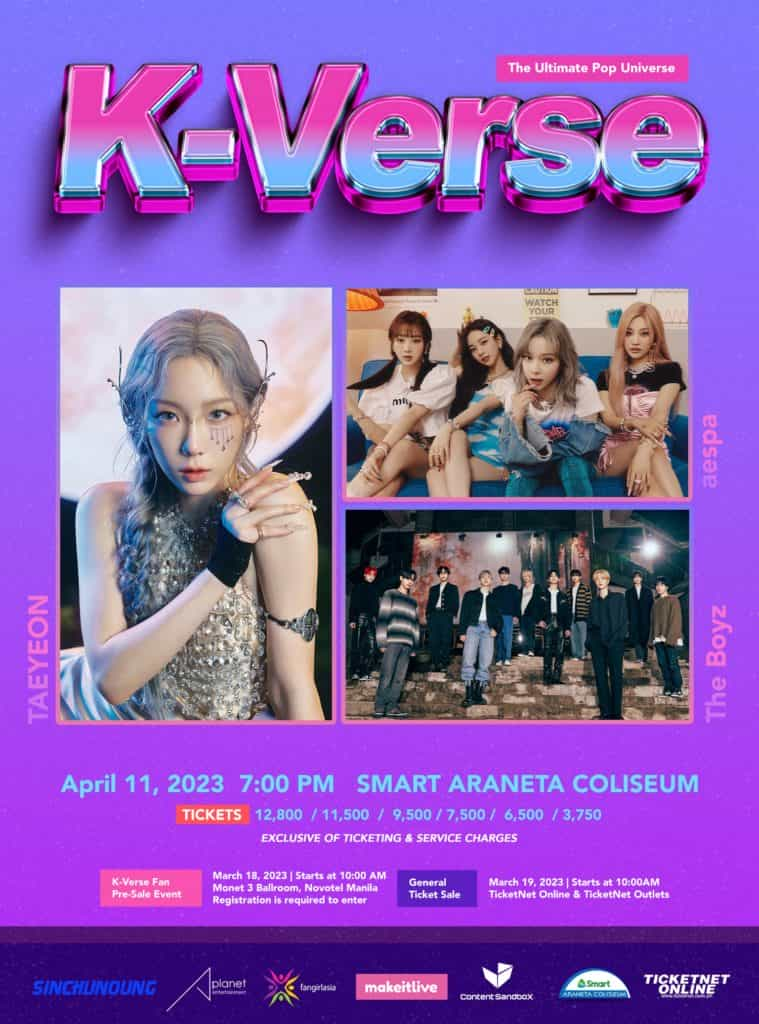 ---
Ticket prices, seat plan, and fan benefits
Head on to TicketNet online and its outlets as tickets are still available.
Tickets are as follows without the ticketing charge:
SVIP – 12,800
VIP – 11,500
LOWER BOX – 9,500
UPPER BOX A  – 7,500
UPPER BOX B  – 6,500
GENERAL ADMISSION – 3,750
FAQ (Frequently Asked Questions)
As posted by Makeitlive, listed below are the FAQ regarding ticketing and show concerts:
---
Get to know your idols!
First on the lineup is one of the trendiest boy groups today, THE BOYZ! The 11-member boy group from ISt Entertainment shows unstoppable performances and thrilling choreographies that will make you fall in love with them. And now. they are returning to Manila from their last visit in 2019 to show more to their FILO Deobis (The Boyz fans) at the big dome. Here are some of the tracks to hype you starting off with "ROAR", which shows their synchronized choreography and their handsome charisma.
Everyone will be down to love THE BOYZ with "REVEAL", just like how we all love their performance on Mnet's Road to Kingdom.
Since the Philippines is currently experiencing dry season, this track will cool you down and take you to a "THRILL RIDE"!
The FILO MYs will be so delighted to know that aespa will be having their Philippine stage debut this April 11! And speaking of April 11, this will be also the day we celebrate the birthday of aespa's leader Karina! The 4-member girl group with powerful vocals and stunning visuals always makes their songs and music videos stronger than ever. Just like aespa which made its Coachella debut in 2022. We are also looking forward to their first-ever visit to Manila. Here are some tracks to get you ready for the GIRLS. First on the list is "Illusion" which is a powerful B-side track to listen to.
Released in 2021, this "Next Level" track of aespa is the talk of the town and everyone's doing its dance challenge. By just moving your arms, you will surely know the title of this next hit track.
Oh my gosh, don't you know that they are "Savage"? Just like aespa's title track from their 1st mini album!
Lastly, Girls' Generation's leader and soloist TAEYEON is also returning from her last visit to Manila in 2019 and is now ready to give you a wonderful treat to every FILO SONE going to the big dome. Known for her chart-topping tracks, ballad songs, and OSTs, TAEYEON is one of the most powerful solo acts today. And here are three of the tracks that you should listen to and hope to hear her perform these tracks LIVE on stage. First, is TAEYEON's latest title track "INVU" which is her favorite track that makes her attach to it just like how we get attached to all of her songs.
Every SONE and TAEYEON's fans would not forget her debut as a solo artist with "I". This track will show you how beautiful your life is and will surely make you fly high like a butterfly.
TAEYEON is also known for unforgettable and LSS (last song syndrome) OSTs from your favorite Korean dramas. But there is one OST that is well-known up to this day, and that is "All About You" from the tvN Korean drama "Hotel del Luna" starring Yeo Jin Goo and Lee Ji Eun (IU). You will feel the Korean drama all over again every time you hear this heartwarming song (Hope to hear this live too).
---
Get ready to enjoy the night as we enter the ultimate pop universe with #THE BOYZ, #aespa, and #TAEYEON on April 1, 2023, at the Araneta Coliseum!
 #KVersePH is presented by Makeitlive.


THIS SPACE INTENTIONALLY LEFT BLANK.