The Melon Music Awards 2021 kicks off today with awarding of artists and showcasing of performances. This year's theme makes you enter the Next Music Universe as 2021 will be told through music.
The final lineup includes IU, Lee Mujin, Heize, Lim Young Woong, MSG Wannabe, THE BOYZ, ENHYPEN, Brave Girls, STAYC, and TOMORROW X TOGETHER. The MMA 2021 will be held on December 4, 2021, at 6 PM KST. You can watch the live stream on KakaoTV, Melon, and 1theK's Youtube Channel HERE: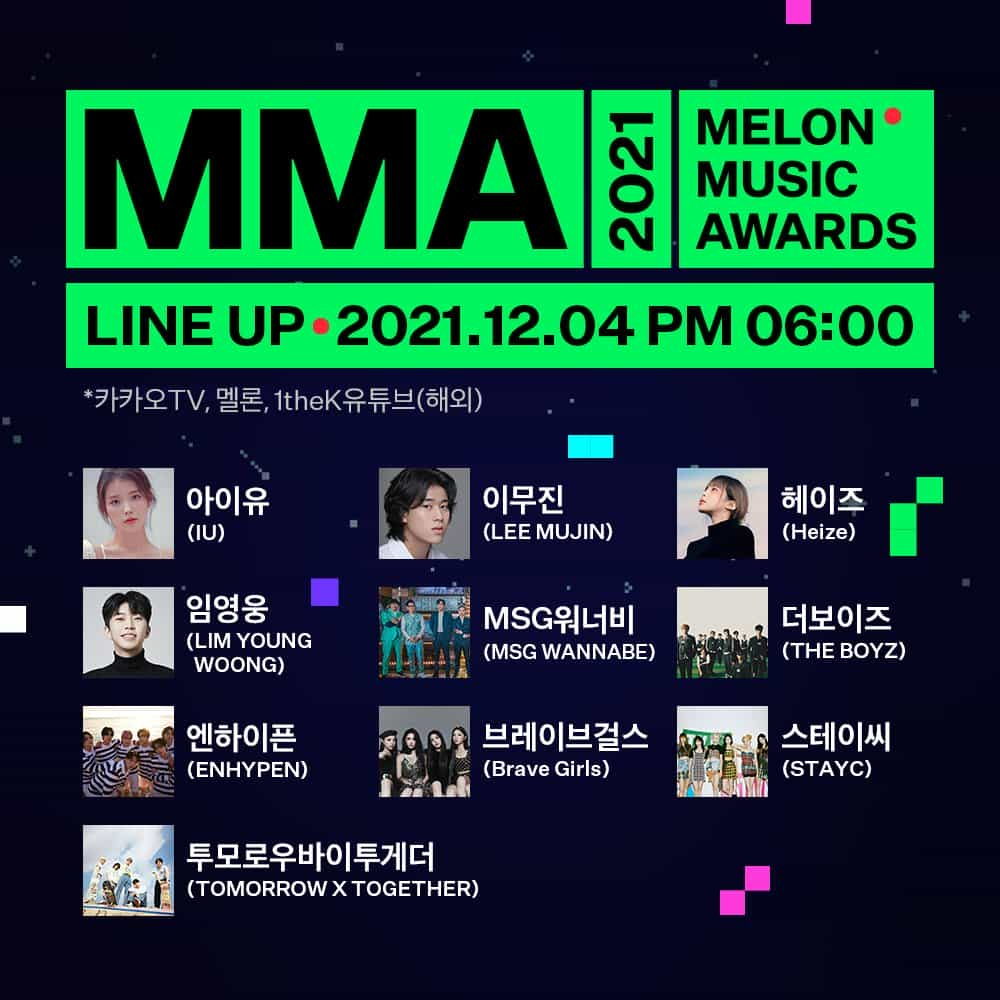 ---
[LIVE UPDATES]
Around 6 PM KST, the Melon Music Awards 2021 begins with a pre-event show called 'MMA the RECORD' hosted by announcer Park Sun Young and comedian Lee Yong Jin. They will be showcasing the songs and albums that tell stories and records throughout the year 2021. They also give updates on the red carpet of tonight's performers.
2021 MMA TOP 10 (BONSANG):
aespa
AKMU
ASH ISLAND
NCT DREAM
ILLBOI
BTS
IU
Lim Young Woong
Lee Mujin
Heize
[MAIN SHOW]
Around 7 PM KST, the main awards show of the MMA 2021 starts!
STAYC kicks off the MMA stage with their lovely performance of their recent title track 'Stereotype', followed by their hit track 'ASAP'.
Lee Yeon Hee formally announces the first winner for the 2021 MMA TOP 10.
2021 MMA TOP 10: IU, Lim Young Woong
ENHYPEN takes you to another world with their classy but powerful intro performance followed by their recent hit track 'Drunk-Dazed'. ENHYPEN also performs their recent title track 'Tamed-Dashed' on their sports uniforms.
2021 MMA TOP 10: BTS
Netizens' Choice: BTS
Jung Hyuk announces the winner of the Hot Trend Award.
Hot Trend: Brave Girls
New Artist of the Year – Male: Lee Mujin
New Artist of the Year – Female: aespa
The 2021 MMA Top 10 continues as Lee Chung Ha announces the next set of winners.
2021 MMA TOP 10: Heize, ILLBOI
Now, it's time for a suit-up performance of Brave Girls with their hit and trending track 'Rollin', followed by a shiny stage of their latest track 'Chi Mat Ba Ram'.
2021 MMA TOP 10: aespa
Lee Tae Hwan announces the winner for Best Solo Award.
Best Solo – Male: Lim Young Woong
Best Solo – Female: IU
Lee Mujin performs 'The Assignment song' and his hit track 'Traffic Light'.
Best Collaboration: Coldplay & BTS
Park Se Ri announces the winners for Best Music Style and Music Video of the Year Awards.
Best Music Style: Homies
Music Video of the Year: TOMORROW X TOGETHER
Best Project Music: MSG Wannabe
Let's have reminiscing feels with MSG Wannabe's performance of their hit track 'Foolish Love'.
Best Group – Male: BTS
Best Group – Female: aespa
Kim Ea Na is the next presenter for the Best OST and Best Songwriter Awards.
Best OST: Rain and You by Lee Mujin (Hospital Playlist 2 OST)
Best Songwriter: IU
Heize is the next on stage with her hit track 'Happen'.
2021 MMA TOP 10: AKMU
Jung Hye Sung, now presents the winner for the 2021 MMA Top 10.
2021 MMA TOP 10: Lee Mujin, ASH ISLAND, NCT DREAM
TOMORROW X TOGETHER is now on stage to give us a heart-pounding performance of their hit song '0X1=LOVESONG(I Know I Love You) followed by their latest hit track 'LOSER=LOVER'. They are also giving us a dance break performance.
And now it's time for THE BOYZ for a dance break and a performance of their latest track 'Maverick'.
Best Performance: The Boyz
Kim Je Deok and Choi Ye Bin present the award for the Global Rising Artist and 1theK Original Content Awards.
Global Rising Artist: ENHYPEN
1theK Original Content: STAYC
Lim Young Woong serenades us with the OST of Young Lady and Gentleman 'Love Always Run Away' and 'My Starry Love'.
It's time for IU with her strawberry-colored and flowery performance of her latest hit track' Strawberry Moon', followed by two hit tracks of hers ' Celebrity' and 'LILAC'.
Now, it's time for the Daesang(Grand) Awards.
Record of the Year (DAESANG): aespa (Prod. by Lee Soo Man)
Best Song of the Year (DAESANG): Butter by BTS
Yoon Sang presents the winner for the Album of the Year Award.
Album of the Year (DAESANG): IU 5th Album 'LILAC'
Artist of the Year (DAESANG): IU
And that concludes this year's Melon Music Awards 2021.
---
Tune in to HallyuLife for more award shows updates.

THIS SPACE INTENTIONALLY LEFT BLANK.