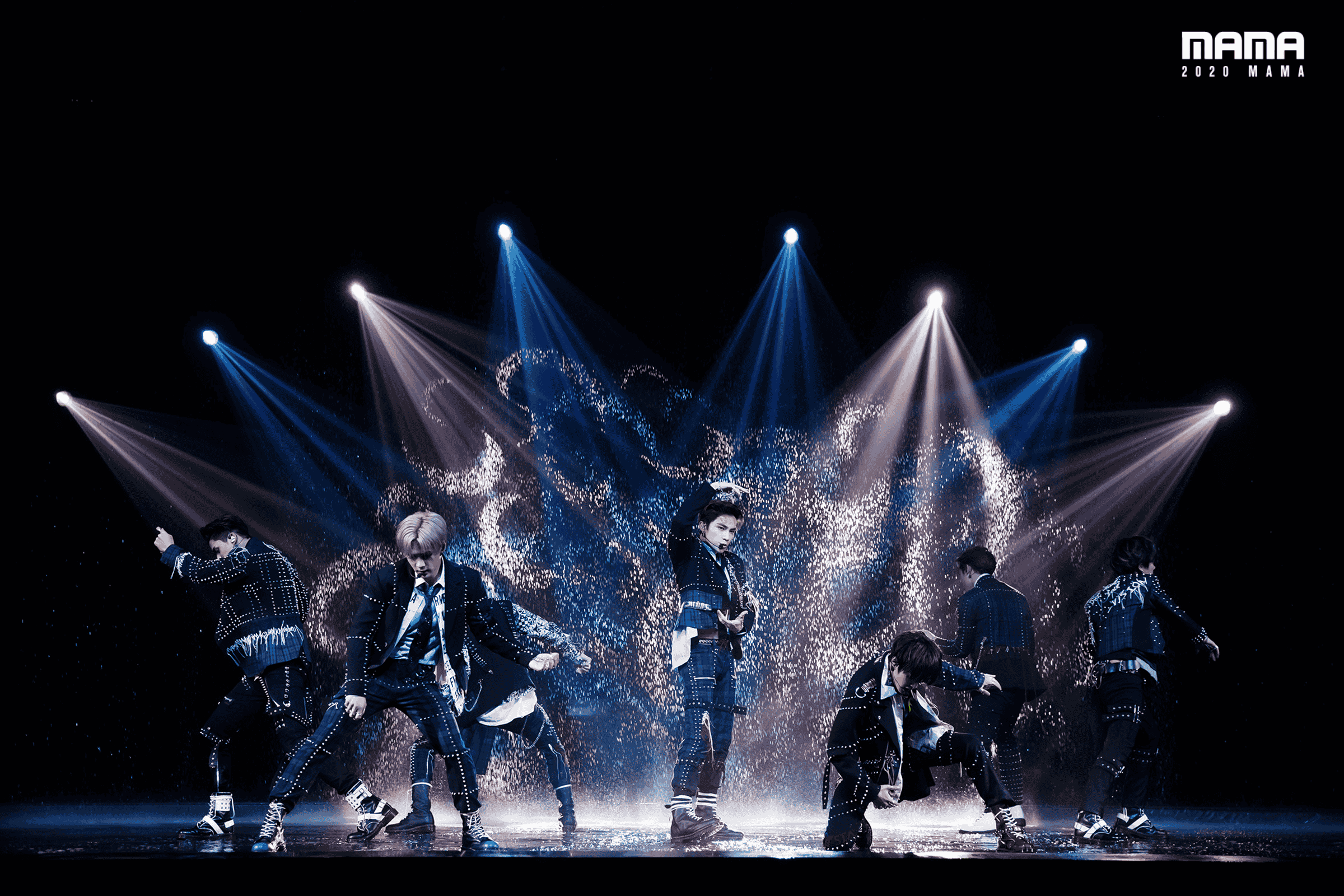 The 2020 Mnet Asian Music Awards was a night of amazing performances with the help of modern technology.
It may be as long as 2015 MAMA, but this year is different. From the usual setup of MAMA in Hongkong, the award show happened at the CJ ENM Content World in Paju, Seoul.
We've seen amazing performances, as well as collaboration stages, special stages, and of course unexpected surprises. Surprises that even fans got bewildered.
Here are the performances in order of appearance at the 2020 Mnet Asian Music Awards:
Taemin's 'The dawn of a NEW-TOPIA' Opening Performance:
Taemin kicks off the MAMA stage with his performances of 'Criminal', Heaven, and 'Idea'.
Jessi and Hwasa's 'I AM WHAT  I AM' Collaboration Stage:
Jessi starts the special collab stage with her hit track 'NUNU NANA'.
It was then followed by Hwasa's vocal track 'Maria'.
Jessi and Hwasa performs their own rendition of Rain's 'meme' track 'GANG'.
ENHYPHEN'S MAMA Debut Stage with 'On The Borderline':
Performing for the first time at the MAMA stage, ENHYPHEN dance to 'Into the I-LAND' (Piano version), then followed by 'Walk The Line', and their latest track 'Given-Taken'.
'Heaven and Hell' Collaboration Stage with CRAVITY and MONSTA X:
CRAVITY performs their hit track 'Break All The Rules'. Then, they performed MONSTA X previous hit tracks like 'DRAMARAMA' and 'Shoot Out'.
MONSTA X then performs their hit track 'BEAST MODE'.
MONSTA X also performed CRAVITY's previous hit track 'Love Killa'.
Oh My Girl and (G)I-DLE's 'Total Eclipse' Collaboration Stage:
Oh My Girl performs their visually beautiful stage for their hit track 'Nonstop'.
(G)I-DLE performs their hit summer track 'DUMDi DUMDi' on a colorful Hawaiian style outfits.
Oh My Girl and (G)I-DLE goes sassy with their own version of Miss A's hit track 'Bad Girl, Good Girl'.
'Triangular Fight' Collaboration Stage with The Boyz, ATEEZ and Stray Kids:
The Boyz starts the special stage with a royal performance of 'Reveal' and 'Checkmate'.
ATEEZ the performs their hit tracks 'INCEPTION' and 'Answer' at a fiery stage.
Stray Kids shows a strong spartan looks with 'Victory Song'.
The Boyz, ATEEZ, and Stray Kids had a 'Triangular Fight' dance showdown which seems to be a sneak peek at the upcoming Mnet reality program 'Kingdom'.
JO1 Special Stage:
Japanese boy group JO1 performs their tracks 'INFINITY' and 'Shine a Light'.
TREASURE's MAMA Stage Debut:
TREASURE also makes the MAMA debut stage with their performances of 'BOY', 'I LOVE YOU', and 'MMM'.
Welcome to the Disco with TOMORROW X TOGETHER:
TOMORROW X TOGETHER start their performance with a retro stage of 'Short Hair', JYP's 'She Was Pretty', and BTS's 'Dynamite'.
The also performed the dance break version for 'Blue Hour'.
IZ*ONE's 'One-reeler' Stage:
Considering the fact that IZ*ONE's contract will end in 2021, they still managed to give us a wonderful and colorful stage with their medley of their hit title tracks 'La Vie en Rose', 'Violeta', and 'Fiesta'.
IZ*ONE looking like angels as they performed their recent hit track 'Secret Story of the Swan'.
https://youtu.be/Q3_8nkgkz5E
They also performed their newest track 'Panorama' from their upcoming album 'One-reeler' ahead of its official release on December 7th, 6 PM KST.  The official video was uploaded at the official Mnet Kpop Youtube channel but it was taken down due to the fact that it is not yet officially released.
A Last Piece of New-topia with GOT7:
GOT7 gives us an elite performance of 'Not by the Moon'.
They also give another performance for 'Last Piece'.
Promised Land with MAMAMOO:
Another breath-taking concert experience has been brought by MAMAMOO's performance of 'AYA' and the Agrabah version of 'Dinga'.
SEVENTEEN's 'Door to YouThopia:
SEVENTEEN goes hip-hop with their performance of 'Left & Right', as well as classy and jazzy performance of 'HOME;RUN'.
RESONANCE OF NCT:
The RESONANCE of NCT starts with a vocal performance from NCT U with 'From Home'.
WayV gives us a cool performance with 'Turn Back Time'.
NCT DREAM revs up the stag with their 'motor city-vibe' performance of 'Ridin'.
NCT 127 shows a heart-stopping performance of 'Kick It'.
NCT 2020 with the biggest number of members of 23, performs at the MAMA stage with their latest track 'RESONANCE'.
TWICE's PARADISE SURPRISE:
TWICE returns at the MAMA stage as they bring you tio paradise with their hit tracks 'MORE & MORE' and 'I CAN'T STOP ME'.
When we all thought that TWICE's performances are through, well YOU'RE WRONG. Because TWICE surprise everyone with a performance of an unreleased and never-before-heard track called 'CRY FOR ME'.
BoA's 20th Anniversary Performance:
The special stage for BoA started with a medley of her songs. Winter of aespa kicks off with 'Peace B', (G)I-DLE with 'Listen to my Heart', YooA of Oh My Girl with 'Tree', and IZ*ONE's Unit (Eunbi, Yena, Chaeyeon, and Chaewon) with 'Atlantis Princess'.
BoA is back at the MAMA stage as she sings her debut track 'No.1' followed by her iconic track 'Only One' featuring Taemin.
BoA also performs her latest track from her 10th full-length album of the same name 'BETTER'.
BTS SURPRISE STAGE:
Even though it was a surprise stage, BTS's performances are still anticipated by many. They start their performance with a football field stage of 'ON'.
BTS performs their chart-topping track of 2020 'Dynamite' with a disco feel and an awesome dance break.
BTS inspires us as they serenade us with their latest chart-topping track 'Life Goes On'. They also tell everyone to 'Light On' and to stay healthy wherever you are.
And those were the performances at the 2020 Mnet Asian Music Awards that made even more fun and exciting to watch with the help of  Augmented Reality (AR).
Tune in to HallyuLife for more updates and news about the 2020 Mnet Asian Music Awards. -HallyuLife.com

THIS SPACE INTENTIONALLY LEFT BLANK.