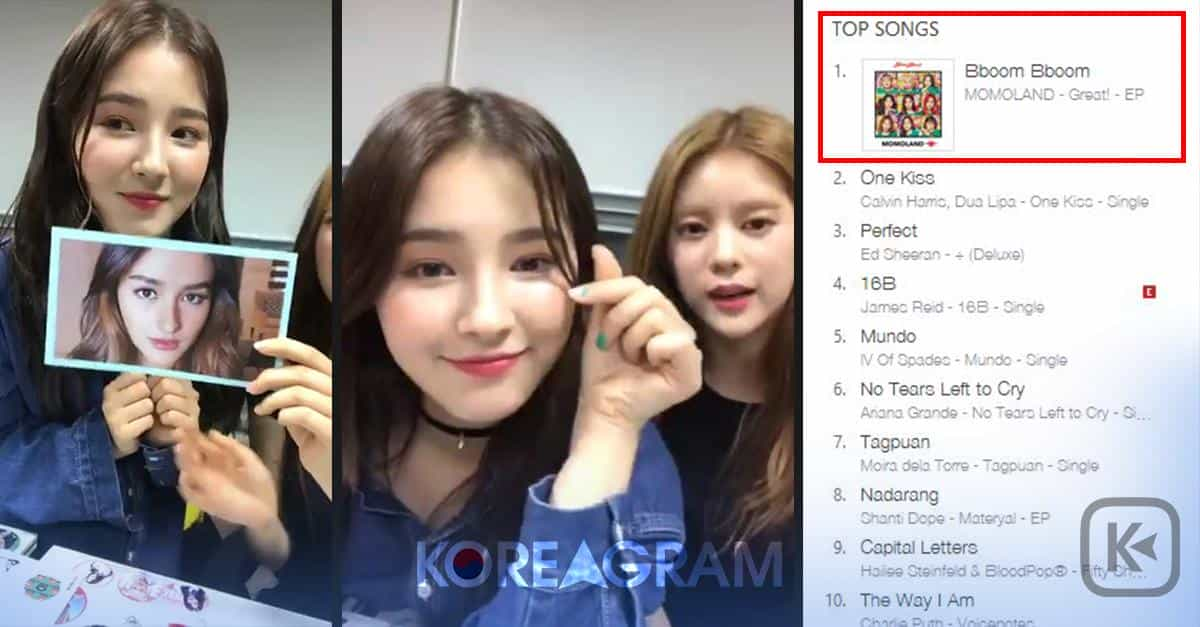 MANILA – K-Pop girl group MOMOLAND, in behalf of members Nancy and Daisy, thanked Filipino fans with regards to their song, Bboom Bboom, becoming number one on Philippine Music Charts such as iTunes Philippines through a Facebook Live video on Tuesday, May 8.
The popularity of the girl group, especially maknae member Nancy has surged since the news and photos of her spread out on social media. She was noticed for being a look-alike of actress Liza Soberano. And while it seems vague how the song Bboom Bboom become a national trend, the popularity and hype among Nancy and other MOMOLAND members seems to grow continually, seeing a tons of pages and content made on social media about them.
"It's so new to us, we haven't even made it number one yet in Korean music charts," Daisy said.
"That's so cool!" said Nancy.
The said song was even widely used in Philippine television segments, YouTube dances and other sort of challenges made to entertain people.
Daisy also noted that they'd really appreciated the love they're receiving from Filipino fans, noting the fact that it's really hard to listen to a song that wasn't even understandable or is in your 'mother tongue' language. It's music that brings us together, she added.
They also talked about Liza Soberano, even comparing Nancy and Liza with some set of photos. She even mentioned that she hopes Liza would also dance to their song, after knowing that even Philippine celebrities have done the Bboom Bboom challenge.
---
Going to the Philippines?
MOMOLAND's social media accounts were flooded with Filipino fans requesting the group to hold a concert here or a fan meeting.
"We should really go to the Philippines," – said Daisy.
"You know, there's only one way we can go, and that is for you to call us." – Nancy added.
The group made its debut in 2016 with seven members (now nine), composed of Nancy, Yeonwoo, Daisy, Hyebin (leader), Nayun, Ahin, JooE, Taeha, Jane. The song Bboom Bboom is the title track of their recent album #GREAT.

THIS SPACE INTENTIONALLY LEFT BLANK.