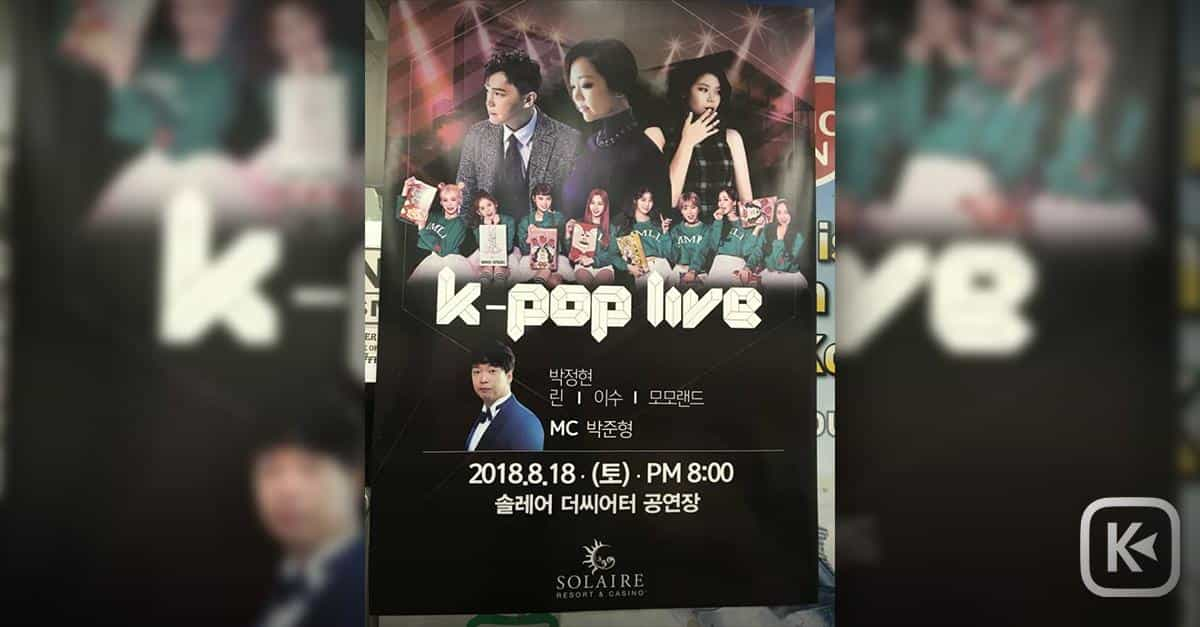 MANILA, PHILIPPINES – Korean girl group MOMOLAND is set to make their first tour in the country in a place where most of its fans probably couldn't get access into due to its age and membership restrictions – Solaire Resort and Casino in Parañaque.
---
UPDATE on 2018.08.02: There are rumors circulating that MOMOLAND will conduct a meet and greet event after their performance on Solaire. We're still confirming this information so take this part with a grain of salt.
---
READ: MOMOLAND announces their Philippine tour on August 18
While the event venue or details itself wasn't officially announced yet by MOMOLAND, Solaire was already seen gearing up for their annual K-Pop Live Concert, with this year, featuring MOMOLAND aside other K-Pop artists such as singer Lyn, Li Soo and Lena Park. The event will be hosted by MC Park Jun-hyung.
And while Solaire hasn't posted any official announcements yet, it has confirmed already that MOMOLAND will be performing alongside the aforementioned artists on August 18th. Their last year's K-Pop concert, also exclusive to SRC members, featured well-known K-Pop acts such as Lovelyz, Koyote and Wheesung.
However, upon checking at TicketWorld's official website, the event isn't listed there for ticket selling, meaning that it is indeed, a member-only event. There's no price indicated too.
Solaire Resort and Casino (SRC) is a member-only exclusive venue and requires 21+ of age to enter. That means younger 'Merries' or MOMOLAND fans couldn't make it to the cut and see MOMOLAND perform live.
UPDATE: Solaire had already released a statement dated July 27th, saying that:
"We would like to express our appreciation for the great public interest towards Momoland's upcoming show.  The commercial arrangement with Momoland, which guides this particular performance, involves an exclusive and private event. We hold dear as a guiding principle as often as possible that our valued guests and the public can enjoy our entertainment acts as they come available. We sincerely hope to receive the same level of interest and enthusiasm into the future as we continue to bring in world class acts from the Philippines and around the globe."
---
However, for those eligible 'Merries' who wants to check them out, here's how to get access to the said event:
Become a Gold or higher card holder of SRC. According to our source, the event is solely by invitation basis and is for the said tiers only.
Wait for Solaire's announcement – they usually offer giveaways and non-member promos before the event.
We're still waiting for official announcements from Solaire and MOMOLAND as of this writing, but these information were already confirmed by Solaire themselves. This post will be updated once there's new development.
---
Editors' Opinion: MOMOLAND should have chosen a more unrestricted venue for their supposed first tour in the country, considering that most of their fans are actually below 21 years old. We just hope that the group would conduct another fan-meeting on a better, unrestricted venue (Malls, Theaters, etc.) than a supposed to be recreation and gaming venue. 
---
What do you think of this story?

THIS SPACE INTENTIONALLY LEFT BLANK.