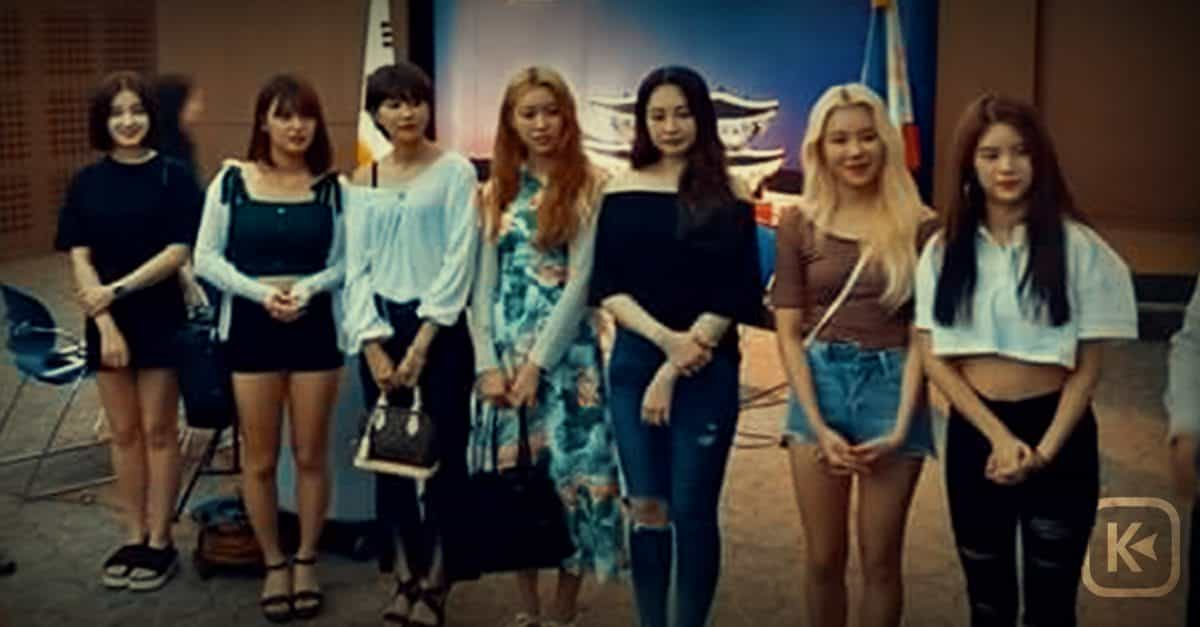 UPDATED on 2018.08.19 (11:55): Updated information about MOMOLAND's schedule on September 8
---
MOMOLAND is set to be back on Manila on September 8 to headline the UAAP Season 81's opening. More details about it can be found on this article:
MOMOLAND will be back in Manila on September 8 for #UAAPSeason81
---
Original story first published on 2018.08.17
---
MANILA – South Korean girl-group MOMOLAND is now in the Philippines for several functions, including a private concert performance in Solaire.
Arriving at around 11AM PST (Philippine Standard Time) from an Asiana Airlines Flight in Manila, fans of the girl group, called 'Merries' have flocked to NAIA Terminal 1 where the girls have arrived.
The group arrived with only seven members, without Nayun and Yeonwoo, whom was diagnosed with inner ear disorder and has a shooting for the Korean show 'Law of the Jungle' at Maldives, respectively.
Netizens posted videos and photos of the group arriving in Manila for the first time, making MOMOLAND one of the trending topics on Twitter Philippines on Thursday.
Now, since MOMOLAND's event in Solaire isn't accessible to everyone out there, including most of the Merries, you might be wondering if you can still check them out and/or hang out with them even at some point during their stay in the Philippines. We're here to at least, guide you out.
Upon arrival, MOMOLAND had made several courtesy calls to respective offices such as the Korean Embassy in the Philippines in Taguig, posting for a photo with Korean embassy officers.
Senator Manny Pacquiao and his wife, Jinkee also took photos with MOMOLAND in a courtesy call made by the group in his house. MOMOLAND said that they are looking forward to meet Manny, whom they described as the 'boxing hero'.
A 24 Oras interview with MOMOLAND reveals that former governor Chavit Singson will sponsor MOMOLAND to have a mini vacation at either Ilocos, Cebu or Manila. When will this happen isn't exactly known yet.
On August 17th, MOMOLAND is set to have a mini-conference with several members of the press, fans and Viu Philippines. This is going to happen at around 3PM, Philippine time, on Facebook Philippines office.
On August 18th, MOMOLAND is set to perform at Solaire's K-Pop Live concert at 8PM. This is an exclusive, private event for Solaire VIP Gold and higher tier cardholders and is only accessible to ages 21 and above.
On August 19th, The group is set to appear on Magazine TV shows Kapuso Mo, Jessica Soho (GMA 7) and Rated K (ABS-CBN 2). These are pre-recorded and will air on Sunday night at around 7:45PM, Philippine time.
They are also expected to meet actress Liza Soberano, whom is dubbed to be Nancy's look-alike.
Other than that, rumors are also circulating that the group might do a fan-meet somewhere in Manila after these events. Although this information is still rough as of this moment, we'll give you an updates on this article once there's new development.
UPDATE: MOMOLAND's alleged fan-meet in the Philippines cancelled by MLD Entertainment due to what happened in NAIA
---
MORE ABOUT MOMOLAND ON HallyuLife:
MOMOLAND to perform in Solaire K-POP LIVE at August 18 – here's how you can get access
MOMOLAND announces their Philippine tour on August 18
MOMOLAND thank Filipino fans after Bboom Bboom being #1 on PH Music Charts
LOOK: Korea's Nancy McDonie wowed by actress Liza Soberano's beauty
5 K-Pop Girl Groups Philippines Need To See Live
18 facts and reasons to love Nancy Jewel McDonie of MOMOLAND
22 facts and reasons to love Yeonwoo (연우) of MOMOLAND
QUIZ: How well do you know Nancy of MOMOLAND?

THIS SPACE INTENTIONALLY LEFT BLANK.