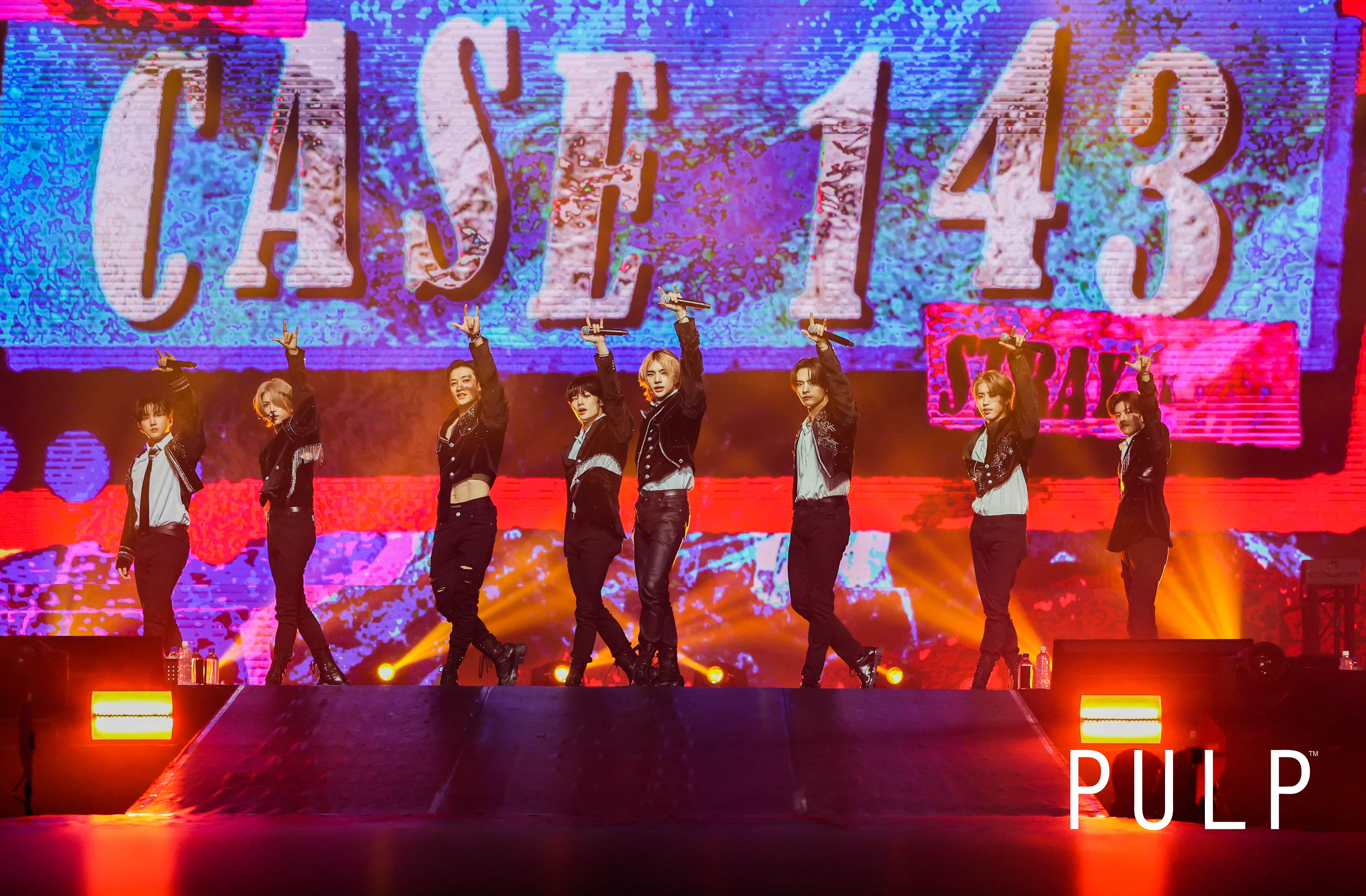 MANILA – Nearly two months after their fan meeting last January, Stray Kids were once again in Manila last March 11-12 for the Philippine leg of their MANIAC world tour – and here's why we've thought it's almost a perfect concert in every way.
For two consecutive days, the whole SM Mall of Asia Arena became a testament to how Stray Kids rocked every STAY's world with their insane performances, magnificent stage design, and lighting, which we can probably describe as one of the shows with the utmost lighting on stage – which turned out somehow to be a visual treat for the eyes.
The hype quickly escalated even before the actual show, and as it officially began, the fans' overwhelming cheers intensified even more. Colorful strobes of lights flash everywhere, accompanied by surround sound and choreographed LED screens that added appeal and a whole new level of showmanship. As Stray Kids finally emerged, a well-coordinated display of lights, sounds, and pyrotechnics hyped the boys' arrival, earning ear-shattering screams from all the STAYs.
Right off the bat, the group performed their title track for the whole tour, 'Maniac'. Wearing a matching red outfit, the group ignited a fiery performance.
After that, they quickly followed it with 'Venom', 'Red Lights (OT8 ver)', 'Easy', 'All In' and 'District 9′. One of the highlights of the concert was the specially-made spider legs that work automatically, dancing with the music and vibing with the group as they perform. Talk about innovation!
Stray Kids' leader Bang Chan promised fans they're in for an awesome night.
"We'll give you guys one of the craziest nights you've ever seen." -Bang Chan
After a short break, Stray Kids once again emerged from the stage with their cool, white, and black outfits and performed 'Back Door'. They then followed with a crowd favorite song 'Charmer', where some of their famous concert fancams became popular because of the sexy body rolls and sensual dance moves.
After hyping the crowd with a little bit of sexiness, the mood shifted when they sang 'Lonely St' with the crowd singing along. Then came 'Side Effects' and the fans were lost in a psychedelic trance.
The intense back-to-back performances came to a quick stop so the members can catch their breath and finally greet their fans. After another outfit change, wearing their trendsetter traditional hanbok and hip-hop outfits, leader Bang Chan revealed another highlight of their concert tour – the addition of a live band.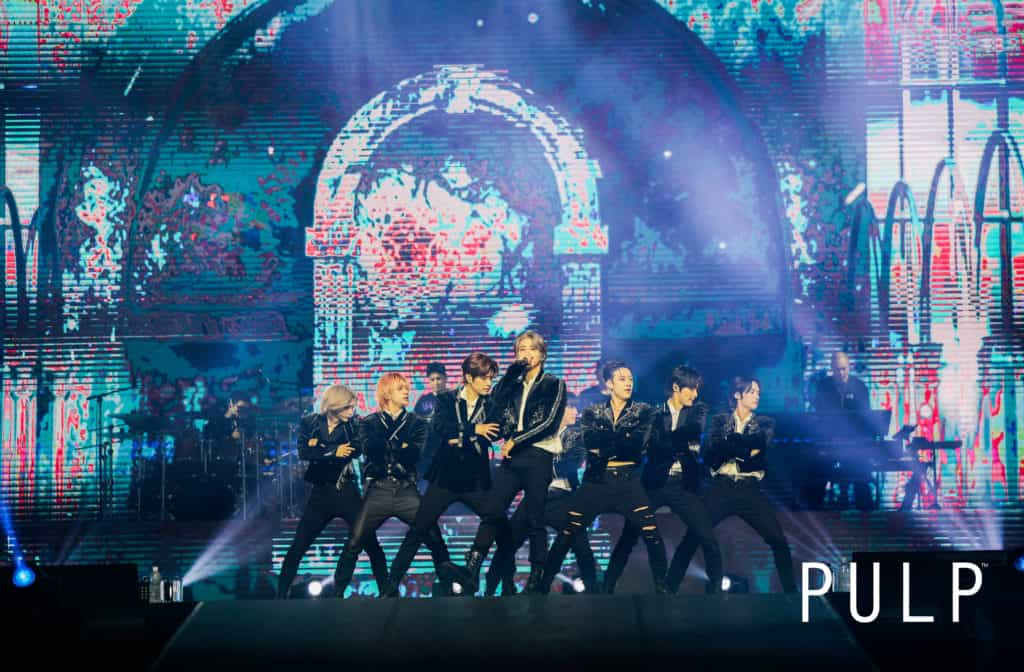 Together with the insane acoustics of the live band, Stray Kids performed 'Thunderous (Rock ver)' followed by 'Domino (Rock ver)' and the all-time favorite 'God's Menu (Rock ver)'. The fans can't hold their excitement with the series of explosive events right before their eyes. Bang Chan, on the other hand, was quick to make sure everyone was safe and comfortable in their places as they watch the concert. After making sure everyone is okay, the group continued performing with 'Cheese'. The members asked the whole crowd to stand up and jive along to 'YAYAYA'.
After that, the other members rested for a bit while Hyunjin, Changbin, and Felix entertained the fans. Hyunjin gave STAYs a spectacular solo dance number, while CHANGLIX sailed as the two sang  'Love Again' together.
Continuing with their heart-melting songs, Bang Chan, Lee Know, Seungmin, and I.N serenade STAYs with 'Waiting For Us'. After that, the boys conversed with their fans and Bang Chan joked about I.N being the scariest member of the group. Then, Filipino pride soared high as Bang Chan revealed they ate Jollibee meals the night before the concert.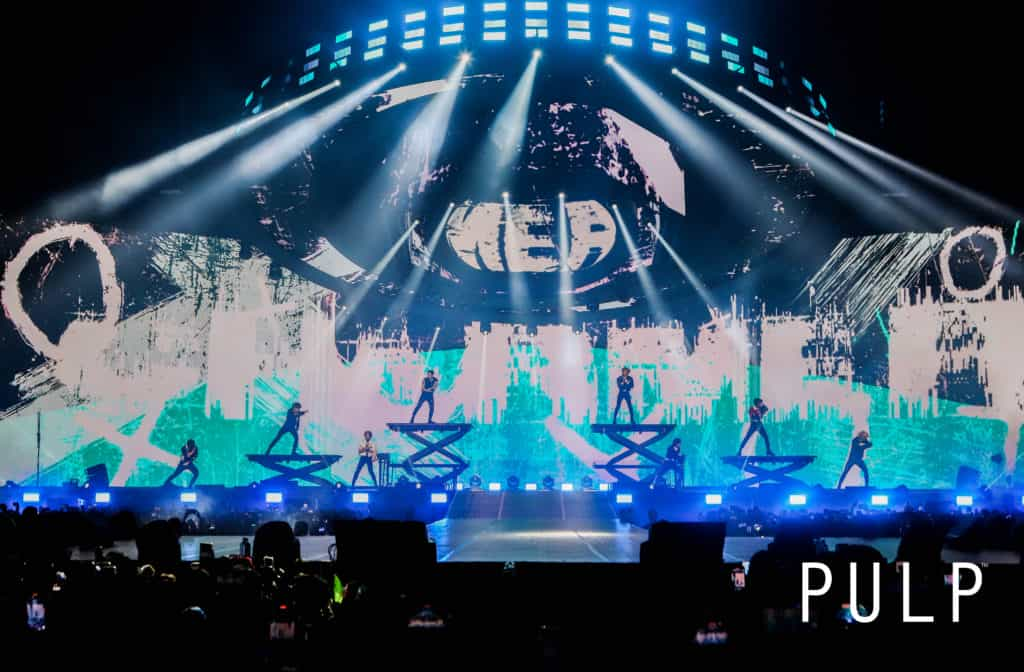 When the leader asked if anyone prepared something for Day 1, Lee Know sang Sam Fischer's 'This City' followed by Seungmin's acoustic rendition of NewJeans' 'OMG'. Then, the next group composed of Changbin, Hyunjin, Han, and Felix gave fans a jaw-dropping performance of 'Muddy Water'.
The other members finally joined the stage and teased fans about which group gave a better unit performance. This time, Team Waiting For Us got the louder cheers, but Felix vowed that the next day, Team Muddy Water will win. On the second day, Felix flashed his abs which made Team Muddy Water win. That's some persistence right there!
The group performed 'Case 143' and jokingly bid goodbye to STAYs. This earned an ear-deafening chant from the crowd saying, "WALANG UUWI" (No one's going home).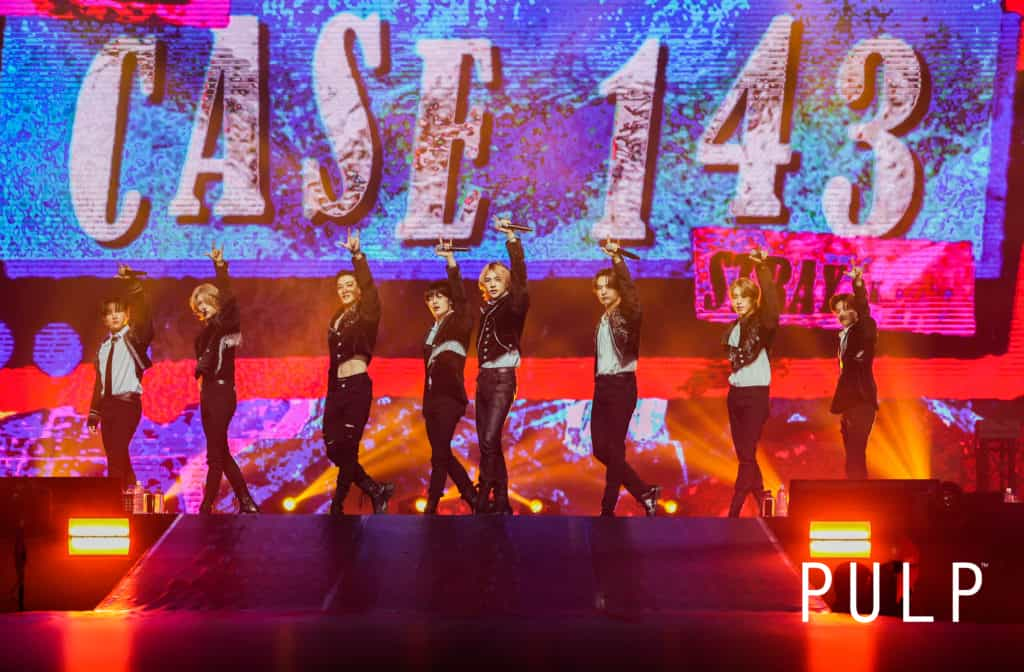 Surely after that, Stray Kids continued on with another set of performances of 'Hellevator', 'TOP', and 'Victory Song'. Although seated during the first day of the entire concert, Han never failed to bias-wreck fans as he effortlessly sang all the high notes of their tracks.
After that, the group headed backstage for a quick break and an outfit change. But the fun didn't die down for a moment as the crowd played along to some games like 'Red Light Green Light (STAY ver)'. Fans let their dancing skills take over as they danced along to SKZ's songs. Cuteness overloaded when a little boy danced Maniac as accurately as he can.
"You guys are adorable! You guys did a really good job." – Bang Chan (to the fans who played along to the games)
After that, Stray Kids went back to the stage and performed 'FAM' and 'MIROH'.
Concluding Day 1's concert, the boys each gave their messages to their fans.
"We'll be the greatest artist in the world when we come back." -Lee Know
I.N revealed that during their recent fan meet with BENCH, they were almost never allowed to perform any of their songs, but they insisted. This just showed how much they love their fans. Felix also expressed his gratitude to everyone who attended the concert, "Maraming Salamat," he said.
"The energy that I'm feeling from you guys are on another level…. Let's not go home!" -Bang Chan
Hyunjin also repeated the crowd's chants from earlier, saying "WALANG UUWI." STAYs sang him a Happy Birthday song which earned a laugh from him because it was not yet his birthday. He thanked the fans anyway for the effort.
"Of all the MANIAC tours that we had so far, this one is unforgettable…. SOBRANG MAMI-MISS KO KAYO! (I will miss you all so much!)" -Hyunjin
Changbin and Seungmin promised that they will come back really soon. Han, on the other hand, apologized because he thinks that he didn't give fans his best due to his health condition. He was seated the entire Day 1, but he made up on the second day, joining the team and performing. After that, the group sang Star Lost and Haven, their last song for the night.
[스키지기]
마닐라 스테이 덕분에 행복도 에너지도 충전 완료?
고마워요 마닐라 스테이?

Manila, you've filled us with so much energy and happiness??
Thank you Manila STAY?#StrayKids #스트레이키즈#2ndWorldTour_MANIAC#MANIAC #MANIAC_SKZ#YouMakeStrayKidsStay pic.twitter.com/dyekVuJp5x

— Stray Kids (@Stray_Kids) March 11, 2023
However, the fun doesn't stop from Day 1 as there are a lot that happened on the second day of Stray Kids' Manila show.
And while the setlist is very similar, here are some unique highlights from the Day 2 show:
1. BANG CHAN SINGS YENG CONSTANTINO'S IKAW
During their individual performances, the members mentioned they prepared something for STAYs, Bang Chan said that he has two options and asked STAYs to choose from option one or option two which resulted in option two as the winner. Bang Chan then immediately prepares himself as he sings the song that he prepared for STAYs, lo and behold, a lot of STAYs are shocked as the Stray Kids' leader sings the song of Filipino singer-songwriter Yeng Constantino's Ikaw.
The arena was filled with screams, shocked, and touching feelings as they heard Bang Chan sing the song in an almost native-speaker tone. STAYs and Bang Chan even sang the song together for the second time around!
Bang Chan sings Yeng Constantino's "IKAW" and STAYs didn't expect it.

Bang Chan pinoy era? ?#SKZinMNL2023 #MANIAC_IN_MANILA #StrayKidsinManila #SKZinManila2023

— HallyuLife (@hallyulifeAMG) March 12, 2023
2. STAY SINGS WAITING FOR US FOR STRAY KIDS
After the Waiting For Us stage, Bang Chan, Seungmin, I.N, and Lee Know were shocked and left in awe when STAYs sings Waiting For Us along with them. Seungmin even said that Manila STAYs are good at singing.
"Manila STAYs are good at singing" -Seungmin#SKZinMNL2023 #MANIAC_IN_MANILA #StrayKidsinManila #SKZinManila2023

— HallyuLife (@hallyulifeAMG) March 12, 2023
Perhaps it really left a mark on Stray Kids because, during Lee Know's ending ment, he requested the STAY to sing Waiting For Us again so we can remember it in his memory.
3. NEVERENDING STRAY KIDS
The fans prepared a VCR fan project for Stray Kids showing a few clips from their Unveil Tour in Manila last 2019 and even have a note "We will meet again." Aside from that the VCR also showed Stray Kids' achievements since their last Tour in Manila in 2019 until their 2023 MANIAC shows in Manila.
Stray Kids' leader, Bang Chan, mentioned that the fan project is so surprising and touching.
[스키지기]
?오늘 공연을 한 마디로 표현한다면?
?마닐라 스테이! 1 4 3 ? ???? ????

?How would you describe tonight in 1 sentence?
?Manila STAY! 1 4 3 ? ???? ????#StrayKids #스트레이키즈#2ndWorldTour_MANIAC#MANIAC #MANIAC_SKZ#YouMakeStrayKidsStay pic.twitter.com/94LhY13QRM

— Stray Kids (@Stray_Kids) March 12, 2023
For two days, we were in awe of how many surprises are in store for everyone, both from Stray Kids' and the fans (STAYs). We've also loved and would really commend the show's production, stage, lighting setup, and everything else. It was truly enjoyable and we're now looking forward to the next tour with Stray Kids. –HallyuLife.com
---
Stray Kids' MANIAC World Tour in Manila is presented by PULP Live World and Happee Hour. We would like to thank them for letting us be a part of this wonderful show.

THIS SPACE INTENTIONALLY LEFT BLANK.