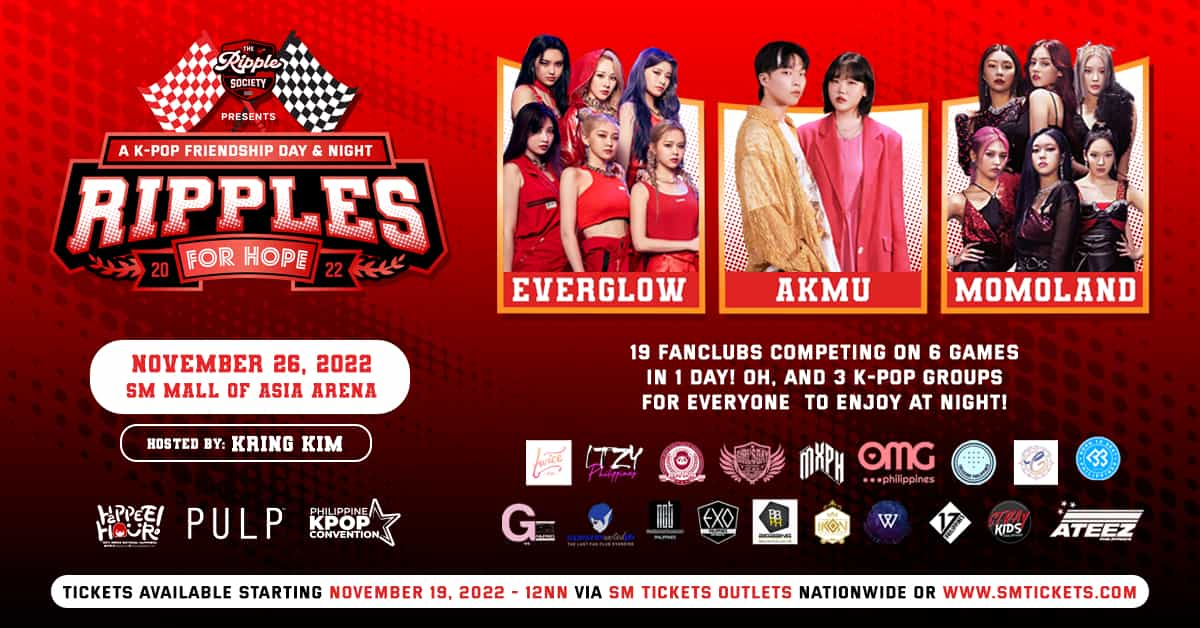 The Ripple Society, along with Happee Hour, PULP Live World, and Philippine K-pop Convention, Inc., presents another one-of-a-kind event happening this November 26, 2022, at the SM Mall of Asia Arena – Ripples For Hope 2022: K-pop Friendship Day and Night!
Divided into two segments, the Day event will be spearheaded by nineteen local-based K-pop fanclubs, playing against one another to determine the winner and the first Ripple Champion, while the Night event will be headlined by three notable K-pop acts, in the name of girl groups EVERGLOW, MOMOLAND, and singing duo Akdong Musician (AKMU).
The Day program will begin at 12 noon, while the night concert with the three aforementioned K-pop acts will start at 7PM.
---
Ticket prices, seat plans, and availability
Tickets for the show are available from November 19, 2022 – from 12NN onwards at SM Tickets outlets nationwide and online.
While we have two posters above for the Day & Night events, one ticket will entitle access to both parts of the event.
Prices are here as follows (all prices are in Philippine Pesos (PHP) and exclude ticketing charges):
Platinum – 8,500
Gold – 6,500
Silver – 3,500
Bronze – 1,500
Take note that in the daytime, all areas are free seating according to the ticket tier, while on the night (concert) time, both Platinum and Gold tickets are entitled to reserved seating, while Silver and Bronze areas are still free seating.
---
What is "Ripples for Hope"?
The Ripples for Hope is a fundraising initiative under The Ripple Society catering to Filipino K-Pop and K-Drama fans from all walks of life. It hopes to gather fans into one big K-pop Friendship Day following themes similar to school fairs and sports fest.
The goal of the event is to promote camaraderie among fans and to provide an avenue to build rapport and harmonious relationships with one another regardless of the artists they support and follow. It also hopes to gain resources that could help The Ripple Society fulfill its charity works in the future to support fellow fans and those who are in need.
This event will feature the participation of fan bases and fan clubs of different Korean artists who will battle it out for the title of the ultimate Ripple Champion.
---
The headliners for the night show
AKMU
One of the renowned singing duos of K-pop, AKMU is known for its diverse music styles and melodies, having multiple awards under its belt.
When @official_akmu said, "Kita-kita tayo, Philippines!," you knew you had to be there too, right? Join AKMU together with @EVERGLOW_twt and MOMOLAND, plus your local KPOP fanclubs at the 1st ever K-POP Friendship Day & Night, #RIPPLESFORHOPE. pic.twitter.com/oH1NBuK2Ma

— The Ripple Society (@RippleSociety) November 19, 2022
Honestly, I'll be hard-pressed to recommend only a single song from them, as they have so many good ones, to begin with, but for those who are looking, I'll definitely say:
EVERGLOW
Known for its strong girl-crush concepts and charisma, the six-member girl group will be visiting Manila for the first time since its debut.
Attention, FOREVERs in the Philippines! Make sure you get your tickets to #RIPPLESFORHOPE2022 to celebrate our love for K-POP music and community together with @EVERGLOW_STAFF, joined by @official_akmu, MOMOLAND, and local K-POP fanclubs! pic.twitter.com/vPb8wavdMF

— The Ripple Society (@RippleSociety) November 17, 2022
With some chart-topping hits on their belt, that night on November 26 will be surely exciting not only for FOREVERs out there but also for every K-pop fan around.
One song to recommend? Here:
MOMOLAND
Returning to Manila for who knows how many times already, MOMOLAND is probably one of the staple K-pop groups who frequented Philippines because of their striking popularity here – but don't let that fact fret you, there's a reason WHY they're that popular here.
Good news straight from @MMLD_Official! They're coming to celebrate friendship with you, your fave KPOP local fan clubs, @EVERGLOW_STAFF, and @official_akmu this November 26 at the @MOAArena for #RIPPLESFORHOPE2022. pic.twitter.com/cNElShzPyP

— The Ripple Society (@RippleSociety) November 23, 2022
With their seemingly hypnotic tracks like Bboom Bboom and BAAM, along with dance moves that even a non-K-pop fan knows, surely their return to Manila will be worth it for Merries.
Song to recommend? Maybe this:
---
Some important guides for everyone going
We're days away from the celebration of the local community we've built through our love for K-POP! So to get you prepped for the day and night activities happening at #RIPPLESFORHOPE2022 this Saturday, November 26, here are your guides.

Can't wait to have fun with all of you ❤️ pic.twitter.com/4NRN8ihamj

— The Ripple Society (@RippleSociety) November 23, 2022
Whether you're purchasing #RIPPLESFORHOPE2022 tickets via @smtickets outlets or https://t.co/a4oRtM3mO2, we've got a guide for you. Read up on them here: pic.twitter.com/qucK5AISns

— The Ripple Society (@RippleSociety) November 16, 2022

THIS SPACE INTENTIONALLY LEFT BLANK.