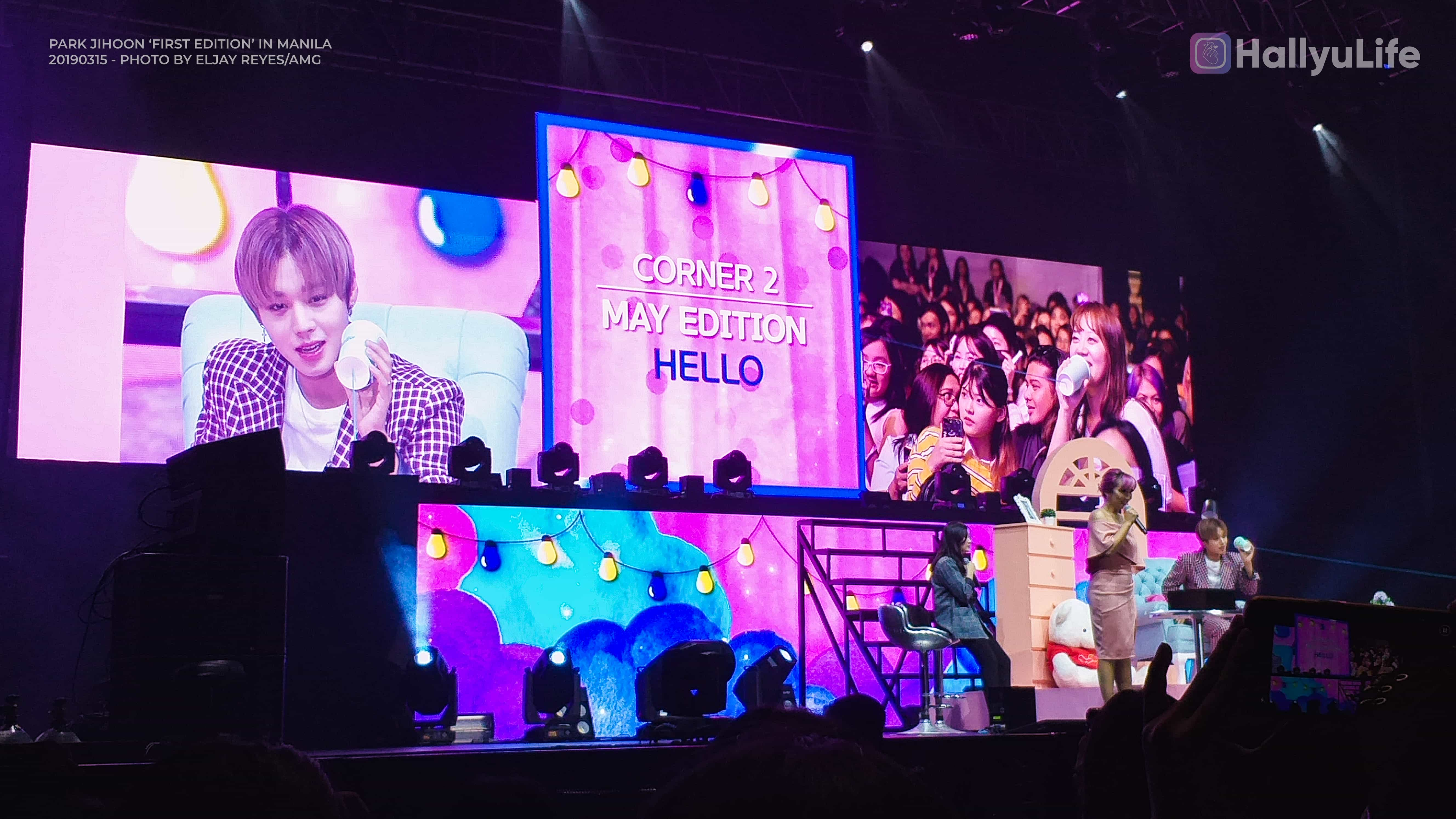 Filipino MAYs were treated to a special night with Park Ji-hoon last March 15 at the Smart Araneta Coliseum, making the Manila stop of his "First Edition" fan-meeting Asia tour a memorable one not only for them, but also for us, too.
Before we continue with this, we want to let you guys know that we're not the typical fan-girls (we're men) who obviously filled up Araneta by that time, and although we're a bit keen on following Wanna One as a group (and obviously known Park Jihoon as a part of it), we are just starting to admire them as individuals, though – and going on one of their fan-meetings is a process that we believe we should do in order to do that.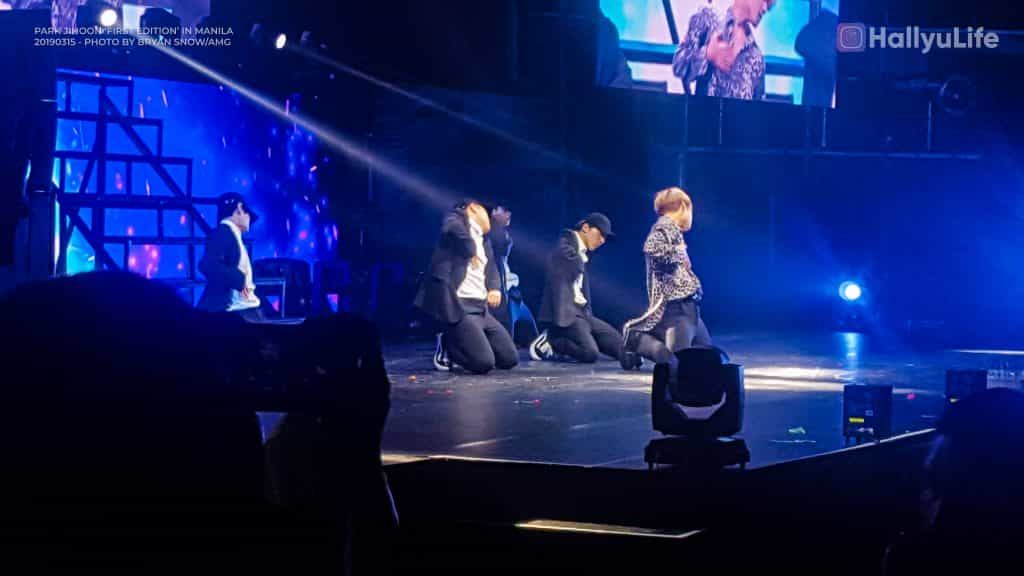 We haven't expected much, but we ended up understanding why the MAYs inside Araneta are so excited the minute Jihoon stepped onstage to dance to a remixed version of "Shape of You" by Ed Sheeran, setting the tone and bars for the rest of the event.
"Nakatatak kayo sa puso ko"
As Jihoon finishes his introductory dance number, he introduces himself with the line "Mabuhay, Filipino Mays! Ako po si Jihoon!", and throwing his popularized punch-line with a special twist: it was translated in Filipino!
"Filipino Mays, nakatatak kayo sa puso ko", Jihoon uttered while doing his signature hand movements accompanying his signature catchphrase "Na maeum soge jeojang (You are saved in my heart)." That on-point grammar and pronunciation made fans even more excited and also made Jihoon more admirable, even in our eyes.
Following the introduction was a segment called "Study Edition: Exploring Park Ji Hoon", which brings fans to engage with Jihoon with a series of questions about him.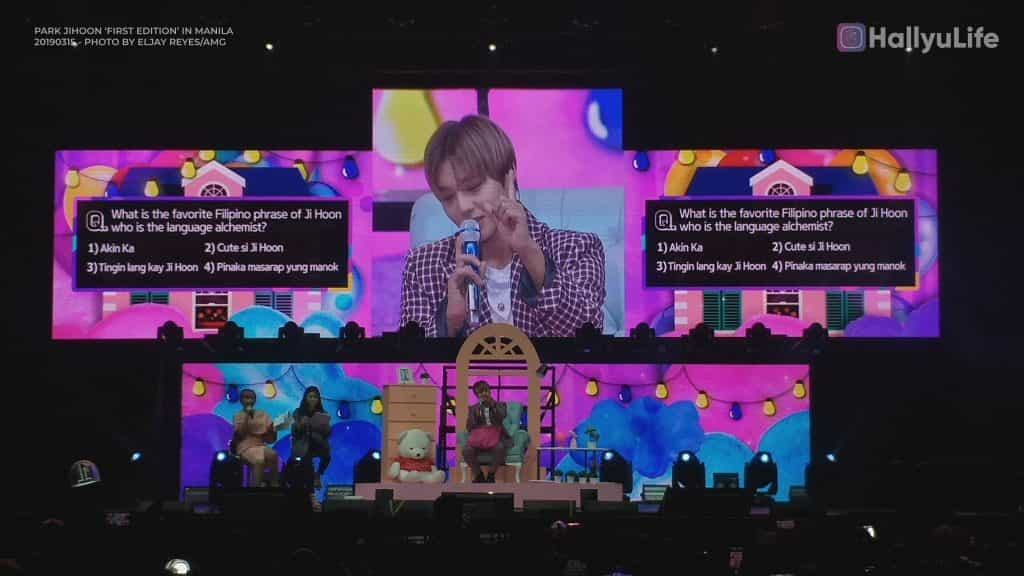 And while he said on the press-conference prior to the event that his favorite phrase was "Mahal ko kayo (I love you all)", on the fan-meeting, he appears to have a new one, which is "Akin Ka (You're mine)", which he ultimately used during the segment.
Other series of questions also revealed cute and funny things about the idol, such as that he feels the sexiest while he takes a selfie after taking a shower, he wants a toy firetruck as a gift when he was a small kid, and that he considers his former Wanna One member Ha Sungwoon as his close rival when it comes to cuteness, but in the end, he emphasized that he's not cute.
He also said that in terms of fashion skills, he ranks himself 2 out of 10 despite he's known for his interesting fashion get-ups, and admitted that earphones, especially Airpods, is crucial to his airport fashion because he loves to listen to music as he sleeps. He also mentioned that slippers is his favorite clothing item because of how comfy and versatile they are.
Jihoon also said there's pressure when thinking of something that will top both "Nae maeum soge jeojang" and "Kku kku kka kka." The master of aegyo seemed tense but happily asked MAYs to anticipate his new one.
Two lucky MAYs, one Filipina and a Korean also got a chance to have a "phone" talk through a paper cup and string (you know the one we used to do as youngsters), giving them chance to tell their feelings and sentiments, to the point that it got cheesy the whole Araneta is screaming.
Since Jihoon also expressed that he wants to go to Boracay when asked where do he want to bring her date, the imaginary date location was set to the island. MAYs had to choose between two scenarios: two college friends in the same dance organization (which in our opinion was inapplicable) and ex-lovers who meet again. Shortly after, Jihoon signed the paper cups for the lucky MAYs.
Jihoon also showed his love further by designing two tote bags which was also given to two lucky MAYs personally by Jihoon's manager. It would be nice if Jihoon delivers it to them himself but probably due to security reasons, they opted for his manager instead.
Admitting that he's not that much into making things with his hands, Jihoon promised to make the bags pretty, adding a bouquet of candy to it and saying that it was his delayed White Day present, making the bag filled up and more special.
I will make your salaries go high!
Event host Kring Kim kept talking to Jihoon while he's working to keep the audience entertained by throwing hilarious comments and stuff, making the Araneta crowd laugh and Jihoon slightly dazed by the fact that he's doing that with a lot of people around him. And while she was joking about the bags would be put in display instead of using them, saying that it is for luck (Para swerte?), Jihoon suddenly replied "I will make your salaries go high!"
And again, despite us being men, we think to ourselves (me and my photographer who's sitting far away from me), do we need that bag?
When the tote bag making segment ends, Jihoon the gamer emerges when he is tasked to give stuffed toys with super duper rare, limited edition Polaroids to two lucky MAYs. First task is to get the stuffed toys from a claw machine, which we knew wasn't that easy. At some point, he even said that "Should we do this all night?", making the audience scream "Walang uuwi" (Nobody will go home), which made the segment more hilarious. In the end, he managed to get a stuffed toy out of that claw machine, and serving the penalty which required him to hit at least five bowling pins (he knocked-out eight) in order to succeed with the mission.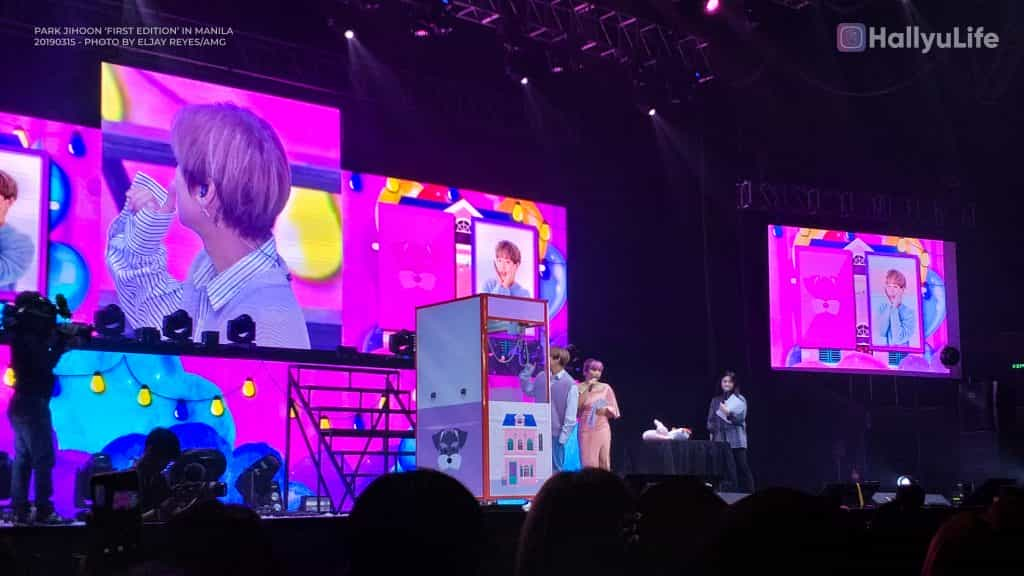 His final mission to fulfill was a random dance, and to our surprise, it was Wanna One's "Day by Day", sending surprises to the audience as well as Jihoon suddenly dropped to the floor and danced.
Jihoon also performed a medley of his two favorite Wanna One tracks, "I Wanna Have" and "11." He also performed "Young 20," which was revealed to be produced by fellow ex-Wanna One member Lee Daehwi for him.
The Greatest MAYsterprice
Filipino MAYs, of course, wouldn't let the opportunity pass to prepare something for Park Jihoon as a surprise, which is available to watch below.
The Greatest Maysterpiece

A two-minute VCR / fan video showcasing Park Jihoon's various charms and talents, as well as showing the love and support of PH MAYs. #박지훈 #parkjihoon#MAYsterpiece#PARKJIHOONinManila pic.twitter.com/ibqGqBxMbm

— Wink Moms PH (@WinkMomsPH) March 15, 2019
And since Jihoon is officially debuting as a soloist on March 26, we thought that we will get a chance to hear or see a teaser for his upcoming single – we were denied, even on the press-conference, saying that fans should wait for it. While the concept remained secret, he revealed that the music video was shot in Prague.
After that, a series of performances leading to the fan-meeting's end continued. He sang Wanna One's "Hide and Seek" for his ballad performance, and ending the show with "Press Your Number" by Taemin.
Finally, the event ended with a high note since all of the fans inside Araneta would be participating on the "send-off" event which was a nice form of fan-service, going around the stage and the seats with the available space while on a float.
Eventually, the hi-touch and the photo-op event shortly followed after.
With that, we realized that Park Ji-hoon's fan-meeting is one to save in our hearts. A memorable one, with more to come.
Special thanks and mention to PULP Live World for inviting us to cover Park Ji-hoon's 'First Edition' in Manila.

THIS SPACE INTENTIONALLY LEFT BLANK.