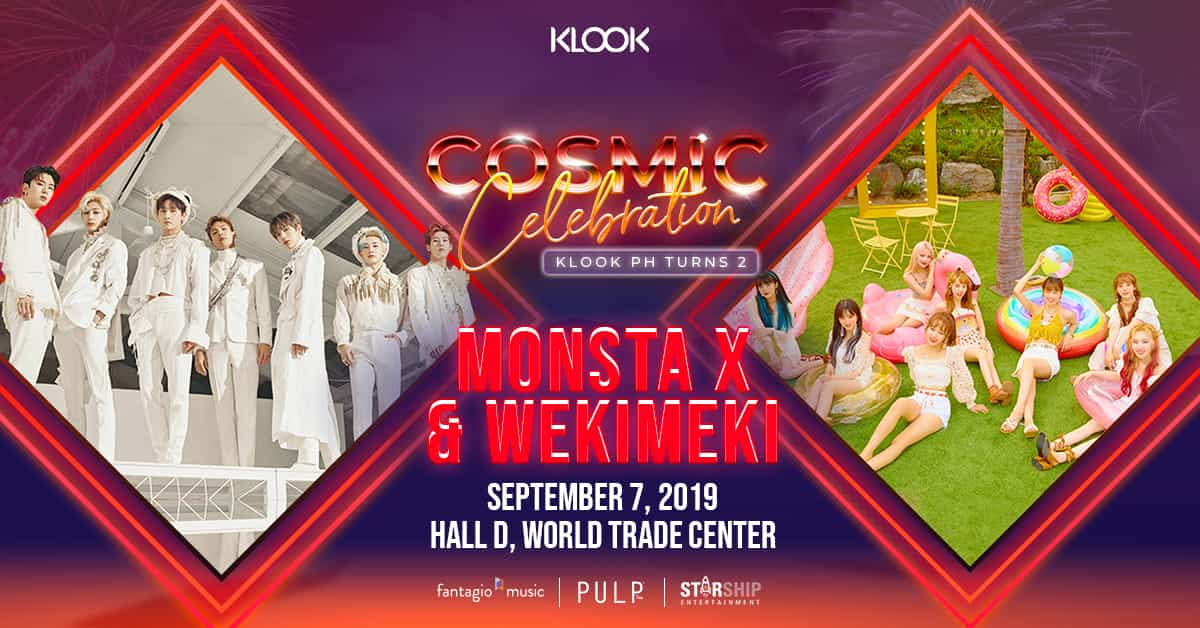 This year, the month of September perhaps had the most number of K-Pop/Hallyu-oriented events so far. We aren't complaining though!
One of these events was surprisingly from Klook Philippines, where we could be in a treat to meet some hot acts of today's K-Pop generation such as the male group MONSTA X and of course the girl group Weki Meki. Who would thought that this travel-technology company will bring them here for their celebration? Actually, none.
But yes, this intimate celebration (as what Klook calls it) is happening on September 7 and we did our homework to give you reasons why should you be a part of this event.
DISCLOSURE: HallyuLife is an official media partner of Klook for this event, so let's say this could be sort of ….. you know, sponsored?
First, tickets are of limited quantity
With events like these, tickets are mostly sold in limited quantity because of these possible reasons: the type of event (a celebration, technically a small concert), the expected number of audience (around 2000+) and the space of the venue (Hall D, World Trade Center).
Tickets for the event are available in two packages, namely VIP and Buddy Packages. You can book your tickets thru this link.
For the VIP Package, tickets are priced at PhP12,500 and will not only include access to the event, but also the following for those who book before 1 September 2019.
Area A section ticket
Raffle entry for Monsta X's Hi-Touch segment
Raffle entry for a fan engagement session with Weki Meki
Raffle entry for a signed event poster from Monsta X or Weki Meki
For the Buddy Package, instead of paying Php12,500 per ticket, the Buddy Package will enable you to enter the event for Php8,000 per ticket with a minimum booking of two tickets and a maximum booking of 5 tickets. This guarantees bookers the following and bookings must be made on or before 7 September 2019:
Area B section ticket
Klook Cosmic Celebration event poster
Next, the chance to see live and engage with MONSTA X and Weki Meki
At HallyuLife, we know that seeing these K-Pop acts to perform live costs sometimes a lot when you see them here. MONSTA X first came to Manila in 2016 for their first Asia fan-meeting tour, and Weki Meki first visited Manila just last year for MBC's Show Champion in Manila.
To be honest, we couldn't be more excited about what's in store for their performances. Imagine seeing MONSTA X performing their hits live such as 'Shoot Out', 'Hero', Beautiful, 'Who Do U Love' and many more, as well as Weki Meki performing their hits such as 'La La La', 'Crush', 'Picky Picky' and their new song that we really loved – 'Tiki-taka(99%)'!
In fact, we 'stan' Weki Meki so much they graced our first-ever edition of HallyuLife's #ArtistSpotlight! Check that out here:
[jnews_hero_13 include_post="2320″]
Other than that, VIP Ticket holders, as we've said before, might get a chance to engage with Weki Meki on-stage, as well as hi-five MONSTA X in the hi-touch session – sounds exciting, right?
They actually invite you to join the celebration
Isn't that enough?
Finally, some event specifics
Klook's Cosmic Celebration is an event that will celebrate Klook Philippines's 2nd year, and it will happen at Hall D, World Trade Center, Pasay City on September 7, 2019. Those who are attending the celebration can only start queuing at 4:30 PM on September 7, 2019. Gates will open at 5:00 PM, while the celebration begins at 7:00 PM.
Klook will also be having their annual Klook Travel Fest as well during the day. You can score amazing travel deals and prizes from both Klook and their partner merchants before the Klook Cosmic Celebration. -HallyuLife.com
Know more about Klook's Cosmic Celebration here.

THIS SPACE INTENTIONALLY LEFT BLANK.