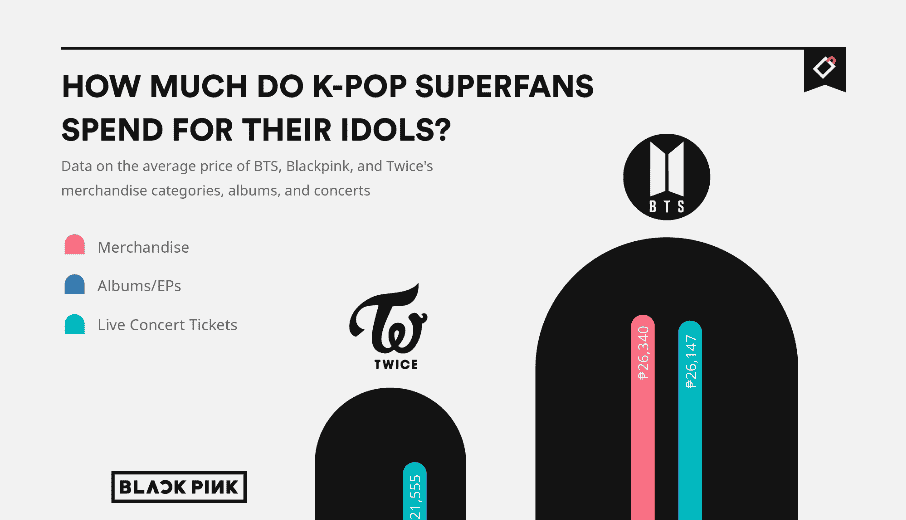 A study done by iPrice, an e-commerce aggregator, was published with the aim of finding out how much a K-pop superfan has been spending on average if he/she bought at least one merchandise per shopping category, and have purchased all their idols' albums and attended at least one concert a year.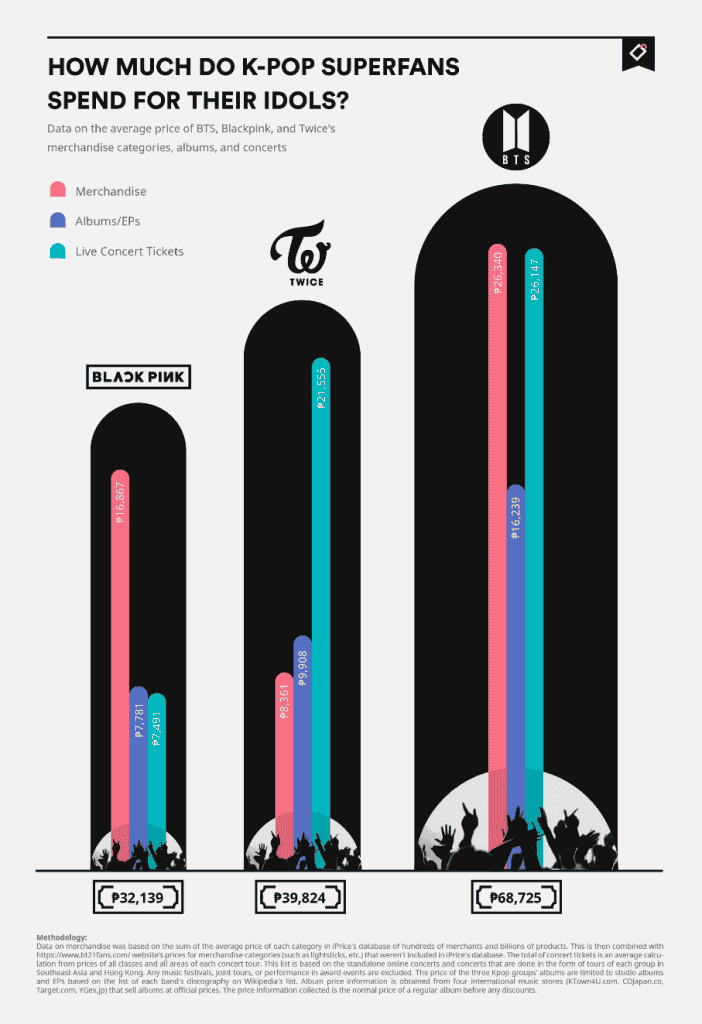 According to the study, a devoted BTS fan (ARMY) must have spent an average of PhP68,725 / USD ~1,400, with the basis that the said person has collected at least 15 studio albums/EPs and have attended 5 concerts aside from having numerous merch.
TWICE fans (ONCEs) on the other hand, can spend up to PhP39,824 / USD ~830, assuming that they purchased a whole lot of merch, 14 albums, and attending at least 4 concerts.
BLINKs (BLACKPINK fans) on the other hand, can also spend at least PhP32,139 / USD ~670.
K-pop fan kits or merchandise could bankrupt superfans unless they're super-rich, as there are so many different kinds of merch available for each K-Pop fan, from home & decor items to photo cards to phone cases to clothing, you name it!
If a superfan is devoted enough to purchase one item per shopping category (i.e. buys one light stick, a shirt, a lomo card, and so on), that person can spend up to PhP26,340 / USD ~550 if he is an ARMY. A BLINK would spend about PhP16,867 / USD ~350 on merch, while a ONCE would spend PhP8,361 / USD ~175.
Surprisingly, purchasing albums is the least costly, a good news for fans who solely appreciate these groups for their music (which, realistically, may only be a small percentage of the fans). Purchasing all albums may cost PhP16,239 / USD ~340 for BTS fans, PhP7,781 / USD ~162 for BLACKPINK fans, and PhP9,908 / USD ~210 for TWICE fans.
Lastly, we all know how attending a K-Pop concert can be so much fun. If a super fan was able to buy one concert ticket a year to see their idols, it would cost them an average of PhP26,147 / USD ~545 for BTS, PhP7,491 / USD ~155  for BLACKPINK, and PhP21,555 / USD ~450 for TWICE.
To put things in perspective, the latest iPhone 12 Pro can cost Php68,000 / USD ~1420. This is about how much BTS superfans can potentially spend on their idols! To non-fans, it seems ridiculous considering the things you can buy with that amount of cash, but for these superfans, it is money well-spent. -HallyuLife.com

THIS SPACE INTENTIONALLY LEFT BLANK.