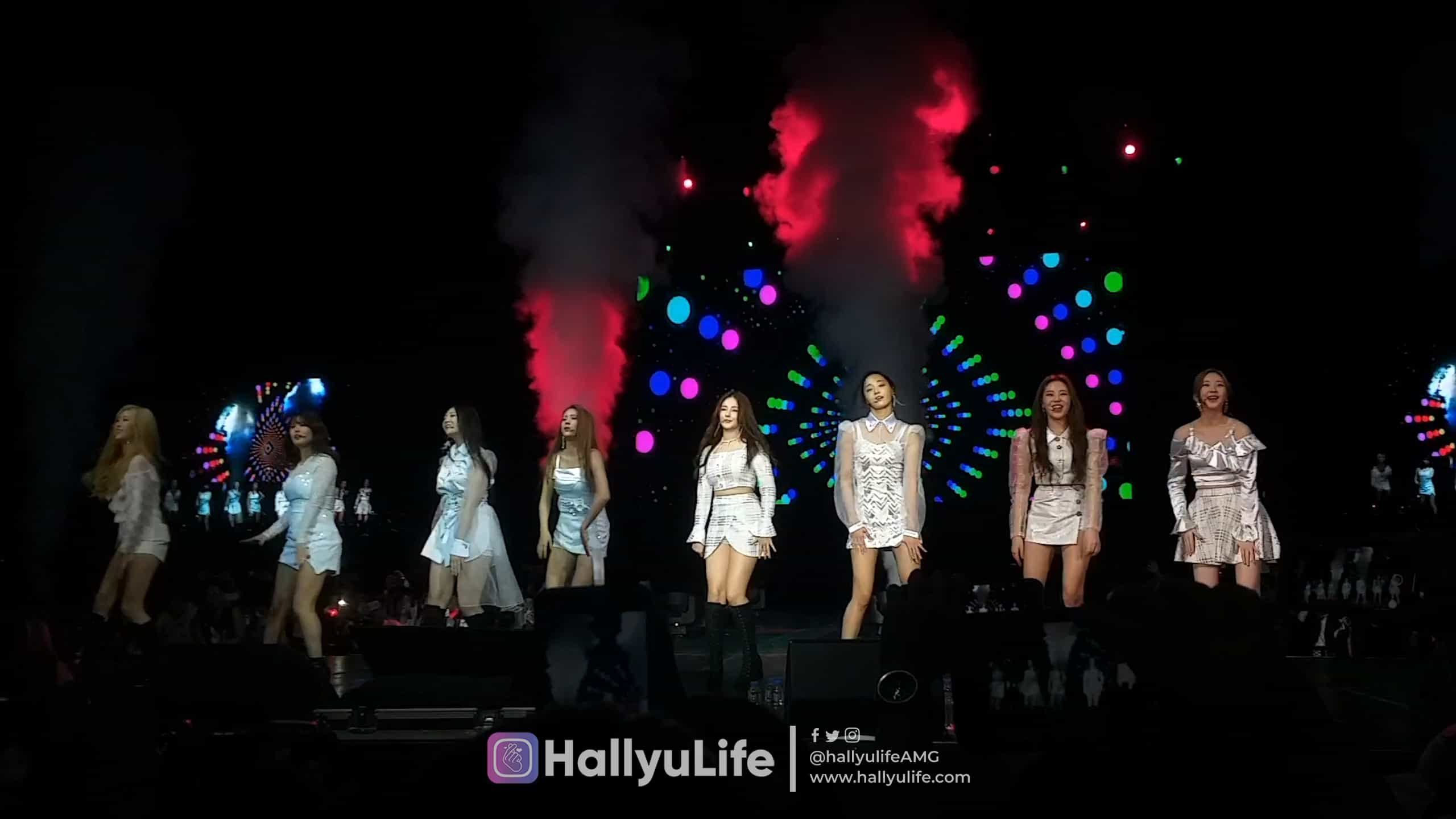 We all know that most of us here in the Philippines do really hate Fridays, especially if you're living or working in Metro Manila – there's the heavy traffic everywhere, the pain of commuting that you'd wish would cease to exist and many more.
But on a Friday night last January 25th, we've been treated to a party, perhaps a celebration for the Philippine fanbase of the Korean girl group MOMOLAND which we refer to as 'Merries'. It was the group's first-ever open Philippine fan-meeting (well, aside from the exclusive ones that Frontrow and Solaire had last year).
And here's what we've thought of the whole event so far.
It might be our first stint on covering a major K-Pop event in the country, but I've been on the business of being a media person (or let's say being a journalist-at-heart) for more than 3 years. We, as analysts and avid Hallyu consumers as well, do understand how the industry works really well – we dig deeper behind the scenes, and analyze what in Earth was actually going on.
First, the company behind the event.
If you haven't heard of DnM Entertainment before (of course, it would be expected since they are new), they are the ones who made MOMOLAND in Manila Fan-meeting possible this year.
And while we all know that there are some organizers who do an exemplary job as well as a horrible job of handling such events (we will not drop names, you know them already if you are an avid K-Pop fan living here in the Philippines), as a new organizer, DnM Entertainment has yet to prove its capabilities to organize and handle such events – and believe it or not, we think they did a great job.
While we might disagree with some of the perks being raffled despite the ticket holders spending a dime (I mean, PhP7,000 is a big deal for many), we haven't heard much about the ones who purchased them, and were satisfied about how the perks are distributed. Of course, that involves hi-touch, group photos, fan signs and merchandises.
What we really liked about is their initiative to include 'signed albums' as a bundle/gift to all ticket holders, even general admission/patron holders who are paying around PhP1,500 (could be a price of a regular K-Pop album here in the Philippines, including shipping and taxes). Fans are glad to have a signed album of their beloved group, and that's what makes the atmosphere on the whole concert a bit happier than ever.
Next, the fans.
It came to our senses that at first, we think that there are only a few people who will attend the fan-meet. Of course, there's the reason such as it's Friday (work-day), that actually resulted to many fans selling their tickets because of conflicting schedules.
But once the show have started, fans are flocking in to fill vacated seats, and Smart Araneta Coliseum is starting to get filled up with merries who are eager to see MOMOLAND face-to-face. A record of around 5,000 people was there, and breaking record for the largest fan-meeting attendance here in the Philippines.
The crowd was the best, not only because it was said by MOMOLAND themselves, but we also saw why they did say that. Many of them do really know the group, not only Nancy or Yeonwoo (arguably the most popular ones here), and that's actually amazing to see. Bandwagon fans, to be honest, harm K-Pop as a whole, and are not helping in general.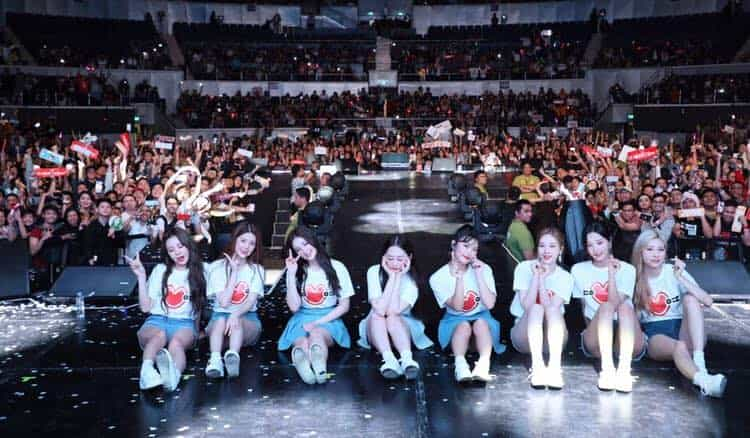 The energy was sustained for the whole time. Sure, MOMOLAND knows what would make their fans scream and shout, with loud fanchants being shouted on every song and number they'll perform. We may be hungry and tired because of the cruelsome standing position that we had there, while running back and forth to capture the moments we need here at HallyuLife (because that's our job and the reason why we're there), but we don't feel lazy at all because we were hyped by their performance and energy levels.
And then, there's MOMOLAND.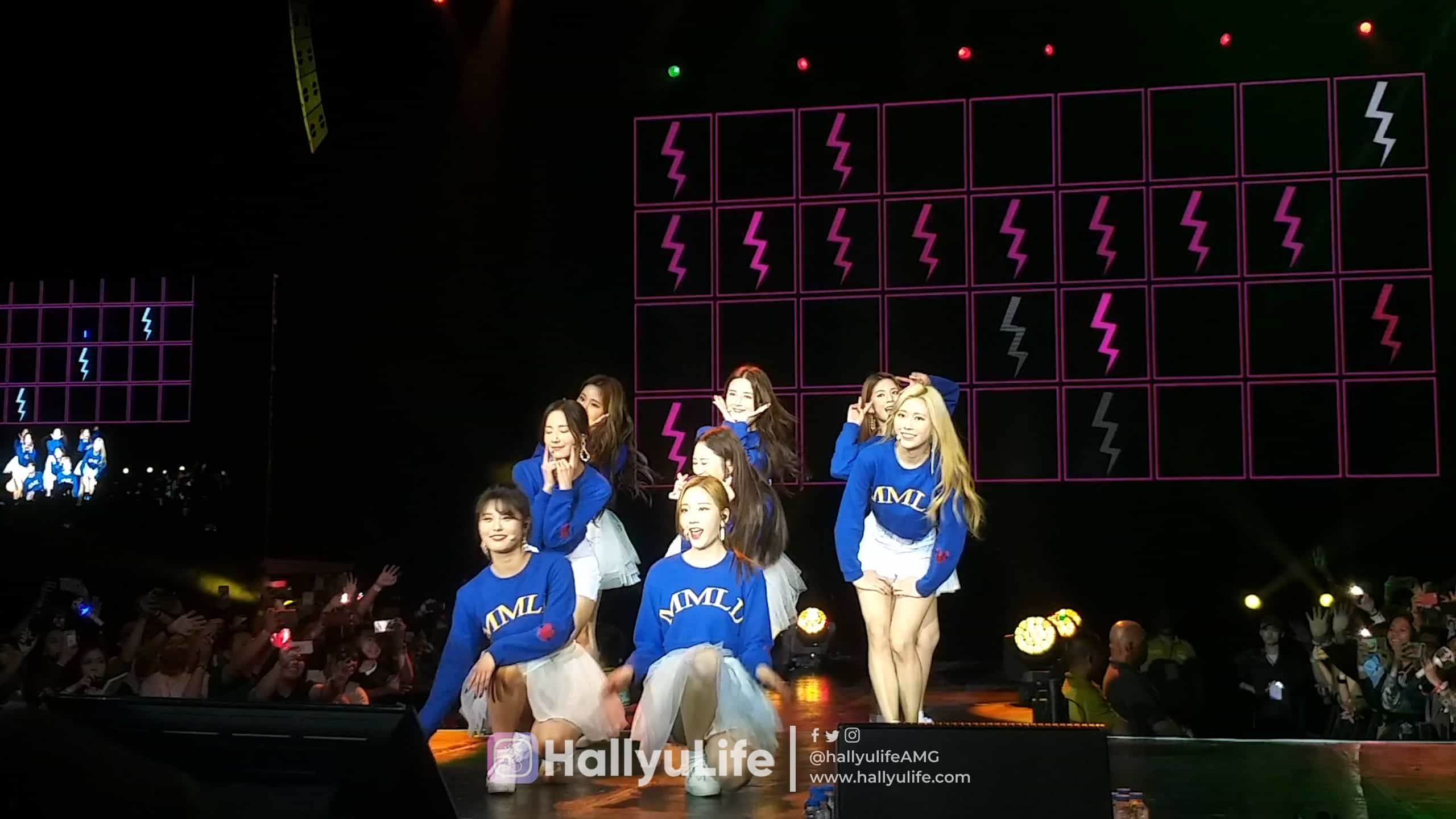 You know what, MOMOLAND could be one of the most accommodating groups out there. They've prepared so much for their Philippine merries (even singing a Filipino song for them), and doing an absolutely great fan service to everyone. Believe me or not, but I think if not for their security or if there's no restrictions set by their management, the group might be able to accommodate all the crowd at Araneta to do some fan service for them.
They are energized, and have danced gracefully to their songs, it's like dancing on a music show but with a different ambiance – it's more like a concert than of a fan-meeting. We don't expect much from the group to be honest, but we feel much satisfied and have enjoyed after. We do wonder how the people who actually paid for it feels, too.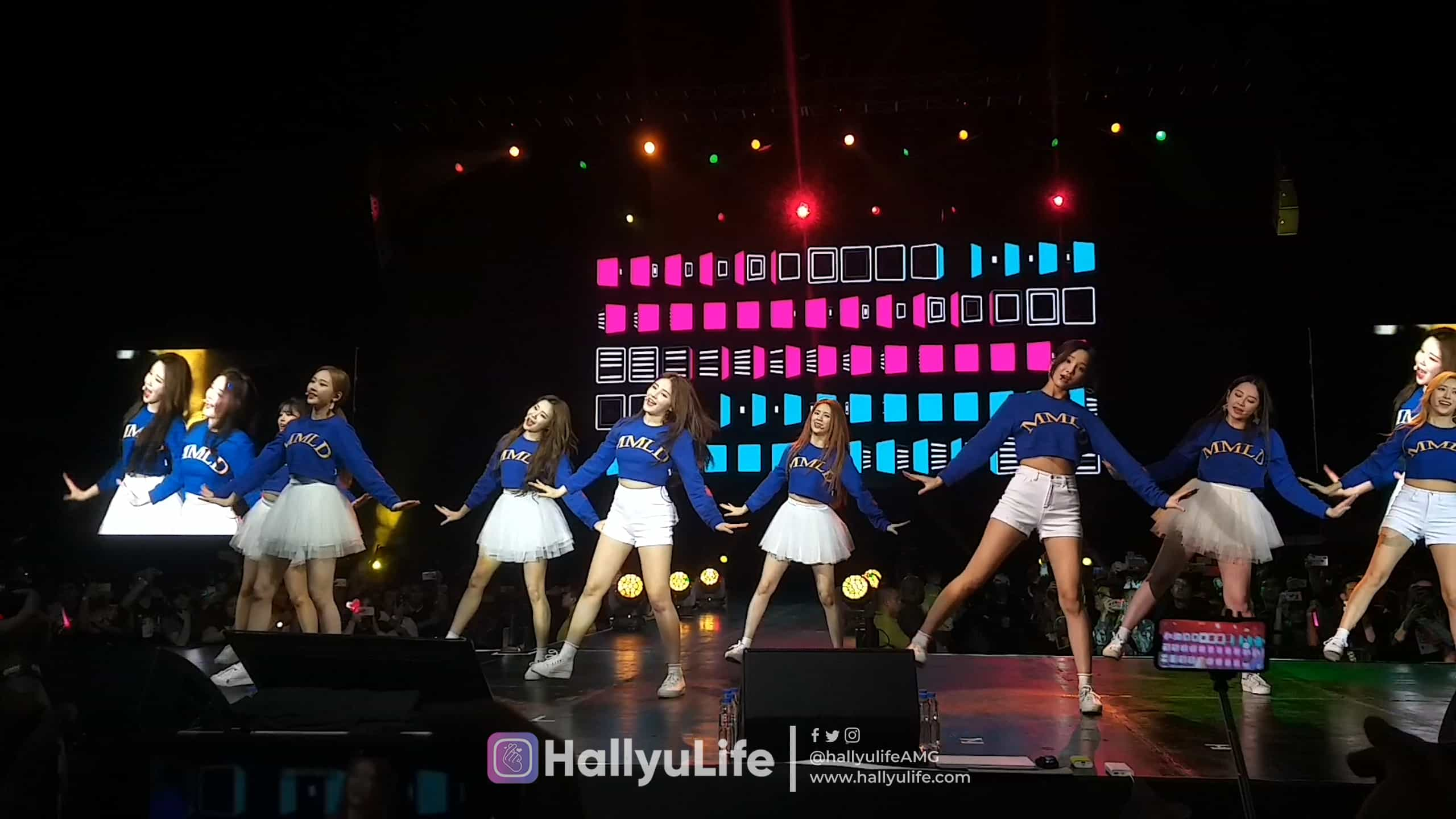 Emphasizing Jollibee and trying to learn new Filipino words as well as the desire to try new Filipino dishes and go to places in the Philippines is another proof that they do really love the country. Calling the PH merries passionate, MOMOLAND surely managed to captivate Filipino hearts, especially kids and even adults who dance to their songs.
Oh, they did an encore which would be typically done on shows but an encore with fan-service is a great thought. Who knows that they might also grab your phone and take a selfie on it that you can brag about on your whole clan?
Finally, the event was over-all organized.
We're glad to say that everything in this event was organized and we can safely say that it might went according to their plan. There are no reported cases of whatnot, and there are no lines broken and injured people because there's actually a good crowd control team inside. Let's just hope that this trend would continue for the next K-Pop events we'll be attending to.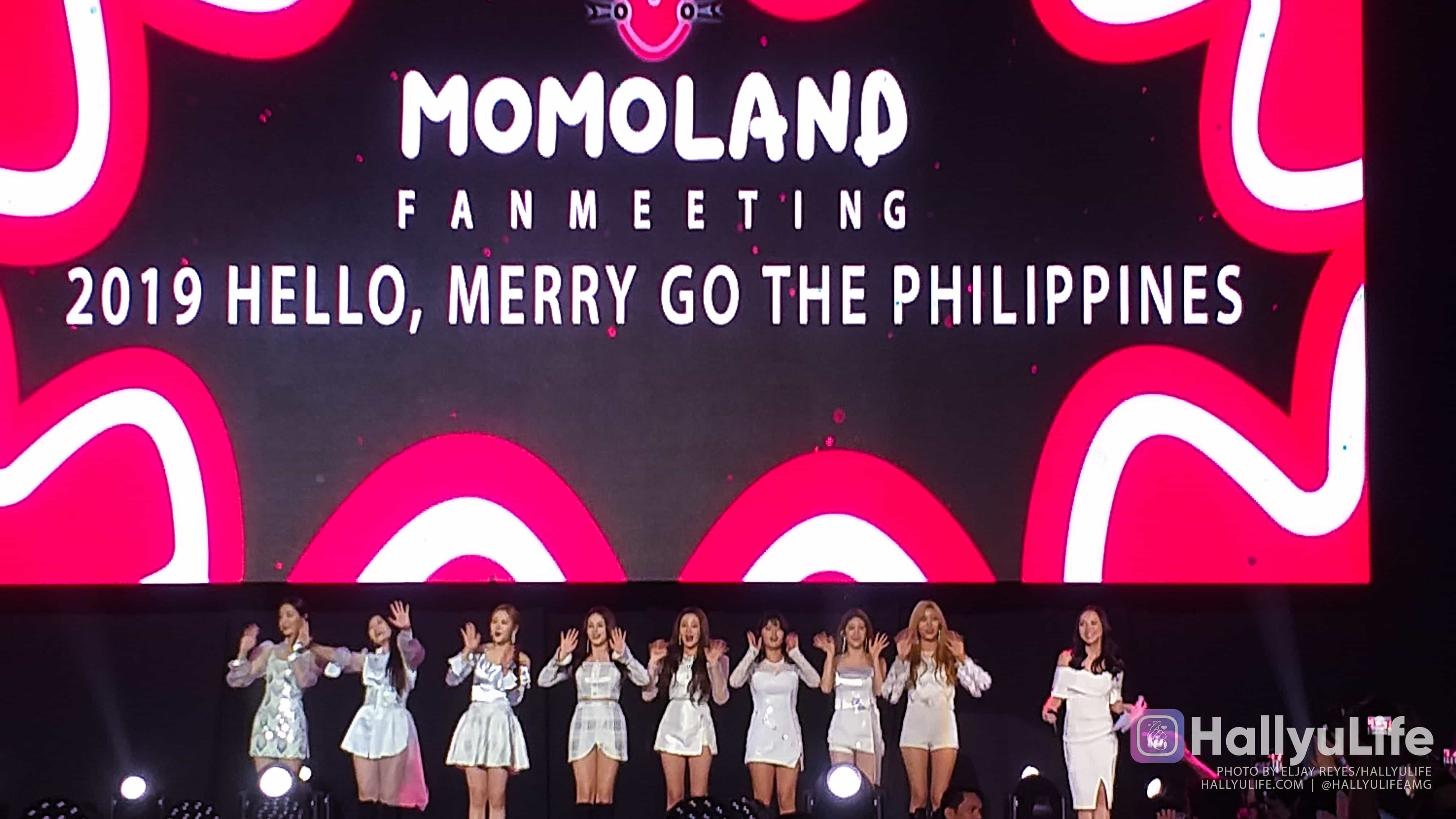 Of course, this article and our special coverage of the event wouldn't be possible without the help of the guys at DnM Entertainment. 
More on our special coverage of their fan-meeting in Manila on this page.

THIS SPACE INTENTIONALLY LEFT BLANK.