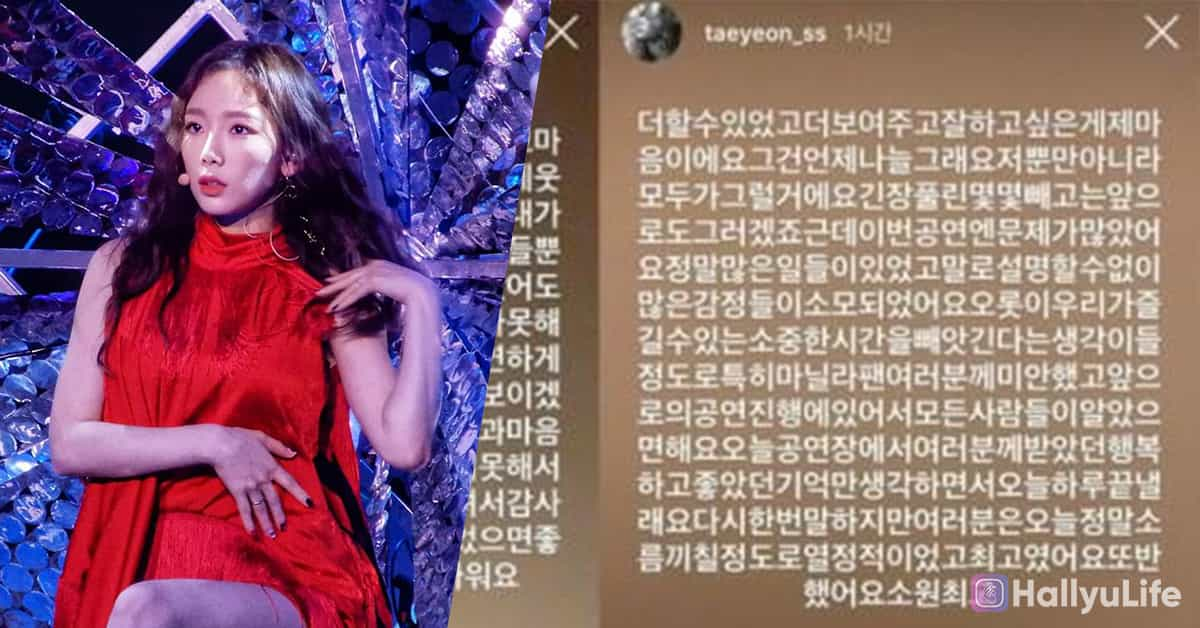 Girls' Generation's Taeyeon shared a lengthy post on her Instagram story after her solo concert in Manila, Philippines.
During the concert back on December 14, Taeyeon hit her head on a part of the stage, causing fans to worry.
To assure fans that she's okay, Taeyeon said on her IG story (translated),
"Philippine fans, tonight was the best night and I was so thankful. I felt it again today, that I am able to smile because of my fans. No matter what kind of poor situation I'm in, the people who give me strength and courage are you guys. Everything was amazing and it was a day where everything could only be amazing, but I'm sorry that I wasn't able to say goodbye at the end. Let's see. Because it happened so fast and the moments passed by so nonchalantly, it may not have seemed like a big deal, but still, my body and my heart hurt more than ever due to the shock. I'm so sorry that I wasn't able to show you a more perfect stage, and thank you for cheering for me until the end. I hope that another chance comes up in The Philippines. Please know that I'm truly sorry and thankful today. 
I could have done more, and in my heart I wish to always show you more and do better for you. I always feel that way. I'm sure I'm not the only one who feels this way. Other than the few who have lost their anticipation for the stage, it will always feel like that for us. However, this concert had a lot of problems. There were so many problems, and I went through so many emotional turmoils, so much that I cannot put it into words. It felt as if our precious time together was being taken away, and I was especially apologetic toward the Manila fans, and I hope that all who are involved in performance planning in the future know about this.
I want to finish today only remembering the happiness and the great memories I received from you on the concert stage. To repeat, you all were so full of passionate energy to the point that I got goosebumps, you were the best. I've fallen for you again." 
We hope that she's okay and now resting fully to recover….. We've fallen for you again, too!
What's your best memory about Taeyeon's concert? Let us know if you have attended in the comments!

THIS SPACE INTENTIONALLY LEFT BLANK.