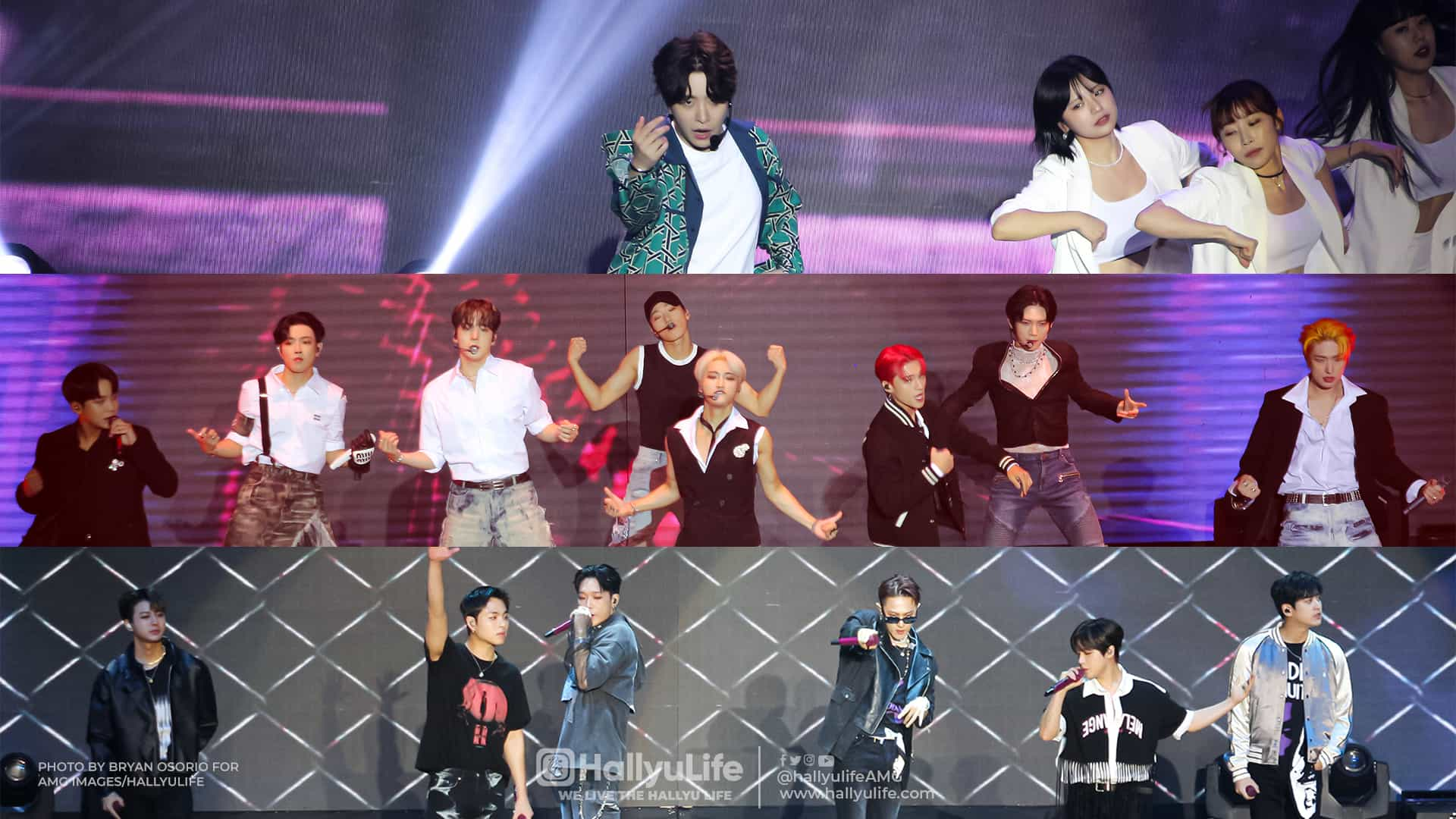 Three fandoms united like one as they show love for K-pop Masterz YOUNGJAE, ATEEZ, and iKON in Manila | #ShowRewind
AHGASEs, ATINYs, and iKONICs together as one!
MANILA –  The first 2022 K-pop Masterz in Manila kicked off with Treasure as well as GOT7 members BamBam and Jackson Wang at the Mall of Asia Arena. This time, we get to see more as three another K-pop acts come together for a Friday night to remember in Manila with GOT7 member and soloist YOUNGJAE along with Korean boy groups ATEEZ and iKON on the second installment of 2022 K-pop Masterz in Manila at the Araneta Coliseum last September 23.
YOUNGJAE just visited Manila last July, and iKON already went to Manila four years ago with their "CONTINUE" tour and also on a Samsung event in 2019, while ATEEZ makes their first-ever visit to Manila since their debut in 2018. Performing their hit tracks and making memories with their fans, these three fandoms: AHGASEs (YOUNGJAE), ATINYs (ATEEZ), and iKONICs (iKON) unite as one to show their love and support for the three K-pop Masterz that night – and we're there to tell you the story.
Youngjae got us all vibin'
One at a time, we see members of GOT7 going to Manila to meet their FILO AHGASEs. They learn more about the distinctive styles and personalities of the members and, as a result, they've come to love them both individually and as a group.
Returning from his recent fan-meeting/tour in Manila last July, YOUNGJAE kicked off the stage with back-to-back performances of two of his title tracks "Vibin" and "SUGAR" that really got the whole coliseum vibing. TV Host Ryan Bang hosted the event as he introduces Youngjae with his jolly personality. He also mentioned his desire to visit Cebu in addition to returning to Manila. When describing Manila, Youngjae said that "It's a beautiful city with beautiful people". The entire coliseum sang a belated happy birthday to Youngjae. as he celebrated it last September 17. Youngjae loved it more when Filipino fans sang it in Korean as well. He continued performing on stage, this time with the delightful and appealing B-side tracks "Focus" and "Tasty."
After showing his spicy taste from his B-side track performances, everyone at the coliseum shouted: "Youngjae, Youngjae, Youngjae", which made him smile brightly. Every artist has a segment in K-pop Masterz where you can learn more about them and see them play games that everyone definitely loved. For Youngjae, Ryan Bang introduced the game "T.M.I. TALK: Have It?, Don't Have It?". Youngjae reveals that he keeps a diary in his home in which he records his special memories and that his closet contains more than ten white shirts. The next T.M.I. will undoubtedly get the attention of AHGASEs. He said his top 3 GOT7 songs were "Girls Girls Girls," "NANANA," and "Never Ever."
The fact that Youngjae has more than 30 unpublished tracks on his own computer is another T.M.I. that everyone found surprising. Good thing some of those are included in his upcoming second mini-album. Youngjae sends a heartfelt message of gratitude to all the AHGASEs who patiently awaited his return to Manila. He said, "In a short time, I'm so glad to be able to hear your cheers for me. I'll be performing on a bigger stage for you soon. It could be fast. It could be slow. If you just wait for me, I'll be there soon. I am very thankful to you for being here."
He ends his stage set with a sweet performance of the track "Crema". And as a gesture of gratitude to everyone in the coliseum, he sends a love sign to them before really leaving the stage.
2022 K-POP MASTERZ EP. 2 IN MANILA?

멋짐 폭발했던 영재 무대?
생일 축하 노래까지 오늘 하루 너무 고마워요?#영재 #YOUNGJAE #KPM2Manila pic.twitter.com/HA1WOOnsYQ

— 영재 YOUNGJAE (@YOUNGJAExArs) September 23, 2022
Manila's Pirate Kings & first-timers
It's been said that first impressions are lasting – but what if I told you that we had a wonderful experience with ATEEZ and that we also left them with a fantastic impression so that they would return soon? This showed how amazing FILO ATINYs are as K-pop 'Masterz' ATEEZ performed their energizing song "Guerilla" from their most recent album, "THE WORLD EP.1 MOVEMENT" live on stage. ATEEZ greeted everyone in the coliseum with the group's official greeting, "8 makes 1 team," and one by one, Hongjoong, Seonghwa, Yunho, Yeosang, San, Mingi, Wooyoung, and Jongho introduced themselves with lively cheers in return.
Hongjoong, the group's leader, expressed his intention to stage the group's solo concert here in the near future. He also expressed his gratitude to the fans on their very first visit to Manila saying, "It is the first time that we meet. I'm so happy to see you guys today. I will have to say that thank you for waiting for us for a long time". And for ATINYs, it's all worth the wait! ATEEZ member San shared that he went to Cebu with his dad before and if given a chance, he wants to visit there again. The eight-member group continued then to perform the songs "Pirate King" and "Say My Name," both of which are fantastic title tracks, back-to-back. Everyone at the Big Dome is singing along with them, which is awesome!
We're definitely here to watch ATEEZ perform, but we're also interested in seeing their competitive side as they participate in three relay games. Leader Hongjoong and Maknae Jongho played a game of "Sepak Takraw," while Mingi and Yeosang demonstrated their skills with a bow and arrow in "Move Archery", and just so you know, Yeosang alongside Yunho and Jongho has shown their skills in archery at the "Idol Star Athletic Championships (ISAC)" previously.
Finally, by correctly answering all questions during the "Relay Quiz," Yunho, San, Seonghwa, and Wooyoung achieve the triple win. The group then proceeded to give away signed balls while they sing "Wave".
Before performing their last song on the stage, ATEEZ members express their gratitude for the FILO ATINYs' warm welcome. Maknae Jongho said, "It's our first time here in the Philippines. I'm so happy that I will be bringing back so many memories". "Thank you for waiting for us. It was such an honor. We will be back here. Salamat (thank you)", Yunho added. Ending their very first visit to Manila, ATEEZ performs their track "The Real" from the reality competition "Kingdom: Legendary War".
[?] TODAY ATEEZ
⠀
K-Pop Masterz Ep.2 IN MANILA ✨
필리핀에서도 에이티니의 응원과 함께해 신나게 공연을 즐길 수 있었습니다❣
에이티니! 언제나 고마워요 ?
⠀#TODAY_ATEEZ #ATEEZ #에이티즈 pic.twitter.com/U5yB4CkGvG

— ATEEZ(에이티즈) (@ATEEZofficial) September 23, 2022
An 'iKONIC' night to remember
The almost three-year wait for iKONICs here was truly worthwhile as the countdown began for us to see them perform once again in Manila. The crowd at the Big Dome goes wilder as Bobby screamed, "Guess who's freaking back!" As the night's final performers, iKON immediately ignited the Araneta crowd with powerful tracks "Sinosijak" and "Rhythm Ta," marking their successful return since 2019. In return, the whole coliseum sang along with them and waves their lightsticks to the beat. iKON gladly introduces themselves with messages of appreciation and gratitude to all FILO iKONICs who waited for them.
Song said, "Long time no see, Philippines!". "I really missed you guys", member DK added as he looks at the Konbats (iKON's lightstick name) lighting up the Big Dome. Jay also said, "I really missed you guys. Did you guys miss me too?" In return, the crowd responded, "YES!" He even added, "Manila is the BEST!"
Show host Ryan Bang requested everyone to give the loudest cheers they could muster to show iKON how much the fans missed them, how delighted we are seeing them again and how we (the fans) cannot forget iKON. And the Filipino fans at the Big Dome never disappoint, as everyone waved their lightsticks, screamed as loud as they can, and stomped their feet like an earthquake that really moved the members.
Ryan Bang catches up with iKON and interviews them to know more about their most recent endeavors. Jay covered some Filipino songs such as "Dahil Sa'yo" by Iñigo Pascual, and encouraged everyone to sing a bit of the song with him. Chef Song himself from his Songchelin Guide YouTube channel shares some intentions to cook Filipino dishes while Maknae Chan shared that he tried eating Banana Cue and Halo-Halo for desserts while here. DK on the other hand, who made his runway debut at the New York Fashion Week, he even said, "New York was nice, and since I'm here in Manila, it feels better". He even gave a sample of his runway walk where other members joined him for fun which made the crowd laugh.
iKON then continued performing with their song "BLING BLING", one of the iconic tracks from the album "NEW KIDS REPACKAGE: THE NEW KIDS".
iKON members shared their own TMIs with what are their "Always Do", "Every Morning", and "Once a Week" things. The members answered, "Always, mahal ko kayo (I love you all)". Chan said, "Every morning, I think of Filipino iKONICs". A confident answer came from Jay saying "Every morning, I feel sexy", while a funny answer came from DK where "Every morning, I go to the toilet". iKON shouted in unison, "Mahal ko kayo! (I love you all!)" as they show their love and appreciation for FILO iKONICs.
It was an emotional night as Bobby revealed that at first, he was concerned that FILO iKONICs could have forgotten about them. However, he claimed that as soon as they got to Manila, he felt a warm welcome and was comforted that he didn't need to worry about it  – proving that iKONICs have never left and never will. And of course, iKON's next performance made everyone fulfilled the ultimate iKONIC experience as they performed the iKONIC national anthem "Love Scenario".
Everyone sings along with them, and even Bobby got shocked as the whole coliseum shouted the rap part of the song completely.  It was then followed by "Freedom" as their last song of the night – or as we thought it was. After the crowd shouted, "Encore, Encore, Encore", iKON granted everyone's wish and sang an encore song with "But You" as their way of showing how iKON and iKONIC connect to each other.
YOUNGJAE, ATEEZ, and iKON gave everything they could to give an amazing night to remember for their beloved AHGASEs, ATINYs, and iKONICs, who gathered together for one night as one huge fandom to show their unwavering love and support for the three K-pop acts. They have been waiting for them and embraced them with open arms even if it took months or years. I've been listening to their songs as a fan myself, and those songs will make me remember the great memories made by the three K-pop Masterz and three fandoms turned into one big happy K-pop community.
The 2022 K-Pop Masterz Ep.2 in Manila started at 7 PM (Philippine Time) and lasted for 3 hours. This concert event is part of PULP Live World's set of K-Pop concerts this 2022 with the biggest stars and the best shows in Manila. -HallyuLife.com
---
The 2022 K-pop Master in Manila EP.2 is promoted by PULP Live World.
HallyuLife would like to extend its gratitude to PULP Live World for inviting us to be part of this event.
#KPM2Manila #KpopMasterz2inManila