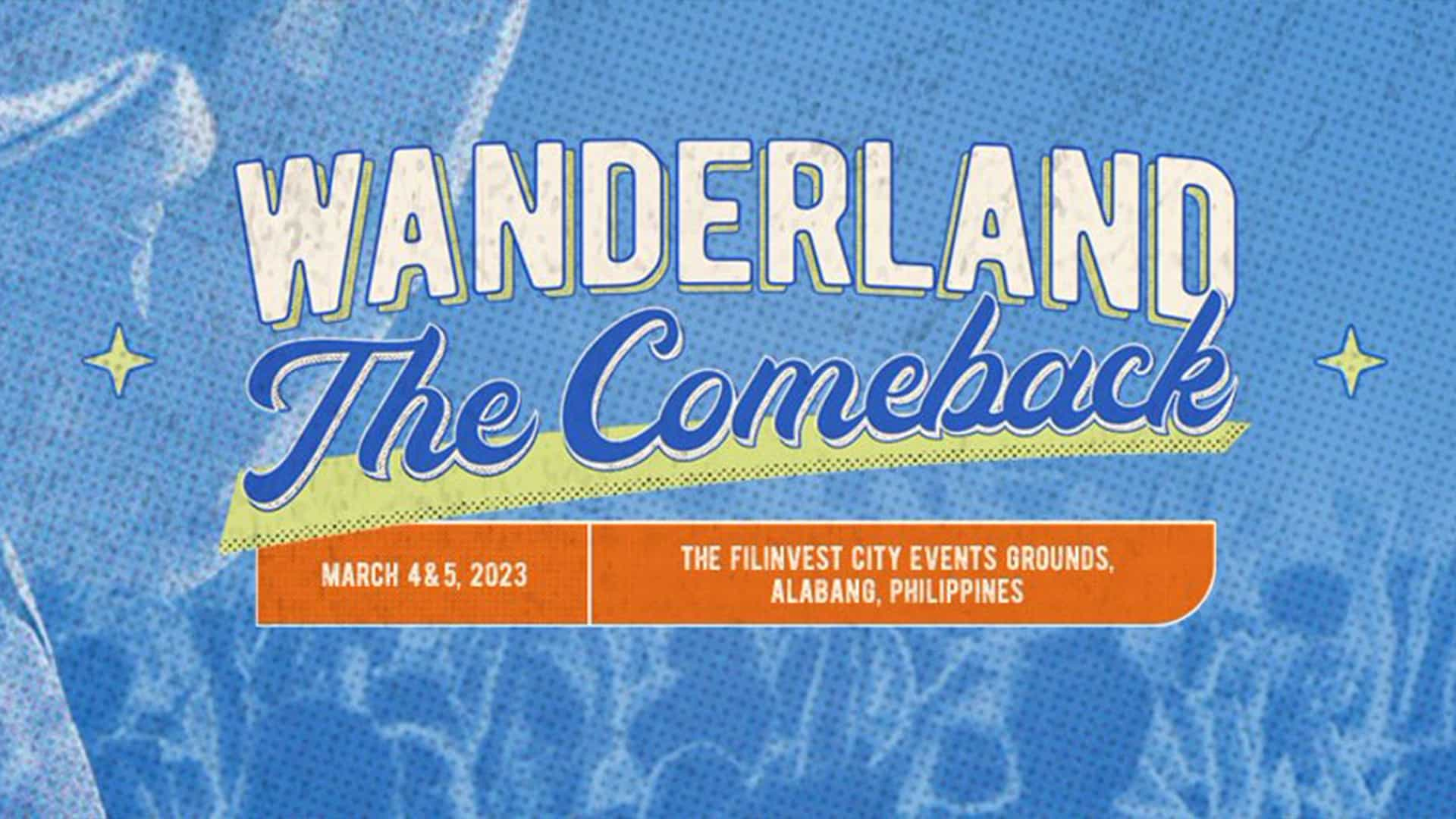 After 3 years, one of the biggest music festivals in the country is returning for a comeback as WANDERLAND MUSIC FESTIVAL is finally happening!
Start the month of March with a jam-packed lineup of artists for two straight days, featuring homegrown artists such as BLASTER, YLONA GARCIA, and RICO BLANCO. Joining them are international artists such as PHOENIX, FKJ, (((O))), and Carly Rae Jepsen. It will also feature Korean artists such as GEORGE, BALMING TIGER, and iKON's BOBBY.
Happening this March 4 and 5, 2023, Saturday and Sunday at the Filinvest City Events Grounds in Alabang, Wanderland Music Festival will give you a game-changing weekend to remember.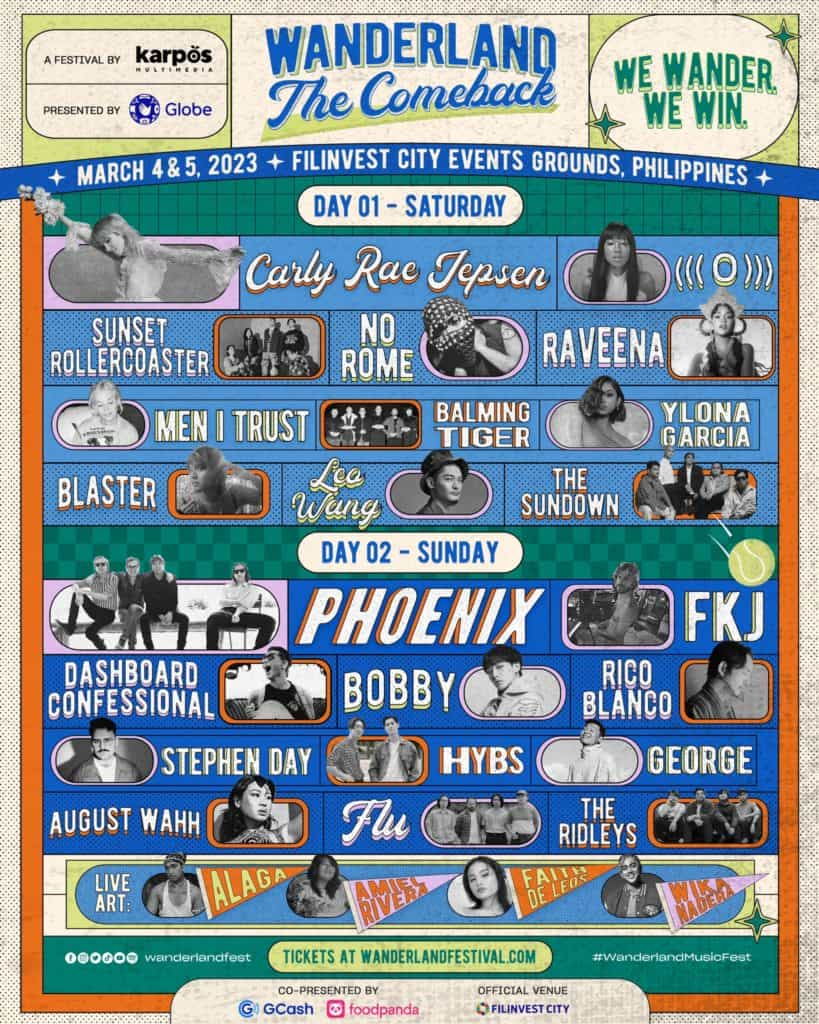 ---
Ticket prices, seat plans, and availability
Tickets for the "WANDERLAND MUSIC FESTIVAL 2023" are available at Tickelo online.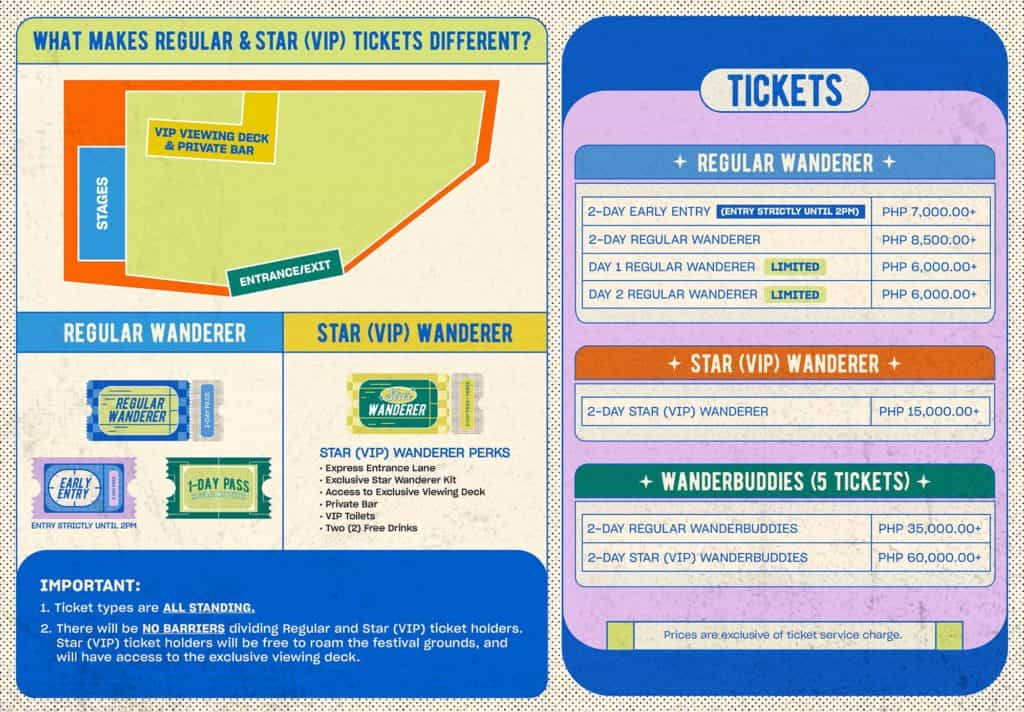 Prices are here as follows (all prices are in Philippine Pesos (PHP) and exclude ticketing charges):
2-day Early Entry (Entry strictly until 2pm) – 7,000
2-day Regular Wanderer – 8,500
DAY1 Regular Wanderer – 6,000
DAY2 Regular Wanderer – 6,000
2-day STAR (VIP) Wanderer – 15,000
2-day Regular Wanderbuddies (5 tickets) – 35,000
2-day STAR Wanderbuddies (5 tickets) – 60,000
---
Event Guidelines
Go to Wanderland Music Festival's website for the things you need to know before attending this March 4 and 5, 2023.
---
Get to know the artist lineup
Among the artists performing at the Wanderland Music Festival 2023 are Korean artists such as BALMING TIGER, GEORGE, and BOBBY.
Formed in 2018, Balming Tiger is a Seoul-based multi-national alternative K-Hiphop group that engages fans with multiple genres of music.
Composed of director San Yawn, rapper Omega Sapien, DJ Abyss, music video directors Jan'Qui and Leesuho, singer-songwriters Sogumm, Wnjn, and Mudd the Student, and editor Henson, this group will give you a variety of songs that is worth jamming for. One track to introduce them is "SEXY NUKIM" which also features BTS member RM.
The second track "Anytime, Anywhere" is from GEORGE, where the music video shows him and his friends on a ride going anywhere they want which relates to showing love to someone anytime, anywhere. It's also a relaxing song to listen to when on the road or just chilling wherever you are. He also made a Christmas collaboration track "Daer My Winter" with Chuu.
Lastly, is the track from BOBBY of iKON called "U MAD", which takes you to an action-packed movie with a lot of powerful stunts. FILO iKONICs (his fans) will be jumping and vibing to this track with his powerful voice alongside his rap skill all throughout the song.
Get hyped up with the artists performing at the Wanderland Music Festival 2023 by listening to the official playlist below:
Get to hear more of their performances and stay tuned on HallyuLife as well as on Karpos Multimedia for show updates! #WanderlandMusicFest -HallyuLife.com

THIS SPACE INTENTIONALLY LEFT BLANK.