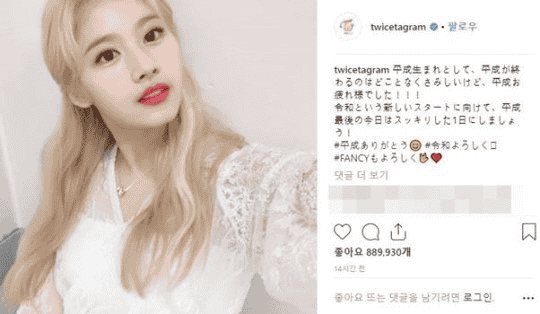 TWICE's member Sana is now on a hot spot for her post on TWICE's official Instagram account when she posted this in Japanese on April 30th:
(translated from Japanese)

"As a person born in the era of Heisei, it was a lonely day today but I tried my best. Let's make the last day of 'Heisei' a clean day and have a fresh start."
April 30 officially marked the end of the "Heisei Era" and last day of former Japanese emperor Akihito, who was replaced by his son after 30 years and 3 months on the throne.
As Japanese citizens expressed bitter-sweetness at the end of the Heisei era, Sana, being a Japanese herself, also shared that she's feeling empty and encouraged people to have a good last day of the Heisei era.
While the political turmoil between Japan and Korea is a long story in itself, netizens are throwing ire because Japan never apologized for the past, and as Sana being a member of Korea's prominent girl group TWICE. Netizens also pointed out that the issue became more controversial due to the fact that it was made through TWICE's official Instagram account (@twicetagram).
Other netizens, meanwhile, also pointed out that her post shouldn't be an issue after all because she's only mentioning a historical moment and that the Japanese Emperor has maintained a friendly attitude with Korea. And being a Japanese, of course she'll acknowledge her own culture.
Enormous amount of support and message of encouragement was sent thru Twitter with the hashtag #WeLoveYouSana. And despite all of the ire she's currently receiving, she still smiles on during the behind the scenes of Show Champion's May 1st episode before TWICE went up on stage.
TWICE's agency JYP Entertainment has yet to comment on the issue. –HallyuLife.com

THIS SPACE INTENTIONALLY LEFT BLANK.