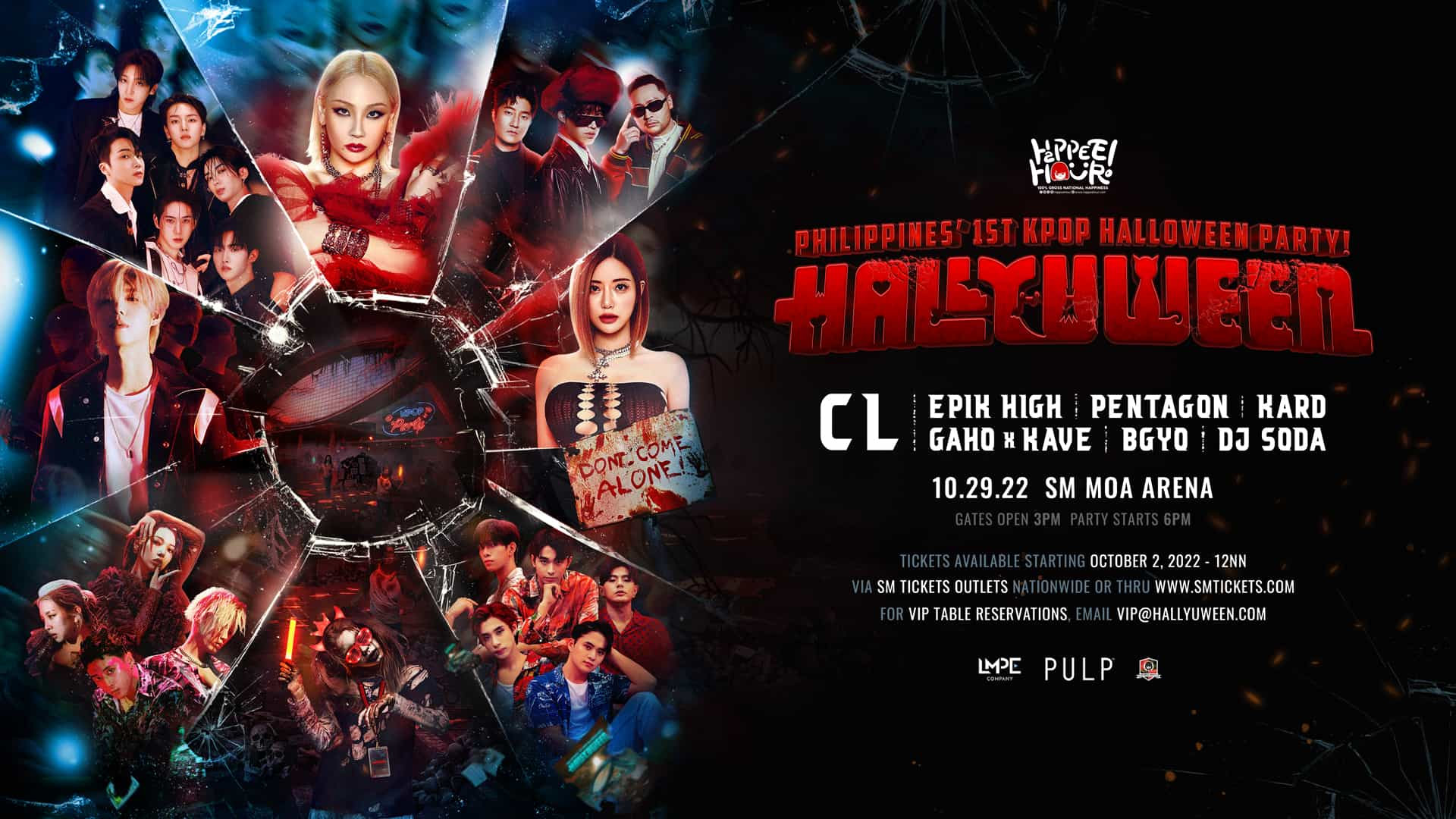 Celebrate the month of spookiness (or Halloween) with some of the hottest Korean acts this Saturday, October 29 at the Mall of Asia Arena with "HALLYUWEEN 2022".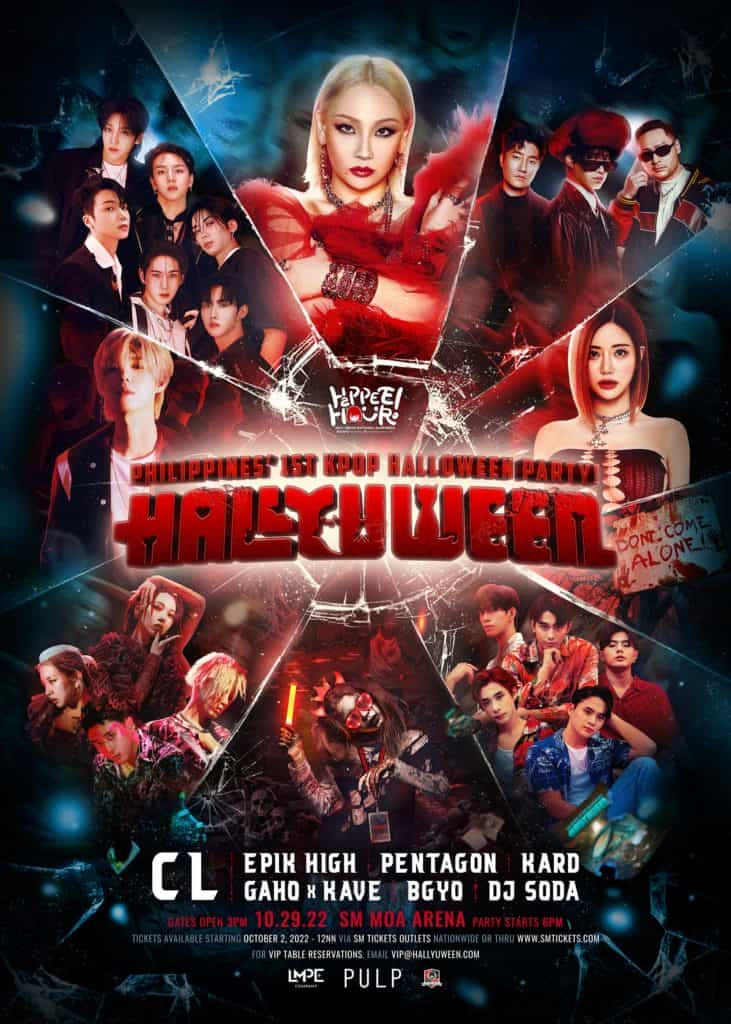 Made possible by PULP Live World and Happee Hour, gracing the first-ever party of its kind here would be CL, EPIK HIGH, KARD, PENTAGON, GAHO x KAVE & DJ SODA for the Korean acts, and they will be joined by P-pop sensation BGYO and drag queens Minty Fresh, Lady Morgana, and Lady Bagila.
SASSY AND SPOOKY FUN! ✨?
LOOK: Your favorite drag queens @minortiz, @itsladymorgana, & @ladygagitaofcl will join the halloween fun on #HALLYUWEENPH2022!

Happening in FOUR DAYS this Oct.29 at @MOAArena

Party starts at 6 PM!

Get your tickets via @smtickets @pulpliveworld https://t.co/aVBqZAGK9n

— HallyuLife (@hallyulifeAMG) October 25, 2022
---
Ticket prices, fan perks, seat plans, and availability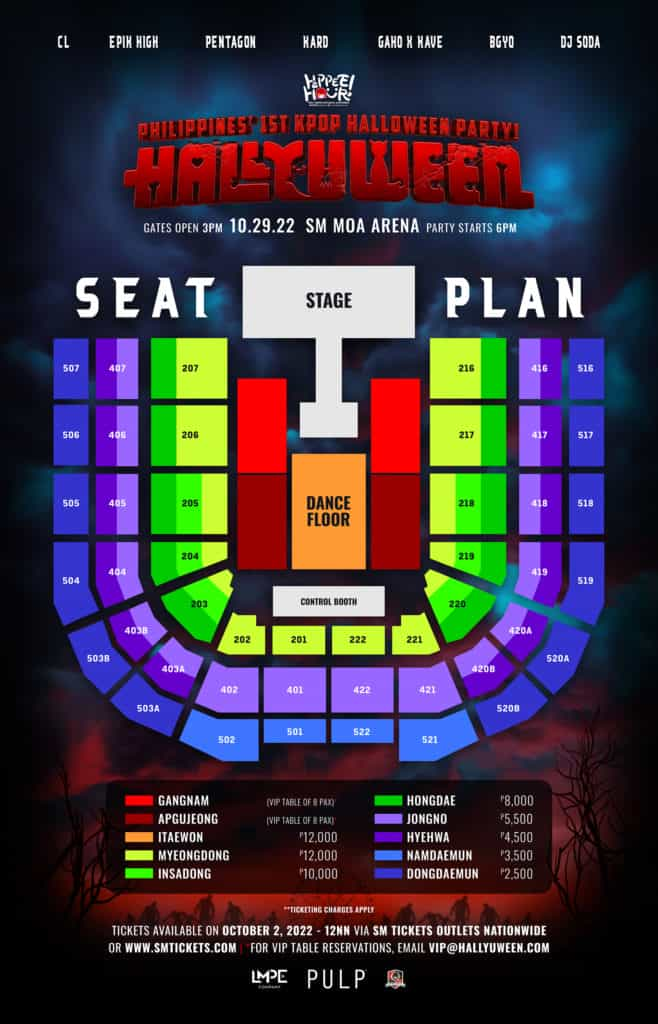 Tickets for this party will be available starting October 2, 12 NN on SM Tickets outlets nationwide and thru their website. Prices are as follows (excluding ticketing charges, all prices are in Philippine Peso (PHP)):
Gangnam VIP Table – 200,000
Apgujeong VIP Table – 150,000
Itaewon & Myeongdong – 12,000
Insadong – 10,000
Hongdae – 8,000
Jongno – 5,500
Hyehwa – 4,500
Namdaemun – 3,500
Dongdaemun – 2,500
Promising a unique kind of K-pop experience, Hallyuween 2022 hints at an exciting Halloween celebration among K-pop fans, as it brings acts like CL, KARD, Pentagon, EPIK HIGH, and even GAHO with the band KAVE & DJ SODA to the mix. P-pop sensations BGYO is also joining the party along with drag queens Minty Fresh, Lady Morgana and Lady Bagila, for a spooky and spectacular party experience.
Below are some frequently asked questions answered.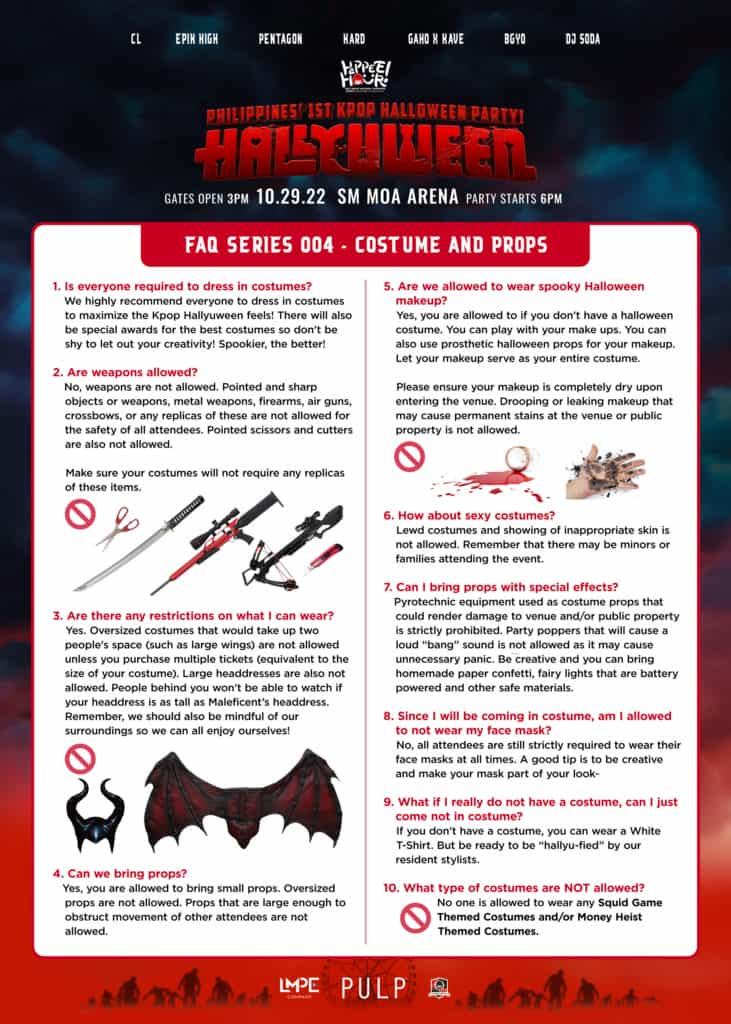 While GAHO x KAVE would be first-timers in the Philippines as performers, all of the other Korean acts are no strangers to the Philippine shores, as the baddest female known, CL, together with his 2NE1 members, last performed in Manila in 2014 with their All or Nothing tour, while PENTAGON performed last time in Manila in "Super Pop Concert" music festival in July 2017. EPIK HIGH previously held their "Epik High Concert Parade in Manila" in April 2015, KARD in 2018 with their 'Wild Kard Asia Tour' and DJ SODA last performed in Manila in 2019.
Gates will open from 3PM and the show (or should we say, party?) will start at 6PM local time You may also check out the event's official website, hallyuween.com, for further information. -HallyuLife.com
Stay tuned on HallyuLife for updates and coverage!
---
Also check out the greeting videos of each on the lineup for Hallyuween!

THIS SPACE INTENTIONALLY LEFT BLANK.