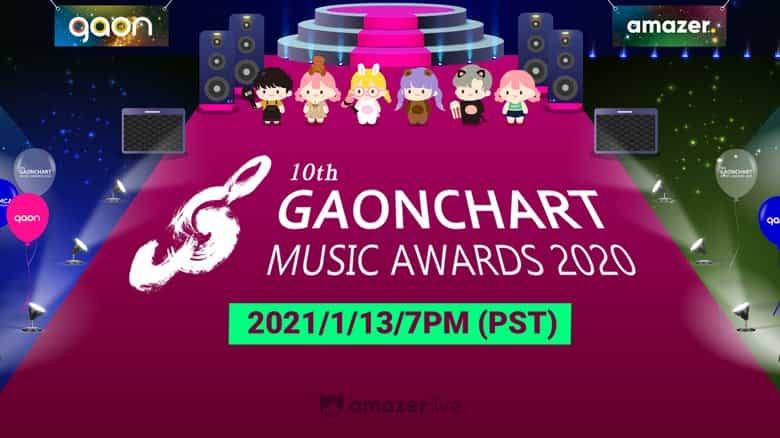 On Wednesday, January 13, the Gaon Chart Music Awards celebrates its 10th year in a simple manner as they recognize the artists in the digital and album categories of 2020.
This year's Gaon Chart Music Awards was hosted by ITZY Lia and Super Junior Leeteuk. No performances were seen but instead, they take a look on the background of the artists this year.
Digital Artists of the Year:
2019
December: Red Velvet 'Psycho'
2020
January: Zico 'Anysong'
February: BTS 'ON'
March: M.C. The Max 'Bloom'
April: Oh My Girl 'Nonstop'
May: IU 'eight' (Prod. & Feat. SUGA of BTS)
June: BLACKPINK 'How You Like That'
July: Zico 'Summer Hate'
August: BTS 'Dynamite'
September: Chungha & Christopher 'Bad Boy'
October: BLACKPINK 'Lovesick Girls'
November: BTS 'Life Goes On'
Music Steady Seller of the Year: IU 'Blueming'
Worldwide K-pop Rookie: ATEEZ, ITZY
Hot Performance of the Year: IZ*ONE, Stray Kids
Style of the Year – Choreography: Son Sung Deuk
Lyricist of the Year: IU
K-pop Contribution of the Year: Lee Soo Man
International Rising Star of the Year: Tones & I
Social Hot Star: BLACKPINK
Mubeat Choice: BLACKPINK, Im Young Woong
Popular Singer of the Year: Hwang In Wook
Discovery of the Year: Young Tak
Worldwide K-pop Star: NCT
Top Kit-Seller of the Year: NCT
Rookie of the Year: aespa, ENHYPEN
Retail Album of the Year: BTS 'Map of the Soul: 7'
Record Production of the Year: Changmo 'Meteor' with Ambition Musik
ALBUM ARTIST OF THE YEAR:
1ST QUARTER: BTS 'Map of the Soul: 7'
2ND QUARTER: EXO Baekhyun 'Delight'
3RD QUARTER: Seventeen 'Heng:garæ'
4TH QUARTER: BTS 'BE'
Congratulations to all the winners at the 10th Gaon Chart Music Awards 2020! -HallyuLife.com

THIS SPACE INTENTIONALLY LEFT BLANK.