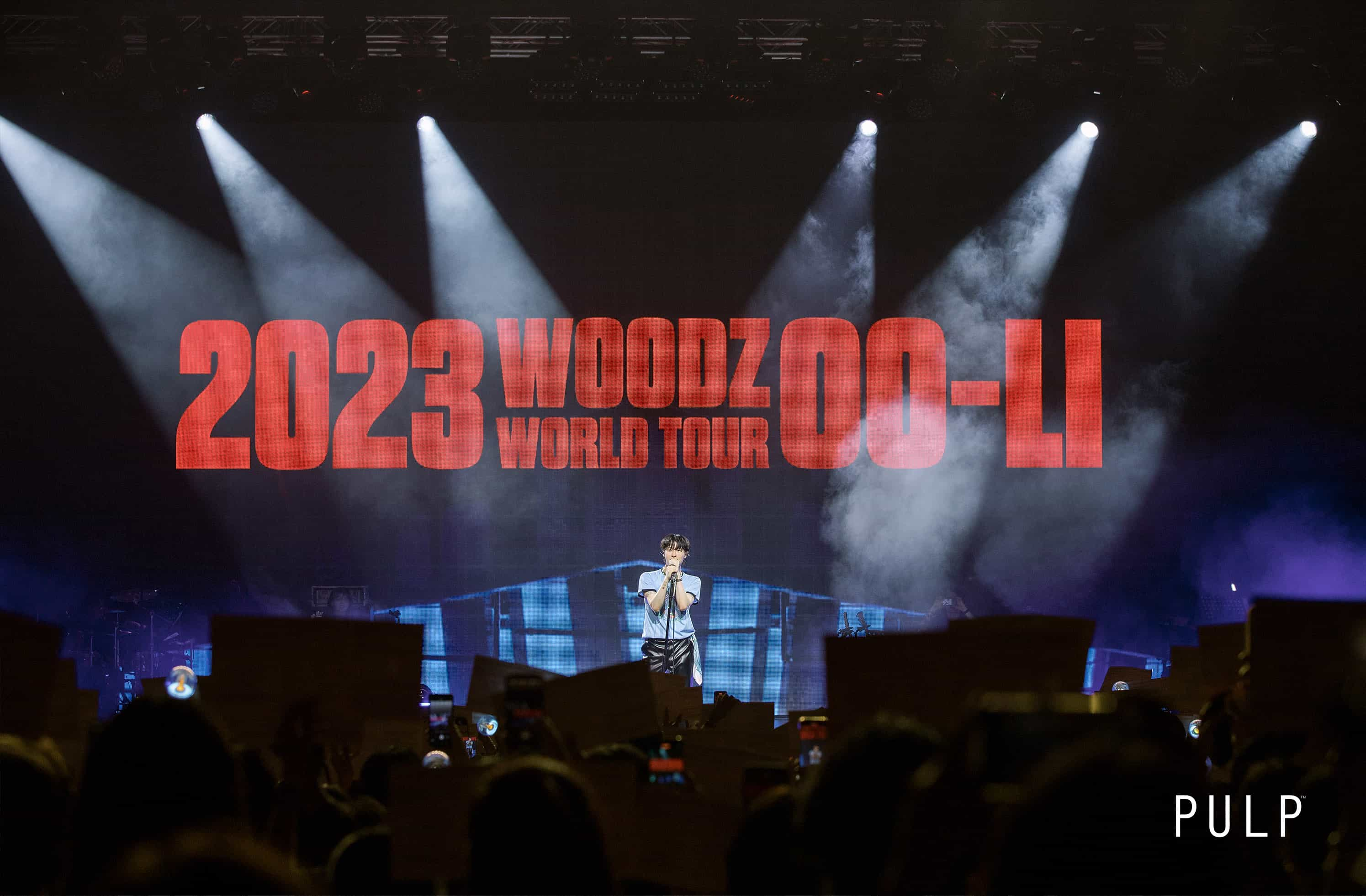 MANILA – WOODZ sent PH Moodz into a frenzy as the K-pop idol filled the New Frontier Theater with an explosive and powerful performance during his 2023 WOODZ WORLD TOUR [OO-LI] in Manila on June 17, 2023.
WOODZ delivered an unforgettable performance in Manila, treating the fans to a sensational showcase of his talent. From the high-energy hit "Busted" to the captivating track "Hijack" and the soulful rendition of "Love Me Harder," WOODZ left the audience in awe. The energy of PH Moodz skyrocketed when he performed "Waiting" and "Chaser," creating an electric atmosphere that filled the theater.
After his opening performance, WOODZ took a moment to greet his fans. He expressed his amazement as he shared that during the sound check before the concert, he felt inspired by the fans' enthusiasm and energy, which made him even more eager to start the show.
Fueling the energy in the theater, WOODZ commenced his second set of songs with the electrifying rock anthem "Who Knows,", followed by "Dirt on my leather". He even engaged the fans to sing along and dance with him through his song "Trigger,".
During the concert, WOODZ took the opportunity to introduce his talented bandmates and showcase his versatility by displaying his guitar skills. The idol further captivated the audience with his incredible rendition of New Jeans' "Hype Boy". As a heartfelt gesture of appreciation to PH Moodz, WOODZ surprised his fans by serenading them with a heartfelt rendition of Parokya ni Edgar's iconic track, "Your Song," leaving everyone touched by his genuine gesture of gratitude.
WOODZ went the extra mile to connect with his fans, taking time to read the DIY banners and fulfill some of their wishful requests, creating special moments of interaction. To show his care and support, WOODZ extended warm wishes to his fans with heartfelt Tagalog words: "Kalusugan, Kagalingan, at mahalin mo sarili mo" (Health, Wellness, and Love yourself).
WOODZ continued to mesmerize the audience with a variety of performances. The heartfelt ballad "Multiply" paid homage to Manila, modifying the lyrics to express his appreciation for the city.
"Call me selfish, I don't mind
I want all your time tonight
MANILA, where you be at? night time in Korea
But you brighten up my sky"
The venue was filled with emotions as WOODZ unleashed the powerful and mesmerizing melodies of "Abyss" "Kiss of Fire," and "Feel Like".
WOODZ further delighted the audience with his heartfelt performance of "On My Own" and "Sour Candy," igniting the crowd with excitement. As WOODZ sang "Bump Bump," the energy of PH MOODZ reached its peak, and the crowd enthusiastically bumped their heads in sync with the song.
The atmosphere became submerged in a sea of emotions when WOODZ began singing his poignant tracks "Drowning" and "Journey". The heartfelt performances of "I Hate You" and "Hope to be Like You" further resonated with the crowd, evoking a mix of raw feelings.
Just before his final song, PH Moodz showcased their love for their idol through a touching video tribute, highlighting WOODZ's journey from his humble beginnings to his current success as a beloved idol. The venue echoed with gratitude as fans from different regions expressed their heartfelt appreciation, thanking WOODZ for being an unwavering source of inspiration.
Ending the night on a high note, WOODZ delivered a powerful performance of his song, "Ready to Fight". As the final chords reverberated through the venue, WOODZ took a moment to express his heartfelt gratitude, saying, "Thank you guys for coming today. I promise, I'll be back."
The energy at the #WOODZinMNL concert was off the charts! PH MOODZ was filled with a mix of emotions after witnessing a truly unforgettable concert experience. With the promise of WOODZ's return, the fans eagerly anticipated the next opportunity to be captivated by his extraordinary talent and undeniable charm. -HallyuLife.com
---
The 2023 WOODZ WORLD TOUR [OO-LI] in Manila was made possible by Pulp Live World and Happee Hour. HallyuLife would like to thank them for inviting us to this incredible event.

THIS SPACE INTENTIONALLY LEFT BLANK.