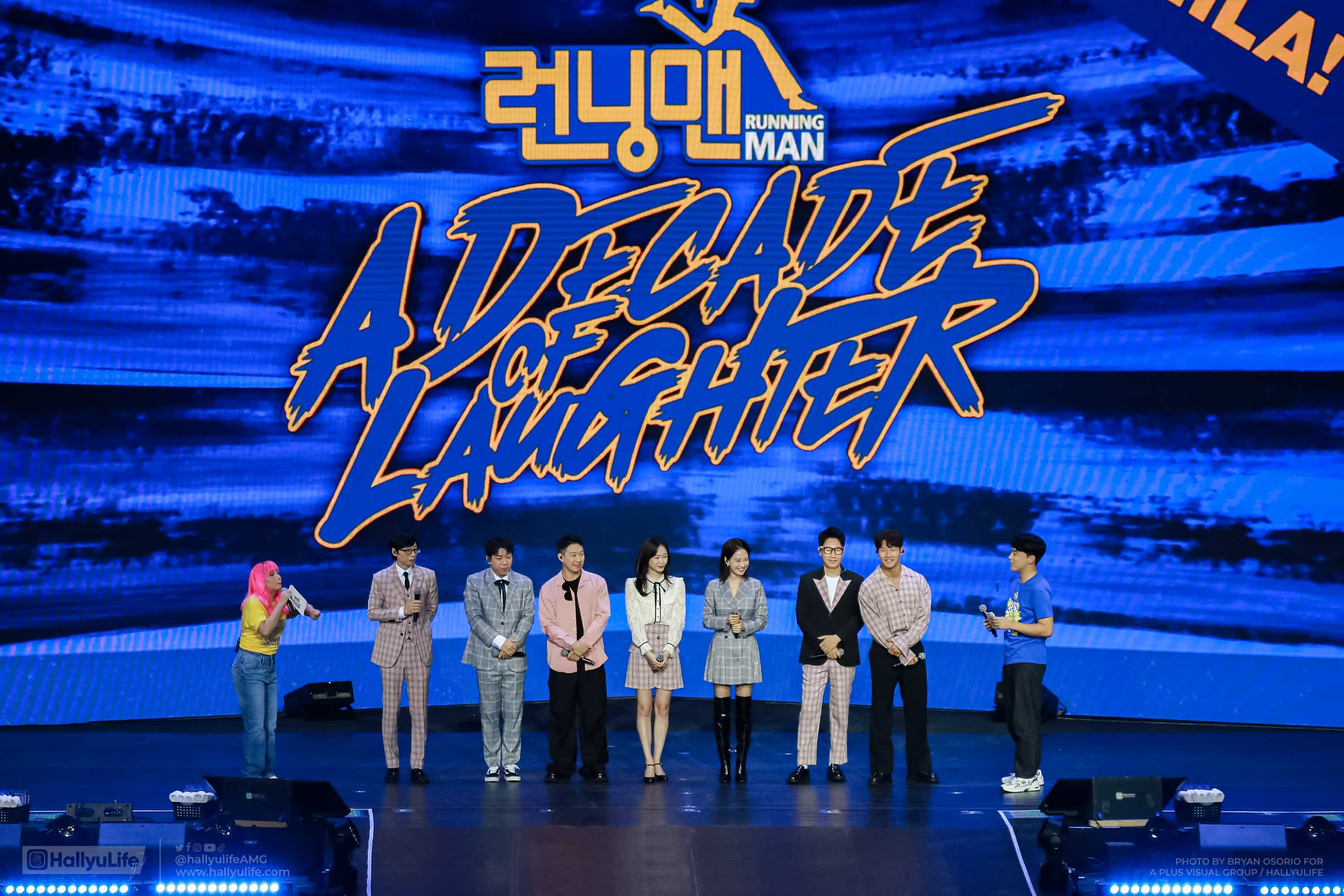 MANILA – After 3 years of postponement, the cast of the longest-running variety show Running Man (for 13 years) just completed their fan meeting event <A Decade of Laughter> at the SM Mall of Asia Arena last April 1 – the wait is finally over, and it was all worth the wait. It was also not a joke that it happened on April 1 when April Fools Day usually occurs.
The Running Man members Yoo Jae Suk, Ji Seok Jin, Kim Jong-kook, Song Ji-Hyo, Haha, Jeon So Min, and Yang Se Chan supposedly visited their Filipino fans last February 9, 2020. However, the coronavirus pandemic has led to the postponement of the said fan meeting event. They have prepared a lot for the Filipino Runners (Running Man fans) including games and stage performances.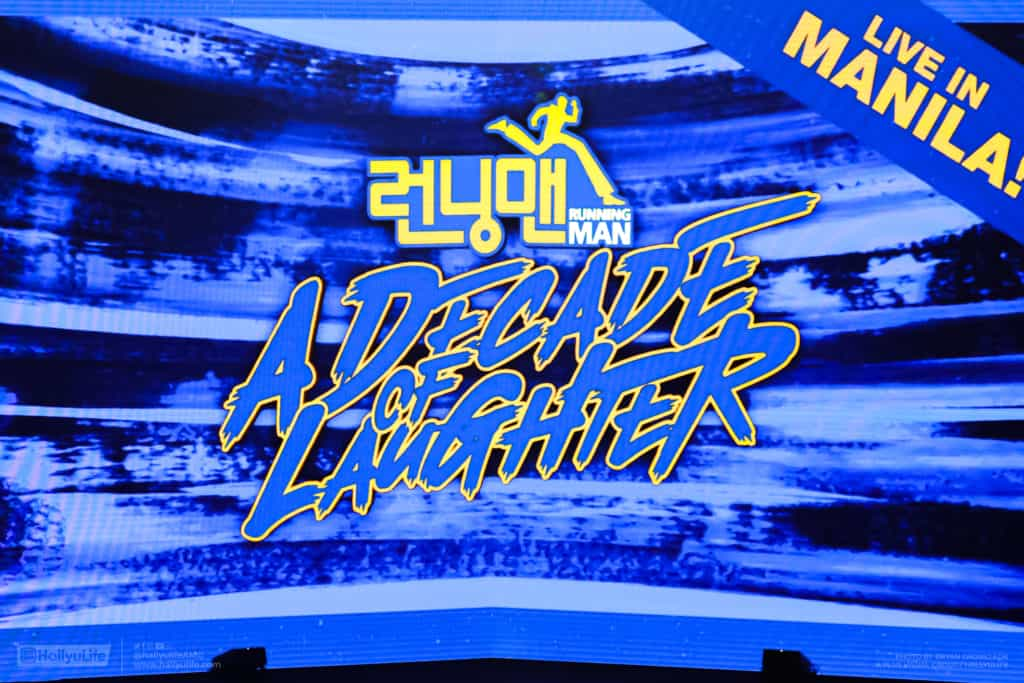 The Running Man cast graced the night singing BTOB's "Missing You" to show how much they feel toward Filipino Runners and in return, they welcomed the members with warm and loud cheers (even before the show started). The members introduced themselves and were asked a few questions by the MCs Kring Kim and Ryan Bang about their thoughts towards meeting their Filipino Runners.
Then Korean TV personality Yoo Jae Suk said,
Thank you, everyone. We were supposed to be here three years ago but because of the pandemic, we finally got the chance to be here today. We are very happy that we are all here tonight together with all the Manila fans.
Filipino Runners witnessed how the members were delighted to finally arrive in Manila. With overflowing joy, everyone at the arena shouted "Running Man" to show how excited they are to finally meet the Running Man members.
And just as how hyped the whole arena was, Ji Seok Jin asked everyone multiple times to shout "love you" when he says "Seok Jin" which made everyone laugh out of joy. When the cheers were heard for him, Yang Se Chan happily joked "I hope my mom was here to know how famous her son is so she could cry in happiness". Even Kim Jong Kook, a member who is also a gym-goer, teased everyone with a quick view of his abs which according to him, "I don't usually do this in Korea, but I'll do it for you."
To give the "kilig" (romantic excitement) feels to the fans, the Running Man (on-screen) couples Song Ji Hyo and Kim Jong Kook, and Jeon So Min and Yang Se Chan walked to the extended stage and showed their on-screen sweetness live. Even the comedic duo Yoo Jae Suk and Ji Seok Jin rode onto each other as they walk back and forth and of course Haha did show his awesome charisma as he walked solo on stage. The Running Man members thanked their fans all throughout the show by saying "Salamat po. (Thank you.)" and gave 110% of their energy with all their performances on stage.
After playing relay games with the luckiest fans at the arena, they began with their back-to-back stage performances starting off with Yang Se Chan's cover of "Artist (Zico)" Jeon So Min's dance cover of "My House (2PM)", Yoo Jae Suk's Trot song "Redevelopment of Love" as "YOOSANSEUL" in a pink outfit that made the whole arena screamed and cheered their names with joy.
Running Man member Haha performed his hit track "DANG DIGGI BANG" and "Don't Laugh" which really made the crowd jump and sing along. Song Ji Hyo danced to "Rollin' (Brave Girls)" while Kim Jong Kook sang a cover of Adele's "Easy On Me" and his hit ballad track "One Man" which made every Filipino Runner love his voice even more as they hear him sing it live. One of the main highlights of the individual stages came from Ji Seok Jin as he sang Yeng Constantino's "Ikaw" which made the whole arena surprised by his voice and cheered him even more. According to him, he prepared a Tagalog song and was surprised by the fans' powerful cheers.
Apart from their individual stages, there were also group stages that got the Filipino Runners singing and dancing starting off with Song Ji Hyo and Jeon So Min's dance cover of "Love Dive (IVE)", while Kim Jong Kook and Haha sang "Raise Your Voice", Yoo Jae Suk, Ji Seok Jin, and Jeon So Min sang "Confess Already", Song Ji Hyo and Ji Seok Jin sang "Don't Give It To Me", all from the show's album "Running Man Fan Meeting: Project Running 9". Jeon So Min and Yang Se Chan both sang "All For You" from the Korean drama "Reply 1997". And finally, Yoo Jae Suk, Haha, Kim Jong Kook, and Yang Se Chan performed "New Thing (Zico)" from the hit reality survival show "Street Man Fighter".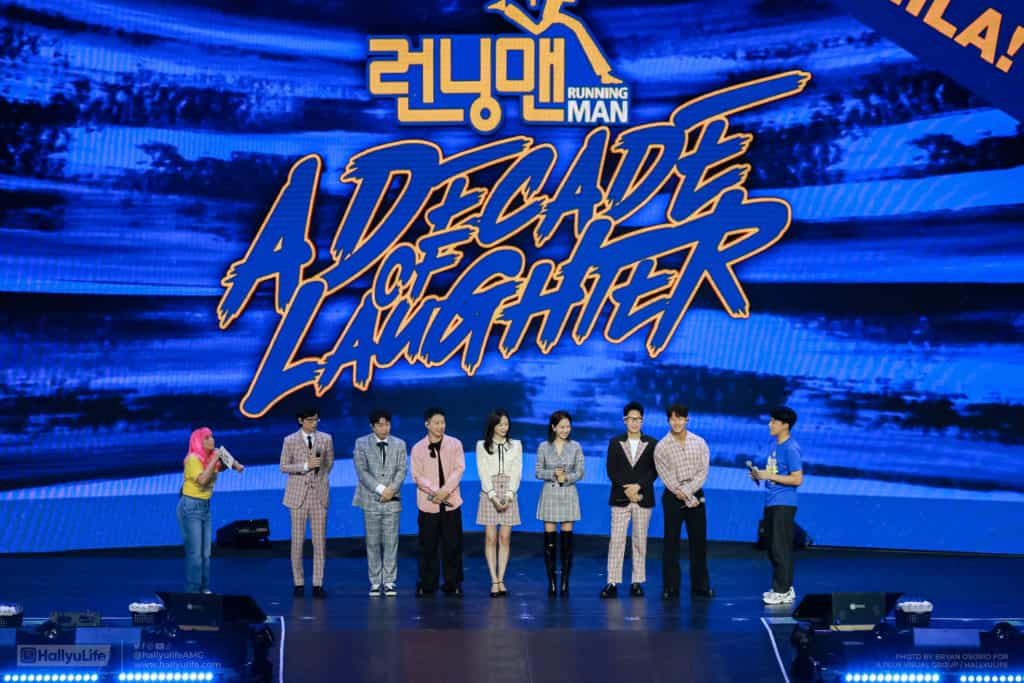 After their awesome performances onstage the Running Man members took a group photo with the Filipino Runners and a surprise video prepared by the fans was shown to the members. They cannot hide their overwhelming happiness and thanked everyone for the warmest welcome and the loudest cheers they received all throughout the show. According to Haha, "We have no choice but to come back" since there was not enough time for the show they prepared. Kim Jong Kook added, "Thank you for your love and support. We're gonna keep running and we will do our best for you guys."
Yoo Jae Suk lastly said,
The response of the audience was beautiful. We are very much overwhelmed. Sometimes we ask ourselves: 'Who are we to deserve this kind of love?' I believe that because of your love and support that we are here. And of course, as long as you are there, we will keep running and we will be back.
The Running Man cast wrapped up the night singing Kim Jong Kook's "Loveable", their group's track "I Like It", and an encore of "Redevelopment of Love"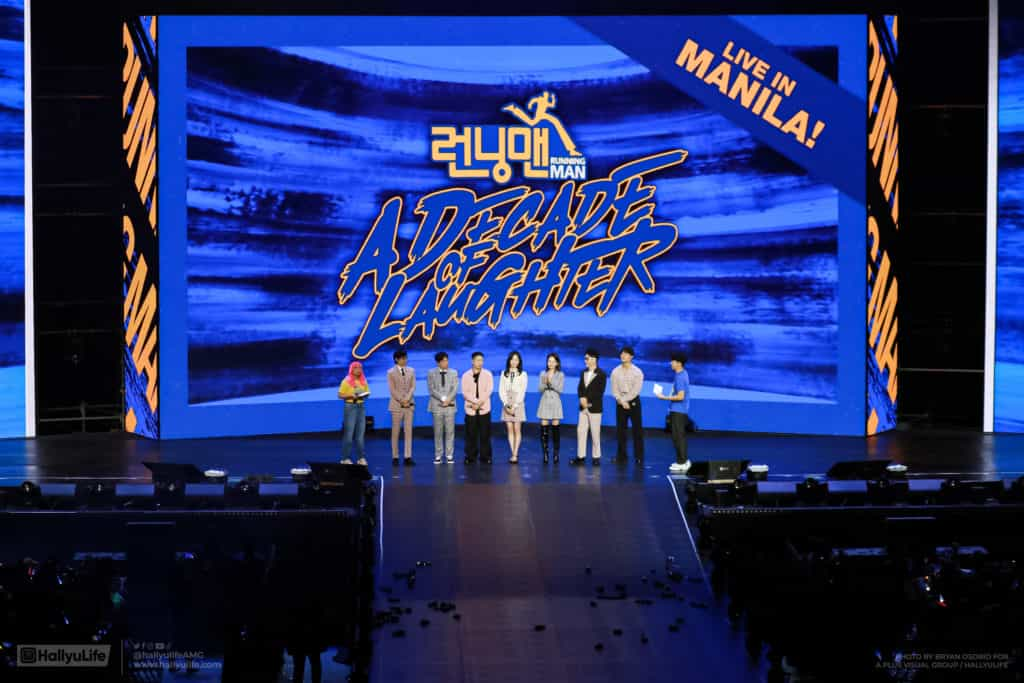 It was indeed worth the wait. The 13 years of laughter all summed up to one wonderful night to remember full of fun and heartwarming memories each and every Filipino Runner will never forget. For the Runners it's their everything, for the cast of the longest-running variety show in South Korea, it's their life that we will all keep on running together. -HallyuLife.com
---
Running Man <A Decade of Laughter> in Manila is presented by PULP Live World and Happee Hour. HallyuLife would like to thank them for letting us be part of the show.
Check out our photos from the event here: Running Man Members @ A DECADE OF LAUGHTER Fan Meeting in Manila (HQ PHOTOS) [20230401]

THIS SPACE INTENTIONALLY LEFT BLANK.