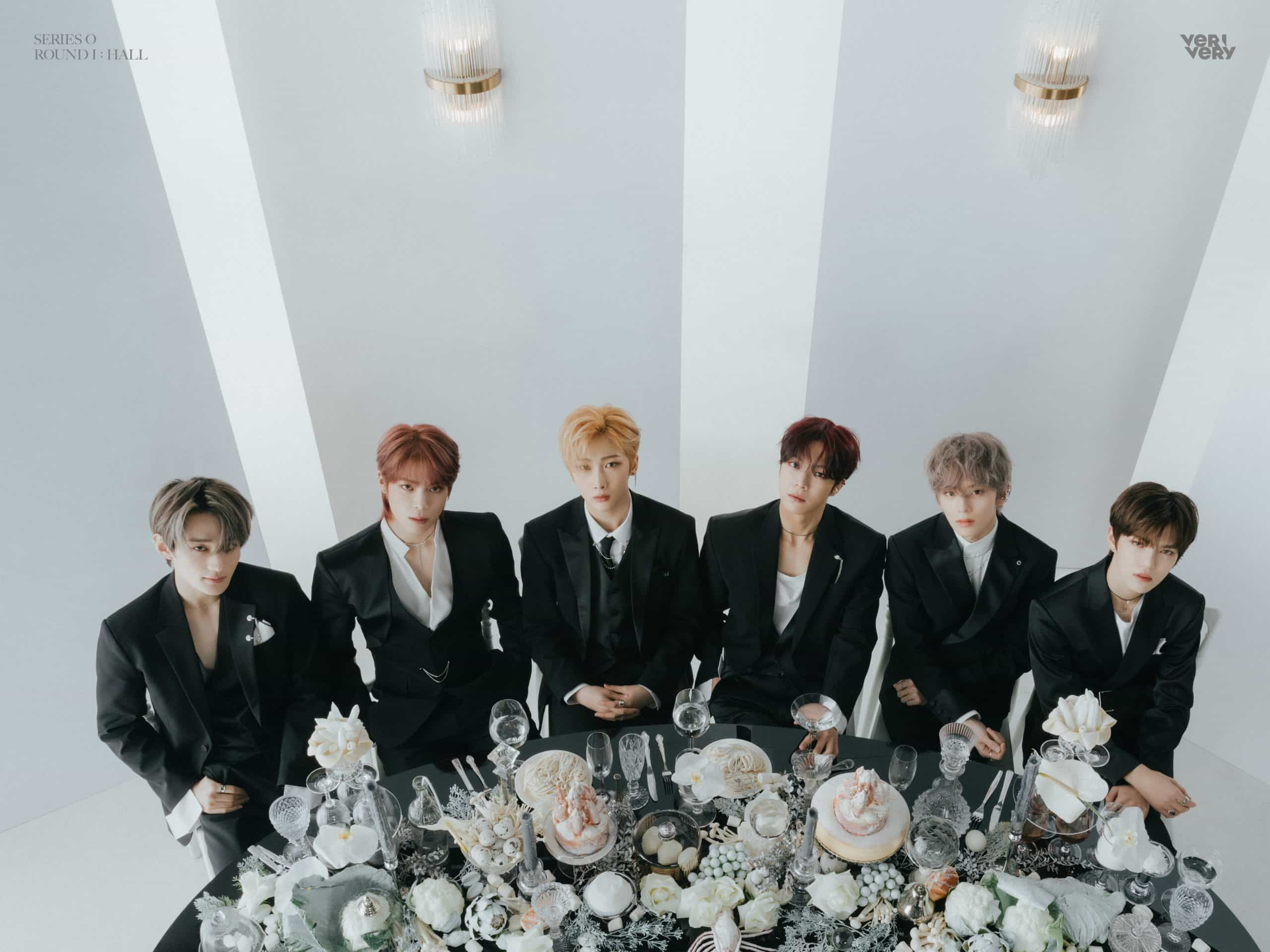 Up-and-coming K-pop boy band VERIVERY dropped an album "Series 'O' Round 1: Hall" slightly more than a month ago.
In an exclusive email interview with the boys, they look back at their second single album, which comprises three tracks.
The album, which makes up the first of an upcoming series, is conceptualised based on a narrative in which VERIVERY receives an anonymous invitation to a party.
Here's what they have to say.
---
HallyuLife: You've made waves with your last album "FACE US", alongside the title "G.B.T.B." Do you feel pressured to surpass these records and live up to the good work you've done previously for this coming album?
Yeonho: Rather than saying I feel pressured, I'd like to first thank everyone for their support and love to our previous album "Face Us", one which we've put a lot of hard work into. I believe that as long as we continue striving, our latest album will also be well received. 
Yongseung: In fact, I'm more excited and confident now compared to our previous album. I hope that our fans can get to see a more mature side of us. I believe that if we enjoy the process, we'll get better results too.
HallyuLife: With the COVID-19 pandemic, how has things changed for you? How have you adapted to it?
VERIVERY: It's with much regret that we can't meet our fans physically and we could not get used to it initially. As time went by, though, we thought hard about how to make use of this time. In fact, if we feel tired, we reckoned that our fans might feel drained too, and therefore we tried to communicate with fans online through social media.
HallyuLife: Describe your newest album "SERIES 'O' [ROUND 1: Hall] in a word or phrase.
Dongheon: Deadly, mysterious but fantastical
Hoyoung: Fatally attractive

Gyehyeon: Horrifyingly sexy, though with some restraint

Yeonho: Our inner darkness

Yongseung: A wild party, unknown, imaginary

Kangmin: Oh my god, deadly
HallyuLife: Which track from the album is your personal favourite? Why?
Dongheon: Our title track "Get Away". Well, I was very excited for that track from the moment I heard it that I've already pictured myself performing it onstage.

Hoyoung: For me, it's "Get Away" too. I think it's a track that shows the many sides of VERIVERY.

Gyehyeon: I choose "Get Away" because we put in a lot of effort for it and this track was prepared and recorded in a short duration.

Yeonho: I actually like all the songs in the album, but my favourite would still be the title track "Get Away". Especially after listening to the final version of the track, I really think that it's a song of high quality.

Yongseung: Since it's our single album, there aren't many tracks in the album. But I would choose our title "Get Away". To ensure that it's of quality, we spent a lot of time fine-tuning the vocals and choreography, and I developed some attachment to the track in the midst of it.

Kangmin: I would choose "Get Away" too because I feel that we really put in a lot of effort for this track and I really like it personally.
HallyuLife: The 'O' in the album title signifies a darker, more personal inner space. What made you want to choose that concept in this album?
Gyeheon: We got inspiration from the promotions of our previous album "Face Us". We velieve that everyone has a deeper darker side and we hope to express that. Through our album, we wanted to unlock that darker story and how we should look at this darker side of ourselves.
HallyuLife: Talking about an outfit change, you've switched from a more youthful, vibrant style which we saw in the previous album to a more gentlemanly, suited up look this time round. How was that change for you?
Dongheon: We were worried for younger members such as Kangmin and Yeonho, as we were uncertain whether they could pull off such looks. But it was very fortunate that they fitted the look perfectly.

Hoyoung: I think our outfits are more mature, charming and fitting to the style of continuous growth and maturity.

Yongseung: This time we used more gentlemanly outfits for promotions. During our album jacket or music video shoots, our members were also able to get used to their new looks quickly.
HallyuLife: If you have the opportunity to collaborate with another K-pop act (solo artist/group), who would you like to work with? Why?
Gyeheon: I would like to collaborate with VIXX, I think that there's a lot to learn from them.

Yeonho: I would like to collaborate with Sunwoo Jung-a, as I really love her musical style. If there's a chance, a duet will be good.

Yongseung: I'll choose the boy band who participated in "Road to Kingdom", TOO.
HallyuLife: For each member: What's looping on your playlist right now?
Dongheon: I frequently listen to SHINee's "Don't Call Me".

Hoyoung: Golden's "Hate Everything".

Gyehyeon: VERIVERY's "So Gravity (소중력)".

Yeonho: My playlist has so many songs recently, but the one I like the most would have to be George's "something between us".

Yongseung: I'm in love with SHINee's new album. In particular, I'm listening to "Don't Call Me" almost everyday, as well as "Marry You" and "Attention".

Kangmin: I listen to IU's "Palette".
HallyuLife: What does VERIVERY have in store for fans this year?
VERIVERY: In 2021, we will continue to allow more people to get to know VERIVERY through our promotions, performances and music. We would also like to convey messages to listeners through our album. Though it may not seem much, we want to be able to bring some strength to you. You can definitely keep your hopes high and look forward to our future activities.
You can stream VERIVERY's album "Series 'O' Round 1: Hall" on Spotify below.

THIS SPACE INTENTIONALLY LEFT BLANK.