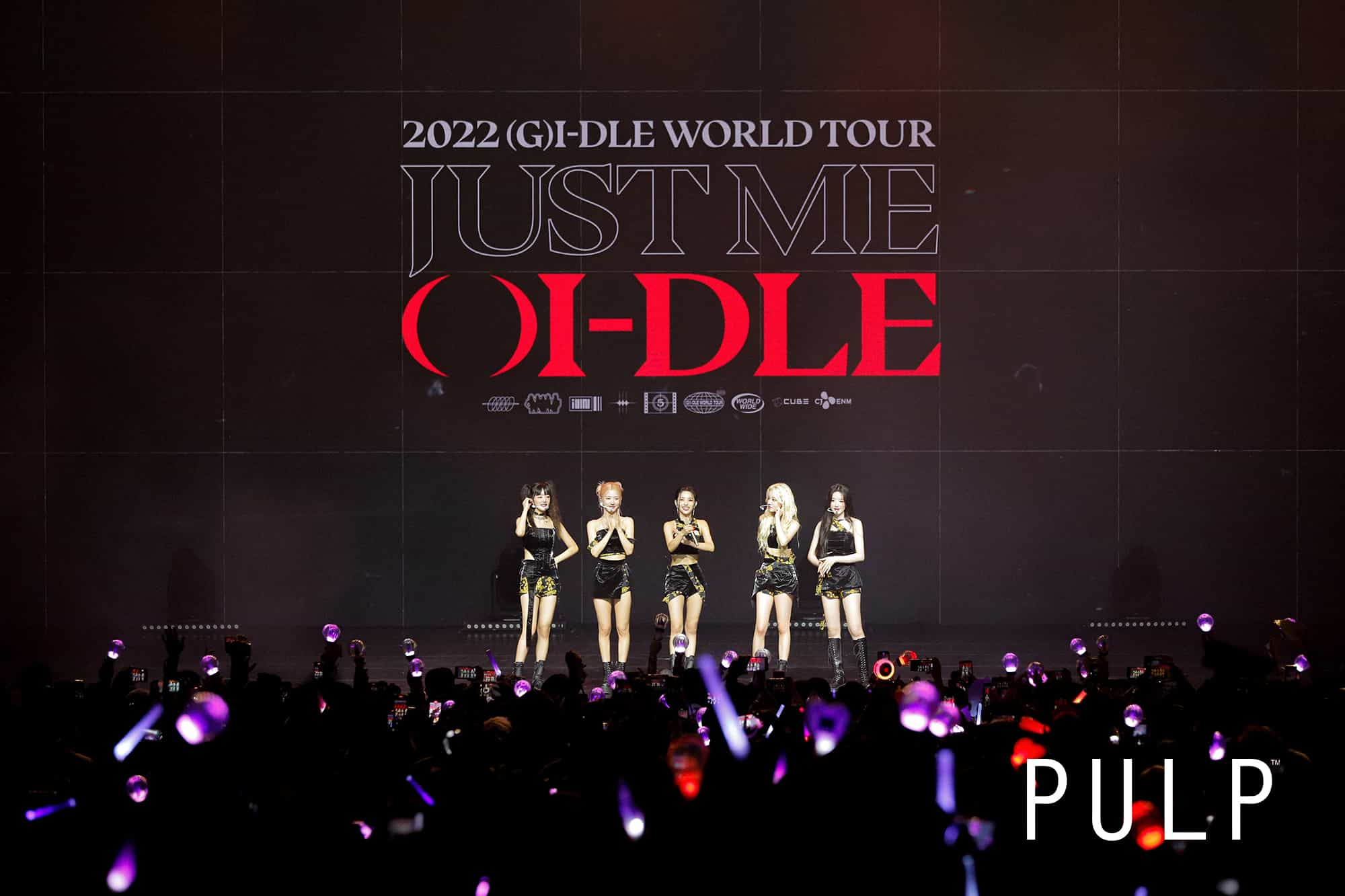 How (G)I-DLE turned Manila into their own queendom on their first-ever Philippine concert | #ShowRewind
Two hours isn't seemingly enough for these queens to rule their queendom for a night with Filipino NEVERLANDs!
MANILA – This year, in a seemingly plethora of male K-pop acts heading on to the Philippine shores, somehow, we've been treated to a Sunday night with a different feeling than what we're recently used to – a K-pop girl group once again finally having their own solo concert here.
(G)I-DLE, one of K-pop's currently well-established girl groups, finally visited the Philippines last September 11 for the Manila leg of their "JUST ME ()I-DLE" world tour, performing their hits at an almost full-house New Frontier Theater – and we're there to tell you the story.
A refreshing sight and feeling
Since I have mentioned earlier that there are a lot of male K-pop acts going here in Manila, more than the number of female ones, it's a refreshing sight to see when we entered the theater to see many fanboys (and even fangirls) supporting the group.
In fact, the feeling is slightly different – the cheers were still loud just like what fangirls can give, but the mere fact that fanboys aren't shy enough to hide their feelings to shout and cheer for everything (G)I-DLE does is truly refreshing. Men will be men. ALWAYS.
The K-pop quintet kicked off their Manila setlist by performing "Oh My God", sending the whole theater into a chorale instantly when (G)I-DLE started singing, and as Filipino fans are known for, they've almost chanted the whole song along with (G)I-DLE, forgetting once again that fan-chants exist.
This whole energy has been sustained throughout the show.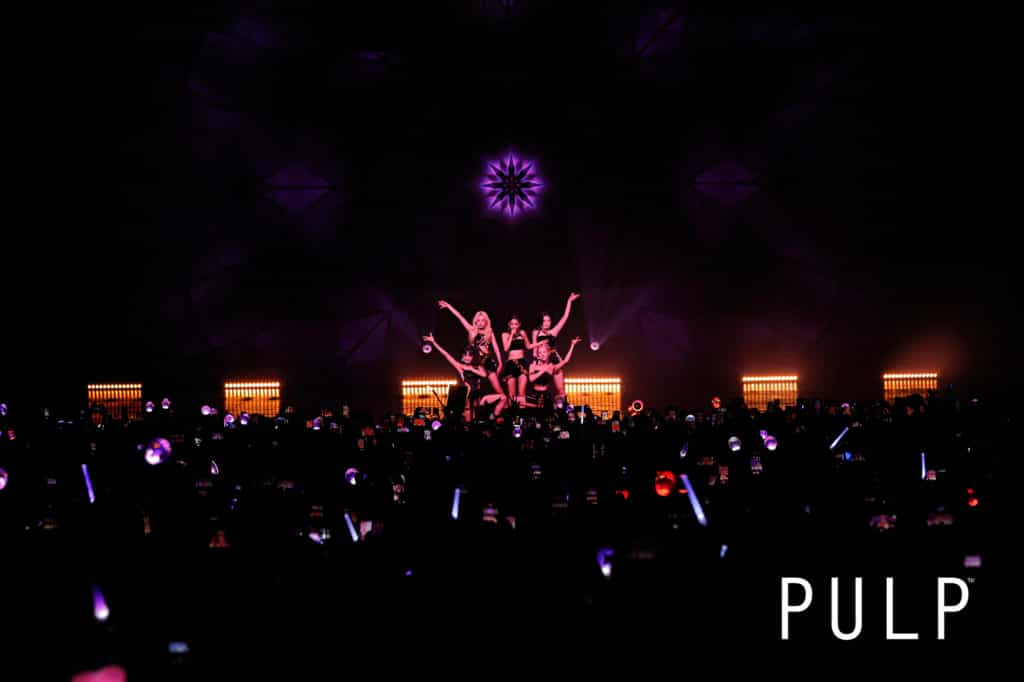 Following their strong introductory number, (G)I-DLE then proceeded to sing a track called "Villain Dies" from their recent album "I NEVER DIE" followed by their debut song "LATATA", treating the Manila crowd to a spectacle with their gorgeous visuals as well as vocal and dance prowess.
Introducing themselves isn't that easy feat either, as the fans' cheers went louder when the (G)I-DLE members started talking one by one. However, the girls seemingly loved it so much that they interacted along with the fans, with the girls even showing some "sexiness" as they introduce their names and charms. Yuqi even acknowledged the unwavering screams and cheers and thanked the fans for that. Fans' also greeted and sang Yuqi with an advance happy birthday, which will be on September 23.
The quintet then continued their streak of performances as they perform their songs "Blow Your Mind", "Senorita", "DUMDi DUMDi", and "Luv U", before changing outfits to better fit the next set of songs' concepts.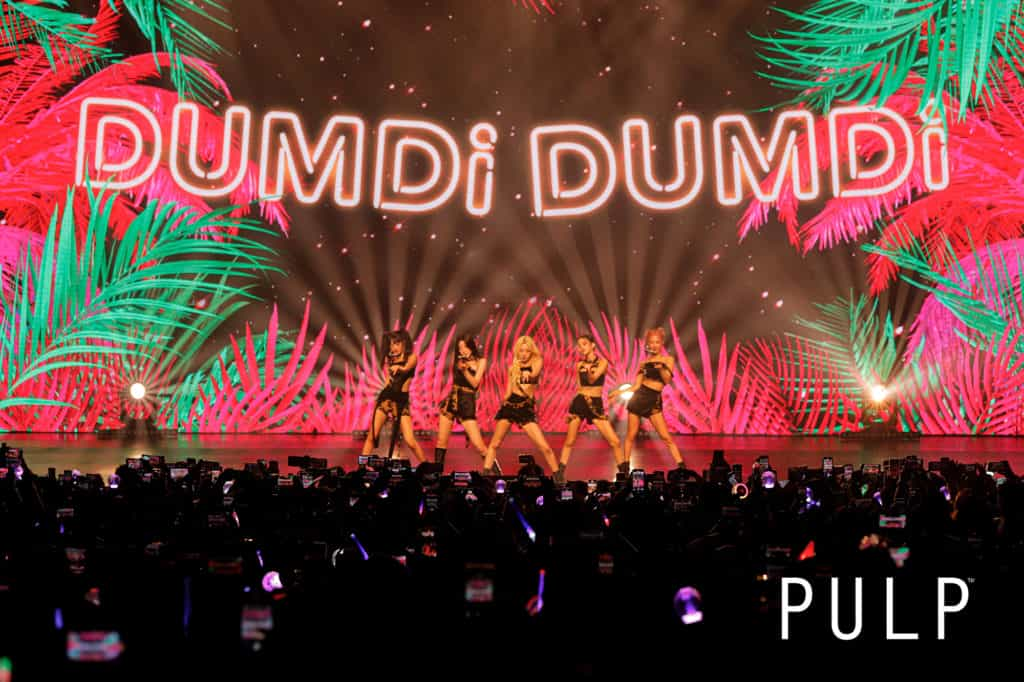 Like a musical and a party
(G)I-DLE then appeared with their gorgeous white and red outfits and showed us a melancholic performance of their track called "HANN (Alone in winter)", not to be confused with their 2018 track "HANN (Alone)", which then followed the former. The "lalalalalalala lala" part on the first one is just too beautiful it deserves an honorable mention.
Addressing the audience once again, the girls seemed to have fun on stage, and at one point, they're running back and forth on the stage, bumping up to each other, showing some fun ways of interacting with each other, or as Yuqi brands it, "ways to make friends with NEVERLAND." Soyeon also reiterated the fact that "Manila (fans) have a great energy tonight."
(G)I-DLE then resumed their set with their songs "MOON" and "Already", showing their group's dance prowess on the latter song's dance break.
Shortly after those breathtaking performances, the girls then interacted with the energetic crowd once again, asking the fans what songs do they want to hear. Some chanted their other tracks, such as "LION", which is actually part of the setlist. The girls and the crowd sang some of it in acapella, although Minnie then sang snippets of their song "Dahlia" from "I BURN", while the ones who have some solo tracks released, Yuqi, Miyeon, and Soyeon, sang snippets of their songs "Giant", "Drive", and "Beam Beam", respectively with the crowd singing along.
(G)I-DLE then performed their songs "HWAA" and the anticipated song "LION", which sent the fans' cheers even louder as these songs were like a staple hit to NEVERLANDs. I mean, we even referred to the song "LION" as a "masterpiece" in this article before. At that point, it's like we were on a musical, or on their queendom, with (G)I-DLE being the queens.
Before changing their outfits for their final set, the girls performed their song "LIAR", bringing out the rockstar DNA inside them as they sing in line on stage with mic stands, just like you know – a rockstar.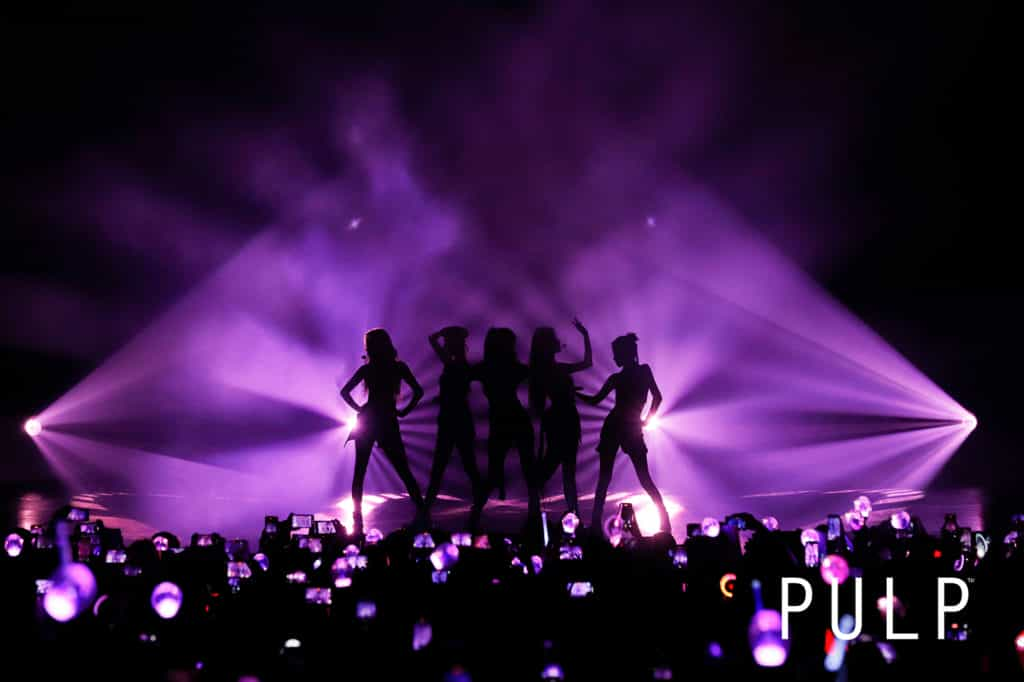 The party never stops
Coming back on stage after a short VCR and an outfit change, (G)I-DLE performed the songs "Never Stop Me" and "Uh-Oh", before stopping for a while to interact with the audience, as the girls taught the audience the choreography of one of their recent smash hits "MY BAG", and then proceeding on performing it right after. It's a b-side track of their album "I NEVER DIE" but it's definitely a banger, as the Filipino crowd once again turned into a chorale.
Soyeon emphasized that she is really happy as they hear the shouts and cheers of what they call the "amazing Manila crowd".
Still in high spirits and energy, the quintet then surprised everyone when they performed the track "POP/STARS", their smash-hit collab as part of the group "K/DA" which was released in 2018 for the game "League of Legends".
Promise to be back again
As the girls and the crowd realize that the show's nearing its end, (G)I-DLE then paused for a moment for their closing remarks, promising one by one that they will be back in Manila, with Minnie saying thanks and love for everyone out there. Expressing their feelings in one word, Soyeon said "LOVE", then Miyeon said, "Dreams Come True", and Minnie said "HOT". Yuqi on the other hand said "CRAZY", and Shuhua then said "Happiness".
Yuqi then said that the concert felt like "a dream come true", and that she really feel the passionate Manila crowd. Expressing the desire to be back in the Philippines for another tour, Yuqi said, "I'm sure if we have another chance, we will be back. I'm sure, Manila Neverland, you have my words."
Yuqi then said one memorable line that made everyone in the theater laugh and cheered her name loud, "You know me, CEO of CUBE Entertainment." – and oh how we wished she actually was.
Introducing their not-so-final song prior to an encore with pride, Miyeon told everyone that what they're going to perform next has topped the music charts in South Korea, and as everyone expects, it was their track "TOMBOY". (G)I-DLE even encouraged everyone to sing this specific part in chorus – "Yeah I'm f***ing TOMBOY!", and the audience did just that. It's like everybody there has waited for that moment. EVERYBODY.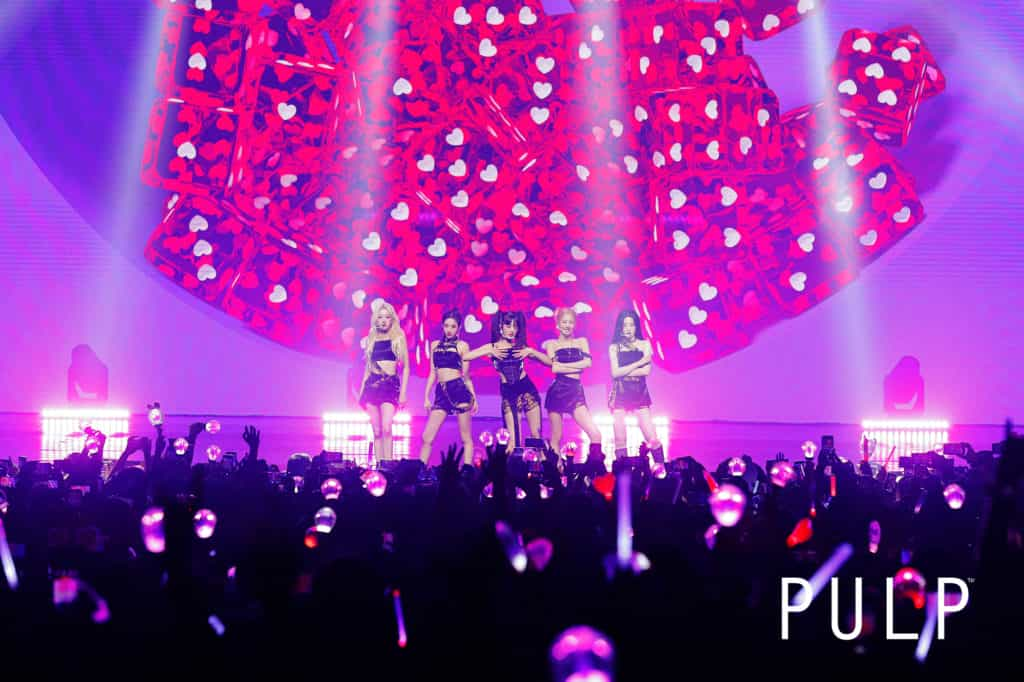 We shouldn't forget this, please remember
Reappearing on stage after a few minutes and a VCR, the girls stepped on with another outfit change for an encore performance of their songs "i'M THE TREND", and "POLAROID".
Between that, (G)I-DLE did the act of saving the memory of the Manila crowd by taking a photo (maybe they did took a polaroid of it, too), embodying the lyrics of their last song.
[?] 20220911
@ #GIDLE_WORLDTOUR_JUSTMEIDLE IN MANILA

마닐라 네버랜드 덕분에 행복한 추억을 하나 더 만들고 돌아가요 ? 오늘 우리의 케미스트리는 백 점! 아니 천 점? 앞으로도 아이들 곁에 있어 주세요❤️?#여자아이들 #GIDLE #JUSTMEIDLE pic.twitter.com/6a1iSSLiA4

— (G)I-DLE·(여자)아이들 (@G_I_DLE) September 11, 2022
After going around on stage, the girls then waved their farewell to the crowd by going to the center stage, bowing to the Filipino fans after saying the words "We are (G)I-DLE".
—
And yes, we shouldn't and we will never forget this (G)I-DLE. We will definitely remember. Two hours of amazing performances and great memories from these girls were well spent and created. It feels enough and not enough for some reason, but we're glad that this happened.
"See you soon (maybe in Korea)", I remembered saying as I bid my farewell to these beautiful girls. I'll definitely not move on easily from this.
I've been a NEVERLAND since their debut, and perhaps this show is one of my most memorable shows covered as a working Hallyu journalist. –HallyuLife.com
---
(G)I-DLE's "Just Me ()I-DLE" in Manila is promoted by PULP Live World and is presented by CUBE Entertainment & CJ ENM.
HallyuLife would like to extend its gratitude to PULP Live World for inviting us to be part of this event. Photos from this article are also from PULP Live World.
#GIDLEinManila2022 #JUSTMEIDLEinManila