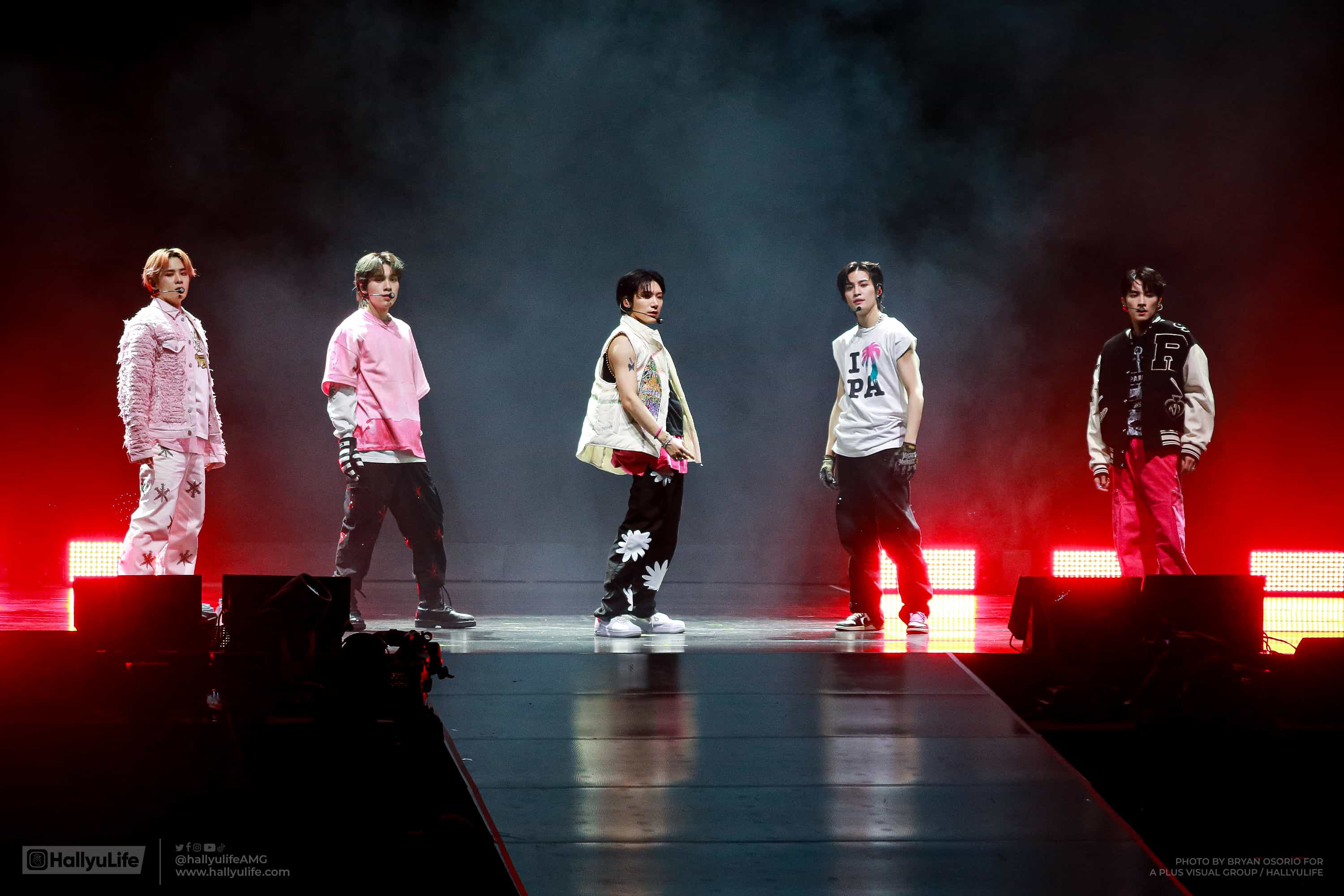 MANILA – After nearly five months since their recent visit to Manila last October 2022, WayV is once again back in Manila for the Philippine leg of their PHANTOM fan meeting tour last March 26 at the Araneta Coliseum – and here's how they shined bright like diamonds that night.
Just by looking at the stage, you will notice the vibe from the musical, "The Phantom of the Opera" which will show the charm of the members. And of course, witnessing the sea of Leekbongs/Green Onion lightsticks floating around the stage. When the time came, Kun, Yangyang, Ten, Hendery, and Xiaojun entered the stage and kicked off the night with the songs "Kick Back" and "Try My Luck" back-to-back.
Wonderful memories in Manila – in a bag
After their double stages, WayV members greeted their Filo WayZenNis (WayV's fans) on stage, and shared that they were excited to be back just five months after their last visit to Manila. On a segment, WayV members checked Hendery's bag in front of the coliseum crowd. They found various items related to Filipinos and also to the members such as a "pamaypay" (a fan made out of anahaw leaves) which is used to blow air when the weather is hot, a good morning towel, and travel brochures from well-known tourist spots in the Philippines.
#WayV members checking #Hendery's bag in front of FILO WayZenNis!

They found a "pamaypay" (fan) and a polaroid photo on their first visit in Manila where they went to a restaurant.#WayV_Phantom_in_MANILA#WayVMNL2023 pic.twitter.com/7bznkiQN32

— HallyuLife (@hallyulifeAMG) March 26, 2023
What Filo WayZenNis loved the most is when the members showed Polaroid photos of their wonderful memories in Manila. Not to forget how WayV members enjoyed Filipino delicacies as soon as they arrived at their hotel rooms. They even thanked Yangyang's mother saying, "Xiexie mama" as she gave them nail cutters and she was also present during the fan meeting.
Adorable dance challenge
WayV also did some random dances, as the boys once again made the whole coliseum scream with joy as they danced to three hit K-pop tracks – aespa's 'Illusion', NCT DREAM's 'Candy', and their sunbaenims SHINee with 'Sherlock' – all while wearing something cute on their heads that made them look like cute bunnies and princes.
The WayZenNi experience
The WayV members slow it down for a bit and sang "Broken Love" just before they show more of their charms as they performed "Dream Launch" where they taught everyone at the coliseum how to dance to it.
The handsome men of #WayV teaching us how to dance "Dream Launch"! ??#WayV_Phantom_in_MANILA #WayMNL2023 pic.twitter.com/BQzFtUZnVI

— HallyuLife (@hallyulifeAMG) March 26, 2023
But there's one song that I really love to listen to from their second mini album "Take Over The Moon" that I wanted to hear live – and I thought it will not be part of the setlist but, everyone got excited as soon as they heard the first few seconds of the fan-favorite track "Love Talk".
Loving the way #WayV performs tonight with "Love Talk"! ❤️#WayV_Phantom_in_MANILA #WayMNL2023 pic.twitter.com/KFiiGJ9yhb

— HallyuLife (@hallyulifeAMG) March 26, 2023
WayV continued to perform on stage with "Diamonds Only" and "Nectar", which are also Filo WayZenNis' beloved tracks. Kun and Xiaojun then sang for a bit as the other members change their outfits. As they returned on stage, WayV shared that they really wanted to see their Filo WayZenNis since their last visit to the country. The members thanked them for waiting for their return as well as for the love and support they'd been receiving especially that night – just like how they fulfilled their promise last October 2022, they promised to return soon and hope to see all the WayZenNis again. It's also Ten's first time in Manila so he said that he had a lot of fun that night.
WayV performed "Phantom" which is also the title of their fan meeting tour showing their powerful choreography and vocals.
#WayV ends the night with their LIVE stage performance of "PHANTOM"! ???#WayV_Phantom_in_MANILA #WayMNL2023 pic.twitter.com/8Q7yxe9j5u

— HallyuLife (@hallyulifeAMG) March 26, 2023
Celebrating Good Life with WayV!
The fan meeting with WayV will not end without a fun-filled encore with the Filo WayZenNis as they sing "Good Life". They even went to the extended stage to interact with the crowd and witness how adorable they were that night. As much as they wanted to stay longer, they had to say goodbye for now to the Filo WayZenNis and greeted them one more time before they've gone backstage.
WayV and Filo WayZenNis' connection during the fan meeting showed the love and support they have for each other as they made heartwarming memories that will forever be cherished.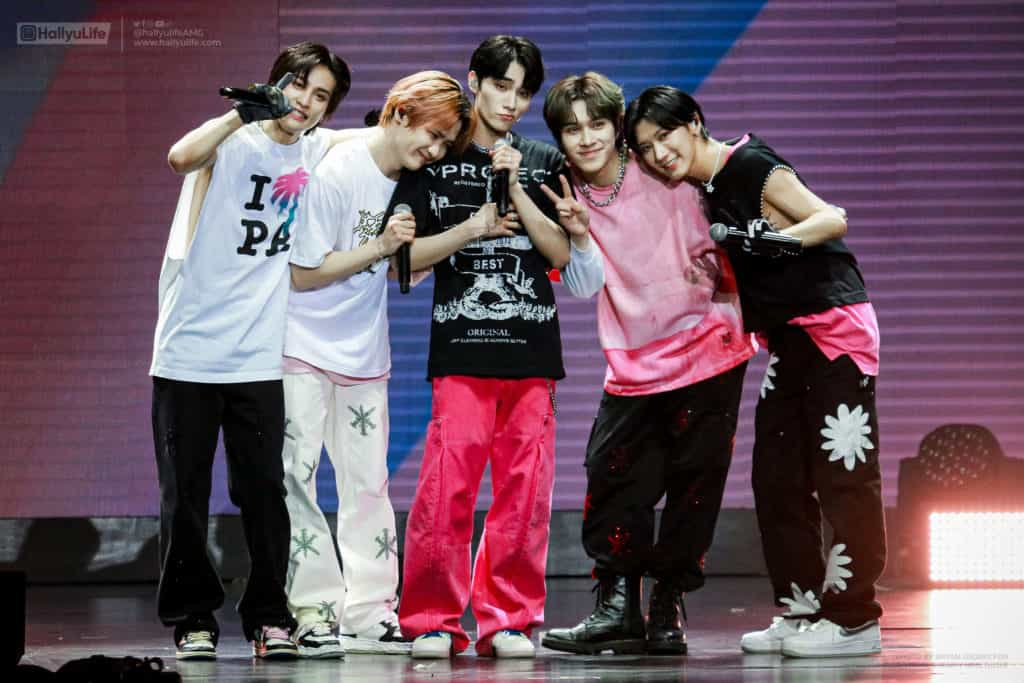 ---
WayV's PHANTOM Fan Meeting Tour in Manila is presented by DNM Entertainment. We would like to thank them for letting us be a part of this wonderful show.

THIS SPACE INTENTIONALLY LEFT BLANK.