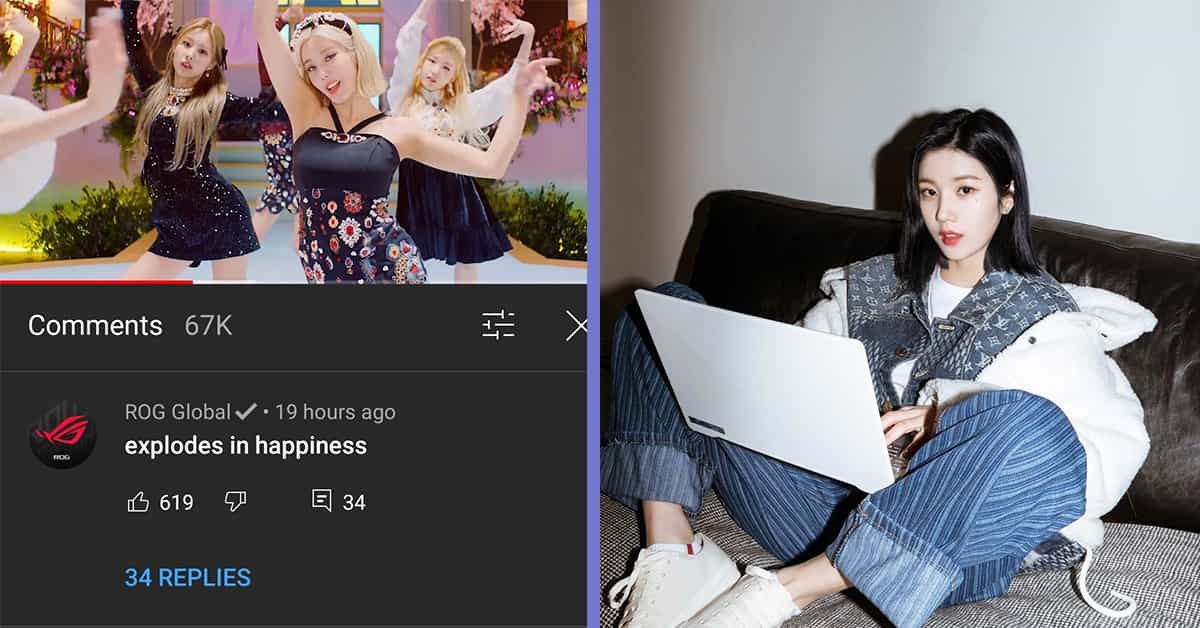 With everything else ruined by the year 2020, there's one thing that surely isn't – the creativity of everyone.
And when IZ*ONE dropped their latest music video for "Panorama", it was spotted that the official ROG Global YouTube account has commented something like a true fan would do – "explodes in happiness", as with the screenshot above.
ROG (which stands for Republic of Gamers) and is owned by the computer hardware giant ASUS, is known for its premium, high-end gaming computer hardware and accessories. It was surprising for many to see that the official accounts were used for something like this – not really bad in my opinion but a widely bold move considering that ROG and IZ*ONE doesn't have any active commercial deals, YET.
So here's the story:
One fan on Twitter posted this tweet, saying that ROG be better giving Eunbi a gaming PC set or a gaming laptop for her to play the popular game "Maplestory". The cute interaction continued when the ROG social media man replied the following:
my bias is yuri, but if eunbi is a gamer then lets see what we can do ????

— ROG Global (@ASUS_ROG) December 10, 2020
Days after, the ROG account replied on the tweet with a hint that something might be coming for IZ*ONE:
just confirmed: 1 piece ROG Zephyrus White G14 with AniMe Matrix on the way to @official_izone right now.

DONT LET YOUR MEMES BE DREAMS, LETS GO #WIZONE pic.twitter.com/LNXIu9bTEj

— ROG Global (@ASUS_ROG) December 22, 2020
And as the IZ*ONE official account posted a photo of Eunbi holding her very own ROG Zephyrus G14 White, ASUS ROG retweeted the post as well (as a sort of confirmation, I guess)
IM SCREAMING, WE DID IT.

THANKS #WIZONE

social guy 1 wants to send his bby yuri a gift too tho, any recommendations? ? pic.twitter.com/N0lxpBxSuC

— ROG Global (@ASUS_ROG) December 31, 2020
The laptop in question was priced from US$1,333, although that could get higher depending on the specs, which remained a secret although you can refer to their website for the available variants.
It also appears that the ROG social media guy is Yuri-biased – well, if she ain't your bias, I guess she's your bias-wrecker, lol.
When asked by the fans how about the other 11 members, the ROG social media guy responded with this:
im buying the one for yuri out of my own pocket, lets go one at a time plz lol

?
?? pic.twitter.com/duLcptJoxq

— ROG Global (@ASUS_ROG) December 31, 2020
Assuming that the company knows about this by letting the tweets to stay, are they one of the biggest WIZ*ONEs? -HallyuLife.com

THIS SPACE INTENTIONALLY LEFT BLANK.