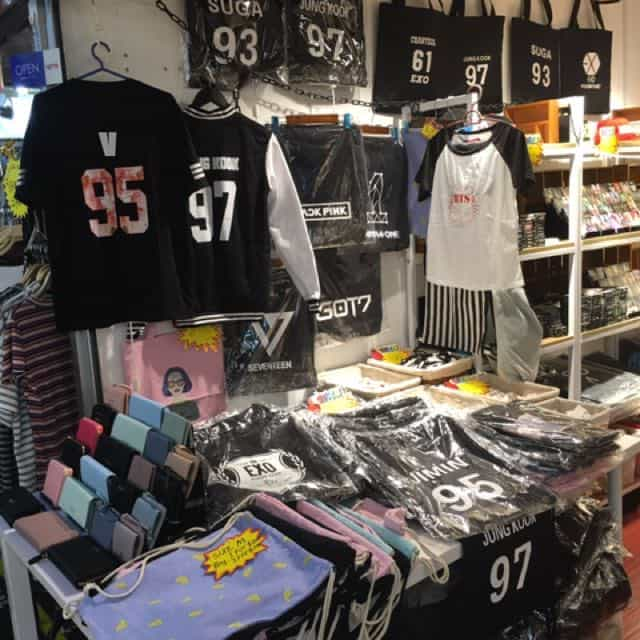 From shirts, hoodies, accessories and clones of the originals, lots of fan-made K-Pop merchandises are sold outside official designated stores – and they're popular for a different reason – they're cheaper than the official ones.
However, artists' managements are now taking aggressive actions against these merchandises and the ones who are making them, possibly putting them into jail and seizing all the goods they have made. Here's why fan-made merchandises could be considered as illegal.
An example of this would be the latest case between BTS's agency Big Hit Entertainment against the so-called bootleggers, which is what they are referring to those who manufacture and sell unauthorized merchandises.
The South Korean company is calling for a crackdown of those bootleggers, based on the complaint that they filed at a California district court on April 25, which states that Big Hit Entertainment claims its "exclusive right" to the BTS trademark, and wants to get a court authorization to seize and destroy all unauthorized merchandise using the BTS brand that are sold outside the group's concerts by law enforcement.
In particular, the company wants to seize and destroy bootlegged tour and program books, shirts, jerseys, sweatshirt, hats, buttons, visors, posters and other such items which – according to Big Hit Entertainment, would "likely injure the reputation" of the company and BTS itself due to its 'inferior' quality.
This case, while other entertainment companies have yet to follow suit, is only an example of a common problem in the consumer goods industry – counterfeiting.
While exact definitions of the terms are determined by laws of various countries, counterfeiting is simply the act where goods, often of inferior quality, are made or sold under another and/or similar brand name without the brand owner's authorization. Sellers of such goods are infringing the trademarks, patents and copyrights of the brand owner, effectively profiting from the brand name or design which they do not own.
According to Forbes in 2018, counterfeiting was the largest criminal enterprise in the world, with sales of counterfeited and pirated goods totaled $1.7 trillion per year, which is actually more than drugs and human trafficking – and some of these sum came from counterfeited K-Pop goods and accessories. The number is expected to grow to $2.8 trillion and cost 5.4 million jobs by 2022.
Since counterfeits are produced illegally, they are not manufactured to comply with relevant safety standards. They will often use cheap, hazardous and unapproved materials or cut costs in some other manner. These unapproved materials can be hazardous to consumers, or the environment.
While there are several ways the companies are implementing to help consumers distinguish the genuine from the fake on its goods, counterfeiters are getting sophisticated to the point that they are also getting hard to spot on without the help of an equipment such as scanners and such, which makes it even harder for the ordinary person to spot the fraud.
Lightsticks for example, features Bluetooth and/or NFC connectivity and either QR/barcode scans for the user to scan and verify if their product on-hand is genuine.
Clothing can be easily sewn and/or printed from almost everywhere, but the genuine ones usually come with better material, build quality and cloth than the fakes.
Other smaller goods physically sold and are available online, however, might be harder to distinguish than these.
Will you still buy fan-made and counterfeit merchandises for the sake of your idols? Let us know in the comments section. -HallyuLife.com

THIS SPACE INTENTIONALLY LEFT BLANK.