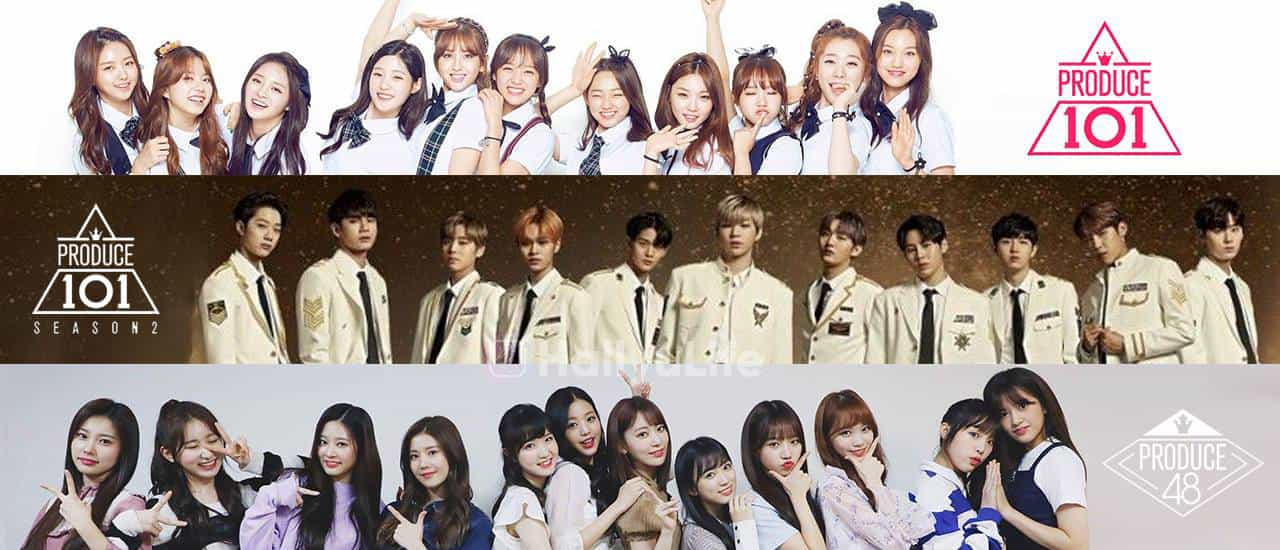 I.O.I, Wanna One, and IZ*ONE. They are K-Pop groups known around the world. Despite being in the scene for a short and definite amount of time, people are supporting them even though they are going to disband very soon. But why is it exactly that groups from the Produce 101 franchise gets to disband so early?
Before we answer the question, first we have to explain what exactly the Produce 101 franchise is. Produce 101 is a series of survival reality show where citizens – often referred to as "National Producers", forms the next K-Pop girl or boy group from a pool of aspiring trainees and sometimes, current idols. It is owned by CJ E&M, the company behind TV network Mnet, where the show usually airs, and usually lasts for about ten to twelve episodes, with each running from 120-160 minutes.
From 101 trainees (with the exception of Produce48 being only 96), chosen mentors and National Producers will train and eliminate members through judging and voting system, leaving us to the final count of members, which is usually eleven, but again, with Produce48 being the exception because they have twelve.
Now you know how these groups are formed, let's go exactly to the point why these groups are being so popular, despite being around only for a short, defined amount of time. The first group, I.O.I, is only around for 8 months and 27 days, while the second, Wanna One, is nearing their upcoming disbandment on December 31, being a group officially for only a year, 4 months and 24 days. The third and the recent one, IZ*ONE, is currently actively promoting and will be probably the longest to be active among all Produce-born groups to date, with 2 and a half years on their sleeves from debut.
But why? You might have asked. Why is my favorite group aren't there for long like the others?
To answer that question, let's go back to the beginnings of Produce 101.
Let us take note that Produce 101 is a large-scale project that aims to produce a 'project group' by choosing members from a pool of trainees (101 in this case) from multiple entertainment companies, not from just anywhere.
This means that all of the show's participants are signed to an entertainment agency prior to the start of the show, and since their contracts usually have terms that wouldn't let Mnet take them away, the resulting group can't stay around for long, since the agency who manages the artist prior to Produce 101 has the rights to its trainees, which might be planning to add them into groups that are planned by the agency later on. This reason is why the show is keyed as an agency-collaboration unit group project.
Take I.O.I for example. After disbandment on January 31st of 2017, the members have returned back to their respective agencies and some have already debuted on their agencies' respective girl groups, such as Sejeong and Mina to Gugudan, Doyeon and Yoojung to Weki Meki, Kyulkyung and Nayoung to PRISTIN, and Yeonjung to Cosmic Girls/WJSN. Others have debuted either as a soloist, actress or have returned to being a trainee.
But not all Mnet-produced reality survival shows share the same fate. Take Mnet's Idol School for example, which had a different format and mechanics, like allowing only trainees from ages 13 and above who are not trainees of any entertainment company to join, which would take the concept of 'training ordinary students' to become a new girl group. Later on, the producer clarified that former trainees and former singers which are not undersigned to any agency are also allowed to join. The show has produced the girl group fromis_9, which would stay as a permanent girl group.
Another example was SIXTEEN, which was co-produced with JYP Entertainment. The show later on produced the popular girl group TWICE.
Produce48, on the other hand, is a mixture of Korean trainees and Japanese idols from the group AKB48 and its sister groups which would be a spin-off from the regular format of Produce 101. However, it still shares the same format and fact that the members are coming from different entertainment agencies, which would only lend them to Mnet for a short period of time (2 and a half years for this case). This show later on produced the girl group IZ*ONE, which debuted last October.
We all know how popular these project groups are, but their popularity isn't the reason why Produce-born groups are set to disband early in the first place. Let's be lucky that Produce 101 is there and is used as a stepping stone for them to reach their dreams, and let us wish their success' to their future endeavors. The end of their contracts as project groups doesn't mean the end of their careers, but could be a start of a better journey.
And while there's an upcoming sequel to Mnet's Produce series called Produce X_101, we're not talking about that right now.

THIS SPACE INTENTIONALLY LEFT BLANK.