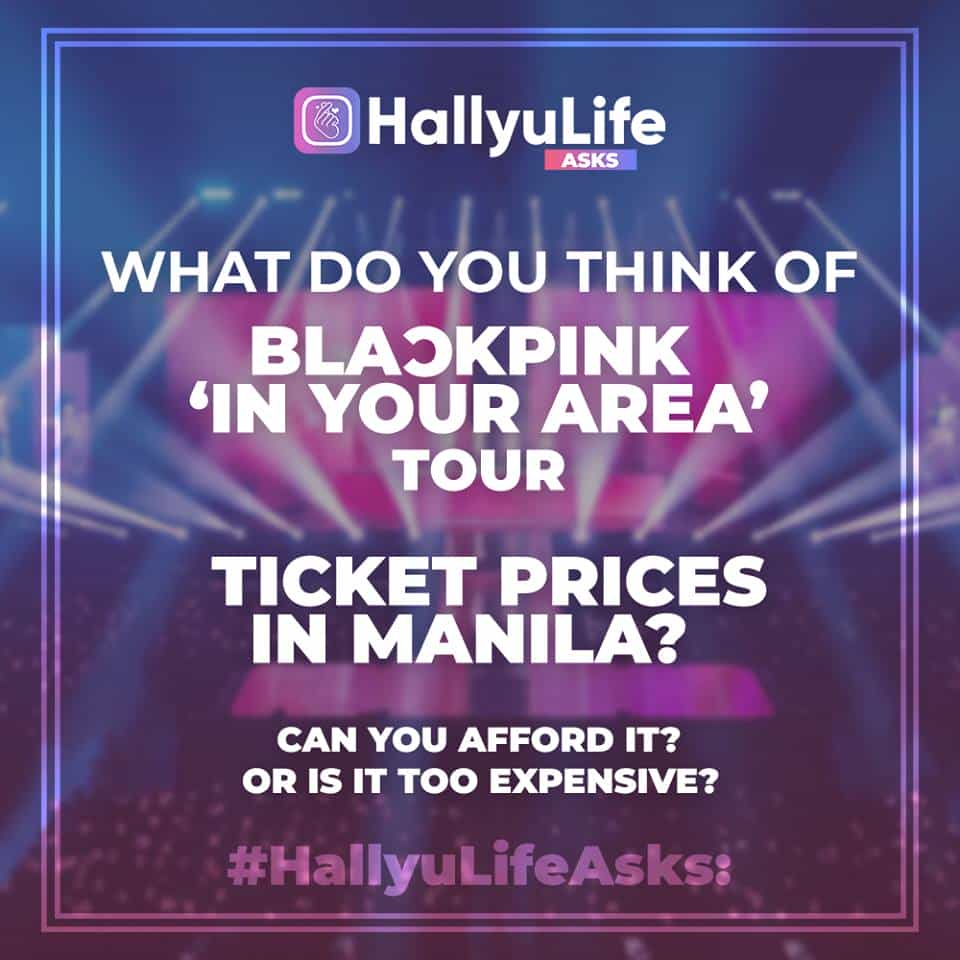 NOTE: The opinions stated on this article are solely the author alone, and not of the entire HallyuLife team.
PHILIPPINES – Last week, BLINKs (the name of BLACKPINK's fandom), were excited but only run into disappointment upon finding out the ticket prices for their anticipated BLACKPINK concert in Manila.
Shortly after announcement, it has been a trending topic on Twitter Philippines since then, averaging a thousand tweets per hour. We asked our readers through our social media accounts with the tag #HallyuLifeAsks, and they've responded.
But before we reveal their sentiments, here's the ticket prices for the said event so that you know what we're talking about here.
SEE: BLACKPINK announces ticket prices for 'In Your Area' tour in Manila
---
We asked our Facebook fans
---
And here are the best responses:
One said that the highest VIP price would even suffice for the ticket, plus the food, accommodation and even airfare to Korea.
Another said that they could only afford the cheapest one, which would be the General Admission ticket.
Someone thought that it wasn't worth paying enough for an artist that only have a few songs in their catalog.
And somebody know the truth that most of the fans of the girl group are still students, which meant that they couldn't afford.
Or is it because there are multiple promoters?
---
---
But they all have the same answers.
In fact, the flak being thrown to the organizers was seemingly reasonable, as ticket prices on other nearby countries which would also stage the concert are cheaper, like in Kuala Lumpur, for example.
For comparison, the most expensive ticket in Kuala Lumpur only costs MYR 693, or around PhP8,7k (conversion as of this writing). So the organizers might really need to give the fans, and us, some explanation about it too.
Some suggests that going to another nearby country is even cheaper than paying PhP19k, or even the lower prices, too.
We all know that the Philippine fanbase of BLACKPINK is very strong, enough for it to make the Philippines number 1 in VLIVE's popular countries list for BLACKPINK last year. But because of this, we expect that the turn-over for the higher-tier tickets, at least, for these set of prices, will be lower than expected. 
In my opinion, it seems not worth enough paying for the perks matched, unless they'll bring other artists that would supplement the lack of songs for a full-length concert. Anyway, it's all about our love for BLACKPINK and K-Pop.
We don't hate the promoters nor the artists and even YG Entertainment themselves, but we just don't think this is reasonable.

THIS SPACE INTENTIONALLY LEFT BLANK.